Spotify has evolved a lot in recent times. It is now considered one of the best, if not the best, music streaming services out there.
It is known for its great audio quality and lower price. With around 15.99$ USD, a group of family and friends can listen to music simultaneously. How great is that!
Recently Spotify introduced Canvas in android and iOS platforms. But many people are reporting that Canvas is not working on their mobile phones.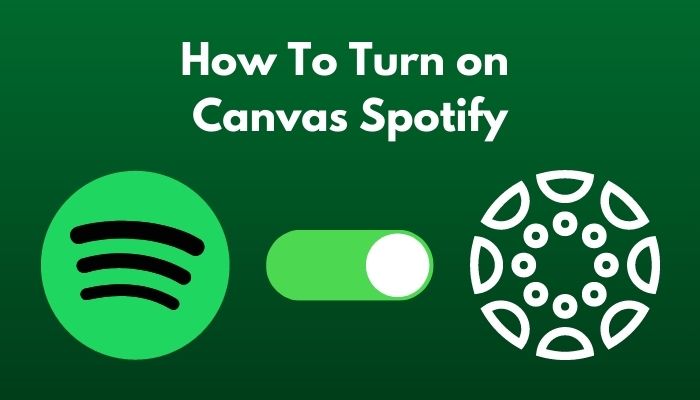 Why can't I use Spotify Canvas?
You cannot explore the Canvas feature unless you are using the updated version of the application. Also, if you haven't toggle the settings from the application, you won't be able to use Canvas on Spotify. Running on data saver mode can be another reason.
I have been using Spotify for a long time, and I can say I really like the Canvas feature inclusion. I believe everybody should get a taste of this amazing new feature.
Don't worry; I will help you out. Just follow the guideline, and you will fix your problem in no time.
So put on your reading glasses to get your desired fix.
But before that, if your Spotify isn't letting you log in, quickly check our post to solve this issue immediately.
How do I fix Canvas on Spotify
Before going into the details, let me clarify not every music track has Canvas. So if you do not see the canvas art on the music track even after enabling the feature, the probable reason is that the artist didn't upload canvas art for that song.
Try another music track and play it to see if you can see canvas art or not. For example, play Chapstick by coin; you will see amazing canvas art.
It is very easy to turn on the feature on both Android and IOS devices. So follow the steps thoroughly to fix your problem. As a music lover and a lifelong Spotify user, I will guide you exactly on how you can fix your Spotify application from stuttering.
Here are the steps to fix canvas on Spotify:
1. Turn on Canvas Settings
To see Canvas art on Spotify, you have to turn on the option. It is disabled by default to save data. Steps are a little different in android and IOS devices. Don't worry; I will describe both down below.
Here are the steps to enable canvas in Spotify on Android:
Open the Spotify app.
Click on settings.
Scroll down to the canvas.
Turn on Canvas.
Now go search for music that has a canvas in it. Hopefully, from now on, you will see the canvas on your Andriod device.
Here are the steps to enable canvas in Spotify on IOS:
Launch the Spotify App.
Click on your Profile.
Go to Playback.
Turn on Canvas.
There you go. You have enabled Canvas on your IOS device. Now enjoy the amazing music art. Quickly check out how to stop Spotify from opening on startup.
2. Update Spotify
One of the main reasons you cannot see the canvas in Spotify is that you haven't updated your application. To see the canvas in Spotify, you have to update Spotify to its latest firmware.
Here are the steps to update Spotify:
Go to the Play Store or App Store.
Search for Spotify.
Tap on update.
After the update, log in to your Spotify account. Turn on the canvas settings. And search for a track with canvas.
If you still don't see canvas art, you should check your region because Canvas art is unavailable in every region.
And if you are trying to see canvas from a desktop or laptop, then sorry to break your heart, canvas art is limited to mobile phones only. Probably in the future, Spotify will bring Canvas art to Desktops as well.
What is the Canvas setting on Spotify?
Canvas officially came in early 2019. Before that, it was tested in beta mode. Canvas is more like digital art for songs. You can upload gifs or split videos of 3 to 8 secs longer. Spotify will show the canvas art when you play a piece of music. Instead of the album art, you will see the video or gif.
When it comes to music, what is the most important thing after the song? I feel like the album art.
Album covers play an important role in the music scenario. There are so many great albums are known for the album art. Think about the one Beatles picture you can think of. I know what is going on in your mind. You are currently thinking of Beatles members crossing St John's Wood in northwest London. I am so sure that I am right I can even bet on it.
That album cover went so famous that Abbey road in England became a tourist place for people. I would be lying if I never thought of going there and taking a picture with the gang.
The same goes for the Pink Floyd Dark Side of the Moon album cover. I feel like the album art is everywhere. It is on every cool kid's T-shirt, and I have had that album art as my wallpaper for a long period of time.
Quickly check out how to make multiple Spotify profiles with a single account.
So you get the importance of album art in the music industry. To elevate the music genre, Spotify introduced Canvas.
On canvas, artists can upload different pictures, videos, and gifs for their music track, which will be different from the album art. Meaning if you are an artist, you can upload different canvas for your songs. That will make your tracks different from one another. And artists drop a huge amount of singles nowadays. So to excite the audience, you can share your canvas on various social media platforms. Also, you can send a particular message in songs. Create your movement.
And for the listeners, you can now have more things to cherish. You can have unique Gifs, videos from artists. And if the artist wants, they can add different canvas art in each song. That way, you can hold a song for a long time in your memory. Like people did for the Beatles and Led Zepplin.
I feel like with album art or the newly introduced Canvas feature; people can hold music with them for a long time. I personally like the Canvas of BLUEBLUEBLUE by Thomas Porter and dee holt. There is something in that art that takes me back to the track.
The canvas feature is a little different for the artist and the users. Artists can upload, customize and delete their Canvas in tracks where normal users can only see the Canvas if they have toggled the feature. There is no room for customization for the normal user when it comes to the canvas feature.
So, How much space does Spotify take up on your device? Quickly check out our post to find out.
Now, if you are a normal user, then you cannot upload canvas art on Spotify. But for the artists in Spotify can upload up to 8-sec loop videos on their music track. Artists can do that either from their pc or their phones. However, it is easier to share canvas from mobile phones because of the dedicated artist app.
Here are the steps to share canvas on Spotify from mobile phones:
Download Spotify for the artist application.
Log in to your account.
Select one of your songs.
Click on change canvas.
Tap on the plus sign.
Upload your canvas.
The canvas you upload will act as album art for the song. So if you share the music on an Instagram story or any other platform, you will see a loop video playing in the background of the song.
Steps are pretty much the same if you want to upload from the Spotify web app. Just log in to your account, select the song and upload your canvas.
Why does my Spotify not have video?
Not every podcast or song in Spotify has a video in it. But as Spotify promised, there will be more videos in the future.  To see videos in Spotify, you have to disable audio quality and download audio-only settings in Spotify.
Here are the steps to disable audio quality in Spotify:
Launch the app.
Go to settings.
Search for audio quality and download audio-only settings.
Disable both options.
From now on, you will see videos in podcasts on Spotify. Don't worry too much if you still can't because this feature is unavailable in every region. So wait for a while. Hopefully, you can see videos on Spotify soon.
Final Thoughts
The canvas feature has been a success for both Spotify and music artists. It is yet to be flawless, but Spotify is working on it.
I hope, with this guideline, you can fix your problem.
And you can reach out to us if you are still facing any issues regarding Spotify.