Word updating is capable of bringing a smile to your face. You may update your full gaming rig, PS5 from PS4, entire home decor, or latest Windows OS releases.
When you find new Windows 11 updates available for installation, a wind of joy will flow by touching your smile.
But the smile will turn into a frown when you find an error encountered in the update by showing error code 0x80004005. Why does this happen, and how to resolve this?
Well, allow me to bring back your joy by fixing this error. I will show you the easiest way to solve this and cover fixing up other problems for this error code.
So, stick to the article till the end to fix the error code 0x80004005. Let's begin!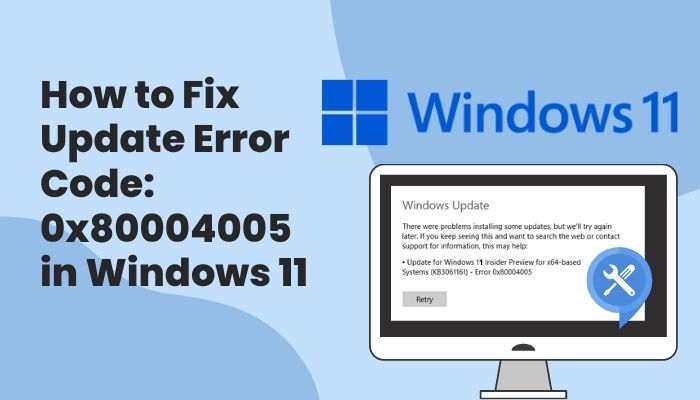 Why does Error Code 0x80004005 Occur?
Error Code 0x80004005 occurs due to problems with Windows updates and faults when moving or renaming files and folders. Additionally, problems while opening or extracting compressed files and Windows notifications issues are responsible for showing this error code.
Errors are common in Windows OS. Users face this error code for several reasons. But these error codes help to minimize the fixing time by telling you the possible reasons behind the problem.
In this article, I will show how to fix the error code 0x80004005. This error code shows when you are trying to access the shared folders and drives.
Sometimes you could face this type of code after installing a specific program because some apps might have corrupted files in them. But you will mostly see the code while updating the latest Windows releases.
So, it's time to find out among all the reasons which one is liable and fix it afterward.
Related guide: Windows 11 Not Showing Up In Windows Update.
Why Updating Your OS Important?
Updating Windows OS is essential for fixing any bugs in the system. Most updates come with additional features and stable system optimization. Updates are distributed in several stages, like cumulative updates, beta releases, and final releases. Windows UI improves a lot after a visual update.
All Windows users are familiar with the popup notifications of Windows updates. Just click on a button to install the latest system updates. Security updates are most important, and you should install all the updates which come with security patches.
Hackers can steal your valuable information just by inserting malware into your system. Updates with the latest security patches enhance the overall system protection from malware and viruses.
Sometimes faulty or corrupted updates can harm your system. Fixing is possible by installing the patches against the previous faulty updates. Those patches are also disbursed by updates too.
So, updating your OS benefits your system, and you should always keep your OS up-to-date.
Read more on how to Use Tablet Mode on Windows 11.
How to Fix Error Code 0x80004005 in Windows 11
Suppose you are updating your OS by installing the latest releases like kb3097617. While updating this error code, 0x80004005 was encountered from nowhere. That's why I have told you before you could face this error at the time of Windows updating.
This error code not only showed up during updating but also when you are moving or renaming files. So in this section, I will show you fixes for every aspect of this error.
Here are the methods to fix error code 0x80004005 in Windows 11:
1. Run Windows Update troubleshooter
This error can occur when Windows automatic update feature fails to install or download the updates. While installing corrupted updates, this error code 0x80004005 will appear for sure. You can fix this by running the Windows update troubleshooter.
Here are the steps to run the Windows update troubleshooter from Windows 11:
Press the Win key + I and click on the System option.
Scroll down and select Troubleshoot.
Click on Other troubleshooters and hit on the Run button.
Click on the Yes button after the troubleshooter detects the issue.
Running the troubleshooter feature is the easiest way to fix the error. You can also apply this method to solve this error in Windows 10, 8, or 7.
2. Reset Windows Update Folders
Sometimes old updates can clog up the entire updating process and throw this error code  0x80004005. To avoid this interference, you must delete all the files from the Windows update-related folders. Next, you should reset the catroot2 folder.
Here are the steps to reset Windows update-related folders:
Navigate to this path C:\Windows\SoftwareDistribution\Download.
Delete all the files and folders inside it.
Go to this path C:\Windows\System32\catroot2.
Open CMD with Admin privileges.
Type the following lines and hit Enter after each line.
net stop cryptsvc
md %systemroot%\system32\catroot2.old
xcopy %systemroot%\system32\catroot2 %systemroot%\system32\catroot2.old /s
Delete all the files inside the catroot2 folder and open the CMD again.
Type the following line and hit Enter.
net start cryptsvc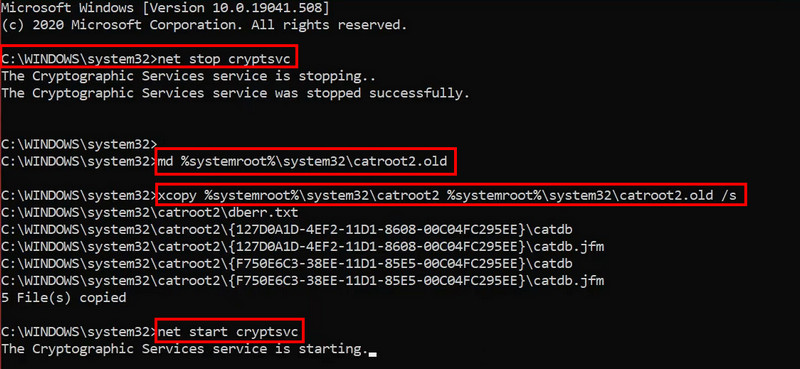 Restart the PC and check for the update again.
Hopefully, you won't see the error code again. Now updating Windows 11 to the latest releases will be error-free.
Also read, Fix Reset this PC Stuck in Windows 11/10.
3. Delete Temporary Files
Corrupted temporary files could throw this problem with an error code 0x80004005. Solving this requires deleting all the temporary files from the system.
Here are the steps to delete temporary files in Windows 11: 
Press the Win key + I and click on Run.
Type %temp% and hit Enter.
Press Ctrl + A to select all the files.
Press Shift + Del to permanently delete all the files.
Click on Yes to delete files.
Open Run again and type temp. Click on the OK button.
Press Ctrl + A and Shift + Del again.
Delete all the files in it.
Deleting all the corrupted temp files from the Temp folder will resolve the issue.
4. Replace dpcdll.dll files
Replacing dpcdll.dll files will solve the error code 0x80004005 while updating Windows. You need to replace the files and run a command line.
Here are the steps to replace dpcdll.dll files:
Go to this path on another PC and go to this path.
For x86: C:\Windows\System32
For x64: C:\Windows\SysWOW64
Copy the dll file and paste it into a pen drive.
Start your PC in safe mode and navigate to the path mentioned above.
Replace the dpcdll.dll files in it.
Launch the CMD with Admin level and type the following lines
regsvr32 dpcdll.dll
Hit Enter key.
Restart the PC.
Now, try updating the Windows again and check for the error appear again or not.
You may also like to read: Fix When Windows 11 Won't Install.
5. Disable Outlook Mail Notifications and Windows Defender
Microsoft Outlook always notifies you about the emails. Sometimes you could face an error code 0x80004005 for this email notification from outlook. So, disabling the notification from the outlook settings will do the work.
If disabling notification does the job, try opening Outlook in safe mode. Reinstall outlook after it runs without showing any error code in safe mode.
In case reinstalling outlook or turning off the notification didn't solve the error, it's time to turn off the windows defender. Sometimes antivirus can find a false positive in connection with the Outlook app. So, turn off real-time protection and check for the existence of the error.
Note: After disabling a third-party antivirus, please make sure to install another third-party free antivirus app. Don't leave your computer vulnerable to viruses or malware.
6. Re-register .dll files
This error code 0x80004005 could appear when you are zipping or unzipping files. To solve this, you could use another compressed file extraction tool. If using a different extraction tool didn't solve the issue, it's time to re-register the jscript.dll and vbscript.dll files.
Re-registering these two dynamic link libraries (DLLs) might help you.
Here are the steps to re-register .dll files:
Launch the CMD as an Administrator.
Type below commands and press Enter.
regsvr32 jscript.dll
regsvr32 vbscript.dll
After that, restart the PC and try extracting or unzipping any files. I hope you won't face the error code again.
7. Edit Windows Registry Settings
Let's say you try to copy or move any files from one folder to another, then this error code 0x80004005 popups all of a sudden. Well, you may face this problem when transferring files. Go to the Windows registry editor and add a new registry value to solve this problem.
Here are the steps to solve the error code 0x80004005 by adding a registry value:
Press the Win key + S, type Registry Editor, and open the app.
Navigate to this path Computer\HKEY_LOCAL_MACHINE\SOFTWARE\Microsoft\Windows\CurrentVersion\Policies\System
Create a new registry value named LocalAccountTokenFilterPolicy.
Set the value to 1 and select OK.
Note: For a 32-bit system, create a DWORD value and for a 64-bit system, generate a QWORD value. Don't delete or change anything else on the registry editor.
Next, restart the PC and check whether the error code 0x80004005 problem is gone or not.
Read more on how to Fix Windows 11 Install Error 0x800f0922.
FAQS
What is meant by error code 0x80004005?
Error code 0x80004005 is often translated as an unspecified error, and this error code usually occurs when you are unable to access folders, drives, and Microsoft account changes. This error is also common when you can't install Windows updates.
How to run troubleshooter update?
You can run a troubleshooter update by going to Start > Settings > System > Troubleshoot > Other troubleshooters. Running a Windows update troubleshooter is recommended when you fail to install Windows updates.
How can I open Outlook in safe mode?
Click on the Windows start icon and select Run. Type Outlook.exe/safe and then click OK.
Final Words
Error code 0x80004005 might appear for any reason. Mainly it occurs when you attempt to update Windows by installing the latest releases. Other factors like copying files from one folder to another or extracting files can throw this error code too.
But you can quickly solve this error. Just follow the above methods that I have implemented in this article. Applying all the steps one by one will solve your problem.
I hope you have read the article by the end. Did you solve the error code? Let me know by comment. See you at the next one.