When Two-finger scrolling doesn't work you get to know how important the feature is!
I mean, I've been there researching the whole internet to find a fix for this frustrating issue.
Fortunately, you don't have to waste your precious time as I tested and compiled only the proven fixes.
So, Why isn't my touchpad scroll not working?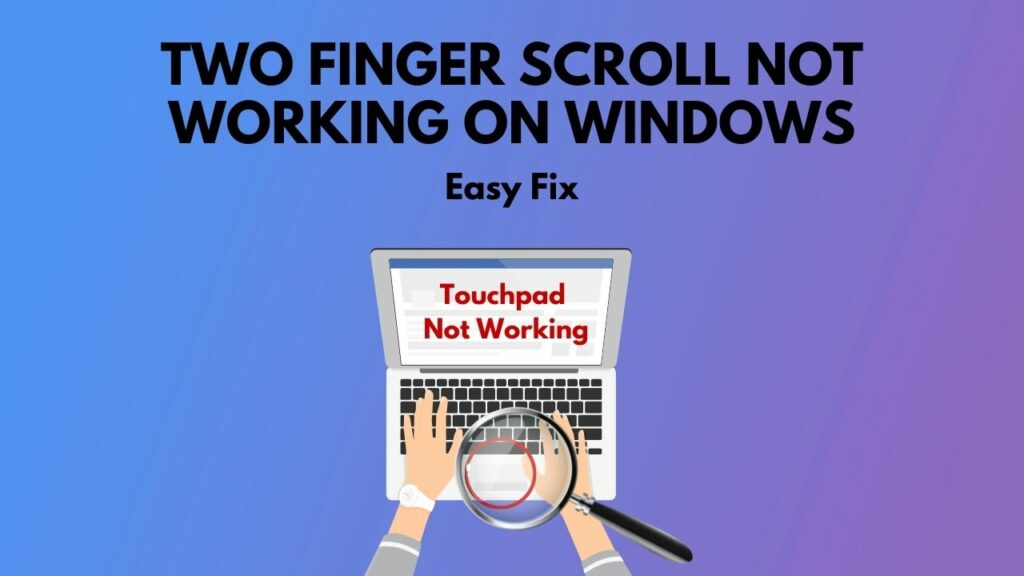 Two-Finger scrolling might not work on your laptop because it is a relatively new feature in Microsoft windows. Also if you haven't updated your touchpad in a long time that might cause a problem as well.
Keep reading, As I will show you how to fix this issue immediately.
 How to Fix Two Finger Scrolling Not Working Issue
Two-finger scrolling is an essential feature if you are on your laptop all the time and you are going through web pages after web pages.
You don't want to use your arrow keys because, hey, that's just not helpful.
Or, use additional mice just for scrolling.
And I know how hectic it even can be if you switch from your mac device to windows. Also, check out some classy and aesthetically pleasing RGB CPU Air coolers. Don't need air coolers for your rig? Check out our experts tested and reviewed the best RGB CPU AIO cooler.
So, here are the steps to fix two-finger scrolling won't work on Windows 10:
1.    Update TouchPad Drivers
There's this big chance you have the option enabled, but it's simply not working because you haven't updated or installed the Touchpad properly on your windows device.
When it comes to tech, required updates are essential. That's why we will look into this solution first.
So, now we will head into how you can update and install your device correctly.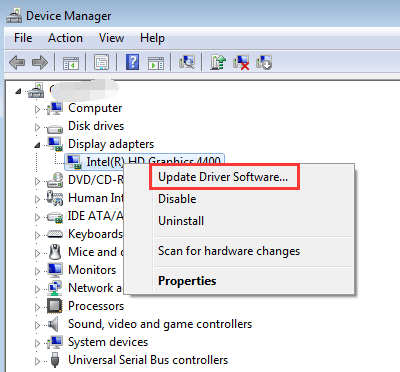 Before jumping into a new installation and update, there's this chance your two-finger scrolling feature was working in Touchpad before updating into new windows so that you might need a rollback of the touchpad drivers.
Here are the steps to update touchpad drivers:
Open the Run dialog box by pressing Win+R Button.
Type devmgmt.msc in the Run window popup and press enter. Another window will pop up under the name Device Manager.
Look for Mouse and other pointing devices and expand it.
Right-click on Synaptics SMBus Touchpad and select properties.
Select the Update option and click on Search Automatically for updated driver software. If there's any update available, download and install it.
Reboot your device and check if the scrolling is working.
If your touchpad scrolling is still not working, you might need a clean installation of the Touchpad.
2.    Rollback the Updates of the Touchpad
Here are the steps to rollback updates of the touchpad drivers:
Search for the Run Dialog box. However, if you face difficulties doing that, just press the Windows button and press R at the same time the RUN Dialog box will pop up.
Type devmgmt.msc and click Enter; a new window will appear with the name under Device Manager.
Expand it by looking for Mice and other pointing devices. Synaptics can be accessed by right-clicking on it.
Select the Roll Back Driver option. NOTE: If the option is greyed, skip ahead into the following technique.
Select the previous version of the driver performed better, and then press yes to confirm your action.
Reboot your PC, and you should be able to scroll with two fingers. If it's still not working, try the following method.
3. Clean Installation of the Touchpad
Press Windows + R to open a run window.
Go to Device Manager for that type devmgmt.msc on the run window and press enter.
Search for Mice and other pointing devices.
Select properties from the Synaptics SMBus Touchpad by right-clicking on it.
Select the Driver option from the drop-down menu.
Select the uninstall option and uninstall it.
Go to the device manager menu again via the run.
Right-click on your computer name. It should be on top of the device list.
Select scan for hardware changes. It will automatically configure the missing device and install it.
Reboot your device, and you should be able to scroll with your two-finger.
However, if it's still not working, follow the other methods instructed below. Here's an epic guide on how to use host mode on Twitch.
4. Enable TouchPad from the Windows Settings 
Windows 10 made this a by default feature so you can enable it from windows settings. But it is very limited to some laptops.
Click on the Windows logo at the left bottom of your windows screen. Next, click on settings, or you can just press the Windows key and I from your keyboard together viola you will be in the windows settings.
Go to devices and then select Touchpad.
Head into the scroll and zoom option. You should be able to see the Drag two-finger scroll option. If it's not ticked, make sure to tick the option.
You have successfully enabled the option. If it is still not working, you can try the following technique.
5. Edit Windows Registry
Type in Run or Press Windows + R a run window will pop up.
Type in Regedit.
Go to HKEY_CURRENT_USER, expand it, then to Software.
Expand the Software, click on Synaptics and then synTP, and then select TouchPadPS2.
Click on 2FingerTapPluginID and 3FingerTapPluginID from the right pane, double-clicking them, and ensure the value data is empty.
Now double click on MultiFingerTapFlags and set the value data 2 to 3.
Double click on 3FingerTapAction set the value to 4.
Set the value of 3FingerTapPluginActionID to 0.
If you want the right click to work, set the 2FingerTapAction to 2, or if you want the middle button to work, set the value to 4.
Exit the Registry Editor. Reboot your device and see if your two-finger scrolling is working or not.
6. Change the Cursor
You can also fix the problem if you change the mouse pointer.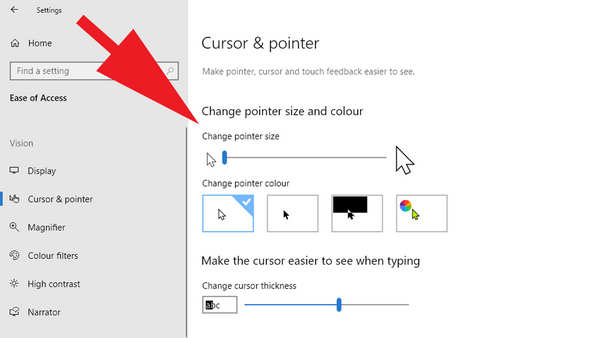 Open the Run utility by pressing Windows+R. Type in control press enter.
Click on the mouse go to the Pointers tab via the Mouse properties.
Set the Scheme into Windows Black (system Scheme).
Click OK and then apply.
This method should fix your problem.
7. Use Google Chrome
However, if you face a problem just in your Google Chrome, you can fix this via this method.
Type in chrome://flags/ in the address bar.
Search Touch API in the flag option.
Enable the Touch Event API.
Restart Google Chrome, and now you can scroll with two fingers.
8. Update Laptop Hardware
If you have problems regarding any specific laptop and its Touchpad with two-finger scrolling, like using an Asus laptop and its two-finger scrolling is not working. You can follow this method. In addition to this, if you see Application load error 5:0000065434 while opening steam then here is the possible fix.
Download any third-party updater app. You can use Driver Booster, Driver Easy, 1oBit Installer.
Open Driver Booster Click on scan.
Download and install flagged updates of your Touchpad.
Reboot your Device. Hopefully, your problem will be solved when it comes to a particular laptop.
Final Thoughts
Two-Finger scrolling can be helpful when it comes to browsing or surfing on the internet.
I can assure you that you can enable a Two-finger scroll in no time if you follow the methods thoroughly.
And if you have any future queries, you can always reach us.