You can come across the Unidentified Error on PS5 whenever you are trying to purchase any games from the PS Store. And it can be frustrating when games such as Elden Ring are going on sale.
This issue resides due to a problem with your payment methods and the PS Servers. And by following some easy steps, you can finally buy that long-awaited game.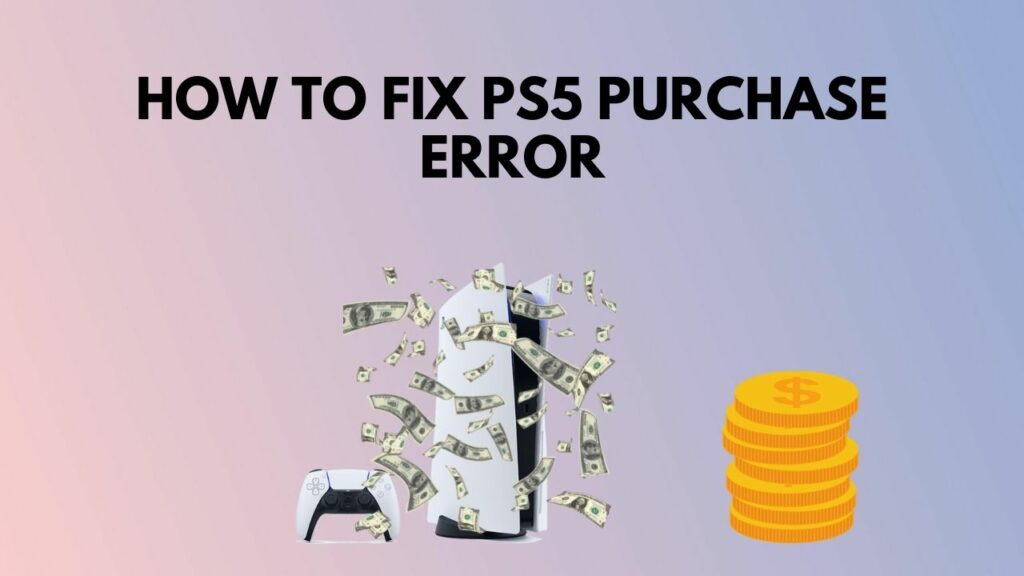 So follow along, and let's get started.
Why are you experiencing PlayStation 5 Purchase error
Lately, some PlayStation 5 gamers are getting an Unidentified Error message.
Although this error message is so unclear, it honestly doesn't tell what it should signify. But it is noticeable that every time you want to buy a game or DLC, this error text appears, which implies that the problem somehow links either to the PS Store servers or the purchase attempt.
Most AAA title games are paid for a whole package that must formally be bought from the PS Store and downloaded from the PlayStation Store directly.
Before purchasing games, your credit cards must have sufficient balance to continue the transaction. If enough funds are unavailable, an error message will pop up.
Another issue that accounts for this problem is a different region for your credit cards and PS account. Once the server locates this discrepancy, it does not allow the transaction to go forward.
New games on the stores are usually the fault of PS5 error codes, although they can sometimes happen at random and apparently without reason.
So, let's look at how you can fix these issues.
Are you getting no sound out of your PS5? Before replacing your speaker or headphones, why not check if some incorrect settings are causing this issue? Check out our article that will help you troubleshoot the PS5 when it transmits no sound.
How To Fix PlayStation 5 Purchase Error
To fix the PS5 purchase error, first set the PS account to the same region as your payment method. Next, add funds to your account or redeem a gift card. Also, try purchasing from the PS app on your phone. Finally, check the status of PS servers for downtime and try again sometime later.
Now, let's delve into the solutions in detail.
Here are the steps to fix the PS5 purchase error:
1. Try Purchasing Again
So this is the easiest fix. Many users tried it and got their fix.
All you have to do is press the X button on the Dualsense controller every time the error occurs. The last time I encountered the error, I spammed the X button on the Dual sense, and the error was fixed right away. But if it doesn't go away, meaning the error code, then give it a pause for 10 or 15 minutes or so and try again.
If it still doesn't work, follow the next method.
2. Check The PlayStation Network Downtime Status
The PlayStation Network servers can be down. This is either due to a maintenance check or a server outage. And it is possible that the PSN server was down the very moment you were trying to obtain anything from the store.
In that case, go to the PS server status page. If the servers are down, wait for some time before trying again.
Here are the steps to check PSN server Status:
Navigate to your web browser.
Enter the PlayStation Status page URL.
Select your country.
Check the status of core services.
You may also check for real-time information on the same PSN status using the third-party DownDetector website, most reports, live output, last 24 hours information, and more. If no server downtime or outage occurs, follow the next method.
Rest Mode for PS5 can be a real pain for some users. If you are one of them, check our guide where we fix when PS5 does not download in Rest Mode.
3. Set the Same Region for your Payment Method and PS Account
Your credit/debit card should be in the same region as the PS account that you have logged into. The server checks the region before proceeding with the transaction. A mismatch will result in an error.
Use a PS account with the region set to the same as your payment method. You can change the region from the Account Settings on PS5.
But first, ensure your payment details is okay.
Here are the steps to authenticate your payment method on PS5:
Go to the PlayStation 5 Store.
Select Payment Methods from the drop-down menu.
Enter your credit card information.
After adding your credit card information, go to the PS store and try purchasing the game you wanted to buy earlier.
If you recently lost a credit card or got a new card and were trying to buy from the store with your old card, it can trigger the error. So you need to update your card information.
Here are the steps to update the payment method in PlayStation 5:
Navigate to the Settings menu.
Go to the Users and accounts page.
Select Account, then Payment and Subscriptions.
Next, go to Payment Methods.
For using a credit card, select Credit/Debit Card.
Enter the card number, expiry date, name, and press Continue.
If using a Paypal account, select Paypal after the 4th step.
Scan the QR code and enter your account details.
Enter the PSN account password if prompted by the system.
Now re-try getting something from the store. Hopefully, your problem will be solved.
If you cannot update your credit card or any payment methods from the PlayStation 5 console, then try to update the payment information from the Browser.
This can be done on any computer or smartphone with access to a browser.
Here are the steps to add a payment method from PC:
Go to the Sony website.
Sign in to your account.
Click on your Avatar and go to Payment Management.
Next, go to Add Payment Method.
Depending on your payment method, Credit Card/Paypal, select it.
Enter your debit or credit card information.
Delete any previously used or unused payment methods.
Set up your new payment method as the primary payment Gateway.
If the new payment method has the same region, hopefully the error will go away.
Is your PS5 turning on by itself? Maybe there are things from beyond possibly interested in the next-gen console. Check our guide to troubleshooting a PS5 that keeps turning on before calling the Ghostbusters.
4. Ensure Funds are Present
This is pretty trivial, but if you shop with a zeroed-out card, the system is bound to give you errors. Check beforehand the card has funds. Or you can add a debit/credit card that has cash and then you can shop with it.
If not, you can transfer some cash to your PS wallet pretty easily. The Payments section on your PS5 Settings will help you in this case.
Follow the steps to add funds to your PS5:
Open the PS5 Settings.
Go to Users and Accounts.
Now navigate to Account > Payment and Subscriptions.
Next, go to Payment Methods.
Select Add funds and choose the account from where you want to transfer.
Next, enter the Amount from the drop-down list and press Continue. Double-check the amount before proceeding.
Select Yes to acknowledge the PS5 system.
Now you have successfully added funds to your PS5. How about you shop now?
5. Try a Different Payment Method
If a credit card is giving errors while buying games, you can try another card added to your PS5. You can even try using a Paypal account.
Sometimes your credit/debit card provider can experience server outages and thus can deny the transactions. If the error persists in the PS5, you can buy the games from the browser on a computer.
Are you facing bugs on Cyberpunk in PS5? Don't worry; you are not alone. Check our article where we attempt to fix the Delamain bug on Cyberpunk for PS5.
6. Purchase Using a Gift Card
Gift cards for PS5 are also a great way to buy games. Once you redeem it on your PS account, you can buy the games using the credit.
Gift cards are readily available on the PS Store, Amazon, and many retailers like Best Buy. Then, you do not even need to add a payment method and can still buy games.
Redeem a gift card on PS5 by the following steps:
Open the PS Store.
Press the more options icon and go to Redeem Code.
Enter the number on the gift card.
Press the Redeem button.
Now the credits on your gift card will appear in your wallet. Now go ahead and buy the games on your wish list.
7. Purchase Using the PS App
The official app for PlayStation has many features, including buying gift cards and games. If the PS5 store experiences network issues, you can buy the games using the app. Once you add your payment details, it is a few swipes before the game lands on your library in PS5.
These are the steps to purchase a game using the PS App:
Download the PlayStation app from Google Play Store or the App Store.
Search for the game or perks you wish to download and tap on it.
Tap on Add to Cart.
On the next screen, verify your payment details. When everything looks okay, select the tick box and tap on Order and Pay.
Enter the CVV of your credit/debit card if prompted, and tap Continue.
Now tap Download to Console.
Now, open the Library on your PS5. You should see the game you just added now. Go ahead and download it now.
PSN can cause a delay in refreshing your list of friends. Check out our article where you can bring back all your friends to PS5.
8. Use a Different Email Domain for PS Account
Some users on Reddit point out a rather peculiar issue. If you use a PSN account with a relatively less-used email (@mail.com), then the PlayStation server can cause issues when purchasing games or PSN subscriptions. Maybe it treats the addresses as less secure.
You can create another PSN account using Gmail or Outlook and use it to log in to PS5. That way, the PlayStation servers are unlikely to cause hindrances.
9. Restore PS5 License
If nothing has worked out for you yet, restore the license of your PS5. That way, the PS5 deletes existing security certificates and downloads them again.
The PS5 closes any opened games and proceeds with this step.
Here are the steps to Restore PS5 License:
Open the PS5 Settings.
Go to Users and Settings.
Navigate to Other > Restore Licenses.
Press the Restore button.
Now, PS5 should download newer certificates. Any purchasing issues prevailing should be gone by now.
PS5 has games for kids too. Finally, you can get rid of the infinite reruns of Frozen.
10. Reboot The PlayStation 5 Console
When you keep PlayStation 5 running for a long time, it can trigger some errors. It is better if you give your console some rest now and then.
Here are steps to restart PS5:
Long-press the DualSense PS button.
Select the power symbol.
Click on the Restart PS5 option.
Wait for some time to restart the console.
After the restart, go to the store and try to buy something. Many users got their solution by applying this method. Hopefully, you will too.
11. Contact Sony Support
Well, this is your last resort if you have tried every other method. It is better if you have a chat with Sony.
Because if you get banned from the PS store, you can initially not buy anything. Also, there might be a possibility that the content you want to buy from the store might be region-blocked. This means no matter how much you try; you cannot buy the content from the PS store.
So my advice would be to get in support with the PSN support. That way, you will have some clarity over the situation.
Final Thoughts
I find it pretty annoying when I cannot get my hand on a game I have been craving for a long time. And it gets even more frustrating when it's on sale.
I hope you can solve your problem with this guideline.
You may also approach us if you still have any more questions.
Farewell for now.