Outlook rules are worth implying when your inbox gets swamped with emails each and every day. Implemented Outlook rules help you organize and deliver the emails to their specific destination. And that, without even the touch of your cursor.
The only issue with Outlook rules is that they often stop functioning due to simple blunders. When that happens, your chilled email management system gets busted.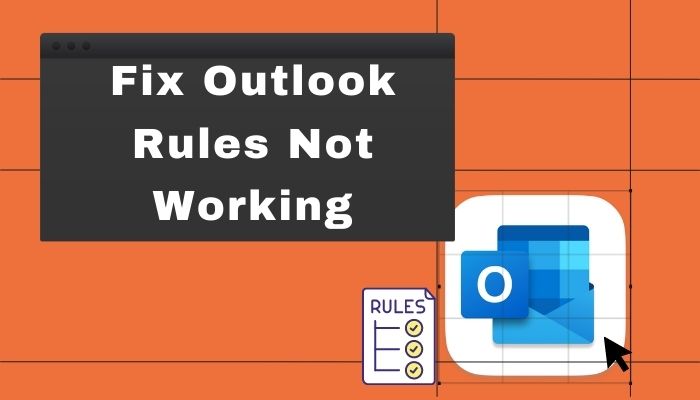 And instead of happy, productive hours, you are required to forward and reply to hundreds of emails.
To spare your headache at that very moment, I developed a strategy by following which you can make the Outlook rules work again.
So, without wasting any more time, let's get into the topic.
Follow our guide on Outlook Not Making Notification Sound
Why are my Rules in Outlook not Working?
Rules surpassing the assigned Outlook mailbox are the prime reason Outlook rules stopped working. Also, corrupted or damaged settings files and POP3/IMAP account errors are very common reasons. However, silly mistakes such as rules not enabled on Outlook are also responsible for the error.
Let's deconstruct the reasons a bit more. Creating Outlook inbox rules requires storage access. And that storage access is limited to 256KB (max) for each rule you create. Whenever you establish a client-side rule/ server-side rule that exceeds 256KB in size, that rule is not gonna function adequately.
There are other variables that determine whether a rule would function or not. If your send/receive file setting is corrupted or your POP3/IMAP account can't function to its potential, Outlook rules won't work.
Also, in case you haven't enabled the rules after creating them or set the rules to run on a single computer, these mistakes trigger the rule for not working.
Read out the following passage to eliminate these reasons and make the Outlook rules work again.
Check out the easiest way to Enable Read Receipts In Outlook.
How to Fix Outlook Rules are not Working
By now, you know the most common scenarios behind rules not working on your Outlook client. It's time to resolve those issues with quick and simple solutions.
Check whether your internet connection is stable or not. Then proceed to the following solutions.
Here are the methods to solve Outlook rules not working:
1. Edit and Rename Outlook Rules
You can edit the rules to make your incoming emails more structured and organized. Aside from that, editing and renaming outlook rules can also mitigate the issue of rules not working correctly.
Here are the steps to edit and rename Outlook rules:
Launch Outlook and Move to the File tab.
Click on Rules & Alerts from the menu.
Select the active rule that is causing the trouble.
Tap on the Change rule drop-down menu.
Select the type of change you want to make. For instance, click on the rename rule.
Switch the old name with the new.
Exit the Outlook application and relaunch it. Check whether the issue persists. If yes, try the following solutions.
Also, check out our separate post on how to fix Outlook server-side rules not working.
2. Delete Old Rules
In case renaming the problematic rule couldn't spare you from the misery, deleting it might. When you delete a rule, it loses the capability of conducting irregular activities.
Here are the procedures to delete an Outlook rule:
Open Outlook and move to the File section from the dashboard.
Select Rules and Alerts from the left toolbar.
Select the rule you want to delete in the following dialog box.
Click on delete from the rules dashboard.
After deleting the rule, reboot the Outlook application. Create a new rule using the same value. That should resolve your issue.
Here's a complete guide on how to add email signature in Outlook.
3. Rename SRS Files
Damaged SRS file — send and receive settings file can also trigger rules not working in Outlook. To solve your issue, resetting the SRS file/ renaming the file would be a better option.
Here are the steps to reset the Outlook SRS file:
Open Microsoft Outlook from your computer.
Press ALt + Ctrl + S on your keyboard to launch the Send/Receive group.
Click on rename from the right panel options.
Add .old after editing the group name.
Exit Outlook and launch it again after a few minutes. That will reset the default SRS file. Try the following solution if this does not resolve the issue.
Here's a complete guide on how to add email signature in Outlook.
4. Reset Rules
If the current rules on your Outlook client can't function properly even after these tweaks, resetting and recreating the Outlook rules will be a wise decision.
Here's the process to reset Outlook rules:
Press Windows + R to launch the run prompt.
Type in outlook.exe /cleanrules and hit Enter. That will delete all the existing rules in the outlook client.
Launch Outlook after deleting the rules and go to the Manage rules and alerts

section.

Click on the New rule in the Email rules

tab.

Add the values you prefer setting up the new rule.
After resetting the rule, your inbound emails won't lose their way. You will be able to enjoy the benefits of Outlook rules once again.
Check out our separate post on how to view message headers in Outlook.
5. Turn On Exchanged Cache Mode
Exchanged cache mode allows you to connect with the global address list. When you enable exchanged cached mode, a copy of the mailbox is saved on your computer, which gets frequent updates from Microsoft.
Here's the procedure to enable cached exchange mode on Outlook:
Launch Outlook client from your device and go to the File section.
Navigate to Account settings > Account settings.
Click on the Change option from the Email

tab.

Tick on Use cached exchange mode in the offline settings section.
Restart Microsoft Outlook. After enabling cached exchange mode, you'll be able to find that Outlook rules will start to function.
Also, check out our separate post on disable Outlook deleting confirmation message.
6. Change Outlook Offline Settings
When Outlook's offline settings are permitted to sync for a limited time, your client-side rules may fail to function correctly.  Change the offline settings a bit to avoid such situations.
Here are the steps to switch Outlook offline settings:
Go to the File tab after opening Outlook.
Navigate to Account settings > Account settings.
Click on your Outlook account and select the change button.
Set the slider option to the right end in the mail settings option.
Launch Outlook and check if the existing rules are still working. Try out the subsequent solution if the issue persists.
Follow our guide to fix Outlook can't create file error when opening attachment.
7. Stop Processing More Rules
Disable the stop processing more rules option whenever Outlook rules fail to work properly.
Here are the steps to disable processing more rules:
Launch Outlook and navigate to the File menu.
Select Rules & alerts from the options.
Go to the rules list and select a specific rule.
Click on the change rule.
Select edit rule settings > click next.
Untick, stop processing more rules from the rules wizard.
Tap on Next > Finish completing the process.
Here's a complete guide on Fix Cannot Start Microsoft Outlook Invalid XML
8. Create a New Outlook Profile
Any of the mentioned solutions couldn't resolve your issue? Then there's probably something wrong with your Outlook profile. Create a new profile to avoid that situation.
Here are the steps to recreate an Outlook profile:
Press Windows + S keys together to launch the Windows search box.
Type the control panel in the search box and hit Enter.
Go to the User account > Mail > Show profiles section from there.
Select add to create a new profile.
Follow the on-screen instructions to complete the process. A new profile on your Outlook client will allow the Outlook rules to function properly.
These are the proven solutions that you might want to consider when rules on your Outlook client don't seem to function correctly.
Have further queries regarding this matter? Check out the FAQ section.
Follow our guide to Fix: Outlook Not Connecting to The Server
Frequently Asked Questions
How do I make Outlook rules run automatically?
Right-click on your email folder > Select rules > Click on any options. Outlook will automatically suggest a rule depending on your inbound mails.
Why are my Outlook 365 rules not running automatically?
Navigate to Files > Rules and Alerts > Click on New rules > set a rule. Your Outlook web will run rules automatically after those steps.
How many Outlook Rules Can I Have?
We recommend you keep the Outlook rules between 20-30 at the moment.
How to Fix Outlook rules not working on Mac?
Click on Mail on your Mac > Select the folder you want to apply rule > click on rules from the next window > Apply all.
Final Thoughts
It can be really annoying when Outlook rules on your device can't run properly. Instead of saving your time, it hampers your daily work.
Since you've read this article from top to bottom, Outlook rules on your device will run smoothly as butter from now on.
However, if you face issues even after implementing the methods, feel free to describe your problem in the comment box. I'll try my best to resolve your issue.