Outlook calendar can be used to schedule our tasks and meetings, and it smartly arranges by integrating with our emails, contacts, and tasks. But all these features won't mean anything if the calendar hangs or crashes constantly.
Unfortunately, Outlook freezes/crushes when opening, switching, or unchecking group calendar is a common problem, and it can be seen in Outlook whether it's from 2007 or in Office 365.
All these years, people tried many fixes and depending on the cause of this issue, different solutions worked for different users.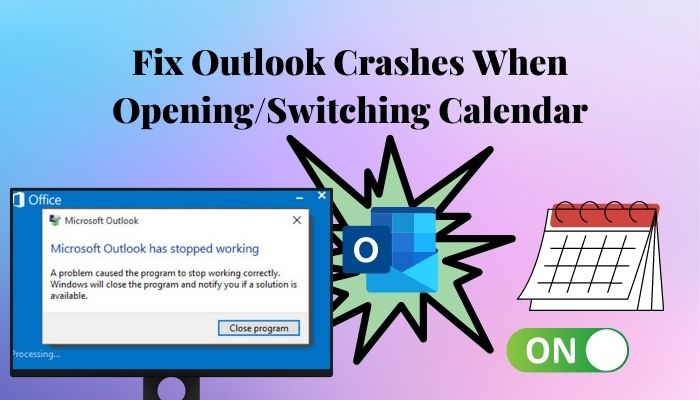 Here, I've combined all the possible solutions that will fix the crashes of your Outlook calendar for good.
Let's begin!
Why Outlook Crashes When Opening or Switching Calendar?
You might be facing this problem mainly because of corrupted PST files. That are the Outlook files which is saved on your local disk. Other reasons include defective add-ins, outdated Outlook, outdated antivirus, and corrupted Office files.
A well-defined problem is half solved. You need to know why you are having this calendar issue before we can solve it.
Here are the most common reasons why your Outlook crashes when using the calendar:
Using an old version of Microsoft Office.
Add-ins are preventing Outlook from working correctly.
Outlook data files or the user profile currently in use are defected.
Outdated antivirus affecting Outlook.
Closing Outlook before the PST files.
Now that you know the possible reasons why the Outlook calendar is crashing, let's fix this annoying problem.
Also, check out our separate post on how to Fix Send Receive Error in Outlook.
What to do if Outlook Gets Stuck When You Open/Switch to Calendar?
The most common fixes for the Outlook calendar keep hanging are to disable the add-ins that you usually do not use, repair the PST files, repair Microsoft Office, run Outlook on safe mode, change the email provider and create a new user profile.
Whenever you face any kind of hanging or freezing problem, you should always restart your device first before you try anything else. After that, go through the solutions I've given below.
Here's how to fix Outlook hangs when switching to calendar:
1. Disable Outlook Add-ins
Some 3rd party add-ins can cause issues with Outlook, and you might need to turn them off.
Here are the steps to disable Outlook add-ins:
Select File > Options.
Go to the Add-ins tab.
Choose Com add-ins beside Manage and click the Go button.
Untick add-ins and click OK.
Read more on new post Use Cached Exchange Mode Grayed Out in Outlook.
2. Use Outlook in Safe Mode
It's not a fix; it's just a workaround. In safe mode, you can use the main features of Outlook as usual.
Here's how to open Outlook in safe mode:
Press Windows + R key to launch Run.
Type in Outlook.exe /safe.
Click the OK button, and Outlook will open in safe mode.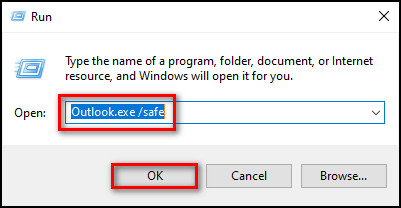 3. Create a New User Profile
You are facing this issue can be because your profile is corrupted, and you need to make a new one.
Here's the process of creating a new profile in Outlook:
Click on the Search icon, write Control Panel and open it.
Search and open Mail.
Choose Show Profiles and select Add.
Provide a profile name, write your email & password, and click Next.
Select Outlook, check Always use this profile, and click OK.
After these steps, Outlook will open with this newly created profile.
4. Update Outlook
An old Microsoft Office version can cause unusual problems with Outlook and other Office apps. You should always keep the Office updated.
Here's the process of updating Microsoft Office:
Launch Outlook.
Select File.
Choose Office Account from the left sidebar.
Click on Update Options and select Update Now from the dropdown menu.
Wait for the app to find the latest version.
Follow the instructions to update the Office correctly.
Also, check out our separate post on how to Fix Outlook Rules Not Working.
5. Repair Corrupted Microsoft Office Files
A corrupted Office file can cause many issues, including the Outlook calendar getting stuck when you open it and you have to repair the file.
Here are the steps to repair Microsoft Office files:
Click on the Search icon, type Control Panel and open it.
Move to Programs > Programs and Features.
Select Microsoft Office Professional Plus or whichever Office version you are using and click Change.
Choose Quick Repair and click Repair.
Open Outlook and check whether the calendar is running properly or not when the repair process finishes.
6. Repair Outlook Data
If any Outlook file is corrupted, it may be causing issues with opening the calendar, and you need to fix it.
Here's the process of repairing Outlook files:
Right-click on the Outlook shortcut and choose Properties.
Go to the Shortcut tab and select Open File Location.
Select SCANPST.EXE and run it when the Microsoft Office folder opens, and The Microsoft Outlook Inbox Repair Tool will pop up.
Quit Outlook if it's running and click the Browse button and go to
C:\Users\*yourusername*\AppData\Local\Microsoft\Outlook.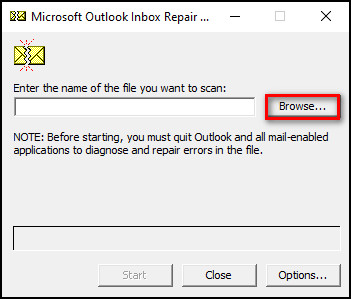 Choose your profile and click the Start button.
Click OK when the process completes.
7. Repair Outlook with the Microsoft Support and Recovery Assistant Tool
Microsoft has this powerful tool for Office 365 to troubleshoot problems regarding Outlook, OneDrive, and Skype.
Here are the steps to download and use Microsoft Support and Recovery Assistant utility:
Download the SaraSetup.exe setup file and open it.
Read the Microsoft Services Agreement, and click I agree.
Choose Outlook and click Next.
Select I'm having problems with my calendar and click Next.
Follow the instructions the Support and Recovery Assistant has given.
8. Change Email Client
If the problem persists, it might be better to change the email client.
Although Outlook keeps track of our tasks, monitors our meetings, and works through a calendar, errors are frequently increasing.
Fortunately, you can use other email providers that offer the same functionalities as Outlook and more. You can use Mailbird, eM Client, Thunderbird, or Inky as an alternative to Outlook.
Additional Tips to Stop Your Outlook Calendar From Crashing
To prevent your Outlook crashes or freezes when you open, switch, or uncheck the group calendar, you must follow some rules regarding your meeting requests in Outlook.
In order to stop the Outlook calendar getting stuck, do not delete meeting requests. I know keeping the meeting request will clutter your Outlook interface, but it will avoid crashes.
Also, do not move meeting requests to another folder. Just keep them where they are.
Lastly, do not try to process your meeting requests from the Calendar. You can process them from the Inbox folder.
So you see, Outlook is pretty sensitive about its meeting requests. You should treat the meeting requests carefully and follow my instructions so that your Outlook runs smoothly.
FAQs
Why does Outlook app keep crashing?
Your Outlook app keeps crashing because of corrupted PST files, defective add-ins, outdated Outlook, and corrupted Office files.
Why is Outlook stuck on starting?
Outlook stuck on start can be due to a defected profile or OST/PST file, a temporary glitch or bug in the navigation panel, add-ins, or compatibility problems.
How do I unfreeze my Outlook email?
You can unfreeze your Outlook email by running Outlook as an admin, repairing Outlook PST files, repairing Office, disabling hardware acceleration & unnecessary add-ins in Outlook, turning off compatibility references, and resetting the navigation panel.
Final Thoughts
Outlook keeps getting stuck when you use calendar is a general problem that has been out there since Outlook first launched.
So all these years, people have tried many fixes, and different fixes worked for different users due to their separate reasons for the error occurrence.
And in this article, I've combined all the tested solutions. Therefore, the problem will be solved indefinitely.
Let me know if you have any questions regarding Outlook or other apps. See you in the comment section.