Discord's custom status allows you to show what you are up to in a more creative and informative way.
However, the custom status disappears if it conflicts with other current statuses, game activities and when it runs out of the validation date.
Fortunately, the solution is pretty straightforward. And here, I'll explain exactly what you need to do to fix the custom status not showing up on Discord.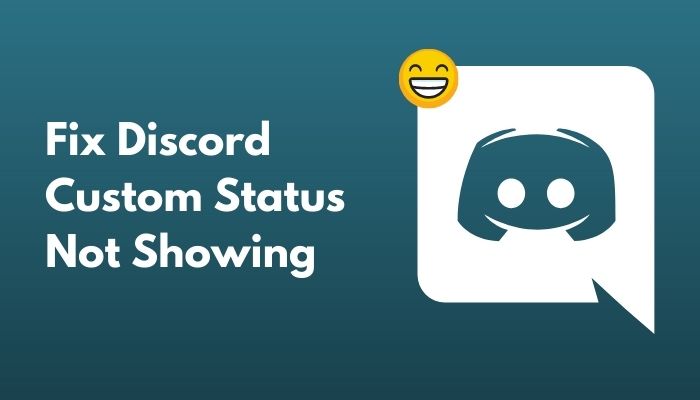 Let's begin!
What Is Discord Custom Status?
Discord custom status is a super cool way to show your friends your exact current status. You can set up custom status text outside of the available default statuses along with an emoji to inform everyone what you are up to and set an expiration time for that particular status.
Discord has a great solution to inform other users about your present situation. It uses the user status feature to display your current status based on what you have set up or doing right now.
For example, if you are playing a game, Discord will detect it and display the game's name with other in-game information on your status. Or, if you are listening to music on Spotify, Discord can show the current song too on your status.
Many people face the problem of Spotify listening alongnot working on Discord. You can fix it easily by following a few steps in our separate guide.
Other than that, Discord has some default options like 'idle,' 'do not disturb,' 'invisible,' etc., for you to choose from.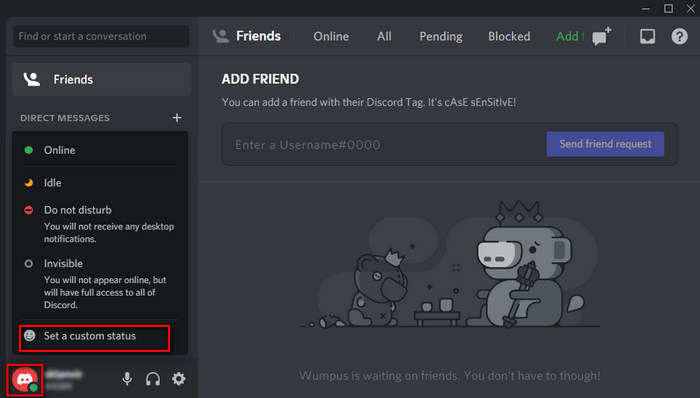 What if you do not like the default statuses? What if you want to be more specific?
That is where the custom status comes in handy. It allows you to type in your custom status, whatever it might be. You can also put an emoji beside your status text.
Once you do that, the custom status will appear along with your username. Your friends and other Discord users or server members can see what you are up to.
How To Fix Discord Custom Status Not Showing
To solve the Custom status not displaying on Discord, use a computer to set the status rather than using a mobile device, stop viewing the current activity as a status message, check the expiration time of the custom status and disable the Invisible & Do Not Disturb modes.
Follow the instructions below to troubleshoot the Custom status problems in Discord.
Here are the steps to solve custom status not showing on Discord:
1. Set Custom Status from the Desktop
If you use your phone to create a custom status, try setting it up from the desktop app instead.
Due to some recent updates, several users have reported that making custom statuses from the smartphone app (iOS or Android) does not work correctly.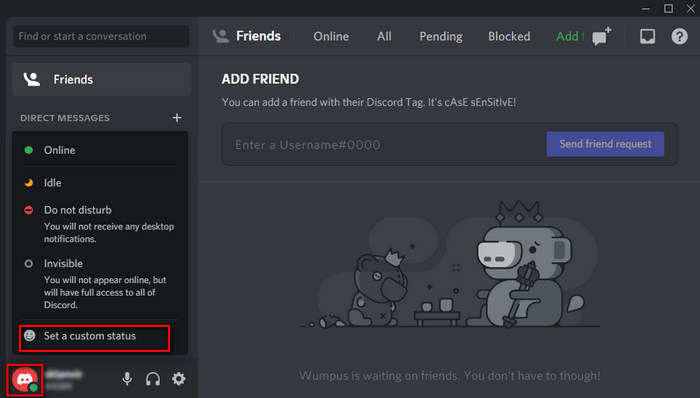 So setting the custom status from the desktop app will work.
Hopefully, Discord will fix the issue from the smartphone app in a future update.
2. Turn off the Game Activity
In some cases, the game activity conflicts with the custom status, and hence the custom status disappears.
To fix it, you need to turn off the game activity.
Here's how to turn off the game activity:
Click on the Settings icon to go to User Settings.

Select Activity Privacy from the left menu.
Turn off Display current activity as a status message.
Now your game activity is turned off.
3. Change Expiration Time
When creating a new custom status, you will see a drop-down menu below that lists the expiration time for the custom status.
By default, it is set to clear Today. So not changing it will cause the custom status to get deleted after one day.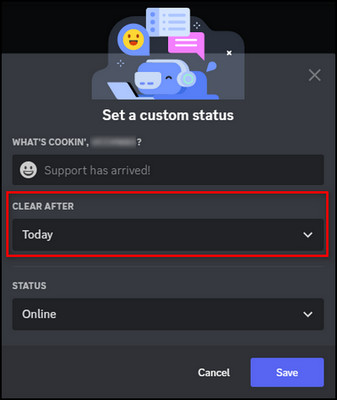 You need to change it to don't clear so that the custom status does not disappear after some time.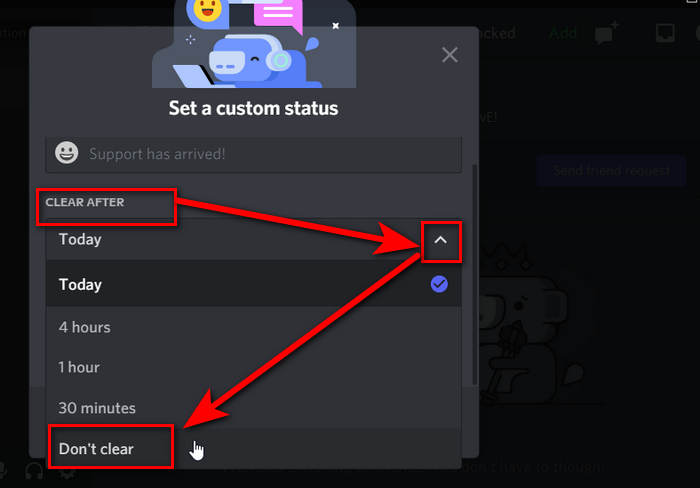 4. Turn off the Invisible Status
When you turn on the Invisible status on your profile, Discord will hide all your information, including the custom status.
Remove the Invisible status before creating a custom status to resolve the issue.
Here's the process to turn off the Invisible status:
Click on your profile picture on the bottom left.
Change the status from Invisible to Online or Idle.
Click on the profile picture again.
Click on Set Custom Status and type your custom status text.
Click on Save.
That's it. You have successfully removed the Invisible status and set up a custom status.
5. Turn off the Do Not Disturb Status
In case you have the Do Not Disturb status enabled on your profile, it might conflict with the Custom status.
When you first set Do Not Disturb as your status and then make a custom status, the not to disturb status takes precedence and hinders the custom status from appearing.
So to fix the issue, simply remove the Do Not Disturb status as follows:
Click on your avatar beside your username on the bottom left.
Change the status from Do Not Disturb to Idle or Online.
Now, you can set up your custom status, and it should work.
6. Disable Apps that Set Their User Status
If you are using multiple apps that can set user status on Discord, there might be an issue.
Hence the best way to resolve the issue is to disable the apps one by one that can create the status on Discord and see if it works.
How Do I Enable Custom Status On Discord?
Custom status is a great way to inform others of your current status. Instead of the default options, you can write anything you want as your status.
The process of setting up a custom status on Discord is super easy. It takes little time to enable custom status on your Discord profile.
Here's how to enable custom status on Discord:
Click on your avatar located at the bottom left.
Select Set Custom Status.
Type your custom status text in the text box.
Click on the emoji icon to add an emoji beside your custom status text.
Expand the Clear After dropdown menu and choose the expiration time.
Click on the Save button to finish setting up the custom status.
As you can see, creating a new custom status from scratch is not at all problematic.
What are the Benefits of Using Custom Status on Discord?
The primary benefit of using a custom status on Discord is that you can set your status text to be whatever you want to display. Other advantages include adding custom server emojis (if you have a Nitro subscription) and an expiration time.
Discord's custom status makes the user experience much more interactive. It allows users to show their status in a more creative and informative way.
Alongside displaying custom status texts, there are some added benefits.
If you are a Discord Nitro or Nitro Classic user, you can use custom server emojis as your status emoji. Thus it opens up the opportunity to use those fantastic server emojis and be creative. Buy Discord Nitro without a credit card or purchase Nitro with Google Play.
Another advantage of using a custom status is the ability to set up an expiration time. You can set the expiration time from 30 minutes to never.
Once you make a custom status, it appears alongside your username on the server members list and direct messages list. It overrides any other status messages.
And when you open up your complete profile, you will see all the different statuses you have created, along with the custom status.
FAQ
Question: Does your Discord status change automatically?
Answer: Your Discord status will change automatically based on whether you are online or offline and what game you are playing. You can also change the status manually or set up a custom status.
Question: How does custom status work on Discord?
Answer: Custom status works on Discord by allowing you to type your custom status text and an emoji displayed alongside your username.
Final Thoughts
Discord's custom status is an excellent feature for its users. It allows users to write their custom text as status messages along with emojis.
But sometimes, it can malfunction.
Fortunately, it is effortless to fix, and in this article, I've described all the steps you need to do when the Custom status message doesn't appear on Discord.