Did you win a Nitro subscription as a medal of honor? Well, first of all, congratulations on that.
So, what's stopping you from claiming the nitro? Already have a subscription, or don't know the proper way?
Don't sweat on it! You have landed on the right page.
Since I have been maintaining a warzone tournament server on Discord, dealing with Nitro gift now became my prior duty. And in this article, I will share my complete knowledge of claiming nitro credit.
So, without missing a word, read this manual till the end. I can assure you, claiming Nitro credit won't seem problematic then.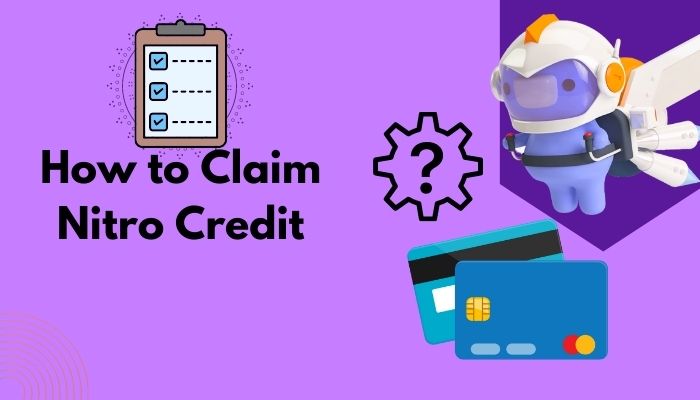 What is Nitro Credit?
Let's figure out the concept of nitro credit first. Nitro Subscription credit means when a gifted subscription to your account gets stored for further use.
Imagine that you already own a nitro subscription and got yourself another subscription as a gift. If the gifted Nitro matches with your existing membership plan, it will auto-renew after your membership plan expires.
But, if the gifted nitro doesn't match your current subscription plan, that will be stockpiled for further uses. That's what we are recognizing as Nitro credit.
You can activate the credit whenever you wish to. But you don't know how to claim the nitro credit? Let's jump to the method of successfully claiming nitro credit that I always use.
Check out our separate post to fix unable to confirm Payment Method Discord Nitro.
How to Activate Discord Nitro Credit
Activating Discord nitro credit won't seem complicated once you apprehend the nitro mechanism, which you do after reading the earlier section.
Now, I will provide the information on how you can claim discord nitro by following some easy instructions.
But before that, you will need to check if there is account credit available for you to use. You can't claim nitro credit if there's no credit, right?
Read more on how to Claim Discord Nitro with Xbox Game Pass.
Here are the steps to verify available account credit:
Log in to your discord account from the app version/ web version.
Move to User settings ( Click on the gear icon from the bottom left corner)
Select Subscriptions from the left panel.
If any nitro gift is stored, you should notice it in the Account Credit section.
Okay, let's get to the central part of the article- Claim nitro credit. Read this part at least twice so that you don't blunder while performing the procedure.
Here are the steps to claim discord nitro credit:  
Launch the Discord application from your computer/ browse to the web version.
Log in with valid credentials.
Click on the Settings icon (gear icon next to your profile)
Scroll down and select Subscription from the left panel.
Click on the Subscribe button for the matching subscription of Nitro classic.
Provide your payment information if you haven't entered it yet. [ Won't charge any money, in case you are concerned ]
Submit the required information in the following menu. You'll get a message- Subscription credit applied.
Click on Confirm to activate nitro credit.
Okay, all of the complexity of claiming nitro credit is done now. Enjoy the gift you have acquired earlier.
Note: You can provide the card information that has no money on it, and the result will be the same.
If you want to redeem nitro credit using your mobile, check out the following section.
Also, check our exclusive tutorial on how to buy Discord Nitro without Credit Card.
How to Redeem Nitro Credit on Mobile
Redeeming Nitro credit on your mobile is even easier. You don't need to go through all the hassle. Just read the instructions and act accordingly.
Here's the procedure to redeem nitro credit on mobile:
Tap on the discord application that is installed on your mobile.
Log in with valid information.
Tap on your profile icon from the bottom left.
Click on Manage subscription from the left pane.
Tap on subscribe > provide the credit card information [Don't worry, it won't cut off any money]
Select the plan you want to activate.
You are all set. Enjoy the nitro credit on your mobile.
These are the actual methods of claiming nitro credit on your device. If you have any other queries regarding this topic, continue reading the following section.
Here's a complete guide on how to buy Discord Nitro with Google Play.
Frequently Asked Questions
Can you Turn Nitro Credit Into a Gift? 
You can switch your subscription plan and use that nitro to gift your friend. But you can't use that credit by yourself.
Does Nitro Credit have an Expiry date?
You can activate the credit whenever you want to. There's no date limitation to using nitro credit
Can I see who claimed a nitro gift?
Open the user settings in discord > Scroll down to Gift inventory > Check which gifts have been claimed and the user information as well.
Do I have to wait till my current subscription ends to use nitro credit?
If your current subscription plan corresponds with the nitro credit plan, it will automatically renew the plan.
What are the limitations of Discord Nitro Credit?
You can only add up the discord credit if the subscription plan matches the gifted project. Otherwise, you'll have to wait till your subscription ends.
Final Thoughts
The way I see it, activating your nitro credit shouldn't take much of your valuable time once you read this article. But remember, never choose an unfair means to fool the discord mechanism, You'll be banned permanently from using the application.
If you have any doubts regarding the article or face any complications, just feel free to ask in the comment section. My team will see through the problem and help you by any means.