Well. I know you have Better Discord installed on your computer. And, it is no wonder that Better Discord is an integral part of the online gaming industry. But is not it working?
Don't worry. I came out with a package of easy fixes for you. Any of those must work for you out, I guarantee.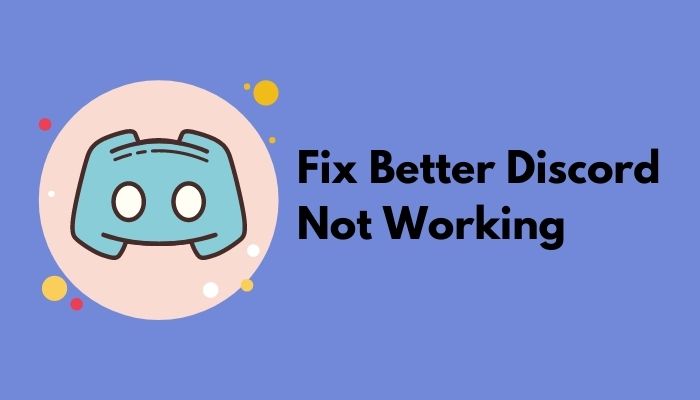 So, why is Better Discord not working?
Better Discord is not working mainly due to corrupted files, internet connection problems, firewall, interruption by third-party applications, and server down. These are noteworthy, though many other subtle issues are also accountable.
As an extended version of Discord, Better Discord is designed to provide a real-life gaming experience and features, including emotes, plugins and themes, and whatnot. So, the problem with Better Discord can be more than frustrating to the users.
Keep reading, as I will round up some easy steps to help you get rid of the Better Discord not working problem safely.
How To Fix Better Discord Not Working
Though Better Discord is fairly known for its conveniences and features, users report problems with Better Discord. One most frequent glitches that gamers face is crashing and having no way to get back online. No worries. If you are one of the sufferers, I will definitely cover you.
So, to set you free from this, I am writing some easy and quick fixes. You may have tried one or two typical methods which, in reality, do not work in most cases. Keeping that in mind, I will note down some unique and exclusive way-outs, of course, with the ones in vogue.
Here are the methods on how to fix Better Discord not working:
1. Reinstall Discord
Here are the steps on how to reinstall Discord to fix Better Discord not working.
Open the Run prompt. You can use a shortcut of (Windows+R).
Type cpl and hit Enter. A list of installed applications will appear.
Locate Discord and right-click on it.
Choose Uninstall from the options.
Related guide: Can You Get Banned For BetterDiscord
You are primarily done. But, it will not work if you do not delete the previously installed Discord's traces and files from your device. So, to delete the Discord AppData and Local AppData, follow the steps.
Hold (Windows+R) key simultaneously from the keyboard.
Type %appdata% in the Run prompt, and hit Enter.
Locate the AppData folder, and delete it.
Open the Run prompt again.
Type %localappdata% in the Run prompt, and hit Enter.
Locate the LocalAppData folder, and delete it.
Now, you completely uninstalled your Discord application. Install again now and check whether the problem remains or not.
2. Reinstall Better Discord
If your Better Discord is not working, you can simply uninstall and reinstall it as an initial move. Now, let's see how you can do it.
Here are the simple steps to remove Better Discord:
Download the Better Discord installer and launch it.
Select the download link corresponding to your computer's operating system.
Choose Uninstall BandagedBD from the list of options.
Check the Remove from Stable box.
Check both boxes under the section of Additional Options.
Select Uninstall.
Your Better Discord will not be automatically uninstalled. Wait a while to finish the process.
3. Logout and Login to Discord
Logging out and in may act peculiarly. If you face problems with your Discord account, you simply log out and log in again to your account. In most cases, it works! I am not sure how it fixes the issue, but it does. So, let's try this fix.
Here are the steps to log out and log in to your Discord account:
Click on the Settings (Gear icon) to open the User Settings
Select Log Out from the left pane.
Now, you are logged out of your account. Close the application. Restart it and sign in fresh to your Discord account.
4. Remove Custom Themes & Plugins
It is not undeniable that some custom plugins or themes may malfunction themselves. Consequently, they affect Better Discord and compel for not working. Therefore, removing those additional features may help you to resolve your problem.
You may also like to read: Is BetterDiscord against ToS
Here are the steps to remove your custom themes and plugins folder on Discord:
Click on the Settings (Gear icon) and access the User Settings
Select Plugins or Themes from the left pane under the section BandagedBD.
Click on either the Open Plugin Folder or the Open Theme Folder
Delete the plugins or theme files in the specific folder. You may temporarily relocate and preserve them somewhere else.
Well done. You have now successfully removed the custom themes and plugins.
5. Repair Better Discord
To solve the specific problems, I recommend you repair your Better Discord in lieu of uninstalling it. If you can detect the issue precisely, this method will be the best fit for that. So, let's get into the process in deep.
Here are steps to repair Better Discord to solve some particular problems:
Download and launch the BandageBD installer.
Accept the terms and conditions.
Choose Repair
Choose the Repair On Stable
Select a fit issue you are experiencing.
Click on the Repair option to start the process.
Once the repairing process will finish, run the Better Discord and check whether or not it is running correctly.
6. Remove bdstorage.json File
This method is also reported helpful for some users. It may seem strange, but removing bdstorage.json can solve your difficulties. To be more precise, you do not even need to remove the file entirely. Just relocate it for the time being to make it inactive. This way, you can get around the problem.
Here are the steps to temporarily remove the bdstorage.json file:
Browse the C:\Users\username\AppData\Roaming\BetterDiscord location in your file explorer. You will get the bdstorage.json file here.
Click on it and press (Ctrl+X) from the keyboard to cut the file.
Paste (Ctrl+V) to somewhere else.
Now, close the Better Discord and relaunch it.
7. Change the Language
By changing the language, you are resetting your client's design settings. It will blank your application for a short period. But, no need to worry. It is part of the process. Let's get into it.
Click on Settings (Gear icon) and access the User Settings.
Tap to Language from the left pane under the section of App Settings.
Select a different language from the appeared options.
Now, restart your Discord application and see the magic.
Follow our epic guide to fix Discord entry point error.
FAQ
Question: Why is not Better Discord working?
Answer: Better Discord is not working mainly because of the internet connection, corrupted files, plugins, or themes. Some other reasons may be accountable for that.
Question: Why is not my custom CSS not working Better Discord?
Answer: The full form of CSS is Cascading Style Sheets, and it is widely used for document presentation. The main reason lying behind this problem is using any third-party software i.e. plugins, themes, etc. When Better Discord does not support these, arises a concern.
Question: Did better Discord get banned?
Answer: There is no valid possibility of getting banned only for using Better Discord. It is absolutely groundless. Well, if you use Better Discord to extremely violate the rules and ToS of Discord, they can take such action if they want.
Final words
So, these were all the potential fixes you can follow for your non-operating problem with Better Discord. Undoubtedly, Better Discord is a blessing for enthusiastic gamers and users. As a part of technology, there may occur some glitch. Therefore, instead of being tense, analyze your problem and follow the steps mentioned above in this article.
I hope you solved your problem by following the methods. You take a screenshot and mail me directly so that I can profoundly fix your problem. Still, you have any specific issues, comment in the box below. Please, do share this article in your community.