You suddenly discovered that you had been prohibited from using Discord after a few days of installing BetterDiscord. You, on the other hand, had no notion why this had happened to you.
This is surprising, isn't it? But calm down, mate!
BetterDiscord's interesting features, such as plugins, themes, and other in-app makeups, drew you in.
I also faced this situation. Then I researched and finally found out the possible reasons behind this scenario.
So, can you get banned for BetterDiscord?
Yes, you can get banned for using BetterDiscord because it's against the terms of services of Discord. Discord doesn't compromise anything regarding the security-related issues caused by BetterDiscord and will ban you at moment Discord find it.
Don't skip any part as I'll explain this issue in detail in this article.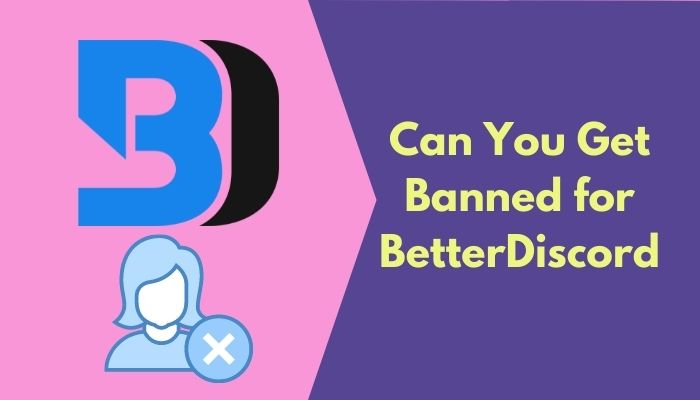 What is BetterDiscord?
Discord is a platform for operating voice, video and text messaging. It has become very popular among gamers.
You can manually change the design and functionality of your Discord client using a third-party add-on tool. BetterDiscord is the name of this program. The appealing features, such as plugins and themes, might easily lure you away.
This application will assist you in installing your favourite high-definition themes as well as useful plugins. You'll have the option of adding a rhythm bot to your Discord Client-server to listen to music.
You may also like to read: Is BetterDiscord against ToS
Exciting Features Of BetterDiscord
There should have some benefits for which you will install the BetterDiscord add-on. Ultimately you are risking your Discord client account because if the authority can catch you using this, your account will be banned.
Here are the advantages of BetterDiscord:
You can personalize your Discord client according to your preferences.
Enabling simple models will help you to concentrate on a few channels while removing clutter.
You can download and customize plugins.
You can download and customize themes.
You actually can use emoticons and emojis that you can't in the official Discord client.
You can play music in the background by adding a rhythm bot.
Also, check out our separate post on how to fix Better Discord not working.
Why doesn't Discord  Support BetterDiscord?
There is a surprising fact that Discord doesn't support the BetterDisacord add-on. BetterDiscord is not an official program and it inhibits some actions that strongly go against the Terms of Service of Discord.
Now, you may ask what are the actions or services that go against the policies of Discord. Read the following section carefully.
Here are the reasons for which Discord doesn't support BetterDiscord:
BetterDiscord will create security issues and this is the main reason Discord doesn't support the BetterDiscord program.
You may violate the terms of policies of Discord while modifying the Discord client account and it's not appreciated.
BetterDiscord can restore or read the deleted message from Discord and it's very dangerous.
If your behavior is not well or proved to be humiliating to other users, you may get banned.
You can be affected by various malicious for using BetterDiscord.
If you use any sort of suspicious IP address while using the app, you may get banned.
You can also get banned for spamming and trolling other users.
If you are proven to be disrespectful or abusive to other users, you will get banned.
If you intentionally bring any server down and you are proven guilty of this, your account will get immediate termination.
Moreover, it's not like the Discord server doesn't allow or support BetterDiscord. If you confront any activities against the community guidelines and terms of services of Discord, it has the authority to ban your account.
How to Avoid a Ban while Using BetterDiscord
This is not to say that the account will be deactivated as soon as you use BetterDiscord. Your account will remain active until you go against the terms and services of Discord.
Here are the methods to avoid a ban while using BetterDiscord:
If you are using BetterDiscord only for downloading themes, your probability of getting a ban is very low.
While downloading themes, download them from BetterDiscord's official server rather than from other random websites. Otherwise, your chance of getting infected by viruses is very high.
You should never take a screenshot of your BetterDiscord server and send it to any public Discord server or Discord developer community.
Your chance of getting banned become very high if you use a lot of plugins and if they are from ordinary sources instead of using BetterDiscord's official server.
If someone complains about your using BetterDiscord in the server community, then the Discord authority will inquire about this. If they find you guilty, Discord will ban you.
You must keep in mind the above suggestions to avoid a ban for using BetterDiscord.
Related content you should read: Fix Can't Change Discord Username.
Frequently Asked Questions
Why is BetterDiscord against the TOS of Discord?
Discord strictly prohibits the user from using any third-party plugin. Because it paves the way for attacking your server with malicious bugs, viruses, and trojans.
Are you allowed to modify the Discord client?
You are not allowed to modify the Discord client through BetterDiscord or any other modifications program. It's strictly prohibited.
Is BetterDiscord Safe or unsafe?
The safe or unsafe issue depends on the users. If they violet the TOS of Discord, it will ban you.
Can you sell a Discord server?
When you log in to the Discord server, you agree to the terms that you will not modify, copy, distribute, frame, reproduce, republish, download, scrape, display, post, transmit, or sell in any form or by any means, in whole or in part.
Why you will get banned for using plugins on Discord?
You can't use any third-party modifications program for modifying Discord. If you do so and the Discord authority finds you guilty of this, you will get banned.
How will you report against someone on Discord?
You have to make a complaint to the moderator or the server developer against any user. He will inquire about it.
Does Twitter allow BetterDiscord?
No, it does not. Because it's against the terms and policies of Twitter.
Does BetterDiscord work on mobile?
The frameworks of mobile are different and do not support BetterDiscord.
Can u see a deleted message using BetterDiscod?
Yes, you can see deleted messages using BetterDiscord. It's a violation of API terms and privacy policy and can result in immediate termination of your account.
Can Discord detect whether I am using BetterDiscord or not?
Discord has no such application/program/ client-side checks for finding users using BetterDiscord.
Conclusion
There's an old adage that there's nothing quite like stealing if it goes unnoticed. That's how BetterDiscord works. When utilizing this modification add-on, you must exercise extreme caution.
However, no such report concerning this issue or accounts being blocked for utilizing BetterDiscord has surfaced.
it is now up to you to decide whether or not to use BetterDiscord. I've shown you the facts about the consequences of using BetterDiscord and what will happen to your account if you get caught in this article.
If you have any further queries about this issue, you can ask in the comment section. Our experts will try to help you as early as possible.