Credentials can save us from unauthorized entry from external devices, but occasionally they can also be the reason for disappointment.
Suppose you are trying to connect your PC to your network, but an irritating message keeps popping up on your computer screen Enter network credentials. You are filling up your username and password, but still, it shows The username or password is incorrect.
What should you do then? Don't lose hope because when I researched this error, I found some working fixes that can resolve your issue.
So without skipping, read the full article to sort out your problem.
Let's jump in!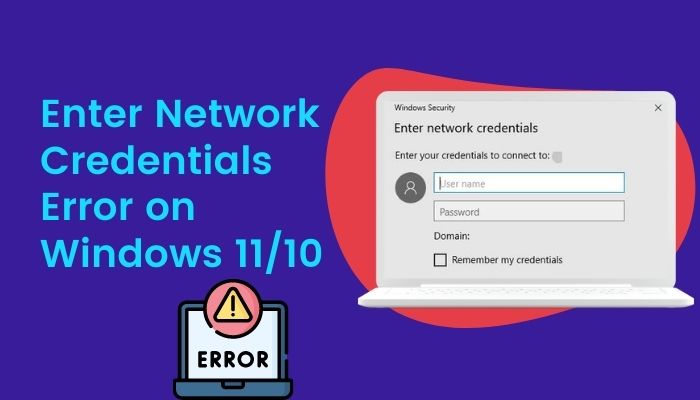 Check out our separate post: Windows 11 Missing Operating System Error
What are Network Credentials in Windows Security?
The username and password you use to log in to a network system are saved in the Windows directory for safekeeping and further use. Those stored passwords and accounts are called network credentials. The main goal of these credentials is to safeguard your windows from unauthorized entry.
Due to some bugs and glitches, sometimes your credential manager can block your access to your network; that's when a network credential error occurs.
Credentials are highly essential for you. When you enter a network without those credentials, your network doesn't recognize you; as a result, they restrict your access.
This credential error mainly happens when you want to enter a required file from another computer from the same network. The network doesn't identify the device as a host, hence blocking its entry.
Check out our separate post on how to disable Caps Lock notifications in Windows 10/11.
How to Fix Network Credentials Error on Windows 11/10
When your credential manager doesn't recognize you, you will be annoyed, but keep calm and follow my instructions to resolve your issue permanently.
Here are the steps to fix network credential errors on Windows 11/10:
1. Enter Microsoft Credentials
As you know Windows operating system depends heavily on Microsoft accounts. So instead of entering your local username and password on the error box, you can use your Microsoft account name and password. Check whether it works for you or not.
2. Use Your Computer Name in The Username
Several users claimed that entering both their PC name and username in the username box solves their problem, so you should try it.
Suppose the computer you want to enter is named David, and the username is Copperfield. Now you should write DavidCopperfield in the username box. Give no slash or hyphen in between.
Check out the easiest way to fix Windows 10/11 update error 0x80d02002.
3. Check IP Address and Set Automatic
When the IP address is not configured correctly, network credentials issues can appear. To solve this, track down the instructions.
Here are steps to check and set the IP address:
Press the Win+R keys to open the Run program.
Copy ncpa.cpl and paste it to the Run, and hit the Enter key.
Right-click on the network you are using and select the Properties option.
Double click on the Internet Protocol Version 4 (TCP/IPv4) option.
Select the Obtain an IP address automatically option under the General section.
Choose the Obtain DNS server address automatically option.
Hit the OK option.
Check whether it fixes your problem or not.
Check out the easiest way to Fix Windows 11 Installation Assistant Error 0x8007007f
4. Attach Other PC's Network Credentials to the Credentials Manager
You can manually add other PC credentials to your computer and then access that computer. To do that, you need to follow the process below.
Here are the steps to add other PCs credential to your PC:
Open the Search bar.
Type Credentials Manager and click on it.
Select the Windows credentials option.
Move to the Add a Windows credential section.
Enter the Computer name, User name, and Password of the computer you want to access.
Click on the OK option.
Now you can access your desired PC network from your PC without a hassle.
Here's a complete guide on how to create RDP shortcut icon on Windows 10.
5. Modify Sharing Settings
You can modify your sharing settings, and that can remove your credential problem. So give it a try and follow on.
Here are the methods to modify sharing settings on Windows 11:
Move to the Search bar.
Type and select the Manage advanced sharing settings program.
Navigate to the Private section.
Select the HomeGroup connections option and turn it on.
Move to the Let Windows manage homegroup connections option and select it.
Navigate to the All Networks section and turn off the Password protected sharing option.
Click on the Save changes option.
The process is all the same for Windows 10 operating system.
Your advanced sharing settings are now modified, and check if it works.
Check out the easiest way how to use Windows 11 installation Assistant.
6. Disable Credential Manager
You can permanently disable the credential manager. If you want to remove the credential manager, follow the mentioned steps.
Here are the steps to disable credential manager:
Type Win+R keys to open the Run program.
Write services.msc and hit the Enter key.
Select the Credential Manager and double-click on it.
Choose the Disable option from the Startup type section.
Select the Apply and OK button.
Restart your computer.
The credential manager is disabled from your computer. Test the network credential issue and see if it's solved or not.
Follow our guide to check if PC is eligible for Windows 11.
7. Modify Security Options
Occasionally, you can face network credential problems due to security options, so you need to modify your security options.
Here are the procedures to modify security options:
Open the Run menu.
Type secpol.msc and hit the Enter button.
Navigate to the Local Policies>Security Options.
Double click on the Accounts: Limit local account use of blank passwords to console logon only option.
Select the Disable option and hit OK.
Your security options are disabled, and that can remove your credential problem.

Also, check out our separate post on how to fix the Start button not working on Windows 11.
8. Apply Username and Password to Login on Windows
Several users claimed that those who don't use a username and password to open a Windows computer face this credential issue. So if you are one of them and use only a PIN to enter your computer, temporarily, you should stop using the PIN.
Set a username and password for your computer login and check the credential issue. Now you will find it resolved.
9. Change Connection Properties to Private
Changing your network profile type, public to private, can solve your network credential problem. So, track down the mentioned instructions.
Here are the steps to change the connection properties on Windows 11:
Right-Click on the Start menu.
Select the Network Connections option.
Click on the Properties section.
Choose the Private option.
After finishing the above-declared process, your credential issues will resolve.
Here's a complete guide on how to restore files from File History on Windows 11.
10. Open a New User Account
There is always an option for you that is to open a new user account. It can repair your credential problem, and the process is given below.
Here are the methods to open a new user account on Windows 11:
Press the Win+I keys and select the Accounts option.
Select the Family & other users section.
Click on the Add other user option.
Fill up the boxes and hit the Next option.
You can add a new user and resolve your credential problem with the help of these steps.
Also, check out our separate post on how to change file attributes in Windows 10/11
FAQs
How do I install Credential Manager?
There is no need to install the credential Manager as it is an inbuilt application that comes with the Windows system.
Do I need Windows credentials?
Yes, the Windows credentials tool is essential for safeguarding the network system. However, it can sometimes restrict us from accessing our own network.
What are Web credentials for Windows 11?
We surf the web as we see fit; consequently, we log in to many websites and store many cookies and data. The tool that stores those data and cookies is named web credentials on Windows 11. We can use web credentials for adding and replacing our web surfing data.
Bottom Line
When your computer screen shows the network credential problem, you must try your computer name blended with your username in the credential username box and give it a go. You can also modify the credential manager and check whether it works or not.
If you read my full article thoroughly, you can solve your network credentials issue on your own.
Let me know about your fixing journey in the comment below.
Stay safe bye!