Gigabyte SIV tends not to work on any Windows version since its beginning. Not only Windows 11, but previous Windows versions also couldn't keep up with this utility.
And the most bothersome matter is that even Gigabyte couldn't provide a valid reason behind SIV not working on Windows.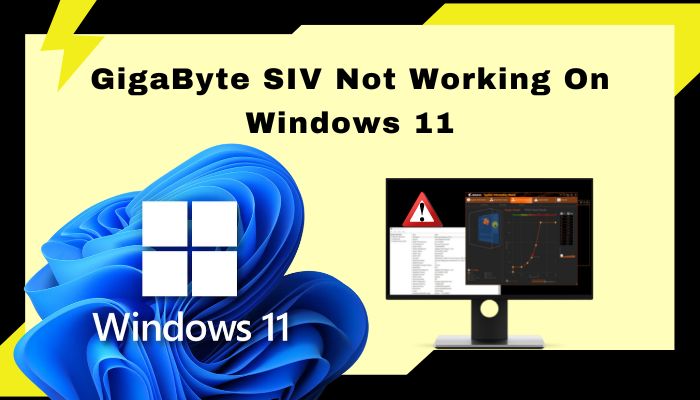 However, from using the z97 to the latest z690 Gigabyte motherboards, I've had enough encounters with the Gigabyte system information viewer utility. After researching tons of community posts, I found the perfect workaround for SIV not working on Windows 11.
In this article, you'll get to know what are the reasons behind SIV's failure to work and how to resolve them.
Let's get started.
Follow our guide to know The Best Gigabyte RGB Fusion 2.0 Alternatives
What is GigaByte SIV?
Gigabyte system information viewer (SIV) is the monitoring process of the motherboard's current status. To monitor and control the motherboard's fan speed, processor & clock speed, SIV is the ideal application. Also, SIV can create alerts for system behavior — I'll explain later.
If the SIV is installed on your computer, you don't need to get into BIOS to control the fan speed or other monitoring processes.
You need to install the Gigabyte App center before installing SIV. After launching the SIV app on your PC, you'll notice a system information tab where you'll find the basic system information of your computer.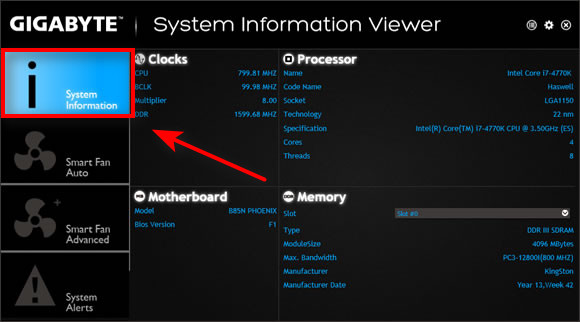 On the smart fan auto tab, you'll notice four different fan speeds for CPU cooling. You can choose either one. The next tab is Smart fan advanced. This allows you to adjust each of the fan's speeds manually. Which is pretty amazing if you want to synchronize every fan's speed.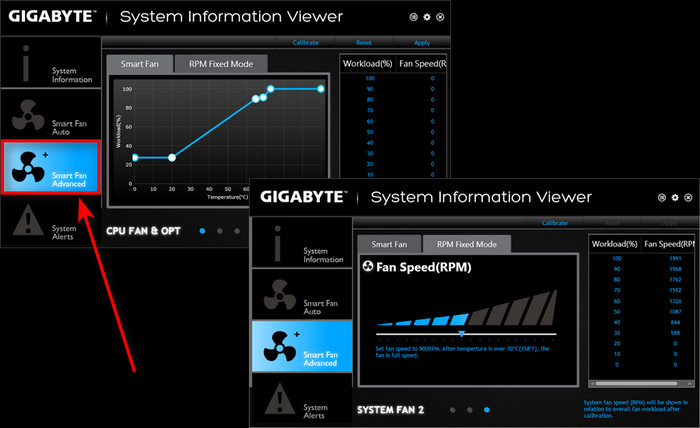 Why is Gigabyte SIV not Working on Windows 11?
If the old visual retribution C++ is installed on the computer, SIV won't work on Windows 11. In addition, when you install SIV, even before installing the Gigabyte app center, SIV won't show the fan speed information. However, the issue also can be a Windows bug.
There are other reasons behind Gigabyte SIV not working on the latest Windows version. Such as, if you're using an outdated version of the app center, SIV won't even launch on your computer.
And even if it launches, you won't be able to control the fan speed as expected. Also, most of the SIV users complained that the latest version of the utility is buggy. As of now, SIV (B21.1021.1) seems to be the ideal example.
The most probable reason for SIV has stopped working on your Windows 11 system is, using other utilities like EasyTuneEngineService and smart fan 5.
No need to get confused; I'll provide tested solutions to remove this issue, as promised. Check out the following section for that.
How to Fix SIV not Reporting Fan Speed in Windows 11?
Re-installing SIV is the primary solution for SIV not reporting fan speed in Windows 11. Also, you can clear the system cache of SIV, then launch it from your PC.
However, tweaking the utility in Windows 11 safe mode is the ultimate solution for the Gigabyte SIV fan speed reporting issue.
Yeah, those are the standard procedures for resolving SIV not working on Windows 11. Now, I'll elaborate on the processes a bit more. Follow the instructions below.
Here are the methods to resolve SIV not showing fan speed report in Windows 11:
1. Reset SIV in Windows 11
You need to reset the utility if the SIV is showing an erroneous fan speed report. You can also reset it when you can't control fan speed frequency.
Rebooting the application will resolve the issue you're currently facing.
Here are the steps to reset SIV in Windows 11:
Press Windows + R to launch the run prompt.
Type regedit in the prompt box and hit Enter.
Navigate to HKEY_LOCAL_MACHINE > SOFTWARE > WOW6432Node > Gigabyte > ThermalConsole.
Delete every element of that directory.
Restart your computer after those steps. Most probably, the system information viewer will start to function again.
Follow the forthcoming solution in case this tweak couldn't resolve Gigabyte SIV not running on Windows 11.
Check out the easiest way to fix Gigabyte BIOS ID Check Error.
2. Delete SIV Application Cache in Windows 11
If the system directory of SIV is corrupted or falsely arranged, deleting the application cache might resolve the issue. When you delete an application's system cache, it deletes the previous history and starts to work as freshly installed.
Here's the process to delete the SIV application cache file:
Press Windows + I to launch Windows settings.
Go to system settings > Storage > Temporary Files.
Tick on the files you want to delete, including temporary internet files.
Click on remove files after you tick on them.
Select continue to remove the files.
Launch the SIV and check whether you're able to control the fan speed or not. Check out the final solution to resolve Gigabyte SIV not showing fan speed on Windows 11.
3. Re-install SIV in Safe Mode
Safe mode allows you to launch Windows with a limited set of files. Only the basic drivers (must needed drivers) will start when you boot in safe mode.
I suggest a safe mode for reinstalling SIV because SIV tends not to uninstall from your PC in regular mode. Even if you uninstall it from regular mode, its data gets saved. Hence, you can't control the fan speed on Windows 11.
So, re-installing the utility in safe mode is the most reasonable approach.
Here are the steps to re-install SIV in safe mode:
Restart your computer and hold the Shift key + power button together when you're on the login screen.
Navigate to Troubleshoot > Advanced Options.
Select Startup Settings from that menu and click on restart.
Press F5 once your computer restarts. That will start the computer in safe mode.
Uninstall SIV in safe mode, then restart your computer.
Now, you can install the utility in regular Windows 11 mode. But remember to install Gigabyte App center before installing SIV.
Here's a complete guide on how to restore files from File History on Windows 11.
4. Contact Support
If the above-mentioned solutions couldn't resolve your issue, I suggest you contact gigabyte support. Click on the link, and provide your motherboard's model no. Explain the issues that you are having.
They will assist you regarding the measures you've taken already.
You are all set. You should work on these solutions whenever you find Gigabyte SIV not working on Windows 11.
Quickly check out our epic guide on stop Apps running in background Windows 11.
Frequently Asked Questions
Does gigabyte support Windows 11?
That depends on the motherboard you currently own. If that's TPM 2.0 supported, you can install Windows 11 on it.
What is a gigabyte system information viewer?
Gigabyte system information viewer is the monitoring utility of your motherboard's fan speed.
How to Fix Gigabyte SIV not working on Windows 11?
Unplug the splitter if you are using any. Then, reset the SIV and, if possible, reinstall the utility in safe mode.
Wrapping Up
Gigabyte SIV lets you manually configure the motherboard fan speed along with other advantages. In case you can't do that even after installing the application, this article can be your proper guideline.
However, if the described methods couldn't resolve your problem, do contact me via the comment box. I'll be happy to discuss this issue further. Till then, peace!