Discord is considered the most superior group messaging application in the world right now. And this is not shocking to both gamers and non-gamers.
It's because we use tons of unique and fantastic options every day on Discord, either as a server owner or a typical user.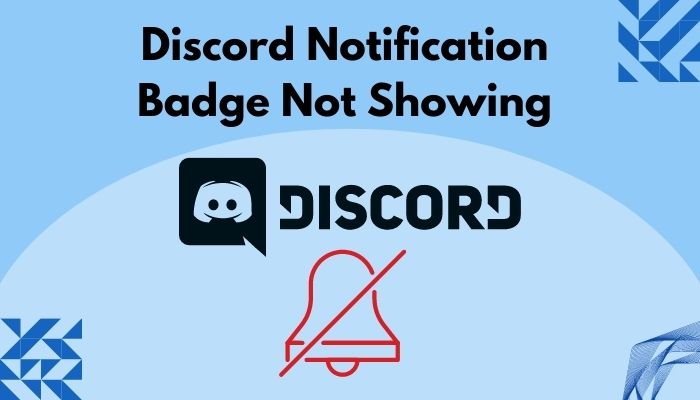 Almost all of us face our Discord notification badge not showing after updating our OS or a specific application. In my case, it happened when I upgraded to OsX Big Sur, and reinstalling Discord didn't resolve the issue.
So, is there any chance of getting this fixed?
To find out, jump right straight away. Keep an eye out and apply all the methods until your case is closed with a 100-watt flashing smile hanging on your face.
How to Fix Discord Notification Badge not Showing
Your Discord notification badge is not showing because of a wrong configuration of settings, i.e., it can be system settings, application settings, and so on. Many users can face the issue due to using an outdated version of Discord or having a temporary glitch and error in their system.
Did you know: A Discord server having 2500+ users won't push notifications to its users who are not mentioned.
Some users complained as they face the issue when their notification frequency is set to Mentions Only, but some users even face it setting their notification frequency as All Messages.
Strange, isn't it?
I don't want you to feel like living in a complicacy anymore. In this article, we will walk through the effective solutions that might resolve your Discord notification badge not showing for different kinds of devices.
Questions like how do I turn on notification badges on Discord and how do I enable the unread message badge in Discord will be answered in the sections too. So, don't waste any more of your time.
Let's have a journey on solving our problems together.
But before you do anything, make sure to perform a clean restart of both the Discord app and your device. Besides, check if the notifications are working absolutely fine with the other applications.
Here are the practical methods to fix the Discord notification badge not showing in a diverse manner:
Method 1: Update your Discord App
Every time you open the Discord desktop app, it searches for the latest update for your Discord and updates automatically. Thus bugs and error issues are minimized in the quickest manner.
But sometimes, there can be problems updating your app. So, you need to check for any available updates manually and update your Discord desktop application.
Here is the quickest way to update your Discord app:
Open your system tray and right-click on the Discord icon.
Click on the Check for Updates.
Your Discord app will update itself automatically. Check if the problem goes away, and move to the next one if the problem persists.
Method 2: Turn Off Do Not Disturb Mode
Some Discord users confirmed their problem was being solved by turning on the Do Not Disturb mode and turning it off again.
Here is the way to turn off Do not Disturb mode:
Open Discord and click on your avatar in the bottom left corner.
See if the Do Not Disturb mode is selected.
Select Do Not Disturb mode if it's not selected. You'll see a red (minus) sign right-bottom corner of the user avatar.
Click on your avatar again and select Online. You'll see a green circle appear instead of a red sign.
Has anything changed in the situation yet? If not, move to the following one.
Method 3: Check your Discord Notification
If the problem is not with the status, I suggest you check your Discord's notification if the problem is started here.
Here's the path you need to follow to check Discord notification:
Click on the gear icon in the bottom left corner of your Discord screen. It is known as the User Settings.
Scroll down on the left bar and click on Notifications.
Make sure to toggle on all three options.
Restart Discord again and see if the problem is gone for good.
This step also helps in fixing discord Krisp not working issue.
Method 4: Check the Specific Server
If the above three methods didn't resolve your issue, I suggest you check if the specific server or channel has been muted or the notification has been disabled.
Here is the method to check if the specific server is muted or the notification is disabled:
Launch Discord and click on the specific server you're facing the problem with.
Ensure the bell icon is not crossed off and right-click on the server name(Geek Hub).
Choose Unmute server if you've accidentally muted your server. Instead, if you find Mute server, you don't have to do anything.
Click on the drop-down option of your channel and go to the Notification Settings.
Turn off the Mute Geek Hub (whatever your server name is) and click Done.
Right-click on the server name and move your cursor to the Notification Settings. Check the All Messages
Restart your Discord app and wait for some time to get notifications. Still, if you found no change in condition, try the following method.
Method 5: Clear Discord Cache
If your Discord app got any temporary glitch or error, it might store in the cache files. So, you need to clear your Discord cache immediately.
Here's a  way to clear your Discord cache:
Press the Windows+R key to open the run prompt.
Type %appdata%/discord/cache and hit enter.
Press Ctrl+A to select all of the cache files.
Right-click on them and select Delete.
Open Discord and see if your problem is finally fixed. If the problem stays, maybe I don't have to suggest you apply the following method cause you have already started.
Method 6: Disable Quiet Hours
You might face the problem due to the Quiet Hours in the Action Center being enabled. So, try disabling the option and get your problem fixed.
Here's a way you can follow to disable the Quiet hours:
Press the Windows key and go to Settings.
Move to System and select Focus assist from the left panel.
Make sure to choose Off under Focus assist. Besides, toggle off the options under Automatic rules.
Relaunch Discord and see if performing this helps fix Discord not showing notification on taskbar.
Method 7: Disable Streamer Mode
Sometimes if you are streaming, i.e., the Streamer Mode is enabled, you might face Discord notifications not working on Windows 11 or other OS. In that case, you can disable the Streamer Mode.
Here's the path you must follow to disable the Streamer mode:
Open Discord and click on User Settings.
Move to the Streamer Mode from the left bar and turn off the Enable Streamer Mode
Turn on the Enable Streamer Mode and toggle off the Disable Notifications if any of you don't want to turn off the Streamer Mode.
Note: To find the Disable Notifications scroll down the Streamer Mode window.
Check out the easiest way to fix Discord screen share no audio problems.
Method 8: Reinstall Discord
A simple reinstalling of an application can solve temporary glitches issues. If this is the case with you, you need to quickly reinstall the Discord application.
Here's one of the fastest ways to reinstall Discord:
Press the Windows+R key to open the run prompt.
Type appwiz.cpl in the box and click OK.
Right-click on Discord and click Uninstall.
Go to Discord and download Discord again. Apply the on-screen instructions to install the app on your computer.
Input your credentials accurately to log in to your account. I hope the Discord unread message badge problem is solved by now.
Follow our guide on how to Adjust Discord Video Quality
FAQs
How do I turn on notification badges?
Go to Settings > Notifications > Advanced Settings and toggle on the app icon badges to turn them on.
How to enable an unread message badge in Discord?
Navigate to User Settings > Notifications and toggle on the Enable Unread Message Badge option.
If you are an iOS user, go to Settings > Discord > Notifications and toggle on the Badges option.
But for an android user, go to Settings > Discord > Notifications and enable Show app icon badges.
How to fix icon badges not showing?
Go to Settings > Apps > Menu > Special Access > Notification Access and turn it on.
A Final Thought
Using Discord falls on an everyday activity nowadays for hundreds of thousands of people. But facing difficulty may hamper us from performing our preferred tasks. And among the difficulties, the Discord notification badge not showing is a very usual one.
But I have mentioned a fine list of working methods you need to apply to fix the issue. Follow them until one solves the problem for you.
If you have additional issues with Discord, go through our recently published articles.