Are you upset because your friends said you look like pixelated art on a video call in a Discord server? Are you searching for a way to upgrade the video quality?
Then your quest ends here!
I can feel your pain as recently I faced the same issue of poor video quality. I suddenly noticed that my friends were complaining about my video quality. So, I sat before my pc and searched for a solution.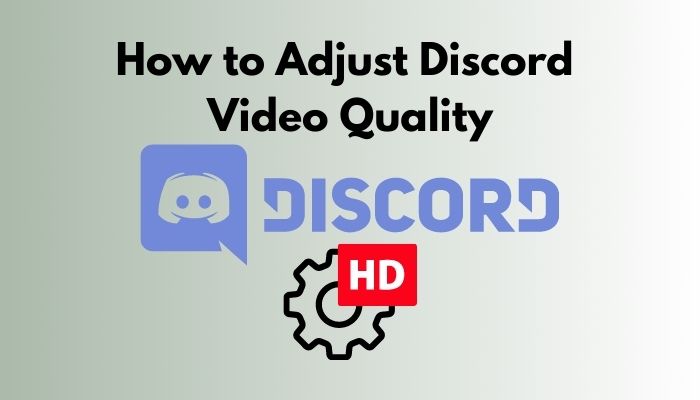 Fortunately, I found a bunch of them & will explain in this article. Let's jump in.
How to Adjust Discord Video Quality to Make It HD
To fix poor video quality on Discord, delete obsolete Discord cache files, give Discord high packet priority, use hardware acceleration, or invest in a better webcam. In addition, a stable and fast internet connection is also crucial to ensure a bufferless video on Discord.
Now, let's move on to the details of tuning Discord video quality. As I've told you, there are several reasons behind the awful Discord video quality; I have researched them all and come up with their solutions.
This post will show you how to bring life to your Discord video quality. I've made a list of methods with guidelines for you to follow. So, go through them and apply to the one which suits you.
Here are the methods to fix Discord video quality:
1. Clear Discords Cache Files
Suppose the cache files of your Discord client got corrupted with inappropriate or modified files from the previous session with a poor internet connection, causing poor Discord video quality. In that case, you have to clear the cache files of Discord for starters.
Before clearing the cache files, ensure Discord is appropriately closed.
To quit Discord correctly:
Right-click on the taskbar.
Click on the Task Manager.
Search for all Discord processes.
Select the process and click on End Task.
After properly closing Discord, follow these steps to clear the cache files:
Press the Win+R keys to open the Run dialog box.
Type %appdata%/discord/cache in the box and hit Enter.
Press the Ctrl+A keys to select all files.
Right-click on the selected files and select Delete to delete the files.
You've successfully deleted the cache files of Discord. Now launch Discord and verify if the video quality gets improved. If not, the problem lies in another place, so keep reading to find & solve the issue.
2. Enable Quality of Service High Packet Priority
To improve your Discord connection without shifting or increasing the packet data speed, you can enable an option inside Discord app settings to prioritize Discord data transfer over existing apps. It'll improve streaming quality by much.
Here are the steps to enable quality of service high packet priority:
Open settings on Discord by clicking on the cogwheel beside your username.
Select Voice & video from the left pane.
Scroll down to the QUALITY OF SERVICE section.
Toggle the switch beside Enable quality of service high packet priority option.
Restart Discord.
Now make a video call to your friend and see if the video quality setting in Discord is appropriately adjusted.
3. Close Heavy Background Processes
So, if you're running Discord along with a bunch of CPU and GPU-hungry software on your computer or laptop that are blocking the video processing algorithm, then, for better video quality, you need to close them ASAP.
Follow the steps to close heavy background processes properly:
Open Task Manager.
Search for all heavy software processes.
Select the process and click on End Task.
Now quit Discord & open it again. Make a call to your friends to see if the screen share and video quality is better. If the method fails, follow the next approach, which will definitely fix your problem.
4. Toggle On Hardware Acceleration In Discord
Even after terminating the background processes didn't boost Discord to better video quality, you can enable Discord's built-in Hardware Acceleration, by which Discord will use your GPU for efficient encoding and decoding, if available.
To enable Hardware Acceleration In Discord:
Navigate to Discord Settings and then Voice & video.
Find the VIDEO CODEC section.
Turn on both OpenH264 Video Codec and264 Hardware Acceleration.
After that, select the Advanced section from the left panel. Enable Hardware Acceleration.

The option requires restarting Discord to work. So relaunch the Discord app & check the video quality, which should be improved this time.
5. Use a High-Quality Webcam
Your camera quality must be good for a high-quality video feed on Discord. You cannot expect an excellent live stream with a poor grade or your device's built-in camera.
So, expand your boundary and get a hold of a better camera that makes your video feed more alive to your friends in a call.
You'll find various models with various resolutions according to your budget. Just try to purchase the one which suits your needs perfectly. Before making the final decision, don't forget to watch their review on YouTube.
6. Check the Webcam Setup
I told you that a webcam is a significant part of a good-quality video in Discord, but what is the point of having a good-quality webcam when you screw up the installation?
So, I suggest you check the installation guideline or manual that came with the webcam. See if there's any vital instruction you overlooked.
If everything is alright, check if the webcam driver is installed and properly plugged in with your PC.
Choose the right video and camera settings to improve video quality and fix this issue. To find the type of camera Discord uses, you can go into Settings > Voice & video. Additionally, you can verify video quality in the Test Video option in that Voice & video section.
Moreover, if you use Discord on a phone or tablet device, Discord will automatically choose the camera as the default video input device.
7. Use a Stable Internet Connection
As I told you before, Discord is an app that requires a seamless internet connection to run without any issues. A high-speed internet connection will ensure a high quality of your video in Discord.
So, if you're having any issues with the quality of a call or getting frequent boring Discord notification sounds for getting disconnected, verify your connection status. Check your router settings and see if there is any interruption in your network cable or Wi-Fi signal.
If you cannot find any visual defects, contact your network admins and ask for their help.
If you're trying to use Discord on public Wi-Fi, I suggest you not do that. They are lousy internet connections that are unstable and unsafe, and so many users are on a single channel.
Also, it is not secure for your device, and there is a data breaching risk.
Why Does Discord Video Quality/ Streaming Quality Drop?
Discord video quality gets unclear because of poor internet connection, low-quality camera, faulty camera installation facility, and corrupted cache files. Any of these reasons can result in your video quality getting worse, even if there's a top-notch high-spec CPU installed.
I have researched the reasons behind bad video quality that might help you identify your issue, which led you to my post today.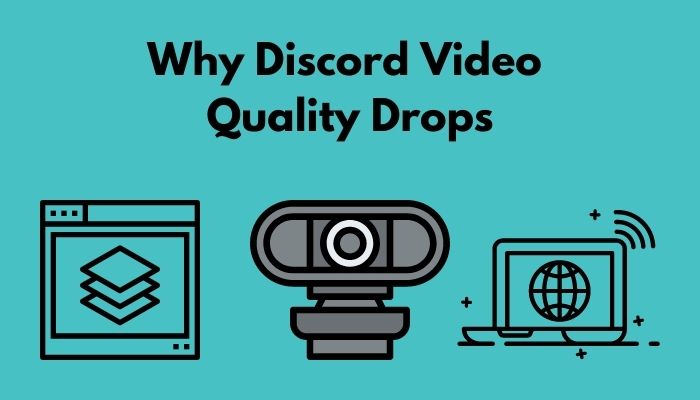 Here are the most common reasons behind the poor streaming quality in Discord:
Corrupted Discord Cache Files
One of the main reasons behind the low video quality in Discord is corrupted cache files. Like any other application in Windows, Discord also uses cache files to store frequently used data of a session.
Discord dynamically changes the video quality based on the internet speed and stability. So, the video quality will automatically drop if your internet speed drops in a session.
But sometimes, previous cache files conflict with the current session's files and permanently reduce the video quality of Discord.
This might be the reason for you, and because of this, your Discord video quality is low.
Incorrect Discord Settings
There are several settings inside Discord related to voice and video. You're all set if you know them and know how to set them.
But you might be unaware of specific Discord settings that can improve your streaming quality if your video quality is hazy. There are also some settings related to the voice which can stop echo in Discord.
So, if you've disabled these settings from Discord's settings, you might encounter quality loss on Discord video.
Multiple Graphic Intensive Background Processes
Discord needs to process the video feed once it captures them from your camera, and it requires graphics processing with the help of your GPU and CPU.
But, you've already run several applications that require intense CPU and GPU processing, Discord can be forced to skip the video processing, and your video quality will take a hit.
So, if there are multiple heavy apps operational on your device while video streaming, your video quality can get blurry for the lack of enough processing resources.
One of the main reasons for your discord stream quality needing improvement with good internet is having a lousy camera.
Video call on any platform lies in the quality of your camera. But if the webcam is out of focus and not of good quality, or just the stock webcam of your laptop, then we all know the result.
Your friends will barely see you on a call, and it would look like the video has 144p resolution recorded with a 2005-era phone.
Faulty Webcam Installation
Another issue with a low-quality Discord video is the faulty installation of the webcam. This can also cause the Discord camera to load forever on a PC or mobile.
So, unlike the previous reason, you bought an aftermarket, good-quality camera and installed it all by yourself on your pc. But still, you're not getting the quality video feed you're supposed to get.
That's because you've installed it in the wrong way, and it's not functioning as it should because of that.
So, if there's an issue with the installation, you'll end up with poor video quality on Discord and every software on your pc.
Unstable Internet Connection
A stable internet connection plays a significant role in making a smooth, high-quality video feed for Discord because Discord dynamically changes video quality based on internet stability.
So, if you're using a lousy internet connection that is neither stable nor provides a high speed, then you don't have any hope for a good Discord video quality, and it can get buffered, even if you own a high-spec PC setup.
Without a stable and high-speed connection like fiber internet, you won't be able to get a high-quality video feed on Discord.
Should You Buy Discord Nitro for Better Video Quality?
Many Discord users with video quality issues think that buying a Nitro subscription would help them overcome the problem. But, little did they know a Nitro subscription will not improve Discord stream quality. So, it is not a solution for the poor quality of video streams.
As I explained above, you can see that most of the reason behind Discord's video quality issue is hardware or internet connection-related issues. So, honestly, Discord has nothing to do with this issue, nor did Nitro's subscription.
As long as you don't fix the reasons behind low-quality video feeds, buying a Nitro premium subscription with your credit card won't do any good to you.
Wasting money on Nitro won't improve your video calls unless you fix the above mentioned issue. So, quit throwing money around and fix the problem by following my guidelines above.
FAQs
Is Discord video call good?
Discord is an excellent app for video conferences. Discord is the perfect app for you if you need to chat with your friends and family and use video or audio. Being built as a VoIP platform ensures a lag-free, smooth communication experience with your associates.
How to stream 1080p Discord?
To stream in 1080p on Discord, click the Screen button above your username on the lower left-hand corner of the Discord home screen. Go to the Stream Quality option and update your preferences. You must purchase a Discord Nitro subscription to stream at 1080p at 60 fps.
How to make my discord stream smoother?
To make your stream smoother, terminate unnecessary programs using the Task Manager, turn on hardware acceleration, update Windows and device drivers, clear Discord cache files, and update the Discord app.
How to change video settings on Discord?
You can modify your video settings on Discord by clicking the cogwheel beside your username. It'll open the Discord settings page. Click on Voice & video from the left pane. You can adjust your voice and video chat settings here in Discord.
Conclusion
I've covered all the reasons behind the Discord video quality issue and shown their solutions in the post.
So, try to resolve the issue by following the methods to improve video quality and save your valuable time.
Comment below if you have any further queries and our experts will answer them right away.