Have you ever noticed a certain Discord server suddenly disappearing?
And due to Discord's lack of clarification, you were just left wondering whether you were kicked, banned, or the entire server got erased for some reason!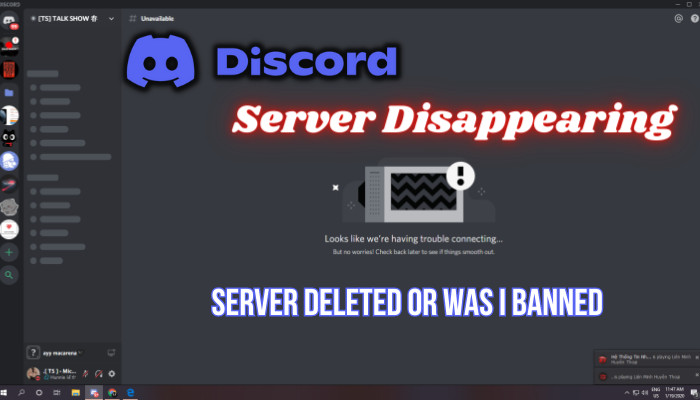 So instead of speculating, go through this article to know exactly why you can't see the said Discord server anymore.
Why Did the Discord Server Disappear?
If the Discord servers disappeared from your server list/sidebar, you might have been removed or banned from those servers. It is also possible that the server itself has been purged by Discord due to suspicious activity.
To be frank, there are various reasons why a server might disappear depending on whether you were the server owner or member.
If you were a member:
You were kicked. The server owner/admin can simply remove you from the server and the server won't show up on your Discord server list.
Click on the Find or start a conversation box from the top left corner and search for the said server. If you can find the server from the search result, you were indeed kicked from the server.
You got banned. Similar to kicking out members, Discord admins can also permanently ban your Discord account from their server. In that case, the server will disappear from your Discord homepage/server list.
To know for certain, ask a friend or use an alternate account to search for the said server. If you can find the server from another account, then you've been banned.
The server was deleted. Usually, Discord doesn't delete any server due to inactivity or lack of members. But it can purge a server when its admins or members have repeatedly violated Discord's ToS(Terms of Service) or have posted something that goes against Discord's community guidelines.
In case you can't find the server, even with an alternate account, the server might indeed have been removed by Discord.
Discord's server is currently down. If Discord's official server is down or under maintenance, you won't be able to see your joined servers. Go to discordstatus.com to be sure about it.
If you were an owner/admin:
Discord deleted your server. Such a scenario can occur when you or any of your server's members got reported for violating Discord's terms and services or community guidelines. Discord usually notifies the owner before the server gets erased. So if you didn't receive such a warning, your server wasn't deleted by Discord.
Your account was hacked and someone else deleted the server. This is why two-factor authentication is so important when you're a Discord admin/owner.
Technical glitch or server issue from Discord. To be certain of this, go to discordstatus.com to see if the Discord servers are operational.
Now that you know why a Discord server might disappear, let's see what you can do about it.
What to Do When You Can't Find a Discord Server?
Unfortunately, there isn't much to do if you've been kicked or banned from a Discord server. You can try contacting the server admins or the owner to uplift the ban or add to the server again. You can also try joining the server from the invite link if you've not been banned.
Furthermore, there's a chance that the servers are disappearing due to network or technical issues on your end. In such cases, ensure that you're using a stable internet connection and turn off VPN. Additionally, clear the cache files of the Discord app. Here's how to do it:
For Desktop
Press Windows Key+R and type %appdata%/discord.
Hit Enter.
Select and delete the Cache, Code Cache, and GPUCache folders.
For Mobile
Navigate to Settings > Apps & notifications.
Find and select Discord from the apps list.
Tap on Storage & cache > Clear cache.
You also need to make sure that the Hide Muted Channels option is turned off for all your Discord servers. If you're unable to fix this error with the above-stated methods, go to Discord Support and report this issue.
Frequently Asked Questions
Does Discord keep deleted servers?
No. According to Discord guidelines, all data related to a server gets permanently removed when you delete the server.
Can I find deleted Discord servers?
Unfortunately, you can't find a Discord server anymore once it gets permanently deleted.
How can I tell if the Discord server was deleted?
You have to ask or pm other members of the Discord server to know if the server has been deleted.
Summary
If you can't find a Discord server anymore, you might have been kicked or banned from the server. Unfortunately, Discord doesn't notify you of what happened.
The server can also be deleted. Try messaging someone from the same server to know if the server is still active.
It can also be a server-related issue. So, check whether the Discord servers are operational or not from discordstatus.com.