Have you bought a Nitro subscription, but it didn't show up, like no badges or emojis? You checked the confirmation mail that says you purchased already, and after filing 3 support tickets, the issue persists?
Bullshit!
Discord has kept whacking people like this for more than two years now. And to my utter surprise, neither Discord said something regarding this issue nor did they fix the problem.
I mean, come on! How poor a billing system of a billion-dollar company can provide!
If the issue replicates your current situation by any means, follow through. Read the article till the end and try the following methods to resolve your issue.
Let's do it!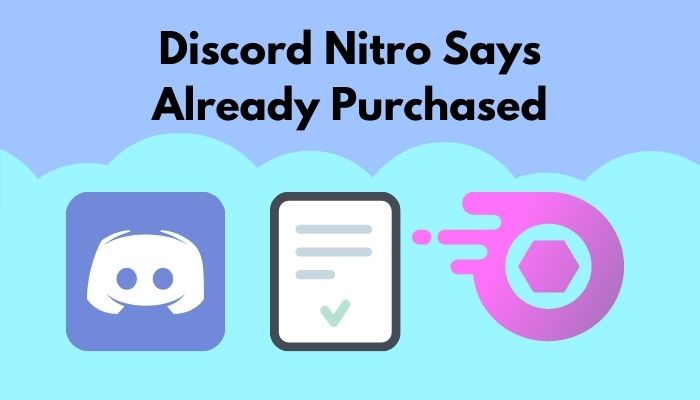 Check out the easiest way to Fix Discord Nitro Link Not Working
How to Fix Discord Nitro Says Already Purchased
Some severe bugs of the entire Discord billing system are the principal issue for Discord Nitro says already purchased conundrum. You get a confirmation email, but the advanced features are still locked. It can also appear because you are trapped by scammers.
I have researched the issue for several months and found that it occurs mainly among iOS users, especially when using a gift card. Some of them even get no confirmation email.
It sucks!
So, you might wonder, thinking, Did I just get scammed by Discord?
The answer is a huge No. Discord didn't scam you, consciously, I mean. But the erroneous system can make it look like this.
You may also like to read: Fix Unable To Confirm Payment Method Discord Nitro
Here are the methods you need to apply to fix Discord Nitro says purchased issue:
Method 1: Reinstall Discord
I believe, Discord has a serious problem with their whole billing system because of some bugs and errors. As reinstalling Discord can fix the temporary glitches and bugs, you can give it a try to see if that works for you too.
Here's a path on how to reinstall Discord:
Press the Windows button, type the control panel, and click Open.
Click on Uninstall a program under Programs.
Select Discord and right-click on it. Click on Uninstall.
Click on Discord and reinstall the application.
Tap on the Discord icon and choose the minus (-) sign if you are a mobile user. Tap on Uninstall.
Navigate to the Play Store or App Store and reinstall Discord again.
I hope this resolves the issue. But if it fails, try the following one.
Read more on how to Buy Discord Nitro with Google Play
Method 2: Recheck your Email
I find some issues where Discord users have more than one account for different purposes.
So, if you got no email confirming your subscription, recheck the given email to see if it's correct or not. Look for the required email in the spam section.
Method 3: Contact Discord
There is no solution rather than letting Discord fix the issue. So, I believe you must ask for help from Discord.
I have seen Discord more responsive to Twitter than other platforms. So, make sure you post a Tweet mentioning your problem.
Apart from that, land on the request page and submit your request. You can also send an email to support@discordapp.com to get the problem resolved. I find people asking for help on different platforms to solve their cases.
Method 4: Contact Apple
Contact apple support if you want to get out of this issue with a refund. But If they refuse to give you the refund or don't respond, contact Discord.
Some Discord users want to use Nitro, but they do not have any medium available. So they depend on some third party who made the payment for them.
If the scene looks familiar to you, there is a chance you were taking services from some spammers. If this is the case, consider the money as a donation.
But if you have a chance to expose them, go ahead.
N.B.: Don't get Nitro via Apple if you have any Server Boosts before or now.
Related guides: How to Cancel Discord Nitro, How to Claim Discord Nitro with Xbox Game Pass.
FAQs
Can you claim Discord Nitro if you already have it?
If you already have a Discord Nitro subscription, you can claim another gift that will store as an account credit.
How do I activate Nitro after purchase?
To activate Nitro after purchase,  go to User Settings > Subscription > Discord Nitro/Nitro Classic. Select the matching plan to finish the process.
How do I get my Nitro subscription refund for the App Store Purchase?
Navigate to apple > Sign in > Find Discord Nitro subscription > Report a problem. Follow the on-screen instructions, choose a refund reason, and submit your response.
When my current payment of Discord will finish?
Go to User Settings > Subscription. Check your current subscription plan's last date.
What happens if I cancel Nitro?
If you cancel Nitro, the subscription will end when your current next payment is finished.
A Final Thought
Discord is a progressively amazing platform people of similar interests, and different ages hang out. But issues like Discord Nitro says already purchased result in failing to provide any of the perks and features Nitro promises.
From this perspective, Discord seems like total trash, and it's high time Discord should come up with a working solution.
I tried to let you know what solutions are available in this absence of information. Try the methods out one by one and let us know which solves your issue.
If you find any solution that fixes the issue, let the other Discord users know by leaving a comment below.