A PC with no display output makes no scene. When your monitor stops working suddenly, you will feel the urgency. It hurts even more if you're out of budget to buy a new one.
I discovered and still use some methods to control multiple PCs I own, only with my laptop screen.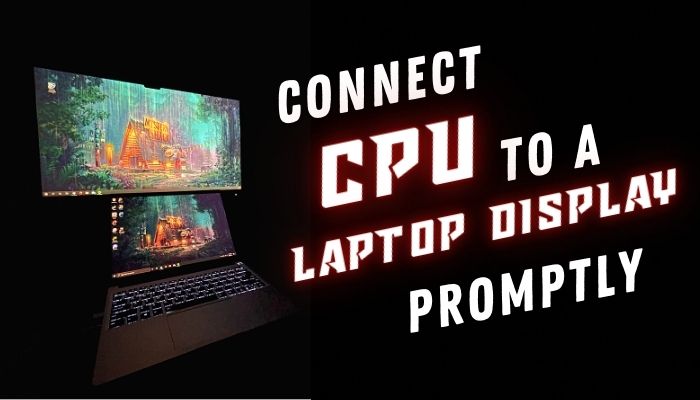 So, let's discuss some methods to use a Laptop display as a PC's screen. And file sharing across devices also.
How to Connect My CPU to Laptop Screen
Predictably, you have a monetary crisis and can't get a new monitor for your PC after losing one. You're seeking alternatives to run your CPU or PC. FYI, whether you call it Desktop, Rig, PC, or the CPU — it's all the same thing.
Another possibility could be your work efficiency, that you may keep multiple devices connected to one monitor, as large server managers often do.
Remember ‒ you must provide both PC's display output while setting up for first use. If you have a dedicated display for one PC, you can use any TV that has an HDMI port or any display device that can show output through HDMI, VGA, DP, or DVI ports.
You can borrow one from your friend if you have no such device that can show display output.
Here are some optimal methods to connect your CPU to your laptop screen:
Project Via Windows Wireless Display Connect
Built-in or OS-integrated features are the most accessible, like Windows Wireless Display / Connect. It's a simple feature that can connect computers to share screen access with the mouse & keyboard.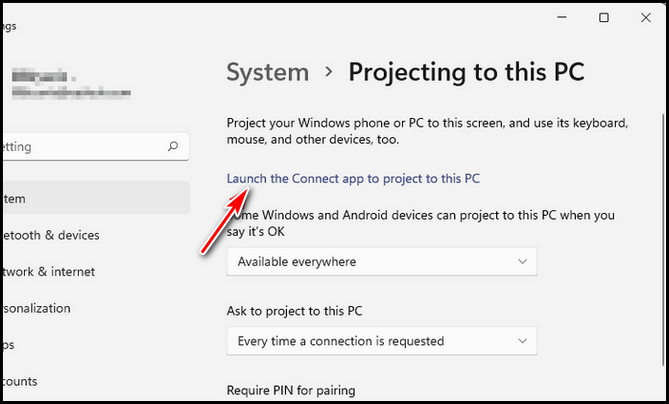 You can easily access this setting by pressing Win + K. Windows 10 & 11 has this feature enabled, or you have to enable it on your own.
Here is the complete setup process for enabling and using Wireless Display on your Device:
Connect both devices to the same network using WiFi.(This feature is via WiFi only)
Go to Windows Settings with the Windows + I button.
Click on Apps.
Select Optional Features.
Search Wireless Display — you can use the feature by Windows + K if installed. If not,
Click on Add Feature and search 'Wireless Display' to install it on System.
Launch the App from Start Menu named 'Connect / Wireless Display' on both devices.
Start Searching for Laptop/Desktop with Win + K.
Select the device you want to share your screen with.
The latency of your Display projection depends on the WiFi Signal strength. Although it could be better via a wired connection (not supported via wire), WiFi 6E-based connection with a powerful router can decrease the latency.
Note: If your Device says it doesn't support Miracast, then you may not be able to project your screen to another device via the Wireless Display feature.
Use Remote Access Software
Although the Remote Access Software isn't the optimal solution for using a Laptop screen, it's flexible enough. That I use it to troubleshoot my friend's and client's PC, even if I'm far from the PC. It doesn't matter if I'm on the opposite side of the world.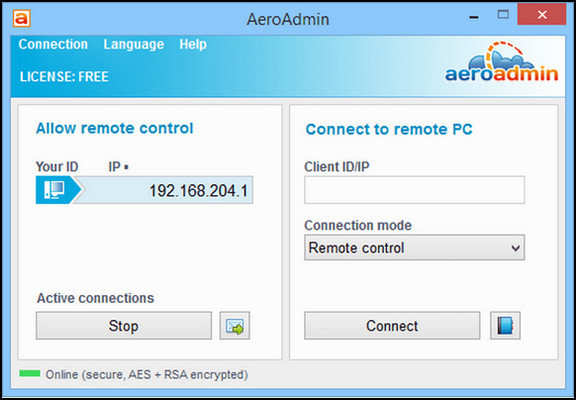 Anydesk, Team Viewer, Windows Remote Desktop, etc. are the Remote Access software people use to gain full access to another one's PC for different reasons. You can typically use your PC from your Laptop with noticeable latency in certain circumstances.
It's so convenient to use such on-the-go applications, which can easily access any PC from anywhere with just the shared access code. You are not even required to be connected to the same network to access a PC.
Note: You can project between your devices and vice versa if both devices have Miracast support.
Connect by DeskSpace
DeskSpace is the most advisable software you should consider if you want your CPU/PC Displayed on a Laptop's screen. The most effective feature of this software is wired connection support. It supports both wired and wireless connections, with mouse & keyboard support across devices.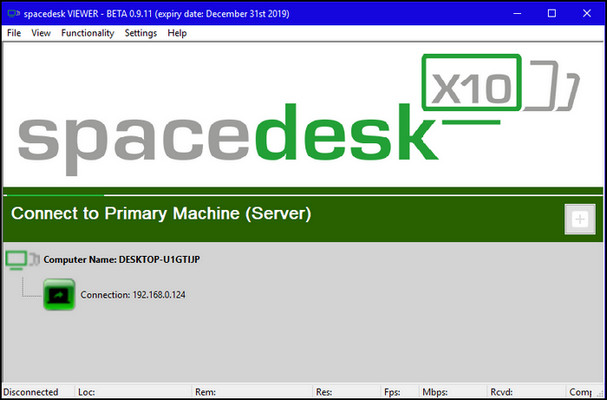 Here are the steps to set up and run DeskSpace to project the screen on another PC's display:
Download the DeskSpace Server application for the PC ‒ which PC's Display needs to be projected.
Download the Deskspace Client Application for the PC ‒ which will show the other PC's output.
Install the software accordingly on both devices.
Open the Server & Client App at the same time on PCs.
Select the PC from the list on the Client App.
Common Error or issue while Connecting PCs:
If you can't discover the PC on your network, you have to configure your PC to make it visible to the client's computer.
Here is the guide to troubleshooting the undiscoverable Server Computer issue:

Access the Settings by hitting Windows + I on the keyboard.
Click on Network & Internet.
Select Network & Sharing Center from the right menu list.
Click on Change Advanced Sharing Settings from the left section.
Open Private (Current Profile) by clicking on the Dropdown menu.
Toggle to turn on network discovery and tick the checkbox beneath.
Now your device is discoverable to the client PC you installed SpaceDesk Client.
Note: SpaceDesk supports P2P connection via the ethernet port, which has the least latency and higher video bandwidth channel to carry high-resolution output.
Use Capture Card With OBS
Everyone doesn't seek this type of solution for display dearth. Some find solutions to manage multiple rigs with a single PC. This type of solution requires a special device like a Capture Card, which is a bit costly.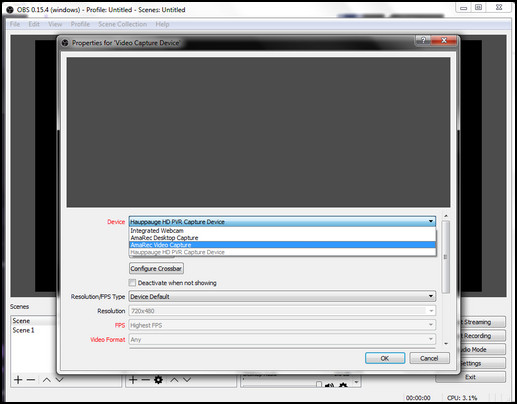 With the help of the Screen streaming application as OBS, the user can fetch streaming video data from a Video Capture Card effortlessly.
Here are the steps to use a CPU with a laptop screen using OBS and Video Capture Card:
Connect your CPU/PC to the Video Capture Card input via HDMI.
Link Audio peripherals to Capture Card also.
Connect the Output HDMI to the Laptop.
Download and install OBS Studio on your Laptop.
Open OBS Studio and add a Scene.
Select the video output from the capture Card. (often named after card model)
Right-click on the video and select full screen.
Here is how you can bring your PC's video output into your laptop screen. Although This method may have no lags or latency, it's a painful process to execute every time you turn on your laptop to access the CPU/PC.
If you get high CPU usage when using OBS, check our separate article for a troubleshooting guide. It has all the necessary steps listed to help you out.
Sharing files is an essential feature while you are dealing with multiple devices. Syncing files among devices is significant in teamwork.
Although you can use a portable storage device to copy or move data between devices, syncing files with network junctions saves time and hardware resources.
So, it gets more meaningful if you use another device's video output on your laptop to get things done.
Here are some preferable ways you can follow to share or sync files among devices:
Via Windows Network Sharing System
Sharing files through a computer network is the most basic and native feature. However, the setup for this is complicated. But with a simple and brief guide, it seems effortless.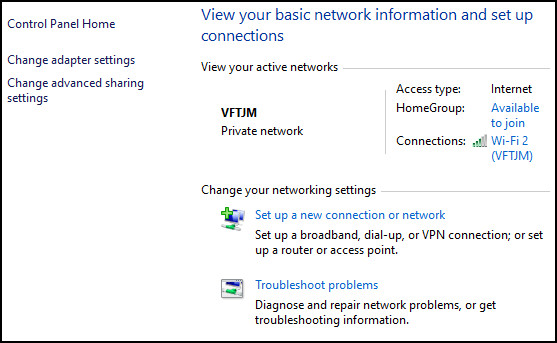 As this sharing system is a built-in feature of Windows, you won't need to install any software. After configuring both of your devices accordingly, you'll have shared folders that will help you to share files. After creating a shared folder, you can decide whether you want your shared files to be read-only or read & editable.
There are tons of software to use if you want to share files between two devices. People often use Nearby Share, Shareit, SnapDrop, and so on.
These apps are easy to use and flexible for novice users. Both devices must be connected to the same WiFI to share files.
If file sharing on Windows does not work for you, check our separate article to help you out.
Sync with Cloud Storage Apps
The most popular & efficient file-sharing technique is syncing files using Cloud Storage Apps. Google Drive, Mega, OneDrive, Dropbox, pCloud & torrents are the finest examples that people use across the internet.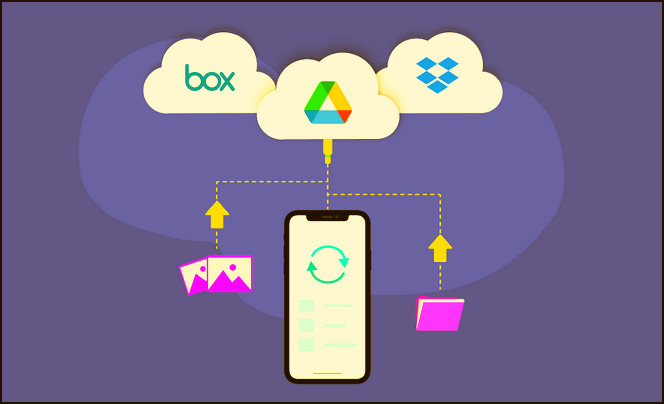 Install it on multiple devices and set up where your synced data should be located. Your files will be updated, no matter which device you are using.
Which is Better? Wired or Wireless?
Whichever method you use to project, display or transfer data, the wired option is relatively better, if you consider speed and latency.
Routers transmit Radio signals to their connected devices, which is evolving gradually. The router I currently use has a 2.4 GHz band, but 5 GHz is now generalized. Furthermore, WiFI 6E has a 6 GHz band to serve more quickly.
But still, the fairly old Gigabit LAN connection gives more speed and consistency while transferring file data, and video streaming data.
So, the wired connection functions better than high-quality wireless connection technology.
But if the speeds on an ethernet connection become slower than your wifi, do not forget to take a look at our separate article. We explore why this happens and give you a possible fix.
FAQs
Can I Use My Phone as a Desktop/Laptop Screen?
Yes, you can use your phone as an extended or primary screen of your PC using DeskSpace. Both wired and wireless transmission is possible through DeskSpace.
Does Screen Mirror reduce image quality?
It totally depends on your mirroring method and hardware compatibility, Softwares initially reduce the resolution to minimize latency and lag.
Can I extend the laptop screen to the desktop monitor?
Almost every laptop comes with VGA or HDMI port, you can simply plug in HDMI or VGA cables on both ends to monitor and laptop to extend the laptop screen by pressing Windows + P.
What can I use instead of a computer monitor?
You can use your HD TV instead of an actual monitor if your TV has an HDMI input. Therefore, any device with HDMI input capability is viewable as a desktop monitor.
Wrap-Ups
A desktop monitor is crucial if you want to use a PC properly. The alternatives are enough for temporary support or certain required circumstances.
Therefore, you can't just use an alternative way to meet your primary requirements. Almost all alternatives have latency, ghosting, frame missing, and tons of other problems.
You can also ask more in the comment section, we follow up and frequently respond.