Due to the nature of the long session meeting in the zoom, you may get tired of looking at your tiny mobile or laptop screen.
So it becomes obvious to opt-in for a bigger screen, which can be your smart TV. In this stage, you will be curious whether zoom works on smart TV. If so, how do I use it?
In this article, I will settle the confusion & show the path of using the Zoom app on your TV. Let's dive into it.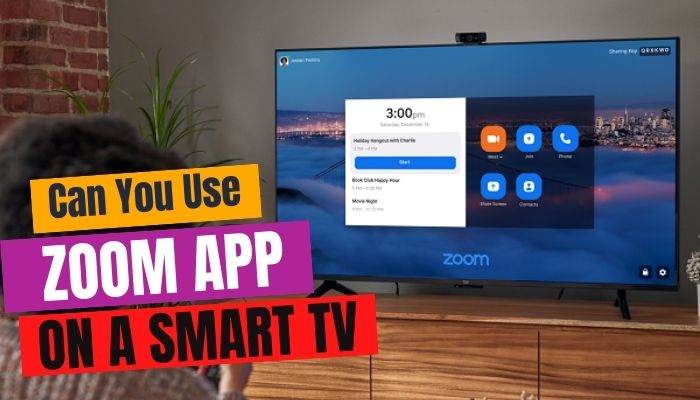 Follow our guide to fix Zoom not working on Wifi.
Can You Use Your Smart TV for Zoom Meetings?
In one word, YES! You can have meetings or video calls with your pals & family with the Zoom app on your 4K smart TV.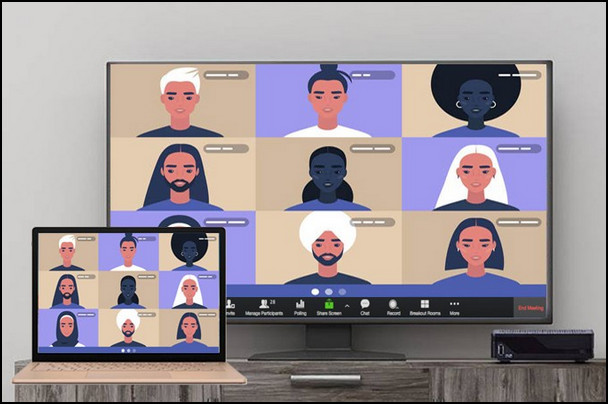 During covid-19 outbreak back in 2020, working from home got popular & Zoom app became synonymous with it. For the advantage of extra screen space, Smart TV becomes a viable choice for meetings which creates a relaxed environment.
Fortunately, if your TV supports zoom natively, it will be more hassle-free. In contrast, you need portable gadgets like mobile, laptops, or MacBook with the conjunction of some software.
I will exhibit to you both native & non-native solutions of how to use your Smart TV for a better zoom experience.
Here are the ways to use your smart television for Zoom meetings:
1. Native Approach
If your Smart television has a built-in microphone with a nice camera, you are almost set to use the Zoom app. It will be a more straightforward procedure. All you have to do is, search zoom in your app store, download & install it.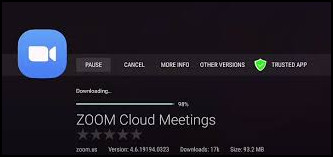 As zoom requires a cam & mic to connect to a meeting, having an integrated camera with a mic is mandatory. Lacking these features, others can't see you & you can't be able to talk either.
That being said, I bought an LG LA9600 55-inch TV from eBay on a sale, which was a great deal for my zoom experience. One of my friends owns a Samsung F7500 TV which comes with a built-in mic & cam. But manufacturers stopped producing those TVs. Unfortunately, most modern smart TVs don't integrate a mic or camera to reduce cost & security purposes.
Such cases will push you to use an external USB-powered webcam. But when using a cam externally, it will become more complicated for API usage.
Some TV remote includes a mic within it. So that you can talk at a distance. But these are not mainstream & also not convenient for noise recognition.
Are you worried that you can't find your camera on the top part of your TV, so you won't be able to join zoom on your larger screen? Fear not. I have referred to alternative approaches in the latter part.
Also, check out our separate post on Zoom: how to change audio output device and volume?
2. Non-Native Technique
If you are reading this, you fall in the category where the majority of people need these solutions to work zoom on their smart televisions.
For the lack of a built-in microphone & camera on your TVs, you need some tethered solution or vice-versa.
Here are the non-native techniques you can employ to use the zoom on TV:
Using Android Phones
You can use Miracast to wirelessly connect your android phone to your smart TV. In case you have Miracast on your android phone, but your TV lacks the feature, you will have to buy an external wireless display adapter.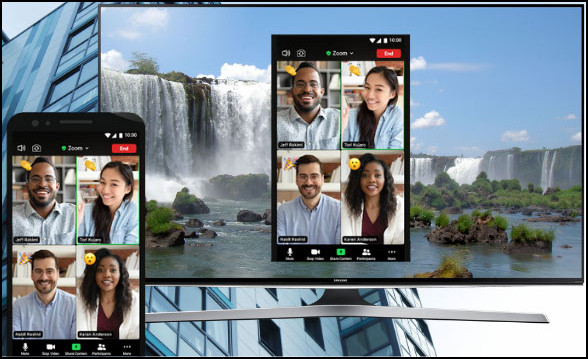 Here are the steps to cast zoom wirelessly on smart TV:        
Connect both your phone & smart television to the same Wireless signal.
Go to settings & Then Connection & sharing.
Tap on Cast.
Enable Cast option to find your smart TV's name & connect to it
Join a zoom meeting & you will be able to watch the call on the larger screen.
This approach is followed for the Redmi Note 9 android phone. Depending on different brands, the procedure may change & the term may be used as Miracast or screencasting or Wi-Fi casting, etc.
A different approach is using Chromecast. To mirror your screen with Chromecast is fairly easy.
Here are the steps to use Chromecast on smart TV:
Set up Chromecast & connect to the same Wi-Fi.
Find the screen mirroring option on your phone.
Tap on Chromecast device.
Enjoy Zoom calls on your smart TV.
Using iPhone or iPad or MacBook
By using AirPlay, you can mirror your screen with your iPhone, iPad, or MacBook. Not all smart TVs support AirPlay, therefore make sure to check the model whether it is supported or not.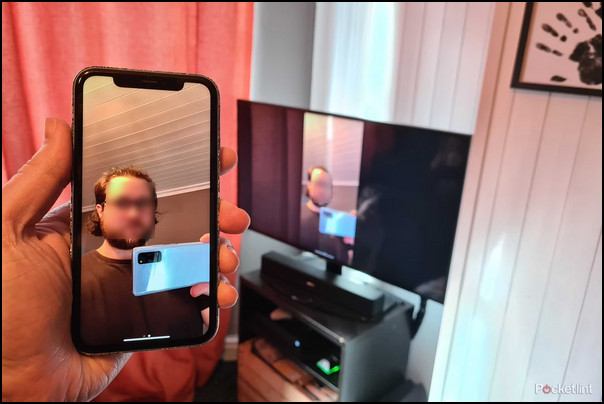 Here are the ways to use AirPlay to cast zoom on smart TVs:
Connect your Apple gadget & smart TV to the same Wi-Fi signal.
Go to Settings & then General.
Turn on Airplay from Apple AirPlay Settings.
Access to Screen Mirroring.
Select your TV name from the list.
Start or join a zoom meeting on your newly connected television.
Using Roku
Roku is a streaming device by which you can stream your screen & enjoy the benefit of having a 4k smart TV.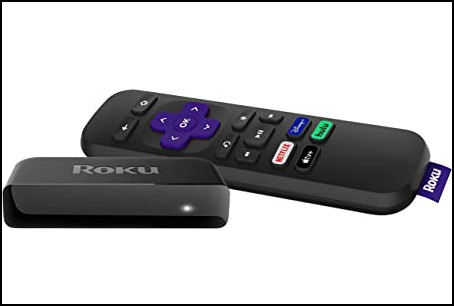 Here are the steps on how to use Roku:
Set up the Roku device & link your devices to the same wireless signal.
Find Cast depending on your branded device.
Scan nearby gadgets.
Connect to Roku Device.
Grant access if it asks for permission.
Open zoom once connected & stream to your television.
Using a Laptop or Desktop
You can use your 4K HD smart TV as a second monitor for your laptop or desktop for better image quality. You need to bridge your PC with the TV for this purpose.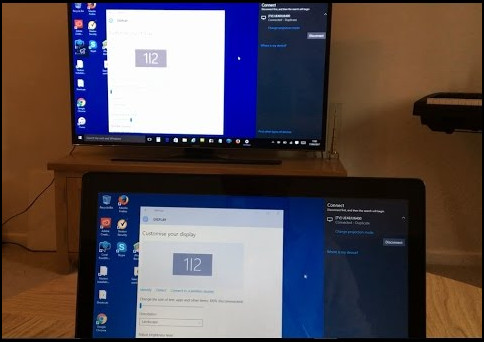 Here are the steps on how to use smart TV as a secondary monitor:
Use an HDMI cable to connect to your TV with your PC.
Right-click on the blank space desktop & Left-click on Display settings from the context menu.
Choose your TV from Multiple displays section.
Open the zoom app & move it to the TV screen by dragging.
Enjoy crowding free zoom meetings.
For MacBook, you may need to use USB-C to HDMI or Mini DisplayPort to HDMI cable to use your TV as a second monitor.
Check out the easiest way to fix Zoom not showing upcoming meetings.
What Are The Consequences of Using Smart TV for Zoom App?
By & large, everything has its benefits & loss. Using smart TV for Zoom calls isn't an exception from that too. Let's discuss some advantages & disadvantages of using smart television for zoom.
Here are the pros & cons of using zoom on smart TV:
Pros
»

The main benefit of using smart TV for Zoom calls is, you will not have to stare at your miniature phone or laptop display all day long. This will save you from eye strain, as you will sit a distance from your TV.

»

Another gain is, more people can join you for the sake of a bigger screen. Besides, you can see all the participants too with the assistance of the expanded screen.
Cons
»

You may find it difficult to adjust your posture. Since you need to connect your TV to your PC. Also, it's pretty difficult to eye contact with your participants as your laptop's webcam will be in a different place.

»

If you need to use your desktop PC, you have to buy an extra camera & microphone too.

»

Additionally, you may face Wi-Fi connection issues or software bugs which can cut your connection. Therefore, When you use an HDMI cable, you will become stationary.
Some more guides on fix Zoom error 1132, how to see Zoom preview webcam join, Zoom keeps crashing on Window 11.
FAQs
Can I use a smart TV with MS Teams?
Yes, if your computer or portable gadgets can run the app, you can use smart TV for a larger screen.
Why does my zoom close after around half an hour?
There is a time limit for the basic version of zoom which is why the meeting will terminate after 40 minutes per zoom policy.
Final Thought
It feels amazing when you are able to use another gadget for your usage that is not meant for that. Using smart TV for Zoom calls gives you that same vibes.
In this article, I debunked your confusion about the usability of smart TV as the zoom app's display. If you find any further issues, don't forget to come back & leave a comment.