Gaming doesn't feel like gaming if you don't get the best visual experience. For most gamers, the visuals matter a lot, even more than the CPU itself. If you are one of them, a potent GPU is a must for you.
That said, the graphics cards from ASUS offer some top-notch visuals. Most of those can guarantee you class-leading outputs both in the case of gaming and other editing stuff.
The ASUS ROG Strix Geforce RTX 2070 Super is one such GPU that you can add as a part of your build.
Also, check out our related post on best RTX 3090 gaming PC build under $4100.
But, will it be a reasonable option?
Worry not, my fellow gamer! You'll get to know about everything after going through this comprehensive review.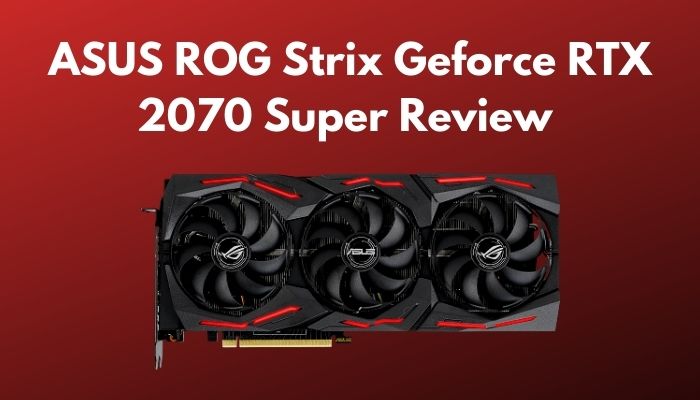 But before that, take a brief look at the specs that this GPU can offer:
Specifications
Number of fans: 3
CUDA Core: 2560
Bus Standard: PCIe 3.0
Max Display Support: 4
Connectivity: 2x HDMI (native), 2x DisplayPorts (Native), 1x USB Type-C
GPU Boost Clock: 1830 MHz
GPU Base Clock: 1630 MHz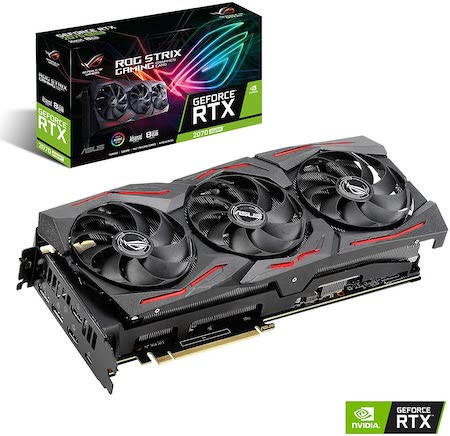 Check Today's Price ➜
1. Form Factor
For any type of PC component, the form factor is a crucial factor. The form factor of a particular component determines whether it will align with the gaming rig perfectly.
If the component is much bigger for the PC case, it would be difficult to accommodate. Therefore, before buying a specific PC component, you should check its size and the compatibility of the PC case.
This goes the same for the graphics cards. You need to properly check whether your PC case has enough room for the card. As GPUs come in different dimensions, proper evaluation of the length, width, and height is required.
Now, this GPU from ASUS is massive in size. It comes with a huge structure that will take a good amount of space inside your PC case. That means only the PC cases that come with Full-Tower ATX form factor are well compatible with this GPU.
Don't forget to check out the list of the best-inverted ATX case.
Therefore, if you plan to build an SFF rig with this card, I suggest dropping it. As this GPU mainly caters to bigger PC cases.
2. Design & Build Quality
Though the primary responsibility of a GPU is to look after the visuals, certain aspects need consideration. And among them, the total build quality and the design often make the difference.
Now the question is, why the build quality or design for a GPU would matter?
In my opinion, the reason is quite simple. When you would buy a GPU, you would want it to last for a considerable period. That is where the build quality comes into play. If the materials used in the construction are poor, the chances are that the component might corrode or even break due to accidental blows.
And since the GPU is one of the prominent and costly components inside a gaming rig, it needs to last longer.
Check out the comparison between "ASUS RTX 3080 Vs. EVGA RTX 3080".
Let's now talk about this model from ASUS.
The massive size of this GPU has a lot to do with its weight in general. Like all other components from the Strix lineup, it has a unique touch that is pretty evident. The blackish matte touch looks fantastic, and the best part is the top-quality materials used in the construction.
Moreover, the finish and touch given on this graphics card are all to like.
3. Capacity
The amount of VRAM that your GPU comes with matters a lot in dictating the visual performance. Especially if you intend to play high-performance games, a graphics card with a higher memory size is a must.
Check out our tested best RGB graphics cards for gaming enthusiasts
And why is that?
Let me tell you the reason; it is pretty simple. Most high-performance games require a large amount of data to visualize the complex images that you see on the screen.
And if you plan to run multiple displays, a higher VRAM is essential.
Now, in the market, graphics cards are available with different memory sizes.
If you want 1080p or 1440p gaming, better you go for a GPU with a VRAM of 8 GB. It is considered the standard for most GPUs nowadays. And the least you could go for is a 4 GB VRAM.
Now, let's get back to the model we are discussing. It comes with a VRAM of 8 GB, which is neither low nor overkill. It is at an optimum level, which would portray the right visuals. Therefore, the memory capacity of this GPU is within the optimum range.
4. Connectivity
You need to make sure that your GPU gets connected with all the required components for proper functioning. These components include the displays and motherboard.
Now, different types of connections are used on these displays, mainly the DVI, HDMI, and the DisplayPort.
What I noticed on the most modern GPUs is that those have 3x DisplayPorts and a single HDMI one. These ports come with their own share or differences, which is another discussion.
Here, the main point is that you need to choose a GPU that is compatible with enough displays you want to add.
Also, check out our best aura sync compatible RGB Graphics cards.
That said, this video card from ASUS can support four displays at max. It has 2x native DisplayPorts and 2x native HDMI, which helps it out in this regard.
Moreover, there is no significant drop in the quality due to such wide connectivity.
5. Level of Performance 
For every type of PC component, performance should be a prime concern. The output matters whether you plan to buy a GPU, CPU cooler, or even a PSU.
Especially when you aim to build a gaming rig, the output is the first and foremost priority. Because the main goal is to get superior gaming performance.
And when it comes to gaming performance, the visuals while gaming is what matters.
As for the ROG Strix GeForce RTX 2070 Super, I found the performance level to be hardcore. It is one such GPU that can cater to most high-end gaming needs.
You can easily play the games at 70+ FPS in 1080p ultra settings. Even while playing at 1440p, some games have an average FPS of around 70-90.
I played Shadow of the tomb raider and GTA V, and the best part is that there was no breaking on the screen. This is something that defines the supremacy of graphics cards from the ROG Strix lineup.
The thermal performance was also top-notch. Especially, the trio of fans with the axial-tech design has a lot to do with it. These fans make it possible always to keep the temps at an optimum level.
Even when I was playing games at max settings, the temperatures were always under control. It rarely went above 70°C, and the average temps were always around 55°C-60°C. Besides, the noise levels from the fans were also decent. Above all, the output of this video card from ASUS won't disappoint you a bit.
6. Pricing 
When it is about making a buying decision, the pricing of any component is a crucial thing to take into account.
It's the price that finally drives you to buy any component.
Usually, we tend to slant towards those components that seem reasonable in terms of the price. But exceptions are there as there are few options, which you can't avoid despite high prices.
If I talk about this GPU from ASUS, it is pretty high priced. And the reason is its top-end output class-leading design, which sums up the whole thing.
Therefore, if you are looking for something within a budget, I suggest you not go for this graphics card.
Otherwise, when money is not an issue, this model is a sure shot.
Final Thoughts 
So, this is an end to my review of the ASUS ROG Strix GeForce RTX 2070 Super. In this article, I tried to cover all the aspects that define this particular graphics card.
After going through this review, I hope you will have a clear understanding, which will help you make a perfect decision. Still, any confusion arises, please let me know in the comments.