As a constant PC user, you must use various applications. Some of them can be used much more often.
I wouldn't say annoying, but it will be much more efficient and time-saving if all the important apps start right after you sign in to your Windows user account.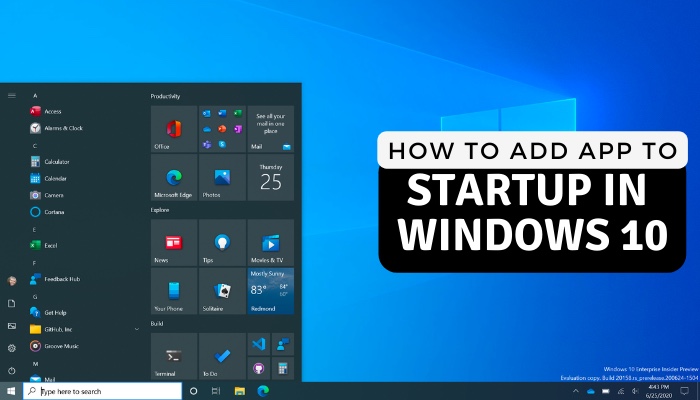 That's why here I will explain three individual methods to add any application on Windows 10 startup.
So, tag along.
How to Add an App to Startup in Windows 10
Some applications, like Steam or Skype, automatically add themselves as startup applications when you install them on your PC. For other applications, you have to include them on startup manually.
Among the three methods, you can only add new applications at the startup using the Windows startup folder. From the Windows settings and task manager you can enable and disable the existing programs that are already on the list of the startup.
All three methods will not only work on Windows 10 but also on Windows Vista, 7, 8.1, and 11.
Here are the methods to add programs to startup in windows 10:
1. Via Windows Startup Folder
For the first method, you will need the shortcut version of an application to run automatically at the startup. After that, you just need to add the shortcut at the startup. Let's see how it's done.
Here are the steps to add an application to Windows 10 using the Startup folder:
Press the Windows + R button to launch the Run command.
Type shell:appsfolder and click OK. An Applications folder will launch.
Right-click on an app and select Open file location.
Open the Run command again.
Type shell:startup or shell:common startup and click OK.
Copy-paste the shortcut application to the Startup folder.
Now your preferred application is on the Windows startup list. If the shortcut application is already on your desktop, just drag and drop them into the startup folder.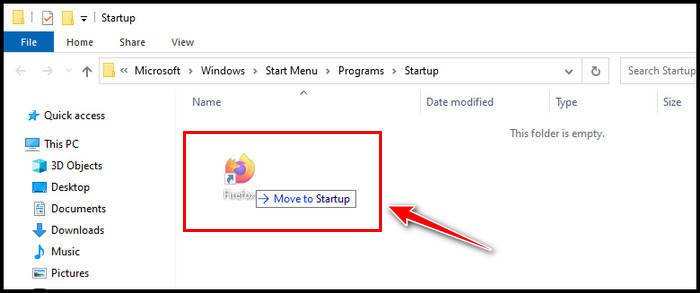 There is an alternative way to find the shortcut of an application. Click on the Windows icon. Right-click on the app you want to get the shortcut for. Go to the More option and select Open file location.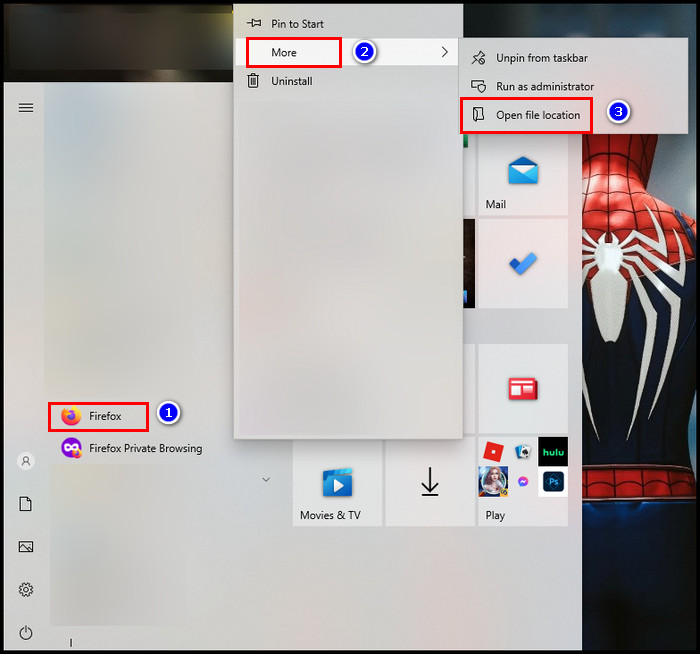 To remove, simply delete the app from the startup folder. Related content you should read how to access & use the startup folder in Windows 8.
Note: If you have multiple accounts on your Windows 10 and want to add the program to startup windows 10 for all users, use the shell:common startup command. And only for the current account use the shell:startup command.
2. Via Windows Settings
Another method you can use to change startup programs in Windows 10 is using the Windows settings. From here you can decide which applications you want to start or not while Windows 10 launches.
Here is the process of adding an app to run automatically at startup in windows 10 using Windows settings:
Press the Windows + I button to open Settings.
Click on Apps.
Select Startup.
Move the toggle icon to the on position to include the app on the startup list.
You can explore our latest article on how to enable or disable startup programs in Windows 11.
3. Via Task Manager
You can also make use of the task manager to start an application or program to Startup. The steps are quite simple.
Here is the way to add programs in the Windows 10 startup using task manager:
Press Ctrl + Shift + Esc button to launch Task Manager.
Go to the Startup tab.
Choose the application or program you wish to run when Windows starts.
Click Enable.
If you want to remove applications from the Startup list, click on the programs you don't want to launch when Windows starts and choose Disable.
Having trouble disabling the discord application on startup? Quickly check the effective fixes on how to stop discord from opening on startup.
What to Do if there are Too Many Programs in Windows 10 Startup?
If there are numerous applications in the startup, you should remove them from the Windows startup folder. Also, you can disable them from Windows settings or the task manager.
Windows will take more time to boot or even worse, it can get stuck during startup if you set too many programs for the startup. In my opinion, you should keep the unwanted applications disabled instead of removing them completely.
If you ever decide in the future to start those apps while Windows opens, you can just enable them from the Windows task manager or settings. This way you won't have to take much trouble finding an application shortcut version and adding them again to the startup folder.
Besides, many of you use the Fast Startup to start the PC way sooner. Check out our epic post to learn whether Fast Startup is bad or good for your PC.
FAQs
How do I change what programs run at startup Windows 10?
To change what programs run at the startup in Windows 10, go to Settings > Apps > Startup. Choose which app you want to launch when the PC boots, and switch the toggle icon next to the app to on or off.
How do I add and remove programs from Windows 10 startup?
To add and remove programs from Windows 10 startup, press the Windows + R button to open the Run command. Type shell:startup and click OK. In that Startup folder, copy and paste any application to add as a startup. And delete applications to remove programs from startup.
How do I edit my startup programs?
To edit startup programs, open Task Manager by pressing the Ctrl + Shift + Esc button. Go to the Startup tab. You will see all the applications that are assigned as a startup. Choose an application to edit, then click Enable or Disable.
Final Thought
The startup feature is truly a handy feature of the Windows operating system. Use this function wisely and add only those apps that are necessary.
Hope you add all your important apps on startup without any complications. For additional queries, comment below.
Peace!