Your motherboard just arrived which means your build is complete and you are ready to go. After you've installed everything, you realize that the motherboard doesn't have any CMOS battery.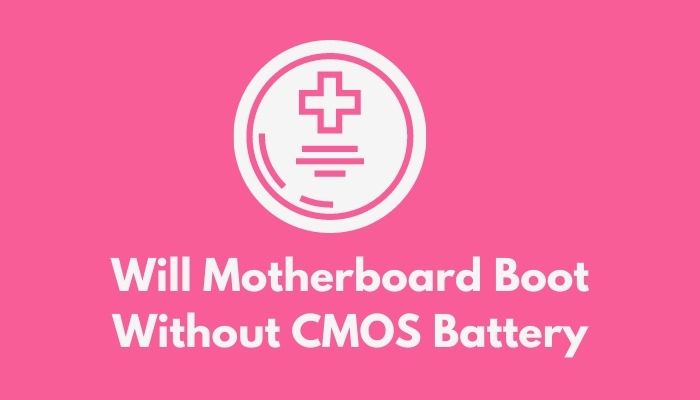 You probably want this question answered:
Will motherboard boot without CMOS?
Yes, absolutely. Your motherboard and computer will be able to boot just fine even without a CMOS battery present. The only issue is all your BIOS settings will be reset and the time and date will be inaccurate. You will also be unable to save BIOS settings.
This is nothing you should be worrying about. I have been in your shoes when I was starting out as a tech enthusiast which is why I have written this article from my experiences.
I know you don't want to wait any longer so let's just get right into it. Just get yourself in a relaxed mood by grabbing a cup of coffee. Also, don't forget to read every section carefully so you don't miss anything important.
What will Removing The CMOS Battery Do?
Every computer has a CMOS battery and when you remove that battery, your computer will work almost the same as before. The only difference is you won't be able to save any settings in the BIOS, which includes the date and time. 
It is also important to note that removable CMOS batteries are not present in all motherboards. Check out our separate post on Motherboard Affecting Performance on PC.
While most people assume that removing the CMOS battery will instantly reset all your settings, that is simply not true. After your CMOS is removed, you will notice that your boot time will be a little slower because it takes time to reset the settings.

If your PC is not booting after removing CMOS, you need to make sure that you have your CPU and RAM connected because it's not possible for your system to boot without those.
Furthermore, for some systems, you might have to actually press F1 during your first boot after removing the CMOS to load the default BIOS settings.
After reading all this, you are probably thinking that you should never remove your CMOS battery. 
Well, I agree with you with the fact that your CMOS battery is better kept untouched but there are actually some situations where removing your CMOS battery might actually come in handy.
The obvious reason to remove the CMOS battery is when it's damaged but removing your CMOS battery can really help in scenarios where your new system locks up or if you want your computer to do look for new devices.
Also, check out our expert's recommended best Aura Sync compatible RAM for gaming freaks.
Should You Replace CMOS Battery?
You will be able to use your computer without major issues even if you don't replace your CMOS. However, if there are some BIOS settings that you need to change for your GPU or something else, you will definitely get a working CMOS to save those settings.
So, now you must be wondering how are you supposed to know when your CMOS battery will require a replacement. Well, some laptops and desktops make it easy by showing a CMOS checksum and read error when it's booting.
Also, check out our separate post to find out whether Motherboard Screws Universal or not.
Apart from this, your CMOS will also need replacing if you notice that your system drivers are constantly stopping to work. The easiest method to check if you need to replace your CMOS, however, is simply checking the date and time information in the BIOS.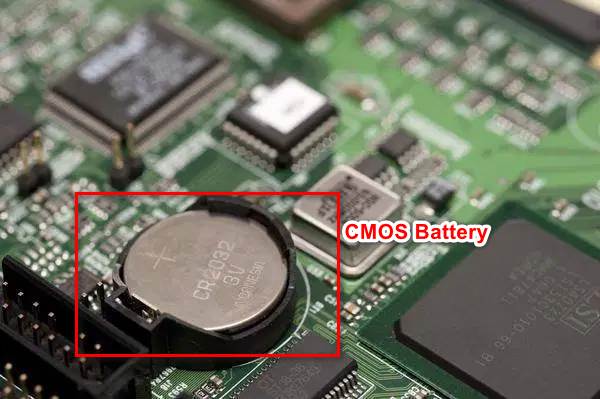 Regardless, you need to make it a point to replace the CMOS every five years or so to avoid losing BIOS settings.
FAQ
Do all motherboards have a CMOS battery?
Yes, every motherboard out there should have a tiny battery that is supposed to provide power to the CMOS or Complementary Metal Oxide Semiconductor. The only reason it is there is to supply a very small amount of power whenever the PC is turned off or on.
Can I run my laptop without the battery?
Yes, it is definitely possible to use your laptop normally even if there's no battery present. You just need to make sure it is connected to a stable AC power like a wall outlet. You should still note that if you lose electricity all of a sudden, then your laptop will turn off.
Can you clear CMOS without a jumper?
Yes, there's no doubt that you will still be able to clear CMOS even if you are missing the CLR_CMOS jumpers or CMOS_SW button on your motherboard. You will just have to remove the battery and place it somewhere isolated for at least 10 minutes.
Can a PC run without BIOS?
No, there is absolutely no way your computer will boot without a BIOS present. BIOS is something that basically interconnects every basic component that is present in the computer allowing everything to start up. 
Can CMOS battery cause no display?
It doesn't always happen but yes, it is definitely possible for you to see a blank screen because of a bad CMOS battery. When your BIOS loses its settings, you are very likely to have issues with your display.
How long does a CMOS battery last without power?
The CMOS battery will last approximately 3 years when the PSU has been unplugged. Keep in mind that this is not a Lithium-ion battery so it's not rechargeable. If you do try to recharge it, it has the potential to end in an explosion.
Why is my computer not booting up?
There can a great number of reasons why your computer is refusing to boot up. The most common issues include damaged drivers, failed updates, or unexpected power loss. Your computer's boot sequence could also be messed up due to a malware or corrupted registry.
How long does it take to clear CMOS?
The maximum amount of time for clearing CMOS should be around just thirty seconds. After you are done with removing the battery, make sure to move the jumpers to the clear position and leave it like that for a while. To finish, just put the jumper back in its original state.
Do motherboards come with jumper caps?
Yes, it is normal to get a jumper and other parts with your motherboard box. If you are missing it, you need to contact the store you purchased it from immediately. The jumpers are used with the CMOS to be able to short and reset the BIOS.
Final Thoughts
To sum everything I explained so far, you don't have to worry too much about boot issues due to a faulty CMOS battery. Those don't happen a lot nowadays, so it's very rare. As for whether you should replace the CMOS battery, that depends on totally what you need.
If you are a gamer, you might need to have a set of BIOS configurations for overclocking or improving gaming performance. So, in that case, it is necessary to replace CMOS so you don't have to change the settings every time you boot.
If you are a normal user, you will be able to use your PC just fine even with a dead CMOS battery. I hope that cleared the confusion you had before starting this article. Also, remember you are always free to check our website whenever you have issues with your build.