Before purchasing an SSD, you might have thought your PC performance would get boosted by a huge margin. But unfortunately, the performance may not be meeting the standard of your expectation.
If this is the case, don't you want to take any initiative to solve the issue?
This October, on my birthday, I gifted myself two of Samsung's 980 Pro 250 GB PCIe 4.0 M.2 NVME SSD. But it was fire when I was first rendering after installing the SSDs. So smooth!
As I was too busy going from place to place, my son played games and somehow made these SSDs full!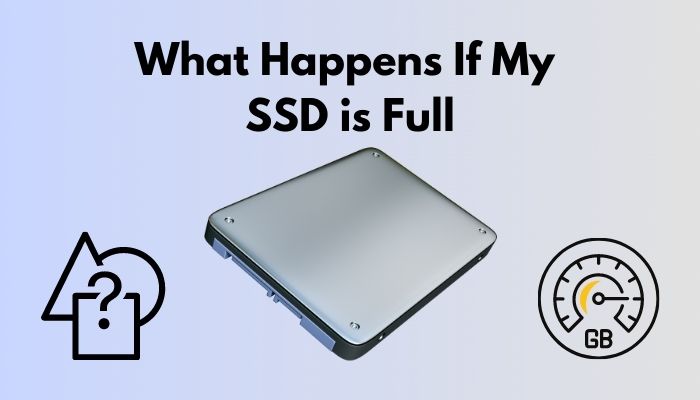 So, what happens if my SSD is full?
If your SSD is full, your steady-state read and write performance worsen around 8 to 10 times. Your SSD attempts to read or save a file but takes an unusually long time. Even your system can give up with an error message, and active applications can freeze up sometimes.
Let's find out what else happens if your SSD is full and what you can do about it.
Indications of SSD is Full
You might install one or two SSD or more than that on your PC. But out of nowhere, you can find the below-mentioned problems happening with you.
There are several indications that your SSD is full for no reason. I'm going to mention some of them, and later I will give solutions on how you can fix them.
Your PC runs extremely slow, takes a lot of time to boot.
You face blue screen of death/black screen of death errors repeatedly.
Your drive becomes read-only.
You are unable to store large files on your SSD.
The system fails to install any program.
You can't update your Windows.
This is irritating for everyone. When I faced this problem, my head became so hot that if you left an egg in it, it would fry. As I was out of my home for some time, I wasn't acknowledged about the symptoms it had constantly been giving.
So, look for these indications and take proper steps to fix them.
Also, check out our expert's recommended fastest PCIE 4.0 SSDs.
How to Fix: SSD is full for no reason?
We are already aware of this particular incident happening with anyone. So, don't worry as this problem is very easily recoverable. Follow the fixes properly and ensure the close enough possibility to let your SSD runs smoothly again.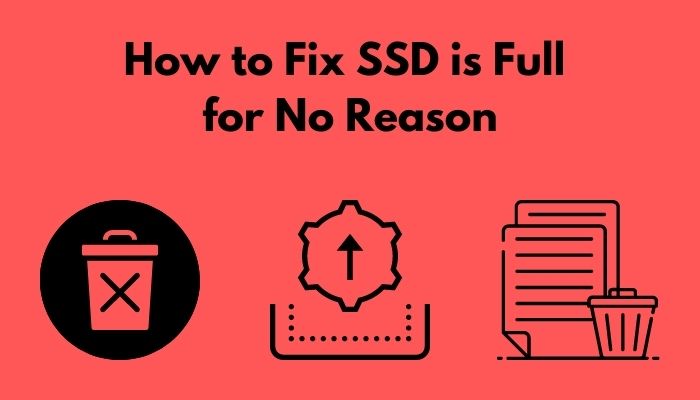 1. Empty your Recycle Bin
At first, you have to start with the simplest method— empty the recycle bin. If you don't Shift+delete any file, it'll be stored in your recycle bin. So, right-click the recycle bin icon and press empty recycle bin.
Restart your PC and track how much time it takes to restart. If the result isn't satisfactory, go to the next one.
2. Uninstall unnecessary programs
Our PC contains a lot of applications we don't use that much, and sometimes we forget why we installed them the first time. So, now it's time to consider them removed.
To perform this, you have to:
Search Apps and features in the search box next to the Windows
Have a look at all the apps and features.
Uninstall the unnecessary one.
Following this can be a way to restore the power your SSD had.
Also, check out our separate post on will SSD reduce high disk usage.
It may occur that you hide some files and folders for a reason but forget about them somehow. So, what you have to do is:
Type Control Panel in your search option for Windows and double-click it to enter.
If you don't find File Explorer Options, type it out in the search option in your Control Panel. It'll be in the top right corner of your screen.
Single-click to the File Explorer Options. A tab will pop up. Slide to View.
Mark Show hidden files, folders, and devices.
Delete the unwanted file for no use or move it to your hard drive.
Thus you will be able to detect the junk hidden files or folders causing your SSD performance.
4. Delete hibernate file
Hibernate represents a power-off mode that preserves the latest state of a computer. It takes a lot of storage of HDD or SSD. When we tell our PC to go to hibernate, i.e., power off, the contents of the RAM are written to HDD or SSD.
What you have to do is:
Search Command Prompt in your search box.
Click on Run as administrator.
Type powercfg -h off and then press Enter.
This command helps you to disable hibernate mode. If you go to File Explorer again, you'll find no file named hiberfil.sys, and you can use your disk space.
Follow our guide to know Can SSD Overheat.
5. Disable system restore
Obviously, your system creates backups every time it powers up. So, disabling this file for a short time is considered a good option to free up lots of space. You have to:
Right-click on My PC/ This PC icon and select Properties. But if you don't have that, go to the File Explorer and select This PC. Then, right-click and select Properties.
Click on the System Protection.
Click on the Local Disk (C:) (System) and then Configure.
Click on Disable system protection. Apply the changes later.
This is the last fixation method I want you to perform with your PC.
Why do we Use SSD?
Technology is evolving day-to-day. How can you understand?
Take a deep breath and look back 30 years ago when the world's first commercial flash-based SSD was introduced. It was only a 20 MB SSD in an old PCMCIA configuration and cost around $1000.
In 2021, you can buy one of the best SSDs under this price range, which gives you, say, 1 TB storage, 7000 MB/s sequences read, 5300 MB/s sequences read with an interface of PCIe Gen4x4; unimaginable power to work, to enjoy. The model I mentioned here is WD Black SN850.
You can buy 6 of them for $1000!
As the traditional HDDs use continuous motion using some moving parts in them. As they produce heat, they need to be cooled off from time to time. So, HDD failure is not that uncommon.
Here come the SSDs. They have no moving parts in them. Also, they are lightweight than HDDs. So, they don't create accidents that much.
People love to work efficiently at a fast pace. SSD lets people do that. An SSD takes less power to operate itself and works with efficiency.
So, for rendering colossal video files, gaming, and many other reasons, we use SSD a lot these days.
Is your SSD full?
Can I store all of your documents, files, movies, songs, extensive applications— the entire world within an SSD?
You can store a lot of things on your SSD. But you should understand the value of containing space in it, and which to keep in your SSD, which one to HDD. If your SSD storage is full somehow, you'll face many problems dancing around you when you work with your PC.
Here's a complete guide on can you Partition your SSD.
The problem will start as soon as you power up your PC. It'll take more time to boot, more time to read and write, longer time to open an application, and so on. One of the most dangerous things that can happen you won't be able to update your Windows.
What can I do when I understand my SSD is full?
When you understand that your SSD is full, you can immediately move some of the big files from the SSD to your HDD storage. Try to make space in your C drive as much as you can. At least make 20-25% space open to let your SSD work properly.
Apart from these, whether you understand or not about filling up your SSD storage, the indications are pretty the same and remedy too. So, follow the above-mentioned fixations of SSD storage full issue.
Go through our epic guide on Is SSD Compatible with All Motherboards.
Conclusion
I believe you just found the answer you were looking for. I tried to cover up different sections of the problem and fixation along with the article. Try to follow every one of them and let me know if you overcome your problem. It inspires us to talk more about your issues and suggest what to do in those situations.