Do you think about adding an SSD to boost up your PC? But worried about it's compatibility with your motherboard.
Don't worry. All recent motherboards have slots for SSD.
Is SSD Compatible with All Motherboards?
Yes, SSD is compatible with all the recent motherboard models. More specifically, if a motherboard contains  SATA and M.2 slots, both SATA and PCIe/NVMe type SSD would be compatible with the motherboards. Generally, every latest motherboard model includes both, or if not both, the SATA port remains there for sure.
I will try to answer all possible confusions related to SSDs' compatibility with the motherboard in this post.
So, let's not waste time anymore and get started.
Check out the easiest way to overclock DDR4 RAM.
What is a Solid-State Drive?
SSD is a flash-based storage device for computers. It is a flash-based memory drive, and serves faster than a regular Hard Disk Drive(HDD). So, it helps to speed up your PC and deliver a better performance. It contains up to 250 GB-100 TB memory capacity.
Previously SSD was used as a secondary storage device alongside the HDD. But for its faster and elegant performance, people have started to use SSD as a primary storage device.
SSD has quick access and response time because of its NAND flash technology compared to other storage devices.
There are two kinds of SSD:
Serial Advanced Technology Attachment (SATA) SSD.

Peripheral Component  Interconnect Express (PCIe) SSD.
SATA SSD has two more versions. One is Mini-SATA, and the other is M.2 (the smaller version of SATA).
Along with the Versions, SATA SSD has three major revisions SATA1(reviso1.x), SATA2(revision 2. x), SATA3(Revision3.x)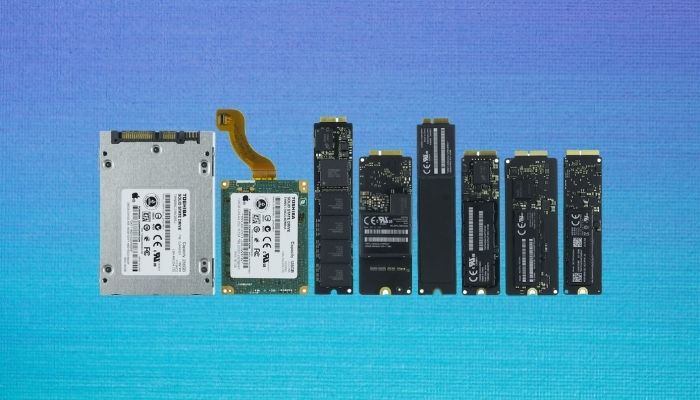 M.2 SSD is now popular than the other SATA SSD for its smaller size and faster performance.
It has three interfaces. B key, M key, B & M key.
But PCIe SSD is faster than SATA SSD.
Check out the best motherboard for Ryzen 7 3700X.
How to check the SSD Motherboard Compatibility?
To check the compatibility of SSD with a motherboard, first, you have to check the motherboard interface. If you know about the compatibility factor of SSD, You can quickly check SSD compatibility. You can check both laptop and desktop motherboards in two different ways.
A computer needs components that can transfer data fast for better performance.SSD is one of them. Before using an SSD, you should check the compatibility of your device. Specially motherboard compatibility with your SSD.
Follow our guide to What RAM is Compatible with My Laptop.
The motherboard is the connector of an SSD to the PC. But not every motherboard supports
every SSD. Different motherboards support different kinds of SSD.
If your motherboard has a SATA HDD, you can add a SATA SSD to your PC. Nowadays, nearly every motherboard has the capability of connecting SATA SSD. Every motherboard has one SATA connector, at least.
SATA3 SSD is compatible with all motherboards, and it's called the universal SSD.
But for M.2 SSD, your motherboard needs an extra M.2PCLe slot to connect the SSD with your PC. Every motherboard in recent 5 years has contained an M.2 slot to connect the M.2 SSD.
Generally, every laptop has a SATA 3 Slot for SSD that can connect SATA3, SATA2 SSD. But
Using a SATA2 revision in your SATA3 slot can reduce the hard drive's usual speed.
Exceptionally, Slim laptops don't contain any SATA3 slot; instead, they have M.2 ports. They use M.2 or NVMe SSD for a faster experience and for their small size.
Follow our guide to Best Aura Sync Compatible SSDs.
Here are the methods to check motherboard compatibility for laptop and desktop motherboards:
1. SSD Compatibility of Laptop Motherboards:
To check the laptop's SSD compatibility, first, you have to check the HDD interface of your laptop's motherboard.
For a laptop, it's quite a complicated task because you can't take apart the laptop easily.
You can find the motherboard configuration in the user manual that had given to the laptop. You can find the HDD interface type in that manual.
If you lost the manual, don't worry about all the laptop information on different websites. You can find detailed motherboard information on these websites. Now check the HDD interface and look up some factors about your SSD.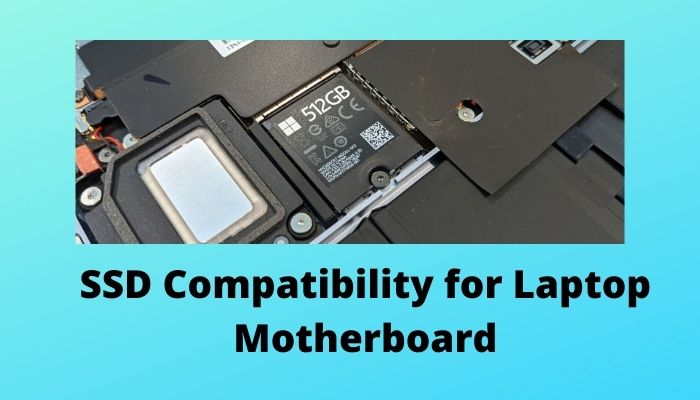 Always check the Type, Form Factor, Interface, Capacity of your motherboard to choose the best SSD.
Suppose, Dell Inspiron 3000 series has compatible with SATA solid-state drive type; it's form factor is M.2 2280 SSD, its motherboard is compatible with SATA class 20 interface, and its capacity is up to 512GB.
Have some time to spare? Check out our latest post to Enable Aura Sync Control for Corsair RGB Memory.
2. SSD Compatibility of Desktop Motherboards:
You can check your Desktop motherboard's compatibility with the same process as the laptop's.
But for the desktop, it is pretty straightforward.
First of all, you have to check your motherboard's HDD interface. You can follow two ways for checking the interface.
The first method is, Open your desktop part by part and then take the motherboard.
If you look carefully at the board, you can notice that the name of every interface, Slots have been written near the interface. Now, you have to find out the name of every SSD interface that supports your motherboard. You will find the M.2 Slots, SATA slot for various revisions.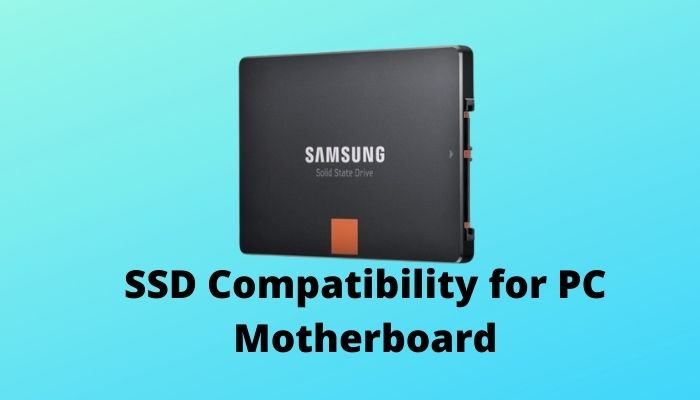 If you cannot take apart your motherboard, follow the second method.
Just find the name of the motherboard, and it's model number. If necessary, find the serial number also. Now browse an authentic website to see the full motherboard specification. You can find the SSD interface also.
As I told previously, check the Type, Form Factor, Interface, Capacity of your motherboard to choose the best SSD.
Suppose, You search for the Gigabyte H-81ms Motherboard. The result will be that motherboard supports SATA 2 revision SSD. It's form factor will be 2.5 SATA, and its capacity will be GB.
This is how you quickly check your motherboard compatibility with your SSD.
Check out our expert's recommended best Corsair RAM.
How to choose SSD for my PC?
You should use an SSD that is fully compatible with your motherboard. It depends on your Computer. You should check out your motherboard to find out the motherboard slots for SSD. Then check the types, form factor, capacity and get the suitable SSD.
If you are a gamer and you have a high configured  PC, you should use the PCLe SSD for your computer because this type of SSD is the fastest SSD ever.
Check out our separate post on will motherboard turn on without RAM.
It is way more speedy than your regular HDD. For gaming, you always need a fast data transfer rate for perfect gameplay.PCLe SSD can perform fast data transfer alongside RAM, CPU, GPU.
So it can make your pc faster.
In recent motherboards, you can find eight slots for adding SSD.
Moreover, you can save huge data of a pc game in your  SSD. It takes a few minutes to load the game from HDD, but comparatively, SSD can load a game very fast.
On the other hand, if you are a regular computer user, such as you only do simple documentation on your PC, then use a standard SATA SSD to fasten your performance. You can add a SATA3 SSD as it is the universal SSD.
Recently, M.2 SSD  is the most commonly used SSD for PC.because it is faster and small in size.
Go through our epic guide on Fix Motherboard Can't Detect Hard Drive
Why Should you Use SSD over HDD?
You should use SSD over HDD because SSD can perform better, it's safer, and moreover, it's pretty reliable.HDD is still used to store data, but this traditional device is relatively slow and failed for technical difficulties. With SSD, you can solve all these issues.
Traditional HDD could be curropted easily because HDD transferring depends on the machine's readability.HDD is very slow to process any data.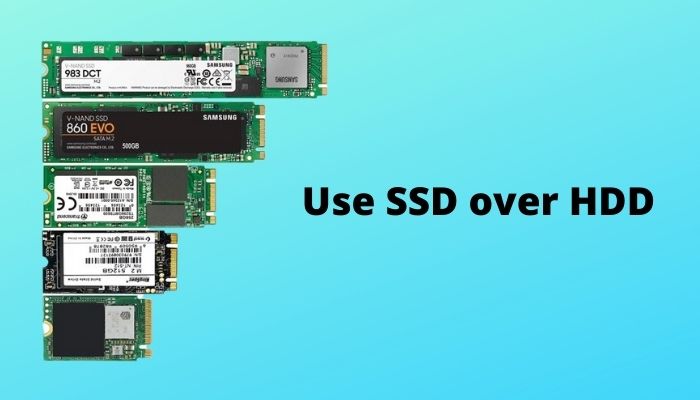 SSD price is decreased day by day. So using an SSD is a better option for your PC than using an HDD for better performance.
In a hurry? Check out my new post on What are the fastest PCIE 4.0 SSDs.
Best SSD in 2021
Here I list some of the best-performed SSD in 2021:
Corsair MP400.(PCLe GEN3)

Samsung 970 Evo plus (M.2 PCLe GEN3)

Intel Obtane 905p (2.5 PCLe)

Samsung 980 (M.2 GEN3)

Silicon Power us70 (PCLe GEN3 M.2)
These are the best SSD for your PC in recent times.
In a hurry? Check out my new post on Can RAM Affect FPS.
Conclusion
SSD plays an essential role in speeding up your PC's performance. So, why not replace or add SSD to your system?
In this post, There is a follow-up on SSD compatibility with motherboards.
I hope this post will help you clearly understand your SSD Compatibility and help you to grab the specific SSD for your device.