When you are searching options for updating the storage of your system, nothing is better than SSDs.
If you highly value your gaming output, these are the most trustworthy options. That said, among a plethora of SSDs in the market, the Crucial MX500 offers an excellent value to any gaming build.
However, is it worth it over the Samsung 860 Evo?
Don't worry, as I will answer this question right in this comparison guide. In this guide, I will assess both these highly rated SSDs so that you can get a clear idea.
So, without wasting any more time, let's jump right into the discussion to find out the better one.
Also, check out which SSD is better in between Samsung 980 and 970 Evo.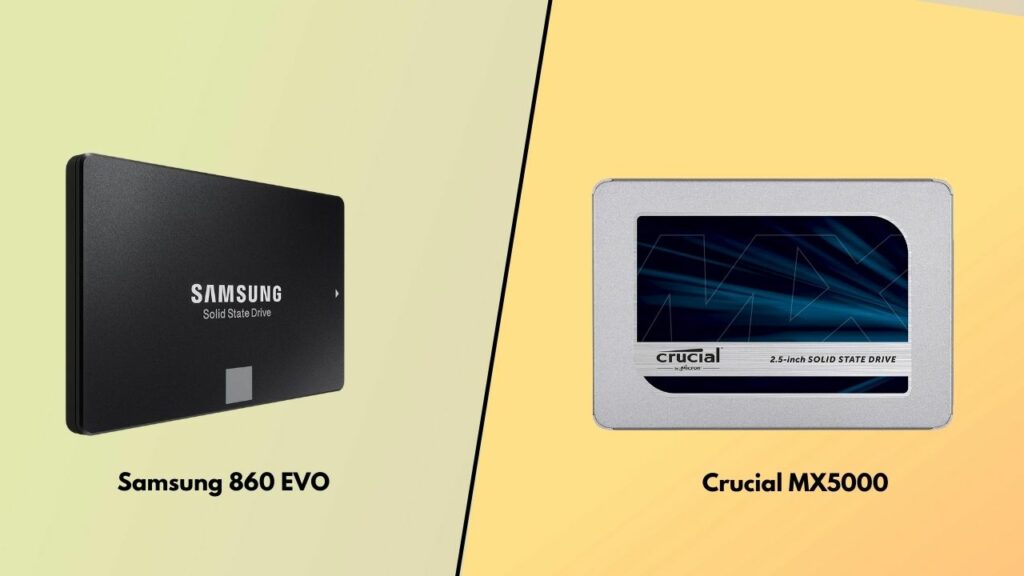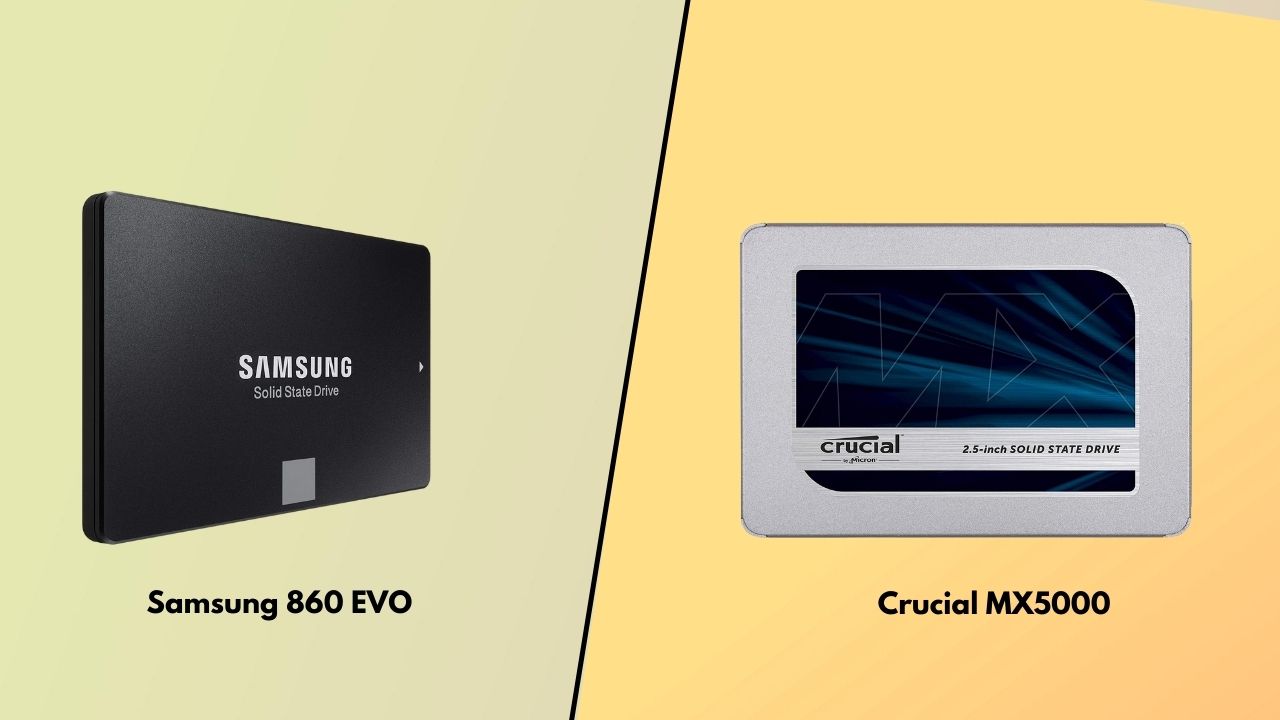 Is Crucial MX500 better than Samsung 860 Evo?
Solid State Drives or SSDs are the most desirable form of storage options these days. You'll rarely find anyone who would prefer HDD over SSDs.That is because no one would choose something that offers average output.
The point here I am trying to make is simple. HDDs are nowhere near SSDs, especially in terms of performance and overall value.
SSDs might be pricey, but that is somewhat justified because of their superior output.
Now, SSDs are again two types – SATA III SSDs and NVMe SSDs. As NVMe SSDs are the latest iterations, generally, they offer superior performance. And at the same, they cost some additional bucks. Check out the comparison between 120mm and 140mm case fans.
Compared to them, the SATA III SSDs are priced cheaply. For anyone who is planning to build a reasonable system, these SSDs are good options.
That said, both the Crucial MX500 and Samsung 860 Evo belong to the class of the finest SATA III SSDs.
Both these SSDs offer quality with performance and are worth a shot.
But between them, there has to be a sure winner. And to find it out, keep reading out the factors I'm going to discuss right now. Also, Check out the battle-tested comparisons between Samsung SSD 980 Pro and Samsung 980.
Here are the differences between Crucial MX500 and Samsung 860 Evo:
1. Sequential Read and Write Speeds
Sequential read and write speeds are among the core features of any SSD.
Generally, both these speeds refer to how quickly data is written or read from the drive sequentially.
In contrast, random read or write speed doesn't have any sequence. Data is scattered, and the whole process is kind of inconsistent.
This read and write speed does matter as it is one of the determinants of how sound the SSD output will be. For the SATA III SSDs, the optimum speeds are around 560 MB/s and 510 MB/s, respectively. Check out the comparison between NZXT Kraken Z63 & Noctua NH-D15.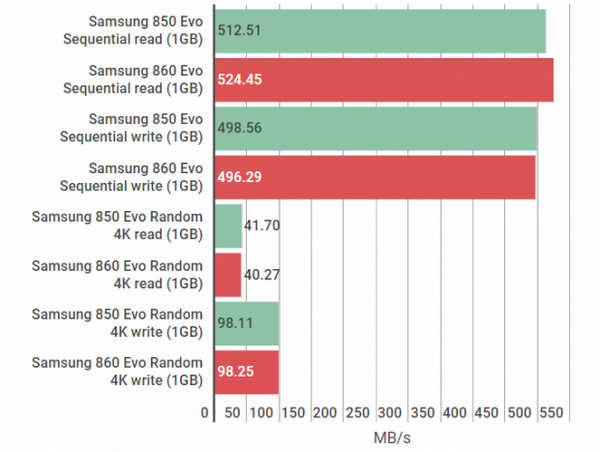 As we are talking about the Crucial MX500, it has a read speed of 560 MB/s and a write speed of 510 MB/s. In the Samsung 860 Evo, the read speed is 550 MB/s, and the write speed is a tad higher, which is 520 MB/s.
Even the random read/write speeds for both these SSDs are pretty close. The random read is 95000 IOPS for the model from Crucial, whereas it is 97000 IOPS for Samsung.
Similarly, the random write for Crucial is 90000 IOPS, and for Samsung, it is 88000 IOPS.
See how close they are. And only due to this, no average gamer would feel the differences between these two models.
2. Capacity
Anything that you should consider first while buying an SSD is its capacity. You need to be wise while choosing an SSD of a particular capacity. As different needs require SSDs of different capacities.
Let's say you're a gaming freak and love to store games in your system so that you can play those later. In that case, you need an SSD with a capacity of no less than 500 GB.
The reason is simple. Games usually have a size ranging from 40 to 70 GB, and often they require some extra patches. When you have an SSD with a size of 512 GB or 1 TB, it gets easy to store multiple games and other operating files. Check out the comparison between NZXT Kraken Z63 & Corsair iCUE H115i Elite Capellix.
Now, if you are into photo and video editing, you must need an SSD with a large capacity. Because graphics design applications and files consume a hell lot of space. You need to have backup files and other project files, which eventually results in enormous space consumption. That is why for such functions, you need an SSD with at least a size of 1 TB.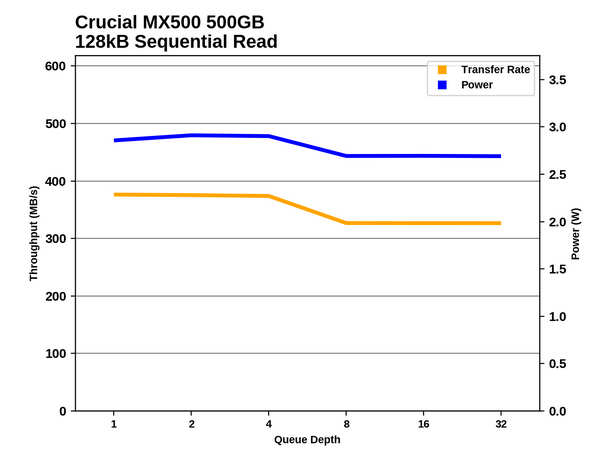 As for both these models, they come with multiple capacities. The Crucial MX500 has options with capacities like 250 GB, 500 GB,1TB, and 2 TB. Quite diverse… Isn't it?
You have multiple options for different functions. Like you can choose the 250 GB or 500 GB one for casual functions. Or, if you are a video editor, there are 1 TB and 2 TB versions.
However, the Samsung 860 Evo has an edge here as it also comes with a 4 TB version, which you can use in enthusiast-class builds.
In my opinion, 500 GB or 1 TB of both these models would be enough for regular gaming. But if you seek something extreme in an enthusiast-grade build, better go with the 2 TB or 4 TB version of Samsung 860 Evo. Also, check out the fastest PCIe SSD.
3. Form Factor
When selecting a specific SSD, you must choose a form factor that goes better with your build.
If the SSD doesn't fit into the chassis, all your money buying it would be a waste. Also, having explicit knowledge of the form factor of your required SSD would give you an idea about how SSDs you can fit.
Now, both the Crucial MX500 and the Samsung 860 Evo come with a 2.5 form factor and the M.2 'gum stick' type.
However, the Samsung 860 Evo offers another version that is with an mSATA design. This mSATA SSD is relatively smaller than other standard SSDs, making it a handy option for builds with smaller spaces.
Therefore, the Samsung 860 Evo is more versatile than the Crucial MX500. As under its belt, it has standard SSDs along with mSATA options that work in relatively smaller builds.
4. Endurance
For any PC component, long-lastingness is a crucial factor. Most gamers who aim to build a rig that will last long require durable components and a higher warranty.
That said, for the SSDs, the endurance is more important than it's warranty.
Now, the question is, what does SSD endurance mean?
Let me break this down. The total amount of data that an SSD will be able to write under it's given warranty is the endurance of that SSD. This endurance is also expressed as TBW.
To be honest, choosing the right SSD isn't an easy process. It requires many aspects to focus on, and the endurance level of an SSD certainly belongs to the top of the list.
SSDs wear out after a certain period. This does happen after continuous writing of data for an extended period.
You won't definitely want to buy an option that doesn't turn out to be feasible. At the end of the money matters; overpaying for something that won't deliver doesn't make any sense.
Now, you should keep in mind that the larger the capacity, the higher the endurance. In between these two models in the guide, 860 Evo has the edge over the MX500. The 860 Evo comes with an endurance of at least 150 TBW on its 250 GB version. The best part is that it's 4 TB version sports a staggering endurance of 2400TBW.
In contrast, the minimum endurance you would find in MX500 is 100 TBW in the 250 GB model. The max endurance is present on the 2 TB version, which is 700 TBW.
Therefore, despite having similar warranties, 860 Evo is a clear winner over MX500 on the grounds of endurance.
5. Software
The way you would control the SSD would have an impact on its overall productivity. And that is where the software with which you can control the SSD comes into play.
Softwares that the manufacturers provide have a significant role in dictating the SSD output.
It consists of an interface that perfectly uses the drive to its potential.
TheareThere Samsung 860 Evo has the Samsung magician software that comes with a very user-friendly interface. It just eases your job to a great extent.
It consists of a variety of features that helps you to keep proper track of your storage. Also, it enables access to the sequential write and read speeds and also monitors the temperature.
Besides, you'll also like the way it gives you updates about new firmware. In my opinion, the best part about this software is the 256-bit hardware encryption that saves your storage from theft or hacking.
Compared to the 860 Evo, the Crucial MX500 uses the Crucial's storage executive. This software does every other common function that is available.
You can view the storage stats as well as look for new updates. The best part is that this software includes cache features, which speed up the SSD function significantly.
6. Pricing
When you are about to make the final decision, the price becomes a huge factor. Since both these models come with different versions, prices are different.
However, the Samsung 860 Evo price is around 15-25% higher in every instance.
That is why Crucial has the most affordable SSD to offer, which is its 250 GB version. On the contrary, the 4 TB version of 860 Evo is the most expensive one.
Is Samsung 860 Evo worth it?
Samsung does have some of the finest SSDs in the market. Be it the NVMe ones or the SATA, all of their models sport a high reputation.
Through the 860 Evo, Samsung maintains that reputation. This TLC-based SATA III is an upgraded version of the 850 Evo, and it beats every competition to be one of the leading choices of gamers.
And that is because it delivers exactly what it promises and is probably one of the fastest SATA SSDs you can add to your system.
That said, it might be labeled as expensive, but it's top-notch features along with high endurance makes it worth every penny.
FAQ
Question: Which is better, 860 Evo or MX500?
Answer: The 860 Evo is better if you take various aspects into account. It has more versions and greater endurance, which are the prominent factors for choosing an SSD.
Question: Is Crucial MX500 worth it?
Answer: The Crucial MX500 offers good features along with diverse capacities. The best part is that this SSD is priced affordably, which eventually makes it worth every penny.
Question: What are the advantages of an mSATA SSD?
Answer: mSATA SSDs aren't that advantageous when it comes to features or performance. But when it is about effective pricing and smaller builds, these SSDs are viable options.
Final Thoughts
As we end this guide, I hope that you now have a clear idea about the Samsung 860 Evo and Crucial MX500. Both the MX500 and the 860 Evo were extremely close in terms of everything.
I have tried to point out those few existing differences that would matter while choosing the right option. Still, if you don't agree or is confused about something that I said in this comparison guide, do let me know.