Transporting your desktop PC is different from ordinary objects. It needs extra care and protection from the outside as well as inside.
When moving your desktop PC to your new house or going to a LAN party, you'll want to keep your PC in one piece. But, some components can smash your desktop PC and ruin your journey.However, you can pack your PC by taking some safety precautions during transportation.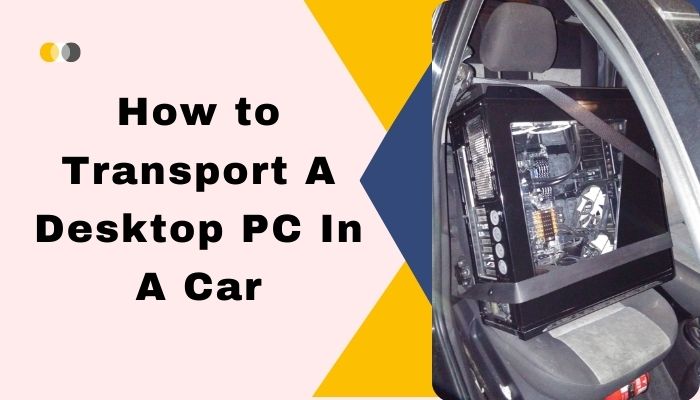 In this article, I will tell you about the safety procedures for your desktop components. In addition, how to pack your components properly before moving your desktop.
Read the full article to keep your PC in a single piece during transportation.
Follow our guide to know How to Know if My PC is Low End or High End
Safety Procedure Needs to Take Before Packing Your PC
While moving your desktop, maintaining safety is a must. Your desktop is a combination of small and large fragile components. You can ensure safety by unplugging every part, removing the mechanical drive, and securing your CPU cooler and GPU.
Sometimes, the process can be confusing, or you may forget some vital procedure. But in this article, I will help you with the safety precautions.
Here are the safety procedures you need to follow before transporting your desktop:
Take a Picture of Your PC
Snap a picture of your PC with all the components and wire connections. After removing all the connections, you may face difficulties attaching them to the right place. A picture can help you to overcome those difficulties.
Check out our separate post on Fix Slack Installation Issues on PC
Unplug Everything
Remove all the power, PSU, and LAN connections from your PC. Detach mouse, keyboard, mic, and speaker connection from your desktop.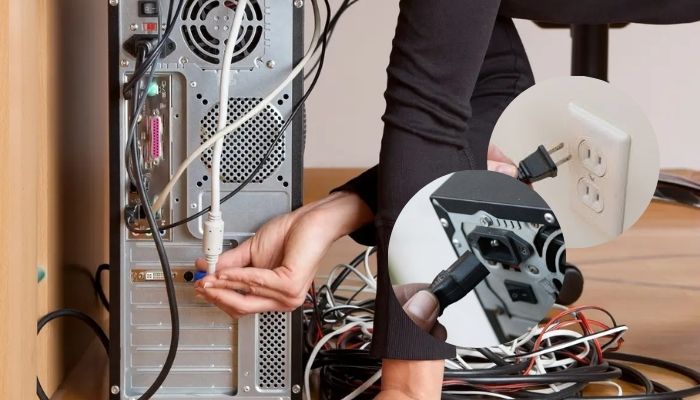 Remove all the required wires from the inside of the PC. After unplugging the wire, attach them to the PC casing using tape. It will prevent the wires from moving around and damaging any components.
Remove the Mechanical Drive
Mechanical hard drives are sensitive and fragile. Your hard drive can get damaged because of the bumpy road. Remove all the mechanical drives from your PC.
Today's mechanical drives are straightforward to remove. HDDs are mounted with screws and wires. You can simply remove HDDs by removing screws and wires.
You can check out our review on how to Fix PC Fans Loud When Idle
Secure

CPU

Cooler
CPU coolers are massive and heavy. They are mounted with screws. Check the screw mounting before packing your PC.
Any loose screws or nuts can cause damage to the cooler and components. If the screw is loose, it can come out with continuous bumping on the road.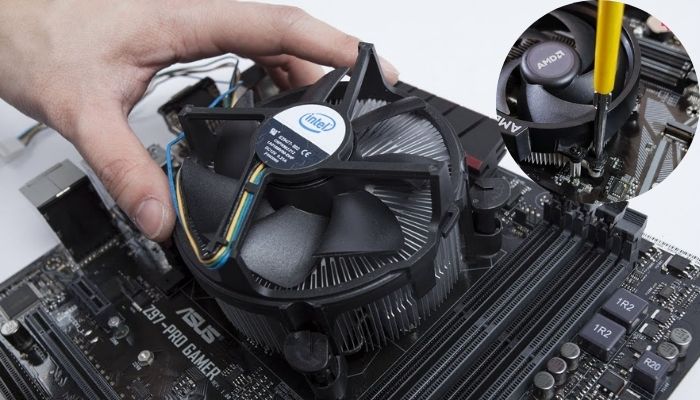 A heavy CPU cooler can gain momentum during the journey. It can detach from the PC and smash all the components inside. If you have a big one, remove it to keep your PC safe.
Remove GPU
GPUs are larger components attached to the desktop case and motherboard. A rough road can damage both the GPU and motherboard.
The GPU can damage other components if it comes out from the attachment. Remove the GPU by removing the screw and cables.
Check out our experts tested best Case Fans.
How to Pack Your PC
After securing the desktop components, you need to pack them before starting transport. Packing in the original box is effortless. But, it can be tricky if you don't have all the components boxes. However, you can maintain your desktop with things you have.
It can be a concerning issue if you don't have proper packing items. But, you can handle those situations easily by reading the technique below.
Here are the ways to pack your desktop:
Pack Components in Their Boxes
Pack your mechanical hard drives, GPU, mouse, keyboard, speaker, and mic in their original boxes. The original box contains cushions that protect your PC components from any damage.
But, if you don't have the original boxes, put the components in anti-static bags. Warp the bags in a bubble wrap and protect your components from scratch or damage.
Also, Check out the battle-tested comparisons between Corsair Dominator and Corsair Vengeance RAM.
Use the Original Pc Case's Box
A PC case box is the easiest and most suitable option to transport your desktop. If you are willing to keep all the components in the box, you can keep them safe if you are using the original case box.
Additionally, you can use soft foam or other packing material to keep your components in position. Cut the material into the preferred size and put them beside the components.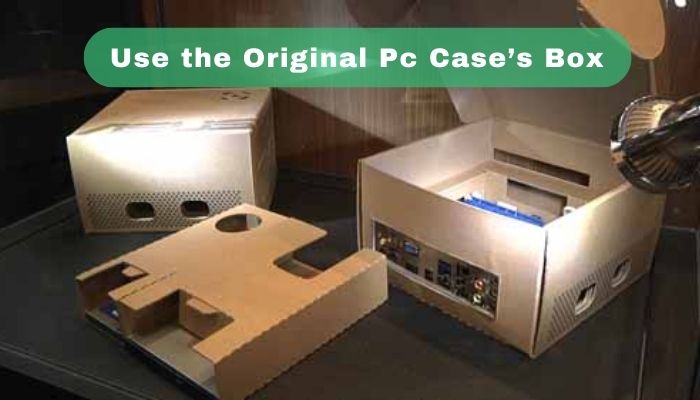 Wrap It Up
Wrap your PC box with an air-filled plastic wrap and use tape to secure it. Follow the same procedure with the mouse, keyboard, microphone, and soundbox to keep them safe.
Check out the comparison between NZXT Kraken Z63 & Noctua NH-D15.
Box Your Monitor
The monitor screen is very fragile. One good stroke, and your screen is gone. While transporting your monitor, keep an eye to secure the screen.
Use the original monitor box for the best protection. If you don't have a monitor box, give a cushion on the screen to keep it safe. Cover the full monitor using an air-filled plastic wrap.
How to Transport Your Desktop PC
Your PC is packed, and now it's time to go. Desktop packaging can take quite a good amount of space. Give your desktop package the most secure place in your car. Don't keep anything heavy on the top of the box.
It's better not to stack your desktop on the car body. It can damage your desktop heavily when the car bumps. Put your desktop on a spongy surface. You can use clothes, towels, pillows, or blankets as the surface.
Lay down your desktop and monitor while transporting. It gives better stability to your PC. Also, your motherboard and CPU cooler will be much safer in this position. Keep your monitor's screen on the upper side, and don't put anything on the top of the screen.
If you are transporting in a much smaller car, keep your desktop on the passenger seat. Warp it with some towels or blankets for better protection. Fasten the seat belt if it's possible.
If you want to overclock your CPU, here are some awesome budget best cpu cooler for overclocking.
FAQs
Is it OK to lay a computer tower on its side?
You can position your desktop vertically or on its side as long as your PC components are placed perfectly.
How heavy is a PC?
An average desktop can weigh around 25-30 pounds. But, it can easily go to 55-60 pounds if you have multiple GPUs and hard drives.
Can you put bubble wrap inside a PC?
Yes, you can. Anti-static bubble wrap can protect your PC from static charge.
Conclusion
Keeping your PC in a proper condition is essential during a journey. You can easily ensure it by taking adequate packing and care.
Your desktop PC may not receive special treatment when transported in a car. It can receive damage anytime for not being given proper attention.
In this article, I've provided all the safety measurements and ways to pack your desktop correctly. I believe you are using these procedures to keep your PC safe while transporting.
Happy journey!