Like the MOBO's BIOS, your GPU's Basic Input/Output System controls the basic operations of your Graphics card.
However, during any development work, this core GPU program can easily get corrupted. And the corrupted BIOS can even crashes the PC.
You need to flash or update your GPU BIOS to fix it. However, you need the current version number update.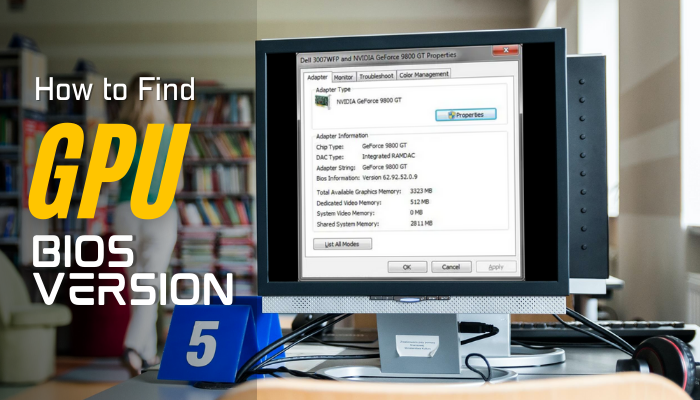 In this article, I'll show you the fastest way to find your GPU BIOS version. Let's jump in.
To eliminate your confusion, you need to check what does Ti Stand for in GPU?
How to Check GPU BIOS Version Number on Your PC
You can easily check the BIOS version using your Windows settings or the graphics controller app provided by your GPU manufacturers. But sometimes (mainly for Intel GPUs), your graphics card BIOS information isn't available in that app interface. In that case, you may use apps like GPU-z.
Quick note: Though Nvidia, AMD, and Intel are the main GPU manufacturers, you buy those cards from major brands like Asus, MSI, Gigabyte, etc. However, there isn't any technical difference between these different brand cards.
So you can apply the same steps for your MSI GeForce GTX 1050 Ti and ASUS Phoenix GeForce GTX 1650. You will get the same results.
This section will show all the available steps for checking the GPU BIOS version. It will help you to navigate through the process very quickly.
Here are the methods to check your GPU BIOS version number:
1. Form Windows Settings
The Display settings of your Windows contain most of the information regarding your Graphics card. But to know the BIOS Number of your GPU, you need to access the Display adapter properties.
However, you must follow different steps on different Windows versions to access this Display Adapter window.
But don't worry. This potion will show you the quickest way to access the Display Adapter window for all windows versions. Let's see.
Follow the steps to know your GPU BIOS version number using Windows Settings:
On Windows 11/10/8
Go to your Windows Settings> System > Display.
Scroll down and tap on the Advanced display settings option.
Hover over the Display Adapter properties for the Display 1 option and click it.
On Windows 7/XP
Right-click on the blank space on your desktop to open the context menu.
Tap the Display option.
Select the Change display settings option and choose the Advanced settings menu.
You will see a pop-up window that includes your graphics card's BIOS information.
Note: You can press the Windows key, write Display settings, and then tap Enter to access your Display Adapter option.
Go through our epic guide about how much GPU usage is normal for gaming?
2. Use Graphics Control Panel
Almost every GPU manufacturer has their graphics control software. Like Intel has Intel Graphics and Media Control Panel, Nvidia has Nvidia Control panel, and AMD uses AMD Radeon Software.
But one thing is common among that software; you can easily see your BIOS version.
In this portion, I will show you steps to discover your graphics card's BIOS version using the graphics control software provided by your manufacturers.
Follow the steps to discover the graphics card's BIOS version using graphics control software:
Nvidia Control panel
Right-click on the blank space on your desktop to open the context menu.
Click on the Nvidia Control panel option.
Choose the System Information menu from the left and scroll down.
AMD Radeon Software
Click on the windows search icon and type AMD Radeon Software.
Click on the appropriate search result to open the app.
Go to Settings > Systems and click the Hardware details down arrow.
Scroll down to the BIOS version.
Intel Graphics and Media Control Panel
Right-click anywhere empty on your desktop and open the Windows context menu.
Tap on the Graphics Properties option.
Select Advance Mode from the option and press Ok.
Navigate to Options and Support > Information Center.
After completing the steps, you will see the video BIOS option with other necessary information in all the app interfaces.
3. Use 3rd Party Software
There are 3rd party applications that show your GPU BIOS number. Among them, the GPU-z is the most reliable and easy to use.
Here, I will show you how to know your GPU BIOS using GPU-z. Let's see.
To know your GPU BIOS, follow the steps below:
Open any browser and go to the GPU-z download address.
Download and run the application.
Click on the Graphics card tab.
You will see the BIOS version of your graphics processing unit in the GPU-z interface.
Can You Update GPU BIOS? What Are the Pros & Cons of Updating It?
Yes, you can update your GPU BIOS, but it has no life-changing benefit. Also, you may face various problems during GPU BIOS updates. So, you should weigh the advantages and disadvantages carefully before attempting to update the BIOS of your GPU.
While a BIOS update can potentially improve the GPU's performance and add new features, It also has significant risks. It can even make your graphics card permanently unusable.
In fact, updating GPU BIOS is rarely necessary.
In over thirty years of working with computers, I have never encountered any problem where updating video card BIOS was the solution.
It is important to differentiate between drivers and BIOS updates, as updating drivers is a common and often necessary task.
Read more on what is Idle GPU temp?
FAQs
Does your graphics card have its own BIOS?
Yes, like your motherboard, your GPU has its own BIOS. You can also flash or update your GPU BIOS if you want, but it's not mandatory or give you any performance boost.
Where is the GPU BIOS located?
Usually, you can find your graphics card's Basic Input/Output System in a memory chip next to your graphical processor underneath the cooling fan. But you shouldn't tear down your GPU if you aren't an expert.
Do my motherboard and GPU both have their own BIOS?
Yes, both components have separate basic Input/Output Systems to operate swiftly. And you can flash or update the BIOS in both hardware.
Conclusion
GPU's BIOS is a small firmware that controls your GPU's hardware settings and provides the necessary instructions to the GPU. By discovering the GPU BIOS version, you can determine whether your GPU is up-to-date and, in some cases, identify issues affecting its performance.
After reading the article, I'm sure you've found the BIOS version of your graphics card. Comment if you face any challenges while following the process. Peace!