If you're confused about building a gaming PC for around $2000, you've come to the right place.
As a gamer, I know it's hard to find the perfect build for a fixed budget.
Hence, I've researched it for hours to make the best gaming PC build for $2200.
The build features the mighty RTX 3080, the best 4K gaming GPU.
I ensured you get the best value for money build and get an all-around gaming experience from the PC.
So read the whole post carefully.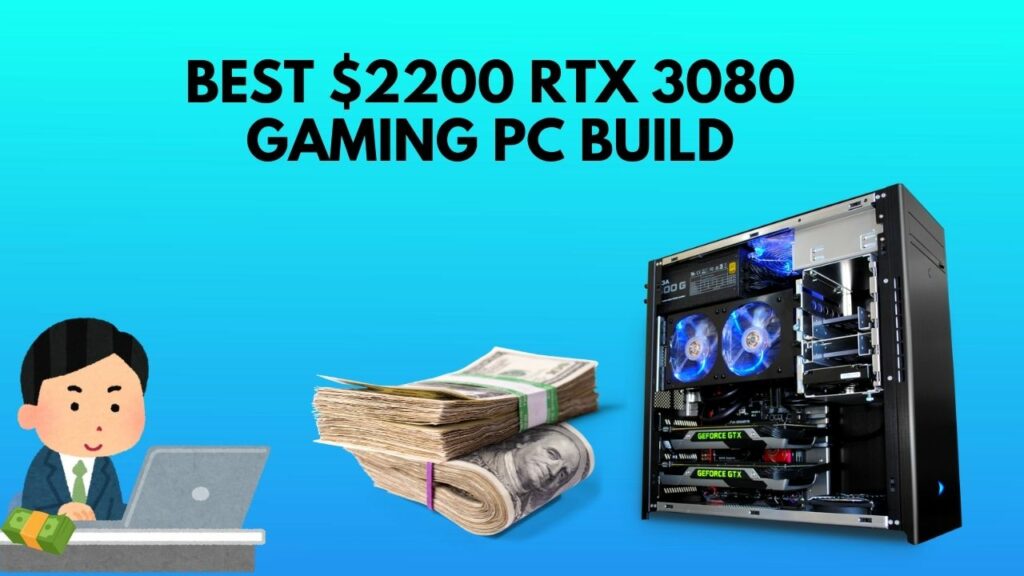 $2200 RTX 3080 Gaming PC Build For 2021
To get the best gaming experience out of your budget, it's vital to balance the components out.
Pairing a powerful component with a slow one does more harm than good.
At $2200, you can build a gaming PC that'll be able to deliver a stellar 4K gaming experience.
So here's the $2200 gaming PC build for 2021:
1. CPU: AMD Ryzen 7 5800X
Top highlights of the AMD Ryzen 7 5800X:
8 cores and 12 threads
7GHz boost clock
36MB cache (L2+L3)
PCIe gen4 support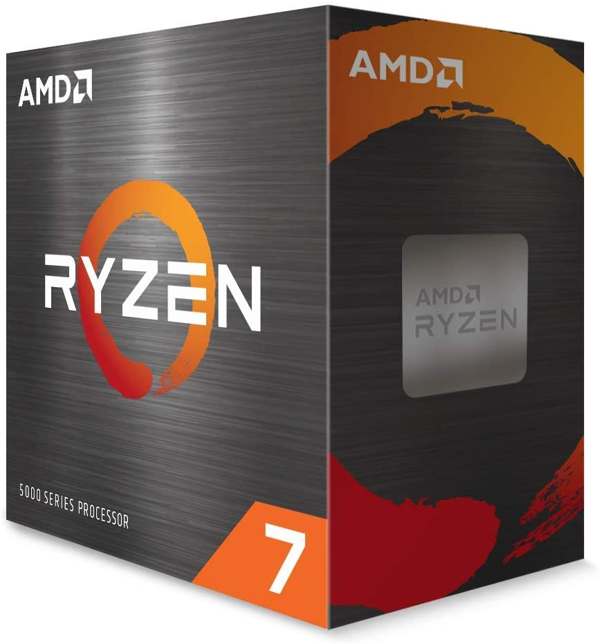 Check Today's Price of AMD Ryzen 7 5800X→
The core component of any PC is the CPU. You'd want to buy a CPU powerful enough for the coming years, as you'd keep it for some years.
Hence the AMD Ryzen 7 5800X. The CPU has eight cores, 16 threads, and 36MB of cache (L2+L3). An octa-core processor will stay relevant for a long time.
Moreover, the 4.7GHz boost clock means you get high single-core performance from the CPU. From the CPU side, gaming is primarily single-core dependent, so having a higher boost clock will surely increase the gaming performance.
Check out the difference between Ryzen 3000 and 5000 Series CPU.
The CPU supports high-frequency RAM so that you can take advantage of faster DDR4 RAM for the best performance. PCIe gen4 support is also present here, which will boost your graphics and storage speeds.
As it's an X series CPU, you get pretty decent overclocking headroom on the CPU. In that case, you'd need a high-performance CPU cooler, so I've chosen a 240mm AIO for the best thermal performance.
2. CPU Cooler: Asus ROG RYUJIN 240 RGB AIO
Notable features of the Asus ROG RYUJIN 240 RGB AIO:
240mm radiator AIO
2x 120mm Noctua IPPC PWM fans
77″ Livedash OLED panel
embedded fan on pump
ARGB lighting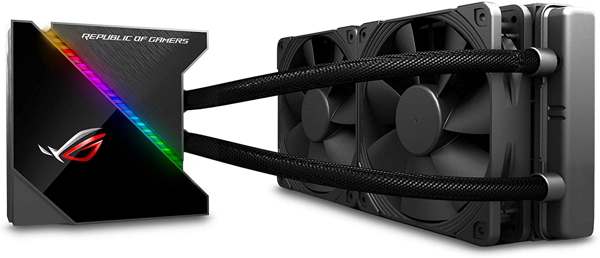 Check Today's Price of Asus ROG RYUJIN 240 RGB AIO→
The Asus ROG RYUJIN 240 RGB AIO is a high-performance liquid cooler from Asus. The 240mm AIO has a lot of cool features too.
First of all, the thermal performance of the AIO is one of the best for a 240mm AIO. It uses two Noctua 120mm IPPC PWM fans for excellent cooling at a low noise output. You can use the Fanxpert software to configure the fan curves for optimal performance.
Secondly, the AIO has an embedded fan on the pump, which helps to decrease temperature rapidly. It also blows cool air to neighboring SSD and RAM, so you're getting bonus cooling here.
Thirdly, the 380mm tubing ensures you get enough clearance and independence to mount the liquid cooler to your freedom. Also, don't forget to check out our best fanless CPU cooler for silently operating your PC.
Now let's talk about aesthetics. The AIO is very sleek and stylish, with lots of ARGB lighting. The AIO pump has a 1.77″ Livedash OLED panel to display PC stats or custom pictures ann animations. It's a unique aspect of the cooler.
Moreover, the ARGB lighting on the pump looks sleek. You can use your motherboard software to customize the RGB.
3. Motherboard: MSI MPG X570 Gaming Pro Carbon WiFi
Top features of the MSI MPG X570 Gaming Pro Carbon WiFi:
AM4 socket ATX motherboard
PCIe 4.0 lanes
USB 3.2 Gen 2 ports (type-A and type-C)
Wi-Fi 6 and Bluetooth built-in
MSI Mystic Light software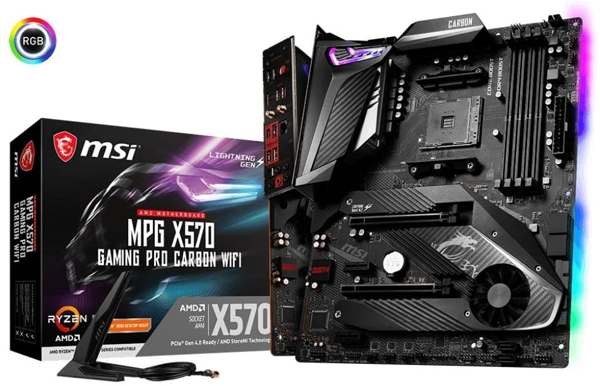 Check Today's Price of MSI MPG X570 Gaming Pro Carbon WiFi→
For a decent gaming PC, you got to have a decent motherboard. Since the motherboard acts as the hub where all the components get connected, buying a decent motherboard will futureproof you.
The MSI MPG X570 Gaming Pro Carbon WiFi motherboard is a top choice to pair with the 5800X CPU. The X570 chipset motherboard has high-quality components and a beefy VRM. Having a decent VRM will help you to get a stable performance on an overclocked CPU. So it's an obvious choice to pair with the unlocked 5800X CPU.
Aside from that, the 5800X CPU supports PCIe 4 lanes. Hence, the PCIe 4 ready motherboard will allow you to take full advantage of the feature. Of course, you'd need compatible SSD and GPU for that, and I've made sure to include them.
You get 4x DDR4 slots, a dual-bearing chipset fan, the dedicated heatsink for M.2 slots.
As for the ports, there isn't a shortage of any. You get USB 3.2 gen2 ports in the form of both Type-A and Type-C. You also get an HDMI port, high-speed LAN port, HD audio ports.
In terms of connectivity, the motherboard has WiFi 6 and Bluetooth support built-in, which will help you to achieve low latency gaming. The aesthetics are also on point with a stealthy design and ARGB lighting.
4. RAM: Corsair Vengeance RGB Pro 16GB 3200MHz
Some highlights of the Corsair Vengeance RGB Pro:
16GB (2 x 8GB) DDR4 RAM
3200MHz frequency
C16 latency
ARGB lighting

Check Today's Price of Corsair Vengeance RGB Pro→
Having high-speed RAM makes the whole system feel faster and snappier. The Corsair Vengeance RGB Pro is an excellent balance between performance and aesthetics.
The dual-channel 16GB RAM has a pretty high performance under the hood. 3200MHz frequency at C16 latency ensures you get full advantage of the benefits that come from the CPU.
AMD Ryzen CPUs have the infinity fabric where high-frequency RAM highly increases the performance of the CPU. Hence high frequency and tight timings will achieve you better performance.
The ARGB lighting on the RAM is one of the best you can get. The lighting is vivid and colorful, and the transition and diffusion are butter smooth. Overall, the lighting looks gorgeous.
5. PSU: Corsair RM850x 850W 80+ Gold
Notable features of the Corsair RM850x:
850 Watt PSU
80+ gold efficiency
fully modular
105-degree Japanese capacitors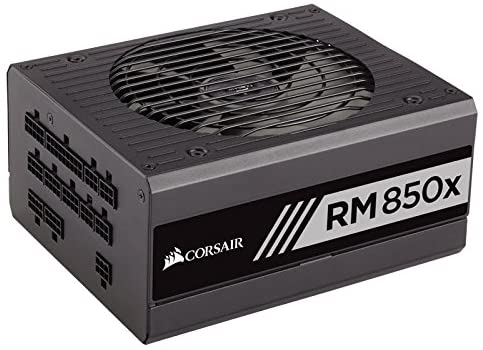 Check Today's Price of Corsair RM850x→
Getting a high-quality PSU is always the way to go. As the PSU powers all your PC components, you must get the best quality possible on your budget.
The Corsair RM850X certainly lives up to its name. It's an 850W PSU with 80+ Gold efficiency certification. All the capacitors present here are 105-degree Japanese capacitors. Therefore you get the best-graded components and high-efficiency power supply.
For a clean build, it's essential to get a fully modular PSU so that you can get rid of the extra cables. And the PSU is fully modular, so no extra cable clutters.
The PSU also features 0 RPM mode. What it means is that it turns off the fan when not under load. So you get zero noise from the PSU.
Overall, the PSU is of high quality, has high efficiency, and helps to ensure a clean build with its fully modular feature. It comes with an extended warranty so that you can rest assured about your PC's safety. Check out some of the budget modular PSU.
6. Case: NZXT H510
Top features of the NZXT H510:
ATX mid-tower case
Front I/O USB Type-C port
tempered glass side panel
2x Aer F 120mm fans included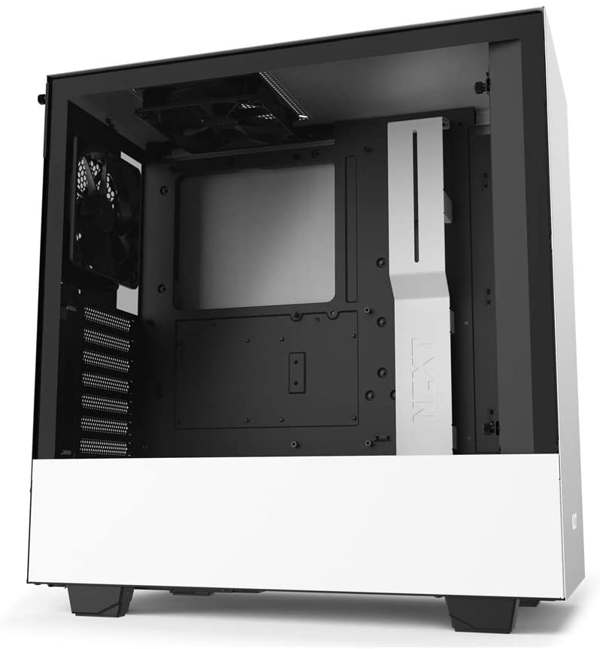 Check Today's Price of NZXT H510→
The NZXT H510 case is one of the most popular choices among gamers due to its clean design. The mid-tower case is compact for an ATX motherboard case.
The clean and modern design of the case will surely attract anyone. The whole build resonates with premium-ness. The insides are also of high quality and reflect clean and elite design choices.
The front IO is geared towards modern builds with the inclusion of a USB Type-C port. On the side, the tempered glass panel ensures you can show off all the RGB-lit and beautiful PC components inside.
It has a PSU shroud, and the back has lots of channels and a cable routing kit for cable management. So if you spend some time, you can achieve a clean and clutter-free gaming PC build.
The case is specially designed for water cooling, so the 240mm AIO will be easy to mount on. The front and bottom air intakes have air filters to prevent dust from getting in. Also, since we went for liquid cooling on this build, the thermal performance will be pretty decent here.
Overall, you get a clean, minimalistic, modern case with decent thermal performance and a liquid cooling ready setup. The side tempered glass ensures you get to showcase all the RGB lighting from the AIO, motherboard, and RAM.
7. Storage: Samsung 980 Pro 1TB PCIe M.2 NVMe Gen4 SSD
Notable features of the Samsung 980 Pro 1TB PCIe M.2 NVMe Gen4 SSD:
NVMe PCIe Gen4 SSD
1TB capacity
DRAM cache built-in
Samsung Magician software support

Check Today's Price of Samsung 980 Pro 1TB PCIe M.2 NVMe Gen4 SSD→
No gaming PC build is perfect without fast storage. Hence the Samsung 980 Pro 1TB SSD. It is a PCIe NVMe gen4 SSD with super-fast read and writes speeds.
As the CPU and motherboard support PCIe gen 4, it is obvious to take advantage of the increased speeds with a compatible SSD, like the Samsung 980 Pro. It achieves roughly twice the speed of the gen 3 SSD. NVMe SSD is already speedy, so this SSD takes that lead to a whole new level.
It is one of the best SSD in the market and is hugely popular among gamers. The NAND flash and controller used here are all made by Samsung and are of high quality.
For such high-speed SSD, thermals are essential. Hence the SSD has nickel coating on the controller and a heat spreader label for quick heat dissipation.
Samsung also includes its Magician software to monitor and optimize drive health and performance.
8. GPU: Nvidia RTX 3080 Founders Edition
Some features of the Nvidia RTX 3080 Founders Edition:
10GB GDDR6X video RAM
2nd gen RT cores
DLSS, Nvidia Shadow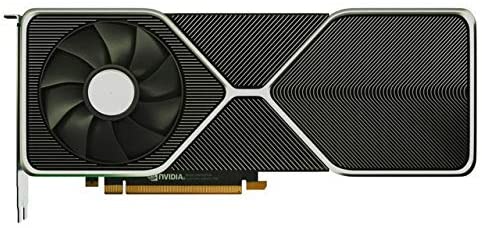 Check Today's Price of Nvidia RTX 3080 Founders Edition→
Lastly, the most crucial part of any gaming PC is the GPU. The Nvidia GeForce RTX 3080 Founders Edition is the best choice for this build.
The GPU allows you to play games in 4K resolution with high settings. It has 2nd generation RT cores for best ray tracing performance. The 3rd generation tensor cores ensure high-quality supersampling for optimal graphics quality.
On top of that, the inclusion of Nvidia Shadow enables you to record games, stream, and many more. The GPU is the best in its budget for gamers, so you're not missing out on anything. Everything about the GPU is excellent. It has 10GB of fast GDDR6X video memory.
The thermal performance is surprisingly good for such a high-performance GPU. It has a super-efficient heatsink design and dense fin arrays for rapid heat transfer.
The design of the Founders Edition is quite classy and unique. The GPU looks super sleek and premium.
Final Thoughts
The top-notch 5800X CPU combined with the powerful RTX 3080 GPU will deliver the best gaming experience for the money. You'd be able to play games at high 4K resolution with over 60 FPS across titles.
The high-speed RAM and storage will make the whole experience snappy and fast. The AIO cooler and the motherboard are powerful enough to handle such intensive gaming loads and deliver stable performance.
Lastly, the PSU is reliable and highly efficient in delivering stable power to all components.
All of these components go inside the gorgeous and clean PC case to create a premium gaming build.