Looking for a killer modular PSU? But your wallet is disagreeing with you?
Well, I have been to your shoes.
If you are in a hurry, you can just check my #1 pick for Modular PSU.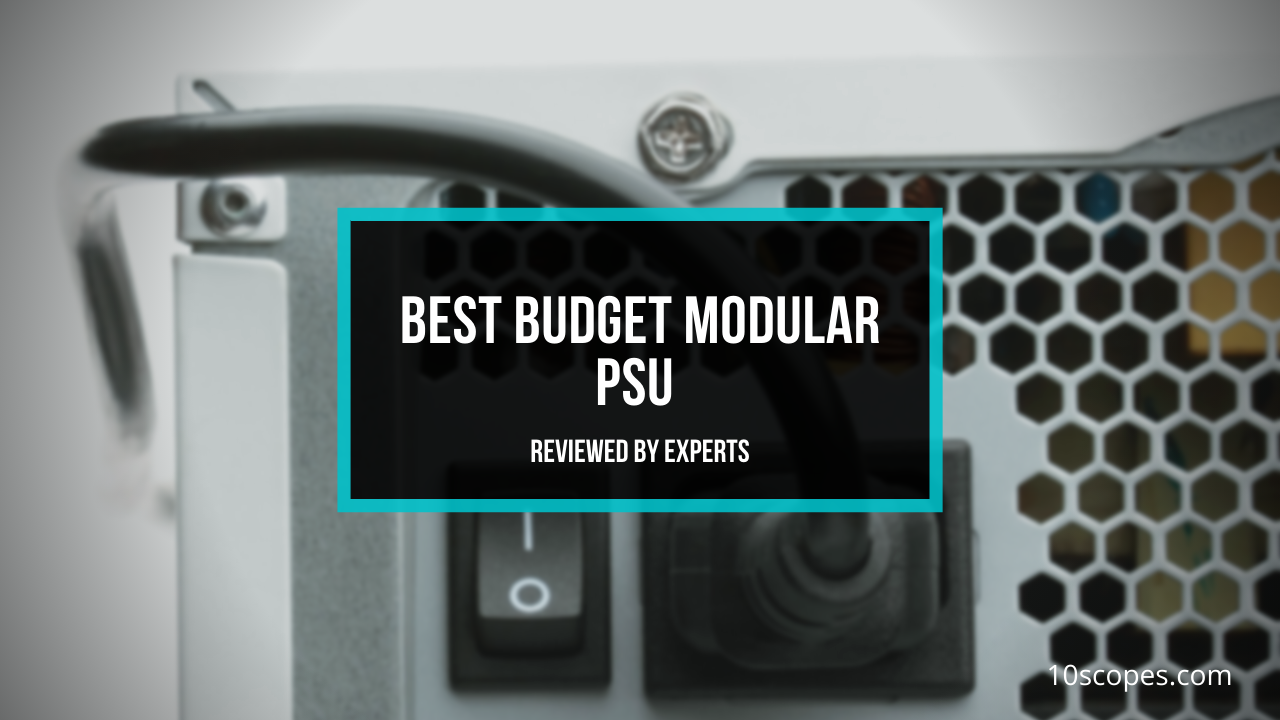 After researching and testing  7/8 PSUs, I've come to this ultimate list.
And keep reading to find your perfect PSU..
What is a Modular PSU?
The PSU in which the power cable can be detached are called modular PSU. This type of power supplies are also known as fully modular power supplies.
This type of power supplies is costlier than that of the Semi-modular and non-modular ones. You have the flexibility of installing the cables at the time of your need and have an optimum cable management experience.
Finding your power supply's model and wattage is very easy. If you don't know about your PSU then check out what power supply you are using.
Best Budget Modular PSU Reviewed
By now you are well aware of what a modular PSU is. But since it's said they tend to be costly, you might be worried whether you would get any affordable modular power supply or not.
Don't worry.
Though they seem to be costly, still there are some products which are very much affordable.
Also, check out our separate post on the most RELIABLE PSU Tier list.
Here are the best budget modular power supplies:
1. Corsair RM650x Gold
Corsair is a very well-known name in the gaming accessories market for its wide range of products. They have earned the trust of gamers by producing top quality products over the years.
Like other PC components, they are also producing quality PSU's. Among them, their RMX series of PSU's has gained a lot of attention.
The Corsair RM650x is one of those from the RMX series which is a 650W PSU. It's a high-performance power supply that you will find under a specific budget.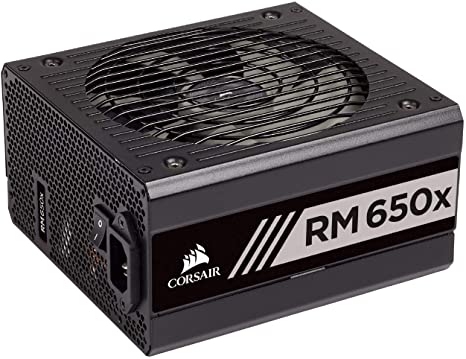 Check Today's Price of Corsair RM650x Gold ➜➜
It has a superb build-up and it operates with producing almost no noise.
It is 80+ Gold certified PSU with modular cabling. It also has a complete set of protection features.
The fan used is this one is a medium speed bearing fan which can easily take loads of moderate level.
The powersupply comes in with a honeycomb design on part of the grill. As far as its finishing is concerned it is of decent quality.
Here's a complete guide on which PSU cables do I need.
This power supply also comes with a warranty of 10 years.
To sum up I would say, it's a decent PSU to buy as its priced fairly based on the specs it has. It can be the best inexpensive modular power supply for you considering all aspects.
Pros
»

Good build quality

»

Japanese Capacitors

»

Decent load regulation
Cons
»

Only one EPS connector

»

Space is short between connectors and peripherals
2. EVGA Supernova 550 GA Gold
EVGA is quite known for its line of PSUs. Be it fully modular, semi-modular or non-modular; all of their Powersupplies have a very good performance level.
Their Supernova 550 Ga is one such modular PSU that you can afford even if you have a tight budget.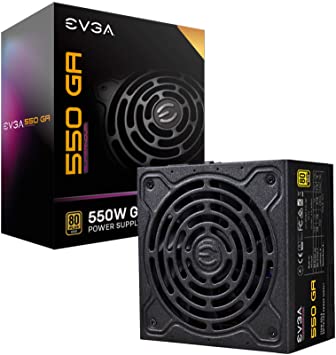 Check Today's Price of EVGA Supernova 550 GA Gold ➜➜
This fully modular power supply comes up with a double-ball bearing fan and with 80+ Gold Certification. It has an efficiency of 90% and you highly rely on its performance level.
The design it has helps you a lot in having smooth cable management and a less messy system.
The PSU comes with a unique feature of ECO mode. This feature will help you to choose the speed levels of the fans.
Follow our guide to know are PSU extension cables safe.
You'll also get a series of protections such as – OVP, UVP, OCP, OPP, and OTP.
The LCC Resonant circuit layout in this power supply helps a lot in enhancing the efficiency of the PSU.
You'll get a warranty of 10 years alongside the very reliable customer support from EVGA that is always there for you.
I would say it can be your perfect choice for the best affordable modular powersupply given the versatile specs it has.
Pros
»

10 years warranty

»

ECO Mode

»

80+ Gold Certification

»

Good build-up
Cons
»

Mounting can be difficult
3. Thermaltake Toughpower Grand 650W Gold
The Thermaltake Toughpowder Grand RGB power supply is a 650 W PSU, which can prove to be the best cheap modular PSU for you.
Thermaltake is known for its variety of products like PC cases, Coolers, and PSU's. This very model from them is one of their products from their RGB line of power supplies.
This power supply is with 80+ gold certification having an efficiency of 90%. It also comes with a single rail of +12V.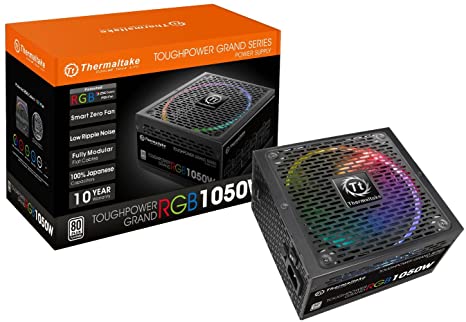 Check Today's Price of Thermaltake 650W Gold ➜➜
power supplies with a single rail doesn't need any sort of rail balancing.
Coming to RGB, the PSU has 5 different lighting modes along 140 mm RGB fan with 256 colors. The overall value that this power supply adds to the aesthetics of the system is decent.
The fan has both the standard and hybrid models in this power supply. In the case of hybrid mode the speed is relatively higher, reaching up to 850 rpm.
Check out our separate post on why to use PSU shroud.
The fan makes relatively very little noise. You also have the freedom to turn the fan off or on.
This modular power supply also comes with a warranty of 10 years, making it the perfect option for the users seeking longevity.
Overall, I would say Thermaltake has produced something unique through this power supply. As a modular PSU it is aesthetically pleasing and will cost you just $120.
For the price it has and the specs, it will be a killer budget fully modular PSU.
Pros
»

Under $150

»

10-years warranty

»

Amazing aesthetics

»

Good build-up
Cons
»

Only 2 cords with SATA connectors
4. EVGA 550 B3 Bronze
Are you looking for a PSU with a very compact structure?
EVGA has the right product for you. Their 550 B3 is the best inexpensive modular power supply that you can get with a compact structure.
The EVGA 550 B3 is fully modular and also with 80+ Bronze certification.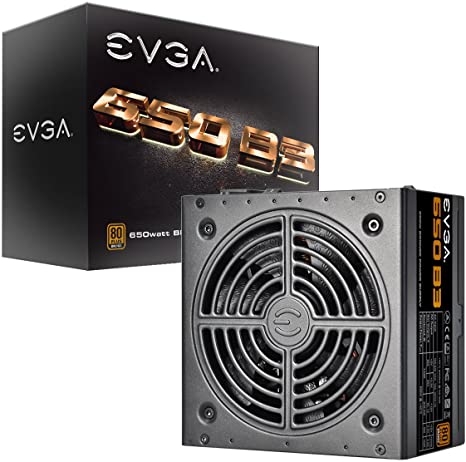 Check Today's Price of EVGA 550 B3 Bronze ➜➜
In this model, you will find a very good thermal control system which is facilitated by the very unique feature of EVGA also known as the ECO Mode.
Want to know the best part?
If you are someone who loves noiseless operation and is looking for a n affordable option, then this very PSU is the right match for your system.
The fan noise is almost missing which makes it a quieter option compared to other competitors in the market. Adding to that, the ECO Mode existing it increases the fan life.
For gamers using NVIDIA GPU especially the 1070ti, I have good news for you that this power supply can easily handle your GPU without any issues.
Here's a complete guide on how to fix PSU overheating.
This power supply is a fit for any type of PC case due to its small size.
With a 5 year warranty, it is a killer deal to have. I would suggest you buy this only if you are looking for a smaller and compact option.
Pros
»

Eco Mode available

»

Warranty of 5 years

»

Noiseless operation

»

Modular connections are decent
Cons
»

No extra cables for HDD

»

Extra 4 pin ATX plug isn't available
Why Should You Buy a Sufficient Power Supply?
Buying an inefficient PSU may lead to various outcomes. The main job of PSU is to pull power from the plug-in to your wall. When you use an inefficient PSU, it may lead to higher electricity bills due to the ineffective usage of power.
Inefficient power supply generates heat. Since more power is pulled from the wall, a part of gets dissipated as heat in the system.
This heat is the prime reason behind CPU getting overheated. So, for keeping the system cooler it is better to avoid inefficient power supplies.
Check out the easiest way to find out the PSU mounting screws easily.
Modular Powersupply Buying Guide
By now you got to know about the affordable modular PSU's available in the market. You are still sticking with it because you want to buy them.
I will not waste your time anymore.
Here's the complete buying guide that you should follow while buying the a cheap modular Power supply:
Wattage of the PSU
Before you buy the power supply, it is better to know the watt numbers that you require in your PSU. The readings in the PSU's often can be misleading.
So, it is better to use PSU calculator software which will give you a better view about which PSU you will need in your System. I would suggest you buy the PSU that is way ahead what your system requires as PSU's tend to lose power over time.
Have some time to spare? Quickly check out our epic guide on do modular PSUs come with cables.
Efficiency and Ratings
The efficiency of the power supply determines how much power to be used to run the whole system.
Buying an efficient CPU will lead you to save more money as well as keep your system healthy. While buying you should look for 80+ certifications, which is good for minimizing the energy loss.
Since you are looking for a cheap modular option, the PSU's with 80+ gold certification will do the best for you. Otherwise, there are few options such as with 80+ bronze certification which can also prove to be decent enough.
Size of the Power Supply
Not all PSU's will fit on your system. power supply comes with different sizes and designs.
It depends a lot on which type of PC case you are using. PSU's with high power wattage takes extra space as they hold extra components with them. You need to make sure that your power supply doesn't damage other components inside the system.
Also, check out our expert's opinion on can PSU affect FPS.
Noise Level 
Different PSU's come with different noise levels. There are fans inside the power supply which makes them noisy.
So, before you make any buying decision you should decide how much noise you can handle. There PSU's with bigger fans which will produce some noise as well as you will also get PSU's with almost noiseless operations.
Therefore, better to decide before which one you prefer.
Facing error clicking noise, you can quickly fix PSU making a clicking noise from our detailed guide.
Final Thoughts
power supply are essential elements of a PC as they help in supplying power to the components as well as play a part in regulating the heat.
In this blog, I have mentioned the most stable budget friendly modular Power supplies that you will find in the market along with their buying guide.
I hope that helps you to get the right one. Still anything arises, do let me know.