After skipping so many would have been good options, finally, you're excited about this date but facing difficulties connecting your Tinder on Wifi?
Unbelievable, isn't it?
The scenario could be different for you, but the issue might be the same. How did I know all of these?
After the several meh dates, it was the time I found all the restless conversations and the gut feeling good enough to meet in person. But surprisingly, when I was about to meet the person coming out of my shell on December 15, 2021, I faced Tinder not working on my iPhone.
In this article, I will explain why this pathetic problem appears on Tinder and how you can fix it pretty quickly.
Let's fix this once and for all.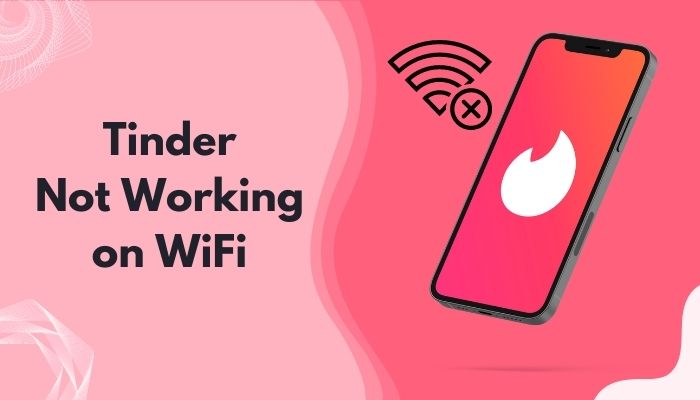 Also, check out our separate post on fix Instagram not working on WiFi.
Why is my Tinder not working on Wifi?
Tinder is not working on Wifi because you are not connected properly with your Wifi, Tinder is blocked from the provider end, or your folks have set up an adult block on your router. Using a banned IP, being the Wifi down, or Tinder itself being down can also result in Tinder not working on Wifi.
There are many reasons why Tinder doesn't work on Wifi. So, don't waste your time wondering what caused the issue on your Tinder. Feel free to know the reasons as I am going to explain all of them in detail in this segment.
Here are the exact reasons behind your Tinder not working on Wifi:
Adult block on your router: As Tinder is the most prominent dating app out there, people of all ages are using it boundlessly. So, if you are not an 18+, there is a chance your folks blocked Tinder on your router.
Not connected to your Wifi: If you are not connected to your Wifi properly, Tinder won't work on Wifi for sure.
Blocked from the Provider: Sometimes, internet providers have to block many applications for various reasons. Have a chat with your internet provider if any action of the provider end causes the issue.
Wifi being down: If your Wifi is down, it uses 2/3 kbps, or the limited situation arises, that's why your Tinder is suddenly not working.
Using from a banned IP: If Tinder banned your IP for violating their policies, you might face Tinder not working under your Wifi.
Tinder is down: On December 15, 2021, Tinder went down, leaving hundreds of thousands of people incapable of logging in to their accounts. So, if the history repeats, you must encounter the issue.
We're done knowing the reasons for this problem happening on our devices. It's time to solve them.
Let's roll out!
Here's a complete guide on what does an Instagram handle mean.
How to Fix Tinder Not Working on WiFi
Tinder is a well-known dating application available in 190+ countries worldwide. It helps find partners, widens a strong social network, and meets locals while staying in places for a long time or short time.
Though I like the idea of bringing people interested in one another closer, I can't stand the heinous experience it causes to some people.
However, people love passing their time in it — finding partners, getting known to each other, and discovering themselves gradually. But some issues might create this flavorous experience intense that turns into utter frustration.
Tinder is not working on Wifi is one of the most famous issues among them. If you are one of the people facing this, don't waste any more of your valuable time wandering places.
We will talk about how quickly we can fix our issue in this article. Just go through the working methods and resolve your problem.
Pro Tip: Try switching to cellular data and then Wifi again to see if this solves the issue.  Besides, don't forget to restart your device once.
Not every fix solves your problem right away. So, don't get mad if applying the fixes one after another doesn't work for you. Apply all the techniques precisely until you get rid of this problem.
Also, check out our separate post on how to fix can't change Instagram username.
Here are the methods to fix Tinder not working on Wifi:
Method 1: Update the Tinder App
If you are currently using an outdated version of the Tinder application, it is highly likely to face this issue on your device. So, consider checking for an update on your Tinder Application. If the update is available, make sure to install it.
Here's an easy way to update your Tinder app:
Go to the Play Store or App Store and search Tinder. For iPhones, go to the Update tab on the bottom panel.
Update your application if there is an update available for your Device.
Restart your phone and launch Tinder.
If you find your Tinder app is updated, this is not the reason behind facing this problem.
Also check our exclusive tutorial on fix something went wrong Facebook login error.
Method 2: Restart your Router or Modem
Maybe your router or modem got some issues and a bad connection that led you to confront the case. If this is the reason, a simple reboot will fix your problem.
Here are two easy steps to reboot your router:
Unplug the power cord from the power source and leave it for 2-3 minutes.
Plug it back into the power source and wait for a minute or two.
Have you resolved that Tinder doesn't work on Wifi issue? If not, move to the next method.
Here's a complete guide on fix Facebook dating not showing up.
Method 3: Clear Tinder Cache Files
If somehow your Tinder app got temporary bugs and errors, it's because of the cache files stored in your device most of the time. So, you need to clear Tinder cache files from your device to resolve the issue.
Here's a short path you can take to clear your Tinder cache files:
Go to Settings and move to Apps & Notifications.
Tap on Tinder.
Select Storage and choose Clear cache.
Restart Tinder and see if the problem is solved. Yet, if the problem stays, try the following one.
Also, check out our separate post on how to fix the problem of Facebook feed not loading.
Method 4: Reinstall Tinder App
Delete your Tinder app and reinstall it. If some hidden glitches are causing the issue, reinstalling them will fix the problem for you.
Here's a way you can follow to reinstall the Tinder app:
Long tap on the Tinder app.
Tap on the minus (-) or cross (×)
Select Delete, and the app will be gone permanently.
Open App Store or Play Store.
Search Tinder and choose Download.
Install the app and enter your credentials accurately.
I hope the problem is solved by now. Move to the next one if the problem persists.
Method 5: Factory Reset your Router
If the problem stays this far, I suggest you give a factory reset to your router. It will resolve all the router issues and errors that caused the failure in the first place.
Here's a prompt way to factory reset your router:
Track down the reset button on the rear panel of your router.
Press and hold the reset button for 10-12 seconds by using a paper clip.
The front panel lights will turn off, and some blinking will appear. Finally, the internet light will glow, and the reset process will be complete.
Caution: A factory reset will change all the settings you've made with your router over time.
Method 6: Unblock Tinder
Call your Internet Provider to know whether they blocked the Tinder app or not. If they blocked this particular app, you might ask them to unblock it.
If they say, they can't, it's okay. Connect your device to a VPN and open Tinder to get seamless performance.
Method 7: Get Recent News on Tinder
Tinder went down on December 15, 2021. It can occur again. So, surf the internet to know the latest news on Tinder. See if there is any ongoing issue occurring with this problem.
However, try connecting to a VPN to check if the problem stays or leaves.
FAQs
How can I fix my Tinder won't work?
You can fix your Tinder by applying these techniques: Update the Tinder app > Reinstall Tinder > Restart router > Clear Tinder cache files > Use a VPN > Factory reset your router.
How to get Tinder to work without Wifi?
You can easily turn your cellular data on and get Tinder to work.
How do I use Tinder on blocked Wifi?
You can connect your device to a VPN and launch your Tinder app to use it on a blocked Wifi.
Why my Tinder App is banned?
Your Tinder app is banned due to violating Tinder's policy, being homophobic, using inappropriate and offensive language, racist comments, posting inappropriate pictures, spam accounts, creating a fake profile, and many other reasons.
Read Community Guidelines to know more.
Can Tinder be used on mobile data?
You can definitely use Tinder on your mobile data.
Does Tinder ban your Wifi?
If you get on their radar, they can ban your Wifi and block your account for violating their terms and conditions.
Does Tinder lock your account?
Yes. Tinder can lock your account.
A Final Thought
Tinder is very popular these days for many reasons, mainly for playing the role of matchmaking. But problems can arise without giving you a notification or murmuring in your ears.
Tinder not being able to connect to your Wifi is a known problem. And there are pretty easy fixes you need to apply to get your problem resolved.
Go through the methods and apply them accordingly.
We love to assist you in solving your problems. I hope one of the proven fixes has resolved your issue already. Yet if the problem chooses to stay, let me know in the comments.
Have a good day!