Microsoft Teams is undoubtedly a demandable platform in the corporate and educational sector and has become more obligatory since the pandemic.
Why wouldn't it be prevailing?
It is a one-stop place to connect with students, clients, and co-workers. And the meeting feature in Teams is the best in the business. The flexibility to join a meeting wherever and whenever you want is pretty welcoming among the users.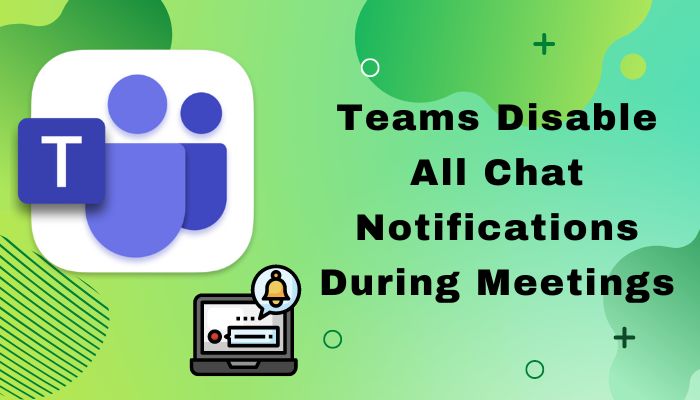 But the constant interruption during a meeting is not welcoming because you don't want notifications to keep popping up on your screen and disrupting your concentration.
Well, hold your nerve. I have the fixes for you.
In this article, I'll go through all the methods to disable chat notifications during your Teams meetings.
So hop on and read till the end.
Follow our guide to Fix Microsoft Teams Chat Messages Not Showing Up
How to Turn Off Chat Notification During Meetings
No one wants any interruption during the Teams meetings. You will find several methods to disable chat notifications while attending a meeting. However, I have picked the best of the best methods to pull you out of this misery.
Here are the methods to turn off chat notifications while meeting:
1. Mute During a Meeting
Microsoft Teams has brought the mute feature inside the meeting recently. It comes quite handy as you don't need to minimize the meetings and perform other tweaks to mute chat notifications.
Here is how you can mute notifications while attending a meeting:
Click on the three-dots menu during the meeting.
Select the Mute Notifications from the contextual window.
Note: click on the Allow notification button to enable the notification again.
If you find the mute notification button is missing, follow the next method.
Check out our separate post on Fix Microsoft Teams Can't See Shared Screen on PC
2. Mute from Settings
There is a dedicated button to disable notifications in the settings menu. When you attend a meeting, you won't find any notification that bothers you if the button is on.
Here are the steps to mute notifications from the settings menu:
Access your Teams account from the app or browser.
Click on the three-dots menu from the top right-hand side.
Select Settings.
Navigate to the Notifications from the left menu panel.
Toggle on the button says Mute notifications during meetings and calls.
Also, check out our separate post on how to fix Microsoft Teams you can't send messages error.
3. Enable Focus Assist
Windows offers an excellent feature named Focus Assist, similar to the Do Not Disturb mode. When you enable the Focus Assist mode, it prevents the notifications from showing up on the screen.
Note: This feature can disable chat notifications while attending a meeting.
Here is the method to set Focus Assist on Windows 10/11:
Open Settings.
Click on System.
Click on Focus Assist.
Select the radio button named Alarms only.
Scroll down and click on the During these times button and enable it.
Set the Start time and End time according to your meeting length.
Select the Focus level to Alarms only.
Quickly check out our epic guide on Microsoft Teams set out of office alerts.
4. Disable System Notification
If you don't want to enable Focus Assist, you can turn off the notifications from the Windows settings. You won't see any notifications after disabling it.
Here is how you can disable system notifications on Windows:
Open Settings.
Click on System.
Navigate to Notifications & actions.
Toggle off the Get notifications from apps and other senders button under the Notification menu.
Uncheck the existing boxes.
Follow our guide to fix Teams not working on WiFi.
Frequently Asked Question
How many members can join in Teams meetings?
On the free version of Microsoft Teams, up to 100 people can join in a meeting, whereas in the business version, Teams allows up to 1000 attendees in a meeting.
Can I mute other members in Teams meeting?
No, only presenters can mute everyone. This includes other presenters too. However, you can mute only your mic and can't mute others when you are a listener.
How to mute in MS Teams using the keyboard?
You can mute or unmute your state by pressing Ctrl + Shift + M. Before you use the shortcut, ensure that the meetings window is selected, as it will only work on that particular window.
Wrapping Up
That's about it.
You can follow the methods above to disable chat notifications while attending a meeting. Those methods may take some seconds to a maximum of a minute to execute. I hope you get the idea of how easy those methods are!
Thanks for reading this article. Hopefully, you can now prevent chat notifications from popping up and annoying you.
In case you have any questions left regarding Microsoft Teams, feel free to share in the comment box. I will be glad to help you with that.
Signing out!