Microsoft Outlook is one of the popular email services available across all platforms like Windows, Mac, and even Android/iOS.
It also manages the calendar, stores contact, takes notes, logs journals, web browsers, and keeps track of daily activities.
But sometimes, people complain about an Ole registration error that occurs when they are busy with their scheduled tasks. Hence, this scenario creates an annoying situation for them.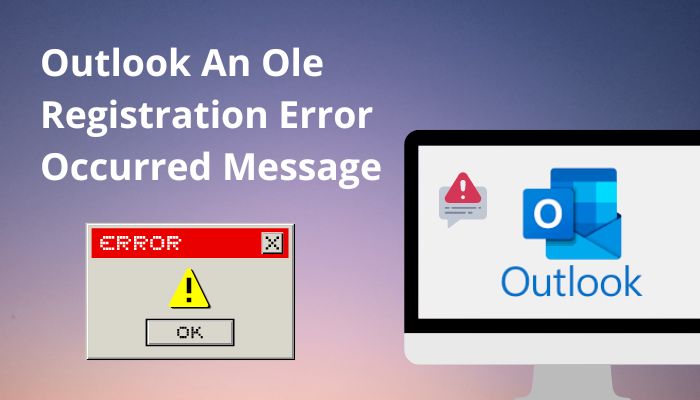 If you are new to Microsoft Outlook and wondering how to fix the Ole registration error, worry not!  This article will guide you to some easiest and most effective ways to solve the problem within minutes.
Without further delay, let's begin!
Check out the easiest way to why Outlook not Marking Emails as Replied
Why does Ole Registration Error occur?
Ole Registration error occurs for three main reasons: Not using the exact version of Microsoft Word, Word not being selected as the default email editor in Outlook, and Microsoft Word not being pre-installed on your rig. Let's clear things up for you.
Here are the reasons why the Ole registration error occurs:
Absence of Microsoft Word
The absence of Microsoft Word is the primary reason for the Ole registration error. You'll face difficulties if you don't have Microsoft Word preloaded on the machine.
Different Microsoft Word Version
Here is another reason which places the error. If the version of Outlook and Word isn't compatible with each other, an Ole registration error arises.
Default Email Editor
Email editor shapes emails efficiently; that's why Microsoft word demands to be the default email editor for Outlook. Otherwise, an Ole registration error will appear.
Important Note: To make Microsoft Word the default email editor, simply go to your Outlook application and select Tools > Options > Mail Format tab > Mark the option Use Microsoft Office Word to edit email message > Click Apply > Hit OK to save changes.
Here's a complete guide on how to Automatically Forward Emails in Outlook
How to Fix Ole Registration Error?
Fixing Ole registration error is not a complicated thing. But there still have some steps to settle this ultimately. I will propose some steps to resolve the Ole registration error.
Follow the steps to fix Ole registration error:
1. Re-register Outlook
Microsoft releases batch updates frequently for its built-in applications and windows, where users are introduced to a better visual experience, new functionalities and layouts. Some beta versions place bugs that may occur registry errors and removes the user account from Outlook.
Try to re-register Outlook to avoid this type of difficulty.
Here are the steps to re-register Outlook:
Click on the Search bar and type cmd.
Select Run as administrator.
Type regsvr32 Ole32.dll in the command prompt.
Hit enter. After completing all the steps correctly, you'll see a prompt message displaying successful registration.
Select OK.
Launch Outlook again.
Also related to this guide how to Enable or Disable Autosave Emails in Outlook
2. Delete InfoPath Forms Folder
Due to extensive legacy use, Microsoft has stopped developing and updating the InfoPath forms. They will not include InfoPath forms with the updated releases.
Suppose users are using the oldest version or updated with the latest releases of Outlook but have the previous InfoPath services in their registry folder. In that case, they will face random connectivity issues.
Delete the entire InfoPath forms folder to get rid of these errors.
Follow these steps to delete the Infopath forms folder:
Select the Symptoms section from Outlook.
Head towards the Outlook folder list.
Delete InfoPath Forms Folder.
Attention: Install an earlier version of Outlook to back up the files.
Also, check out our separate post on Delete Emails in Microsoft Outlook
3. Disable Custom Add-ins
Custom add-ins automate daily tasks and serve a better user experience. It provides limited capabilities and causes harm to the operating system. That's why Outlook faces runtime environment error at execution time.
Try to remove or disable custom add-ins to solve this issue.
These are the steps to disable custom add-ins:
Click on File > Option > Add-ins.
Go to the Manage tab.
Select the Go button.
Click on the add-ins to remove or disable them.
Uncheck the add-ins.
Hit OK to save changes.
Check out the easiest way to Fix Outlook Crashes at Startup
4. Re-create Outlook Mail Profile
An existing Outlook Mail profile can be removed due to technical glitches when an operating system updates.
To resolve this issue, create another Outlook mail profile.
Here are the steps to re-create an Outlook mail profile:
Open Control Panel.
Select Mail.
Click Show Profiles.
Click Add.
Enter a suitable profile name.
Hit OK.
Check Always use this profile to set the new profile.
Click OK to proceed.
Launch Outlook.
If everything seems ok, you can remove the original one.
Also, check out the easiest way to Outlook: Something Is Wrong With Your Data File
5. Inbox Repair Tool
It is a standard tool for identifying and repairing errors in Microsoft Outlook. Inbox repair tool checks if the data files on the computer are in good form. It scans all the files and solves the issue within seconds.
Before trying out anything, run the inbox repair tool to eliminate the problem.
Follow these steps to use the inbox repair tool:
Run the Inbox repair tool (Scanpst.exe).
Browse the file which needs to be repaired.
Click Start to begin scanning.
Click on Repair to resolve the issue.
Hit OK to close.
Follow our guide to Outlook: Enable or Disable Macros
6. Reinstall Microsoft Office
Reinstalling Microsoft Office means replacing the existing application with the latest one. Ex: If an application has worked well in the past but now facing issues, then this action is performed.
To clear up this kind of situation, reinstall Microsoft Office.
Here are the steps to reinstall Microsoft Office:
Go to your accounts office page.
Click on Install Office.
Click on Save File(Office will start to download).
Double-click on the Office setup file.
Select Yes when the prompt arrives.
Wait until Microsoft Office finishes installing.
Select Close when the prompt comes again.
Here's a complete guide on how to Create an Outlook Rule to Manage Emails
FAQs
How does an Ole registration error occur?
Ole registration error is a pervasive error that Microsoft Outlook occurs. The default email editor in Outlook needs to be set as Microsoft word, and the version of Outlook and Word should be compatible.
How do I make Outlook my default email?
To make Outlook as default email, you have to:
Launch Outlook Application.
Select Options from the File tab.
Go to Startup option.
Select Make Outlook default program.
Why is my Microsoft Outlook grayed out?
Microsoft Outlook grayed out frequently while writing emails, and even it doesn't respond to mouse clicks. It becomes annoying to keep track of tasks.
Therefore, this error occurs due to multiple add-ins because they may block Outlook clients from establishing connections.
How to enable send in Outlook?
To enable send in Outlook, you have to launch Outlook Application > Click on the File menu > Select Options > Click on the Mail tab > Click on Send button > Select the Email Accounts option > Enter the email account to use Send > Hit OK to save changes.
A Final Thought
To sum up, you can quickly solve Ole registration error by following the methods like re-register Outlook, deleting the info path forms folder, disabling custom add-ins, re-create Outlook mail profile, inbox repair tool, and many more.
I am sure this article has answered all your queries and helped you solve the Ole registration error without difficulties.
Please let us know which one fixes your problem in the comments section below.
Peace out!