It is a bizarre situation when you invited your friend to play FIFA or watch some movies, then you are stuck on a loop where it says "HDMI No Signal"
No worries, as plenty of people, face this issue frequently. With some speedy approaches, you can start working again.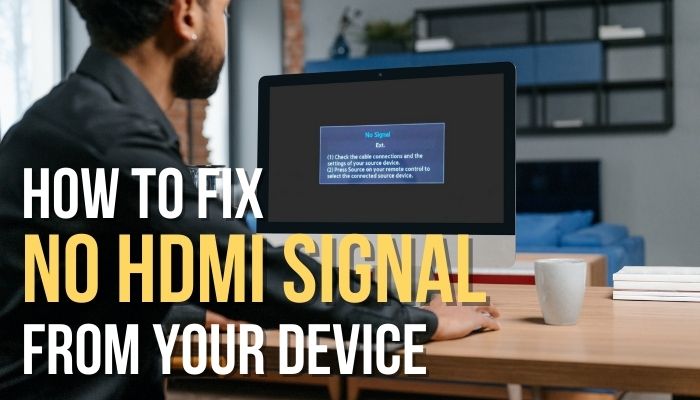 In this article, I will explain how you can get rid of this annoying HDMI issue. Let's dive into it.
What are the Reasons HDMI Signal is Not Working?
High-Definition Multimedia Interface aka HDMI is a blessing for its transferring capability of both audio & video signals through a single cable only. Though HDMI's only competitor Display Port(DP) provides additional bandwidth support, most HDTV or smart TV use HDMI over DP for their output connector.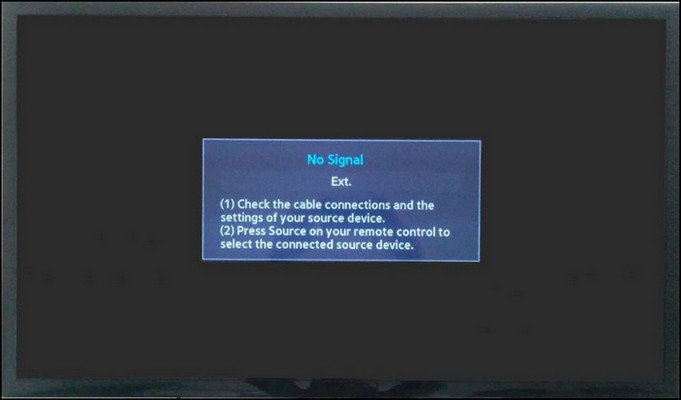 HDMI use HDCP (High-bandwidth Digital Content Protection) encryption, which works like an anti-piracy tool to stop sharing original content to unauthorized gadgets. If you want to enjoy these types of content on unrecognized devices, there is a huge chance of experiencing the issue.
Besides this, people also overlook some silly mistakes like a loose connection or forgetting to turn on source devices like PC, consoles, or media players.
Here are some obvious reasons for HDMI not giving a signal to the output device:
Loose Connection: One of the main but often ignored reasons is having a connection which is not fastened enough to pass a signal.
Switched Off Source Device: Once I forgot to turn on my game console. As a result, I was getting the no signal sign.
Wrong Plugged-in Port: If your CPU doesn't have an iGPU & you plugged in the HDMI cable into the motherboard's port, this issue will occur for the lack of display adapter.
Faulty Graphics Card Driver: If your GPU driver gets bugged or corrupted, you get such type of display issue.
Incorrect Resolution: If your display resolution settings exceed from native resolution, the device will be unable to show the display & give the warning.
Besides this, for a computer, a dead GPU, PSU, or unseated memory can result in a no-boot situation & shows no signal.
Go through our epic guide on connect PS5 to Laptop with HDMI.
How to Resolve No HDMI Connection From Your Device
No HDMI connection is a very common issue that can be fixed easily. To save you from the hassle, I collected the most effective solutions. Before approaching the fixes, a heads-up to turn on your source & output devices.
Here are the ways how to resolve the no display signal from device platform:
1. Re plug HDMI Cable
Before proceeding to a more methodical approach, make sure you have tightened all of your cables strongly enough. To rule out a loose connection, plug out & then re-plug the HDMI cable.
Also, try to plug HDMI cable one by one into the device rather than plug all cables at once.
Check if this basic approach helps to get rid of the trouble. If the quick remedy doesn't help, follow the next solution.
2. Reverse Boot Sequence
Making changes in the boot sequence is another great way to eliminate the issue.
If you are turning on the Home theater or Console followed by TV or monitor, reversing the process can solve your issue definitely.
Simply power on the media player or gaming console at first. Afterward, switch on the TV or monitor.
If this solution is fruitless, you should further read to get your solution.
Check out our separate post on does the PS5 come with HDMI 2.1 cable?
3. Check HDMI Connection Settings
On different occasion, people forget to change to the correct HDMI connection.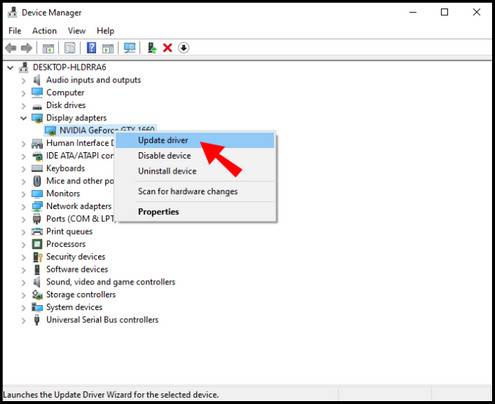 In simple words, when you are watching TV & then you want to play some games with a console, you need to change to the HDMI option from TV with remote. Or else it will not detect the console.
Likewise, from your monitor's on-screen settings, you have to choose the correct HDMI option (HDMI-1 or HDMI-2) depending on your monitor model.
4. Change HDMI Ports
Sometimes an HDMI port can get damaged. Most HDTVs, smart TVs, or monitors include multiple HDMI ports. So plug out the cable from the current slot & plug it into another extra slot.
This should solve your problem & the display should be back on business. However, if you are still getting no signal from your device, it's time to go technical approach.
Follow our guide about PS5 HDMI not working.
5. Reinstall GPU Driver
One of my friends was non-tech savvy. He didn't maintain his PC properly. As a result, a few days ago his HDMI cable failed to signal the monitor randomly, which made him panic. So I went to his house & tested the basic steps, but nothing worked.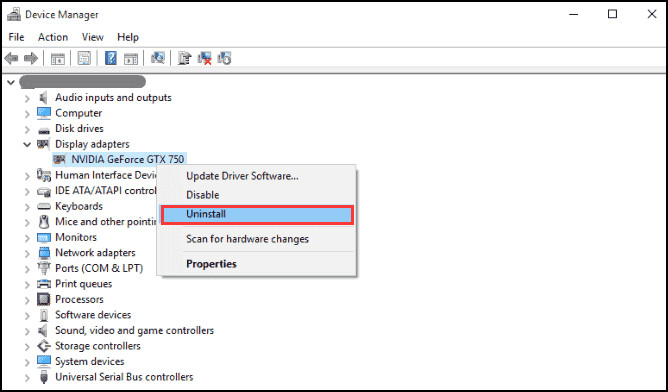 Later, I figured out that he didn't update his GPU driver for ages, which caused him this random no-signal error. So I updated his graphics driver & the issue never got back.
Before reinstalling, download your specific GPU driver from the manufacturer's website & remember the location where you saved the file.
Here are the processes to update your graphics driver:
Press Windows + X key on your keyboard.
Click on Device Manager.
Find Display adapters and expand that.
Right-click on your GPU name & left -click on Uninstall device.
Click on Uninstall & wait for the procedure.
Go to the location where you saved your updated GPU driver & install the file.
Reboot the system.
6. Set Proper Resolution
Incorrect higher system resolution can often lead to no HDMI signal. For example, a 1080p monitor supports up to 1920×1080 resolution naively. But if you want to run 2560×1440 resolution on this monitor, you will get no signal. Because it is out of the monitor's display range.
Here are the processes to properly set your monitor resolution:
Right-click in the blank space on the desktop.
Click on Display settings.
Find Display resolution & select your native resolution.
7. Check for Monitor Firmware Updates
Sporadically, monitor manufacturers publish firmware updates for their monitors. If all the mentioned solutions don't work, you can try to check if there is any firmware update available for your monitor. If you find any, it is recommended to download & install the update.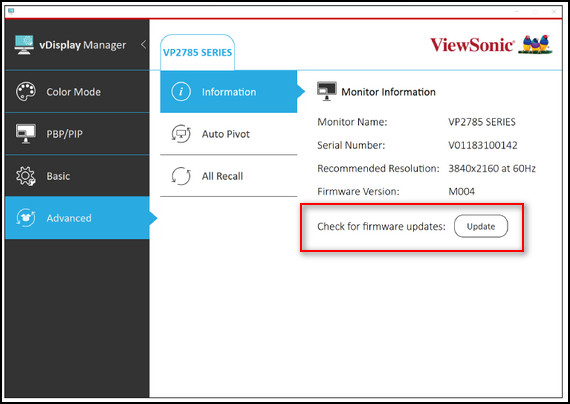 8. Factory Reset TV or Monitor
If everything fails, consider a factory reset to your TV or monitor & check if that helps out the situation.
These should cover all the solutions. Besides these, you can change your cable to rule out the faulty cable. If your monitor has an option named HDMI Compatibility Mode, you can turn on the feature & check if your issue is resolved.
How to Fix No HDMI Signal on Mac
If your MAC device encounters no signal from HDMI, adjusting the display menu should solve the issue.
Here are the steps to fix no HDMI signal on MAC:
Click on System Preferences on Apple menu.
Click on Display.
Hit on Display Settings.
Select Detect displays.
After this, HDMI should establish the connection.
FAQs
Does HDMI cables affect speed?
Yes. If you buy a branded HDMI cable labeled as HDMI 2.0 premium, then it should give you up to 18Gbps bandwidth. But for HDMI 1.3 it provides up to 10.2 GBps bandwidth only
Can HDMI cable affect sound?
HDMI cable passes both audio & video. If somehow the cable that transfers audio get damaged & you are using HDMI's audio, chances are your sound may get faded, muffled or muted.
Final Thought
Nothing is more annoying when you get obstructed during work. No signal is one of that annoying moment where you have to pause everything & have to find how to fix it.
In the meantime, you should know about all the solutions, as you already read this article thoroughly. Now you don't need to pause anything & enjoy with your pals. Don't forget to leave a comment.