Who doesn't want to look beautiful in front of a camera? Seeing yourself is essential when you join or wish to join in a video meeting.
Being able to see oneself gives extra confidence during a video call. You can be sure of your body language, facial expression, and overall appearance before everyone.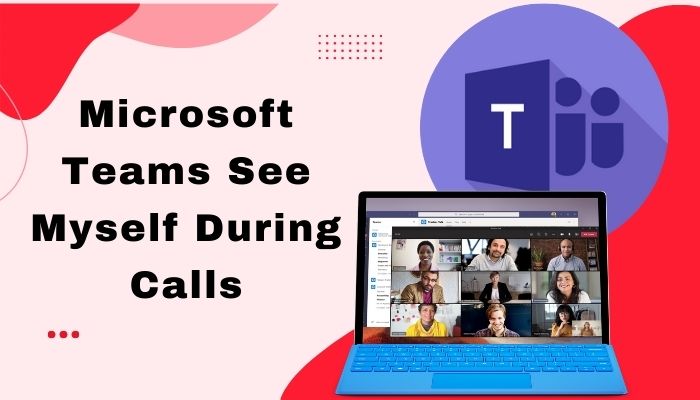 Microsoft Teams has simple and handy features to see oneself in private and comfortably present in front of the audience.
In this article, I will show you the most effortless way to see your beautiful face during a Microsoft Teams call.
Read the full articles and ensure your best appearance at a meeting.
Follow our guide on Microsoft Teams Lock Files
How to See Myself at Microsoft Teams Meeting?
Seeing yourself gives you an idea of your surroundings and any unnecessary objects in your background. You can see yourself in Microsoft Teams using private preview and spotlight features. Additionally, you can use other camera applications to see your outlook.
Here are the ways to see yourself at the Microsoft Teams meeting during calls:
1. Private Preview
Microsoft Teams allows you to preview your real-time camera privately. Other people in the meeting won't be able to see your camera preview.
Here are the steps to see a private preview:
Join a meeting without your camera on.
Hover your mouse on the Camera button.
Wait for a second, and your real-time camera preview will show on a mini screen.
You can also change your default camera, blur or change your background. This private preview option is available on Microsoft Teams for Work or School version.
Check out our separate post on Teams: Disable All Chat Notifications During Meetings
2. Use Spotlight
The spotlight feature in the Microsoft Teams allows you to highlight your video to everyone in the meeting. It will lock and pin your video in the meeting.
Here is the procedure to enable the spotlight:
Attend a meeting.
Click the three dots (…) button on your video.
Select Spotlight for everyone.
Confirm your selection.
You can also spotlight others' videos on the screen. Press on the Exit spotlight button to stop highlighting.
Follow our guide to Fix Microsoft Teams Chat Messages Not Showing Up
3. Use Camera Applications
You can also see yourself and share with everyone using the other camera application from your device. It gives you an advantage in quality and different options.
Here is the way to use and share the camera application:
Stop your camera video in the meeting.
Open the camera application from your device.
Go to MS Teams and share your camera application.
You can maximize your video by using other camera apps. Additionally, the green screen, different effects, titles, logos, and other facilities in these camera applications can give an upper hand in business meetings.
Also, check out our separate post on how to fix Microsoft Teams you can't send messages error.
FAQs
Why is there no private preview in my Microsoft Teams?
You are probably using the Microsoft Teams for Home version. This version doesn't have a private preview feature.
Can I hide my camera on Microsoft Teams?
To hide your camera in a call, press on the three dots (…) > Hide for me.
Does camera turn on automatically on Microsoft Teams?
Video is turned on automatically when you join an unscheduled meeting in a channel. You can turn off your camera once you enter the meeting.
How do you see yourself on Teams before meeting?
Press on the three dots (…) button on the top bar > Settings > Devices. See your camera preview at the bottom.
How I can see myself in fullscreen in Teams?
While in a video call, press the three dots (…) button on your video > Pin for me. To unpin, press the Unpiin for me button.
How do I change the camera of my Microsoft Teams during a call?
During a call, press on More from the top > Device Settings. Change your camera from the settings.
Can someone see if you spotlight them on Teams?
The person will know when he is spotlighted. An icon will appear on the left corner of his video. Other people in the meeting will see the video as the most important.
Quickly check out our epic guide on Microsoft Teams set out of office alerts.
Final Thoughts
Around 145 million people use Microsoft Teams for work, meetings, class, or friends and family gatherings. But many people don't know how to see their previews or fashionably present them in front of others.
After reading the above article, I believe you are now seeing yourself in video calls and presenting yourself with more confidence.
Cheers!