Certain circumstances may arrive when you want to see what CPU you have installed in your system, or you can check on other PCs while buying one.
If you just want to know what CPU you own exactly in your rig and think of upgrading the CPU or comparing, you'll find fundamental to advanced methods here.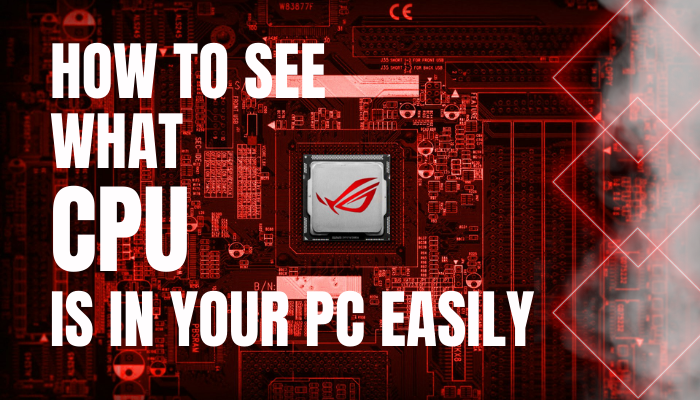 This article will help you with every feasible way to check your CPU info.
How to Check Which CPU You Have in Your PC?
Flexing with your PC spec among friends is common trend. If you are new to such a business, you can always find a bunch of CPU-checking solutions online, but I'm here with the easiest and most viable ones you should consider.
NOTE: You will find every solution working properly on your system whether you use Windows 8, 10, or 11- except for the change in the UI of the task manager.
Here are some viable methods to look for the CPU model & full specification:
1. From Task Manager
Ctrl + Shift + Esc is the most used technique to check the CPU in Task Manager. I use it very often and frequently while I operate my PC.
Though the different versions of Windows show Task Manager in various UI (user interface), all work the same way.
Here are the differences you'll notice while you open Task Manager on different Windows versions:
Windows 10 & 8
The task manager on Windows 10 and 8 are identical UI based. It shows a graphical view of CPU Utilization.
Here is how to access the Task manager and check which CPU you have on your PC:
Press the Combo Ctrl + Shift + Esc.
Select the Performance tab from the Task manager.
Click on CPU from the left.
Here you'll find the CPU model number with CPU usage and basic specs. You can also see how many CPU cores you have.
Windows 11
The User interface of Task Manager has changed with the Windows 11 22H2 update. It's not drastically changed from Windows 10, but little changes confused me at first glance.
Here are the steps to follow to see which CPU you have on Windows 11:
Open Task manager with Ctrl + Shift + Esc combo.
Click on the Performance icon from the left column. (Shown in Picture)
Click on CPU next to the column.
You can now see your CPU model name on the marked position in the picture.
2. Via System Settings
You can easily see your CPU model name from the settings menu. Which is in the about section of settings.
Here are some elaborated steps to follow to know which CPU you own in your system:
Click on the Windows Logo at the left-bottom of the screen.
Select the Settings gear icon.
Click on System from the options.
Select the About menu from the bottom of the list on the left side.
You can check which processor your system has from this section in settings.
3. Use RUN (DirectX Diagnostic tool)
From many other ways I follow while I check the CPU on my system, DirectX Diagnostic Tool is more informal and fast. I often find this useful when I check CPU models with GPU information of the system.
Here is the simplest way to access CPU information effortlessly:
Press the combo Windows + R to open RUN.
Type 'dxdiag' in the RUN.
Hit OK.
Click on the System tab in DirectX Diagnostic Tool.
You'll find your CPU info on the marked position of the given picture.
Also, go through our article to know your CPU's architecture.
4. From System Information Service
The System information service is a native program of Windows that allows us to check all the information needed. I often use this feature as it's a one-stop point where you can find almost everything.
Here is how you can access the System Information program to check the CPU information of the PC:
Type 'System Information' in the Search box in the taskbar.
Select System Information to run it.
Look for the Processor in the right box.
In this program, you can see CPU info with core count and thread (Logical Processor) count.
5. With CMD commands
CMD is the most basic program of Windows OS, which is capable of running scripts and acting accordingly at the administrator level if allowed. You can easily take a peek using CMD to see your Processor model.
Here is the script with the steps to identify your CPU installed into your system:
Open RUN using the key combo Windows + R.
Type 'cmd' in it.
Click Ok.
Type the script provided below in the CMD console.
Wmic Cpu Get name
Hit Enter, and you'll see the name of your CPU in the command prompt.
6. CPU Z software
CPU Z is one of the most used third-party software to check CPU across the users. It doesn't only show the CPU name as well as Core speed, core and thread count, etc. This info is required if you want to set CPU affinity.
Furthermore, you can stress test your CPU with it while optimizing the CPU for gaming.
Here is the process of installing & running the CPU Z software to check your CPU model:
Download CPU Z.
Install it accordingly.
Run the CPU Z app from the Desktop.
Here you'll find all the possible information about your CPU, that any advanced user may require.
What are the Concerns while Identifying Your CPU Spec?
It's a frequent phenomena that new PC users can not differentiate among processors. As most processors come with similar series (Core i3, i5, i7) names but perform differently by generation, it's too hard to keep track.
For me, it is still confusing which processor is better and which sign or code means what. For ease of access, I had an idea to keep a chart(table) that shows users to identify and distinguish between different types of processors.
For Desktops, the compilation is not that hard to break, even though the variation is vast. While checking CPU information- keep in your head that the generation of a processor tells the most of its capability. Which is always found after the CPU name- for example,
Intel(R) Core(TM) i5-10400 CPU @ 2.90GHz, 2901 Mhz, 6 Core(s), 12 Logical Processor(s).
Here, 10400 means it's an i5 processor of the 10th generation.
6 Cores(s) & 12 Logical Processor(s) mean it has six cores and 12 threads. Check out this article to know more about CPU cores.
@ 2.90 GHz refers to the CPU clock speed (base).
You'll find more information If you look at its whole spec from Software like CPU Z.
There are more criteria you need to know which processor offers what. The table below might help you from indecision:
| Processor Model | Refers to what |
| --- | --- |
| i5 - 10400 | No letter after intel's model number means it has integrated graphics. |
| i7 - 12700f | Here, f means this processor has no integrated graphics. |
| i7 - 11700k | Here, k means the CPU is unlocked. |
| i7 - 11700kf | kf means this processor is unlocked and has no integrated graphics. |
| i9 - 7900x | Here, x means 'Extreme Edition |
| Rayzen 7 5600G | Here, and G means it has Vega graphics. |
| Rayzen 7 3600x | This X means, it has no integrated graphics and Boosted CPU. |
| Ryzen 5 3600 | No letter on AMD means it has no integrated graphics like Vega. |
There are some more advanced signs you may find, which are specialized versions built for different purposes. Unless you want to see how does a CPU look like, this information is enough to differentiate & evaluate CPUs.
FAQs
How do get CPU serial numbers in cmd?
You can run this script in the cmd terminal "wmic bios get serialnumber" and then hit enter to know the CPU serial number.
How do I change the view in Task Manager?
You have to double-click on the task manager window to change the view from the full window to minimized or vice versa.
Are the CPU and processor the same?
The CPU and Processor are the exact same item, known by different names.
Final Thought
Checking on the system is a smart move when you are buying any computer or intend to upgrade to a new one. In case any of your checking ideas fail, you have plenty of others to follow and check your CPU spec.
Make sure to leave a comment if you found this article useful and add your opinions.