Virtualization technology allows multiple operating systems to run on a single PC. It revolutionizes the power allocation of our CPU cores.
In this guide, I'll show you the steps to authorize CPU virtualization on your computer. It will help you run multiple virtual machines and take full advantage of your hardware.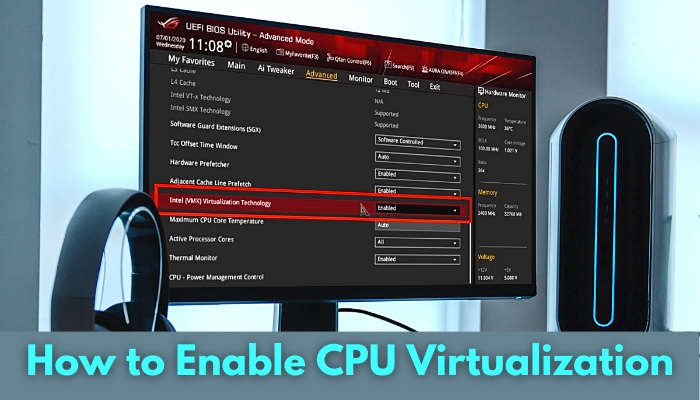 But first, you need to ensure your CPU supports virtualization. Otherwise, you can't use VMs on your PC.
Let's get started.
Does All Processor Support CPU Virtualization?
No, not all processors support virtualization. Your processor must have VT-x tech if you want to use CPU virtualization. But Intel or AMD doesn't provide VT-x tech in all CPUs. Also, you must enable the VT-x option from the BIOS manually to CPU virtualization.
You should also follow my guide can CPU be Virtualized to get in-depth knowledge about CPU Virtualization.
But can you determine whether your CPU supports virtualization technology?
Worry not, I got you covered here. This section will show you how to detect if your CPU has virtualization technology.
You can determine whether your CPU has the virtualization option from the company website.
You can also use the Intel Processor Identification Utility for intel processors and the AMD Virtualization Compatibility tool for AMD processors to know Virtualization availability.
Here are the methods to detect if your CPU has virtualization technology:
1. Use the Manufacturer's Website
You can use your manufacturer's website to know VT-x capabilities if you know your CPU model because every manufacturer has a detailed description of every CPU on their website.
Follow the process to detect CPU virtualization using your manufacturer's website:
Press the Win + S key and type the system Information
Note down your processor model.
Go to your manufacturer's website using the link below:
Input your processor model in the search icon.
Search Virtualization Technology (VT-x) field for Intel processor and SVM for AMD.
If you can't find the section, you can't use CPU virtualization in that model.
2. Use 3rd Party App
You can also use the software provided by your processor manufacturers to know if you have the CPU Virtualization tech.
Follow the steps to detect CPU virtualization using 3rd party app provided by CPU manufacturers:
Open any browser.
Go to the respective website and download the software:
Install the software, then run it.
In the software interface, you will see whether your CPU supports VT-x or SVM technology or not.
After determining, you should apply the below steps to enable or disable Virtualization For your CPU.
How to Enable Or Disable Virtualization for Different CPUs
If your CPU has VT-x or SVM technology, then you need to enable the option from your BIOS to use CPU virtualization. Because manufacturers usually disable this option by default. But, without enabling the option you can't run any Virtual machine on your PC.
This potion will show you the quickest method to enable or disable CPU Virtualization from your BIOS. Let's see how to do it.
Here are the steps to Enable Or Disable CPU Virtualization:
1. Enter your BIOS
You can't use any virtual machine if you don't enable CPU Virtualization from your BIOS. To do it, you have to enter your BIOS first.
Follow the steps to enter your BIOS:
Close all your apps and go to your PC Settings.
Navigate to System > Recovery > Advanced startup.
Choose the Restart now option.
Select Troubleshoot after your PC restarts.
Go to Advanced options > UEFI Settings and select the Restart option again.
You can also use the designated key your manufacturer set to enter your BIOS.
Use the table to know your BIOS key:
| Brand | Key to enter BIOS |
| --- | --- |
| Acer | F2 or DEL |
| Asus (Laptops/Desktops) | F2 |
| Asus Motherboards | F2 or DEL |
| Dell | F2 or F12 |
| Lenovo Laptops | F2 or FN+F2 |
| Lenovo Desktops | F1 |
| Lenovo ThinkPad | Enter+F1 |
| MSI (Laptops/Desktops/Motherboard) | DEL |
2. Enable/Disable CPU Virtualization in BIOS
After entering BIOS, you can enable or disable CPU Virtualization. But the process is quite different for Intel and AMD.
Use the steps to enable/disable CPU virtualization from BIOS:
For Intel Processors
Press F7 from your keyboard or open Advanced Mode.
Hover over to the Advanced option and pick CPU Configuration.
Navigate to Intel Virtualization Technology and select Enable or Disable as you need.
Click the Exit option and pick Save changes & reset.
For AMD Processors
Go to Advanced Mode.
Hover over to the Advanced tab and choose CPU Configuration.
Scroll down to SVM Mode and select Enabled/Disabled as you require.
Select Exit, then OK to save the changes in BIOS settings.
However, your BIOS layout may vary according to your motherboard, chipset, computer model, or OEM. But the process is quite similar for every processor available in the market.
After completing the steps, you should verify the result.
Go through the steps to discover if your CPU virtualization is successful:
Right-click on your taskbar and pick Task manager from the menu list.
Go to the Performance tab and select the CPU option.
Scroll down to the Virtualization option.
If you select the enable option in BIOS, you will see the enabled next to the Virtualization option. But, you must redo the whole process again when you don't see the option. The same goes for disabling CPU virtualization.
Follow our guide on installing Android on Virtual Box after completing the steps. It will help you use the Android operating system on your PC.
Should You Enable CPU Virtualization?
Whether you should enable CPU virtualization on your PC solely depends on your perspective. CPU Virtualization has both merits and demerits as a coin. But it can be a good solution for users looking to maximize resource utilization, improve flexibility, and enhance security.
Here, I will discuss the advantages and disadvantages of CPU virtualization. It will help you decide if you should Enable CPU Virtualization.
Below is the table containing the merits and demerits of CPU virtualization:
| Advantages of CPU Virtualization | Disadvantages of CPU Virtualization |
| --- | --- |
| 1. CPU Virtualization utilizes all your CPU resources. | 1. CPU Virtualization reduces overall system performance. |
| 2. It can quickly migrate virtual machines between systems. | 2. It shares physical resources among multiple virtual machines. So you may have security concerns. |
| 3. It can restore virtual machines from backup. Which provides swift disaster recovery. | 3. It increases infrastructure complexity and maintenance. So the process becomes difficult |
| 4. It saves costs by reducing the number of physical computers. | 4. You need licenses for the virtualization software, which adds extra cost. |
| 5. CPU Virtualization has infinite scalability. | 5. CPU Virtualization can't give you full hardware support. |
After reading the table, you know what advantages you will get and the complications you will face with CPU Virtualization. Now the final decision is yours.
FAQs
Is it OK to enable virtualization in BIOS?
Yes. It's ok to enable CPU virtualization if you fulfill the hardware requirements. Enabling or disabling the virtualization won't affect your CPU performance if you don't install VMs.
Why is virtualization not showing in BIOS?
The virtualization option isn't showing in BIOS Because your CPU doesn't have CPU visualization technology. You must change your PC if you want to use virtualization.
Does CPU virtualization increase FPS?
No, CPU virtualization does not impact gaming. It mainly enables the required permission for running virtual machines on your device.
Conclusion
Long story short, to allow CPU Virtualization in your PC, you first ensure your CPU's capabilities. You can know the capabilities from your manufacturer's website or using the software by the CPU company. When you know your CPU is capable, you can enable the option from BIOS.
After following the process from the article, I'm sure you successfully enabled CPU Virtualization on your PC. Comment if you face any issues during the walkthrough. Peace.