No other video game can unleash your creativity like Minecraft. I've spent countless hours chopping away blocks, gathering the necessary materials to complete my next masterpiece. Also, I've put the same amount of time into exploring by slashing my way through monsters.
The character and your entire Minecraft world constantly evolve into whatever you want. Here you make your own story. You already know that, right?
That's why you want to play Minecraft on your device but wonder if your hardware can run at full capacity.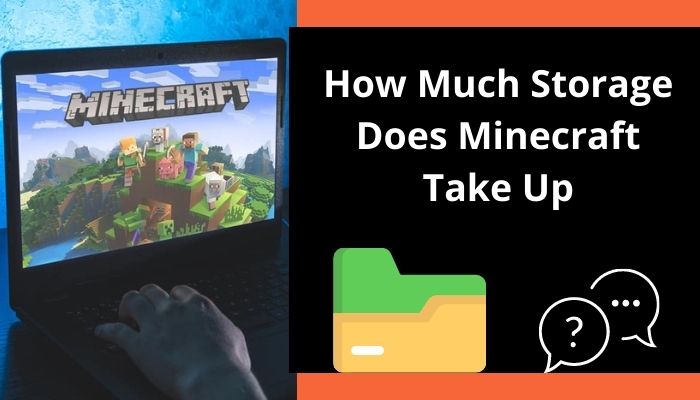 Well, don't worry. Here I will give you precise storage as well as other hardware needs of Minecraft and what to do if you face storage issues with the game.
Enough talk, Let's jump into the article to know the requirements of Minecraft.
How Many GB Does Minecraft Take Up?
Minecraft isn't a heavy game, but its storage requirement differs from device to device. The base Minecraft takes up to 1 GB on all devices and operating systems. They include Xbox, Playstation, Nintendo, Windows PC, iPhone, and Android.
However, the game can increase by more than 30 GB after installing additional worlds, mods, plugins, skins, etc.
Here are the device-wise storage requirements given below:
| Device | Storage |
| --- | --- |
| Xbox One | 1.29 GB |
| Xbox 360 | 113.21 MB |
| PS3 | 90 MB |
| PS4 | 225 MB |
| Nintendo Switch | 1.12 GB |
| PS Vita | 164 MB |
| Wii U | 1.62 GB |
| Windows 10 | 1 GB |
| Mac | 385.5 MB |
| Android | 112 MB |
| Amazon's Kindle Fire | 138.5 MB |
However, the above list is the storage of the base installed game file. The game size after installation can be different from the list. Like for Windows PC, Microsoft authorities recommend having 8 GB RAM and 4 GB storage to run the game smoothly.
As for the Mac devices, You need 1 to 2 GB of free space to install Minecraft.
Keep in mind that these file sizes change when you install additional mods or the game releases new versions.
The next section will show you the tricks to checking Minecraft game size.
How To Check Minecraft Game Size
Minecraft lets you check the size it occupies. But the process is different for different devices. I will describe the process step by step for some well-known devices below.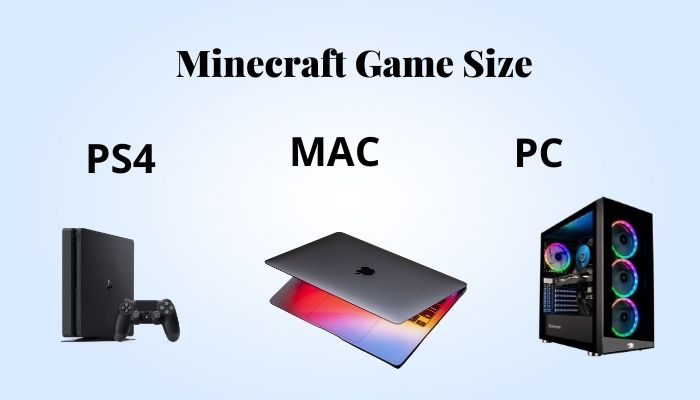 Here are the methods to check Minecraft game size on different devices:
For PS4:
Checking the Minecraft game file for the PS4 is quite an easy process. You just need to go to the specific folder, and you can see the size easily. Follow the step below:
Go to Settings > Storage > System Storage > Saved data > Minecraft.
There you see how much storage Minecraft consumes.
For MAC:
The Mac version of Minecraft has a built-in feature for checking storage. To check your Minecraft file storage on MAC, just go to the game's built-in feature.
Here are steps to check Minecraft game size on MAC:
Open the game.
Select Minecraft Worlds.
Tap Edit.
Click on Open World Folder, and check the file's properties.
For PC:
You can find the occupying space of Minecraft PC from Properties. The Properties menu can take some time to load, but it will give you the exact size that Minecraft consumes.
Here are steps to check Minecraft game size on PC:
Open the Minecraft folder.
Click Properties.
If you don't know where the file is located, type %AppData%/.Minecraft in the run.
In the next section, you will know what elements affect Minecraft storage requirements and how.
In-depth Explanation Of Minecraft Storage Items
Minecraft continues to increase disk space size as you progress in the game. Depending on your playstyle, the save file rapidly increases as you play new games.
Moreover, the game saves every block you create, and each block weighs at least 4 KB. Usually, a fully prepared region takes 1024 blocks, so you can imagine how much space the game can take.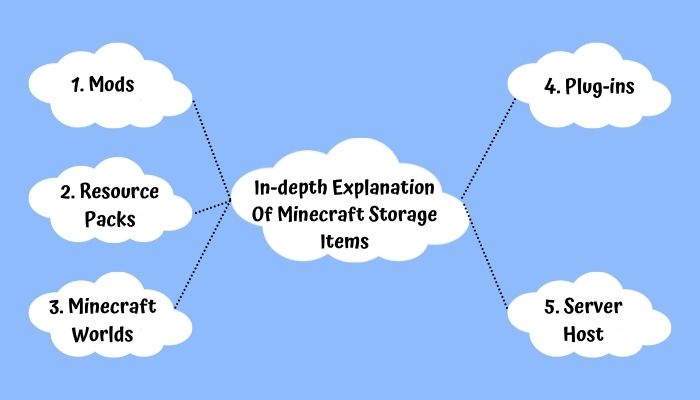 Here are the elements of Minecraft that affect your storage:
1. Mods
Mods are the downloadable add-ons that add different functionalities like tools, weapons, armor, environment, etc., to Minecraft.
For example, the newly released Minecraft RTX (Ray Tracing Mod) needs almost 40GB of storage.
Read more on Minecraft Port Forwarding not Working on Windows 11.
2. Resource Packs
The resource and texture packs change Minecraft's visual and audio quality. The individual packs don't take much space individually. But you need to install a bunch of them to make your game visually pleasing.
So they are one of the important factors regarding storage.
3. Minecraft Worlds
A simple Minecraft world takes only about 30 MB. But things change when you play in multiplayer. The multiplayer world of Minecraft takes up to gigabytes as players in the world increase.
In multiplayer, you'll generate hundreds of saving files for each player in the respective world. For this reason, the world is crucial for Minecraft game storage.
4. Plug-ins
All the dedicated Minecraft players know most of the available plug-ins they can and need to install in their browser. The plugins improve your gameplay by adding maps and necessary functionalities.
But the plugs are also very heavy and can take a lot of disk space.
5. Server Host
A Minecraft server host has access to other players' worlds and installed mods on that server. That means when you host a server, Minecraft's occupied spaces will depend on player numbers.
That time the game size can increase from 20 to 30 GB.
As you can now see, Minecraft can take up a lot of space, and if you do not take caution, you will face the You're Out Of Storage Error in Minecraft. This error occurs when you have low device storage.
But don't worry too much because I will discuss how you can solve this error in the next section.
Follow our guide on Enable Windows Update for Minecraft VR
How To Fix You're Out Of Storage Error Minecraft
As I mentioned earlier, you can easily face storage problems in Minecraft if you are not careful. But there are some very easy fixes for the Minecraft You're Out Of Storage error.
Here are the available fixes for the You're Out Of Storage issue of Minecraft:
1. Delete Unused World
When you are facing storage problems, you can delete the unused or rarely used world to save space.
Here are the steps to delete unused Minecraft worlds:
Go to Minecraft's main menu.
Click the Worlds tab.
Select Edit.
Scroll down to the Delete World option.
Left-click the Delete button.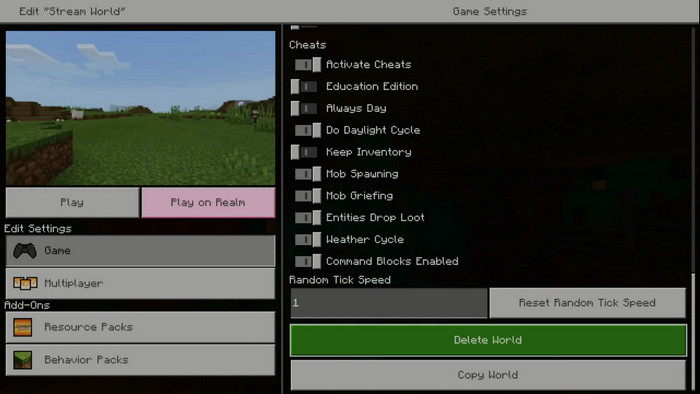 Now the world is deleted, and you free up some spaces.
2. Transfer Worlds To Another Device
Instead of deleting the game file, you can transfer the file to other devices which have available storage. But the process is a bit tricky. You need to have Minecraft Realm access.
The access is a subscription-based service that saves your game into the cloud. When you have the subscription, just follow the steps below to transfer the save game to another device.
Here are the steps to transfer Minecraft Worlds to another device:
Go to the Edit menu on the first device Minecraft.
Tap on the Realms list.
Select your Realm.
Choose Replace World > Confirm.
Left-click on the World you intend to transfer.
Hit the Let's Go option after the upload is ready.
Open the second device and Run Minecraft.
Go to the Edit section.
Choose Realm.
Click Download World > Let's go.
And the system will start the download process at once.
3. Delete Unnecessary Mods
Like Worlds, your Minecraft mods also take up a good amount of space, and you can delete them to free up the storage.
Here are the steps to clean the mods of Minecraft PC:
Click the Windows search icon.
Type %appdata%.
Open the Roaming folder > Minecraft folder > Mods folder.
Delete all the contents of the Mods folder.
You need to uninstall and then reinstall the game on other devices to remove the installed mods of Minecraft.
Read more on Quick Fix: Friend can't connect to Minecraft server
FAQs
Where Are The Minecraft Files Stored?
The location is different from PC to PC. You can find the Minecraft file location by typing %AppData%/.Minecraft in the Run program.
Can You Transfer Minecraft Worlds To Another Device?
Yes, you can, but you need to have a premium Minecraft Realm subscription.
What's The Maximum File Size Of Java Edition Minecraft?
The Java edition of Minecraft can take up to 20 GB of storage on your device.
Conclusion
In short, the Minecraft storage requirements differ with your play style. The base game usually takes not more than 1 GB of space on all devices, but the storage requirements can be increased up to 50GB when you install additional mods.
After reading this article, I'm sure now you know all the necessary things about Minecraft storage and what to do when you face storage limitations.
Comment on any other issues you face regarding Minecraft.
And for everything else, stick with 10 Scopes.