Are you facing lag or any kind of performance drop, which makes you concerned about CPU temperature? And you are willing to know the CPU temperature at the same time whether the MSI Afterburn displays the accurate temperature or not?
Well, you have come to the right place, mate.
I have been tweaking, building, and doing all sorts of computer-related work for a while now. I am currently using the MSI afterburn to measure the temperature of my system. I can easily provide the information you are looking for.
Read the full article to get all the information you are looking for.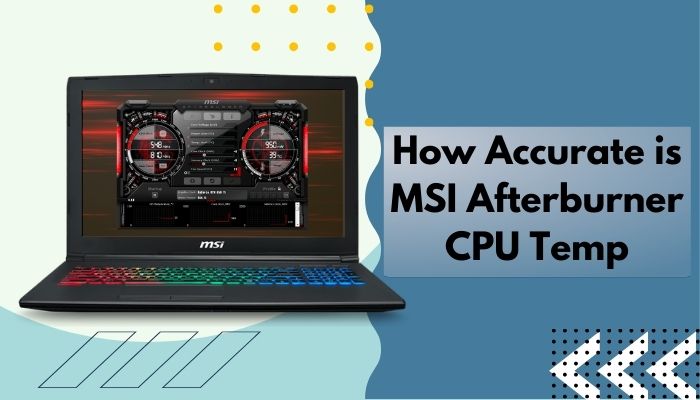 Does MSI Afterburn Show Accurate CPU Temp?
Yes, the MSI afterburner shows accurate CPU temperature. It is one of the most used and precise tools across the globe. I personally believe in MSI afterburner. It shows me exact CPU and GPU temperatures. I have tested with other temperature measuring tools, and MSI afterburn is one of the most accurate ones.
MSI is one of the leading tech companies in the world. Their MSI afterburner is widely accepted as one of the precise temperature measuring standards. However, sometimes it shows the wrong temperature.
But it is often considered that for sensor issues, MSI afterburn shows the wrong temperature reading. You know nothing is 100% accurate, but MSI Afterburner is one of the more precise CPU temperature measuring tools.
Also, check out our separate post on how to fix MSI Afterburner not working.
Why is it Important to Monitor CPU Temp?
You might have already known that high CPU temperature can cause various problems to your system. It can even damage the motherboard and the CPU itself. So it is crucial to monitor the CPU temperature to avoid thermal damage.
If you are doing any CPU-intensive work or gaming, it is essential to know whether the CPU is overheating or not. You need to stop and find a solution if the CPU is overheating. If you don't even know that the CPU is overheating, then it can cause your system permanent damage before you can even notice.
It is crucial to maintain the temperature as low as possible to guarantee the entire stability. To detect the ideal temperature, you need to use a temperature monitoring application such as MSI Afterburner, HWiNFO, etc.
Also check our exclusive tutorial on FPS Average, Min. and Max. not showing in MSI Afterburner.
How to Check MSI Afterburners' Accuracy?
MSI Afterburner is one of the accurate CPU temperature measuring tools. Though, you want to verify whether it is showing the accurate temperature or not.
Before that, let me tell you how to check the CPU temp using MSI Afterburn.
Here are the steps you need to follow to check the accurate CPU temp:
Install MSI Afterburner from their website and install it.
Open the application.
Click the left bottom side button called Detach.
In the new window, you will see all the CPU core temperatures.
After seeing the temperature, if you feel that the temperature reading is wrong, you can use other CPU temp measuring tools to verify. But in my opinion, MSI afterburn is mostly accurate. The only thing that can influence the application to display the wrong temperature is the bad sensors.
What is the Most Accurate CPU Temp Monitor?
There are several CPU temperature monitoring tools out there. If you are thinking about using a different CPU temp monitoring tool or verifying whether the MSI Afterburn is showing the accurate CPU temperature or not. Then I am listing some other popular CPU temperature monitoring tools below.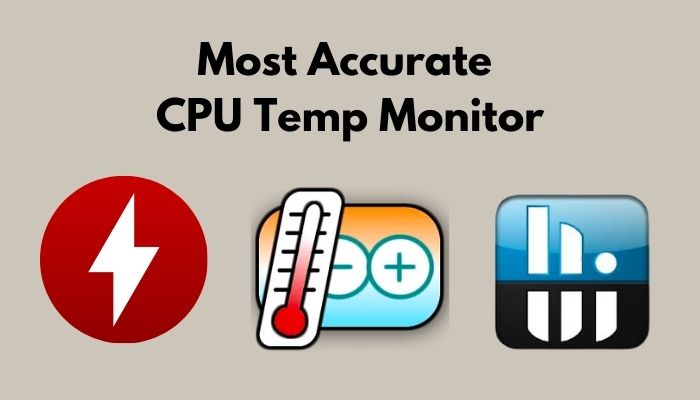 Here are some CPU temp monitoring tools you can use:
Monitor HW
Core Temp
HWiNFO
NZXT CAM
Speccy
Open Hardware Monitor
AIDA64
These tools are commonly used by users all over the world. Among them, HWiNFO is widely used. Monitor HW is another standard tool. It is the light version of HWiNFO.
All of them work with old hardware as well. Try them out and find your suitable CPU temperature monitoring tool.
If you ask me, I would prefer MSI Afterburner over anything else. It always serves me the best. And I will recommend you to use MSI Afterburner.
How Accurate is MSI Afterburner GPU Temp?
Like CPU temperature, MSI Afterburn can also accurately display the GPU temperature. You might be wondering, whether it will work on the non-MSI graphics cards or not. Let me tell you, MSI Afterburn can work just fine even if you have a graphics card of other brands.
MSI Afterburn can monitor the GPU temperature accurately and with great accuracy. It shows a quick summary of temperature, current base temperature, boost clock, voltage, etc. You can find the GPU temperature in the Detach window. Which is located at the left bottom side of the application.
There are some other tools to monitor the GPU temperature. However, MSI Afterburner is the one I will recommend using.
Here's how you can monitor CPU GPU temperature.
What does MSI Afterburner do Except CPU Temp Monitoring?
MSI Afterburner is quite handy if you know what to do with it. It can do a whole lot of tasks apart from just temperature monitoring. It is a one-stop solution for many people out there.
Here are some features of MSI Afterburn:
MSI Afterburn can show real-time frame rates on the screen. It is one of the essential features for gamers. Gamers can quickly check whether they get the desired frame rates or not.
MSI Afterburn can overclock your system. It simplifies the task you need to do while overclocking. Apart from that, you also get complete control over the overclocking. You can tweak each and everything with this tool. The best part is that MSI Afterburn offers GPU tweaking features that many other applications don't provide.
MSI Afterburn offers a GPU benchmarking feature in it. Which is called MSI Kombustor. It is extremely popular amongst tech enthusiasts and the tester. MSI Kombustor can push the GPU to the limit and check how it performs under heavy loads. It is an excellent tool to know how the GPU will work after the overclocking.
MSI Afterburner has another handy feature that is video capturing. It is called Predator. Predator helps you capture in-game footage, benchmarking results, screen recording, etc. And the best part is that you can capture this using different formats, resolutions, and frame rates.
MSI promises to deliver more in future updates. Which will make this application a proper one-stop solution for all.
Also, check out our separate post on how to fix MSI Dragon Center not working.
FAQs
Why is the MSI Afterburn showing the wrong CPU temp?
MSI Afterburner is considered a gold standard for monitoring CPU and GPU temperature. But in some cases, the application tends to show the wrong temperature reading. It can happen due to faulty sensors in your system. If you believe the sensors are okay, try different tools to verify the issue.
Is it safe to use MSI Afterburn to check CPU temp?
Yes, it is entirely safe to use MSI Afterburner. It won't deal any damage to your system. However, the application contains an overclocking feature. You can damage the system without the proper knowledge of overclocking. So between you and MSI Afterburner, you will be the one who can damage the system.
What is the core voltage in MSI Afterburner?
Core voltage is the measurement of voltage or power that goes from the power supply unit to the motherboard and to the CPU. It basically enhances the CPU's ability by allowing some extra power in it.
Final Thoughts
At the end of this article, all I can say is that MSI Afterburner shows accurate CPU temperature. You can completely trust the reading that the application displays. I highly recommend this application to use and monitor your system temperature.
Thanks for reading this article. Hopefully, this article helped you get all the information you need. Contact me without hesitating. I will definitely come back with a reply.