PlayStation 5 came up with the new SSD design leaving the old HDD behind, which is by far the best SSD ever when it comes to speed. Nothing can match its speed to this day claimed by Sony Officials.
In 2020, Linus commented on it and regretted every second of it because, in reality, PS5 SSD is the fastest SSD on the market.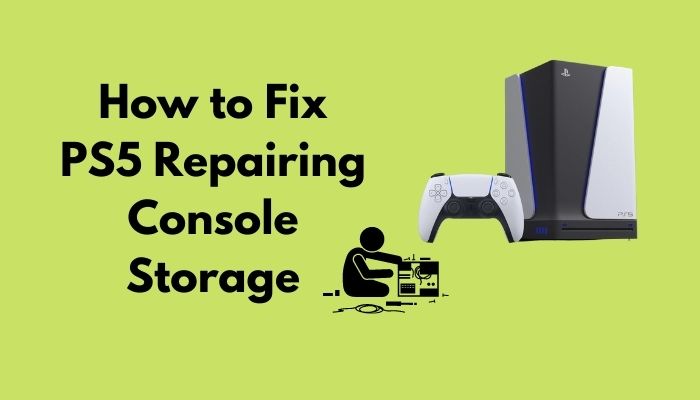 But as with every tech, it has its flaws.
Can you get more storage on PS5?
Yes, you can get more storage on the PS5. First of all, after the update of September 2021, all users can install an external M.2 SSD on their system for additional space. On top of that, you can also install your external HDD to play and store PS4&PS5 games.
Even though PS5 SSD is phenomenal in many ways, it still caused some of the users major heartbreak. Initially, after an update, many console owners bricked their PS5 because of an error coming out of the storage system. 
It sounds like a big problem, but in reality, you can get rid of this issue in no time. As a PS5 enthusiast, I will by writing this guideline so that you don't have to look elsewhere.
So keep reading till the end to get your desired fix.
How Long does Repairing Console Storage Take PS5?
It may take up to 20-30 mins on average to repair the console. But most of the time, if there was a force shut down or an update issue, it may take more than 30 mins. It may take less time if the storage capacity is not that clogged.
You may ask why you are going through a PS5 storage repair issue? 
It is quite common after an official update to fix the rest mode. PS5 Rest mode was buggy when it launched. To fix it, Sony provided an update that made the situation worse.
The "Repairing console storage" notification may occur suddenly on your PS5. You're playing your favorite game on your PS5 system when the game freezes and the console switches off. It may take a few minutes for your device to turn on. But then your PS5 goes dark, and the "Repairing console storage" message appears.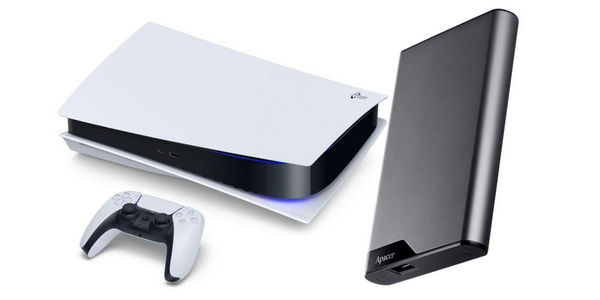 I personally faced the issue twice. I was playing COD warzone and about to dispatch from the plane, then my game stopped, boots to a black screen, and my console switched off. After a few minutes, I'm able to re-start it, but it's locked at 39 percent for 20-30 minutes. 
Check out our expert-recommended new post PS5 X Button Not Working
It finally came back on, and everything was normal again, with no corruption storage text. After that, I was playing Assassins creed Valhalla on performance mode, and the same thing happened again. 
So it can happen anytime during playing. But very weirdly, many people faced the situation when they were about to buy the miles morales game from the PlayStation store. To this day, people have no explanation for this that how buying a game from a store could possibly lead a console to crash itself. That too is a game made by Sony itself. Legit facepalm moment. 
Although you may also see the repairing storage text if you are using an external HDD. or you are turning on the PS5 for the first time after a force shut down. 
I have an external Hard disk, but the connector of the hard disk is quite loose, so every time I turn on my PS5, it needs a repair. So if you have an external Hard disk, make sure the cable is firm, or else you will see repairing storage text every time you boot your PS5.
How to Fix PS5 Repairing Console Storage 
If you are getting the error text after the boot-up or a force reboot, that means you are already in the process of getting your storage repaired.
Wait until the PS5 repairing console storage error screen shows 100%. While the internal storage repair takes place, do not turn off the PlayStation 5 system. Turning off the system in the process will brick the console. That means you will not be able to use the PlayStation 5 without repairing it by professionals. Also, if you brick your PS5, the chances of getting it fixed are kind of zero. So be careful if you want to plug out the whole system. Be easy on the PS5 and give it time.
Once the operation is complete, the console should display an error reporting box — describe the issue, then pick "Accept and Report" from the alternatives. If you get the error because of an unknown cause or something you haven't done, then do report the issue. But if you get the error because you forcefully shut down the system then you will not see the report box.
Reporting the problem will help Sony identify the root cause and address it in a future PS5 system update.
You can take some measures so that you don't get the error in the future. So let's get into troubleshooting.
Do check our latest post on the PS5 Triangle Button Not Working
Here are the steps to fix PS5 repairing console storage:
1. Update your PS5
Every console generation has a shaky start. At first, the system and the user experience will be full of bugs and errors. It takes more than a year or two to get everything fixed. We are in the eight-year of PS4, and we are still getting new errors in the system. But the best way to improve the console when you see errors? It is to update the console. Many people who had the PS5 repairing console storage issue got it fixed by updating the console.
Here are the steps to update your PS5:
Go to settings.

Navigate to the system.

Select System software and update settings.

Choose update system software.

Press x on update using the internet.

Download and install the update.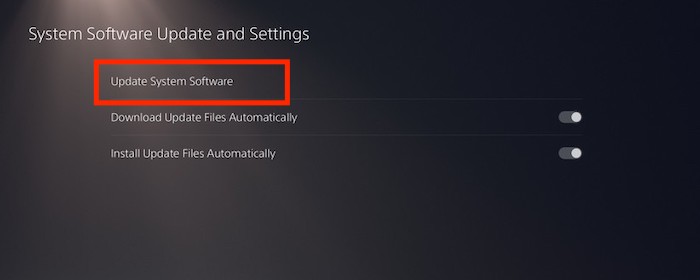 After the update, your PlayStation 5 will take a reboot. Follow the next method to ensure you do not see the error again.
2. Disable rest mode on PS5
The rest mode feature is a buggy mess on the PlayStation 5. Many people got their consoles bricked because of this feature. Disabling it is the best option you have on your hands to see fewer errors on your PS5.
Here are the steps to disable rest mode on PS5:
Navigate to PS5 settings.

Go to system settings.

Select power saving options.

Press x onset time until PS5 enters rest mode.

Select Don't put PS5 on rest mode.
There you go, you have successfully disabled the rest mode feature. Hopefully, you will not see the error anytime soon.
Follow our guide to fix PS5 Circle Button Not Working
3. Remove External Hard drive
Many times when you have an external hard drive on PS5, it leads to an error. Most of the time, it is because of the connection issue. Sometimes it is because of data corruption. Also, if you have an HDD that is super slow and is not subpar with the PS5 storage system, it will eventually lead to the storage system crashing.  Removing it will fix the problem.
Here are the steps to remove external storage on PS5:
Go to settings.

Scroll down to storage.

Select external storage.

Press x on safely remove from PS5.
After that, remove the USB cable from the PS5 to disconnect the HDD. If you follow these steps, you will no longer face the PS5 console storage repair issue.
Is 825GB Enough for PS5?
825GB is enough on your PlayStation 5 if you are a casual gamer. You can store up to 8 AAA games that are over at least 60GB in space. But if you want to store games that are more than 100GB, then 825GB might not be enough. 
That raises a good question. Can you add memory to PS5 digital?
Yes, you can add more storage to the PlayStation 5 digital. Not only is the PS5 digital, but even you can also add more storage on the normal version of the PS5. You can buy an internal SSD or use your old extended storage to expand your storage system on PS5. 
Also, check out our separate post on PS5 Square Button Not Working
Sony has finally validated the NVMe M.2 SSD specifications. A 5500MB/s PCIe Gen 4 M.2 NVMe SSD with a size of 250GB, 500GB, 1TB, 2TB, or 4TB is supported by the PS5's internal drive. A heatsink of 110 x 25 x 11.25 millimeters is required.
You also use extended storage for extra space on your PS5. These drives can store and play PS4 games, but they won't benefit from the NVMe drive's benefits. You may now keep PS5 games on an external hard drive or SSD, but you must transfer them to the internal disk to play them.
Final Thoughts
PlayStation 5 is a success at the end of the day if you minus the console's small errors and bugs, which is acceptable as the system is still very new.
By reading this guideline, hopefully, you can fix your issue. And if you still have any queries, you can always reach out to us.