In this modern time, where a massive technological evolution took place, it has been observed that a single PC user logs in to at least 20-30 websites or more to perform his routine tasks. And that requires remembering those passwords.
But how could one do that?
Browser company provides a built-in password manager to resolve the issue that lets you save your passwords and auto-fill them. But people face their Edge doesn't remember passwords sometimes.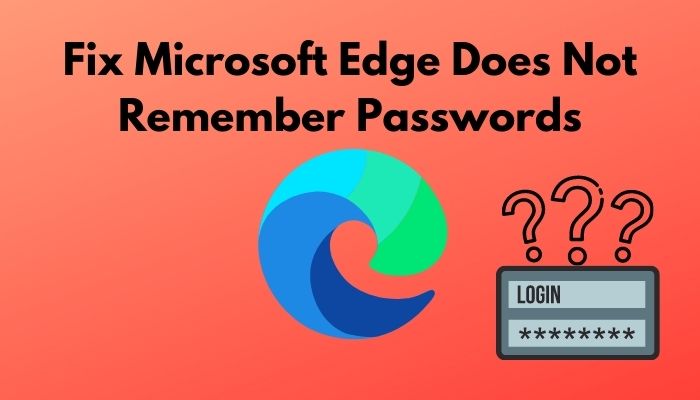 I was in these very shoes of yours. I kept performing this and that, and Edge was still not saving passwords. Finally, it took me 4 hours of research to resolve this issue.
So, why won't Microsoft Edge remember my passwords?
Microsoft Edge won't remember your passwords due to previously saved data, cookies got corrupted files, and other interim files saved on your browser. Otherwise, some options enable Microsoft Edge to remember your passwords. But manually turning them off could end up losing the ability.
Keep reading to know more about Microsoft Edge no longer remembering passwords and learn how to solve them.
How to Fix Microsoft Edge Does Not Remember Passwords
After launching on April 29, 2015, Microsoft Edge has passed almost more than 7 years of a journey in this browser era. But honestly speaking, I'm not a fan of Microsoft Edge from the beginning to do my usual tasks and surf the internet or anything.
But the latest version of Edge? Oh, man!
I just love the Chromium-based architecture update, the most recent one. It made the browser faster than ever, and you'll find it quite responsive too. It has kicked the Firefox and took it's third place in the browser popularity in 2021.
But the immense amount of hype and promotion comes to an end when you face issues with your browser. Microsoft Edge is no longer remembering passwords is a known and pathetic problem anyone could face in 2022.
For me, in recent February, every time I closed Edge and reopened it, it's didn't remember any of my logins. So, I had to log in every time to every website.
Note: In 2021, Microsoft Edge grew by 1300%. But Firefox has taken back its third place with respect to the most popular browsers in 2022.
But there is a saying, "To every problem, there is a most simple solution." So, ride along if you face the same issue like everyone else and resolve the Microsoft Edge does not remember passwords issue.
Check out the easiest way to enable equation editor in Microsoft Word.
Here are the methods you can follow and apply accordingly to resolve your Microsoft Edge does not remember passwords problem:
Cookies are mainly plain text files with some small pieces of data. They can store your browser, and the next time you're entering a website, it can provide your identity to that particular website, and thus the website can know which information it has to show to you.
HTTP cookies help your computer to get the correct information under your identity. So, it's essential to give your cookies access to the information and store them in the browser's cookies section.
Here are the steps to follow to allow cookies on your Edge browser:
Open your browser and click on the menu.
Go to Settings and click Profiles from the left Settings bar.
Enter Passwords and toggle the Offer to save passwords
Move to the Cookies and site permission tab and click on Manage and delete cookies and site data.
Ensure the Allow sites to save and read cookie data (recommended) option is enabled.
Close your browser and launch again to see if the Edge does not remember the passwords issue is gone.
Also, check our exclusive tutorial on how many Microsoft points do I have.
If your previously saved data has got a troubled file in it, there's a big chance you might face this issue. So, you have to clear your browser's history and cookies to get rid of the Edge not remembering passwords problem.
Here are the steps to clear your Edge browser's history and cookies:
Launch your Microsoft Edge and press Ctrl+shift+delete. It'll take you to the Clear browsing data
Click on the Time range drop-down menu and select it as All time.
Check all the available options there and click on Clear now.
Restart your browser and see if you face your browser does not remember your passwords next time.
Here's a complete guide on how to fix Microsoft error code 6009.
Method 3: Change Privacy Settings
If you changed the privacy settings previously for some reason, I believe that's why you are facing this Microsoft Edge not saving passwords issue. You need to check the Privacy Settings to resolve the issue.
Here are the possible steps you need to take to change the Privacy Settings:
Launch the Microsoft Edge and click the menu.
Move to Settings and click on Privacy, search, and services option from the left bar.
Scroll down and click on Choose what to clear every time you close the browser.
Turn every option off and make sure of it.
The next time, I hope you don't have to face the issue. Yet, if you see Microsoft Edge not remembering passwords on your Windows 10, move to the next one.
Method 4: Allow Microsoft Credential Manager
If somehow the Microsoft Credential Manager is stopped, you might face your Edge not prompting to save passwords. So, you need to enable the Microsoft Credential Manager.
Here's a way you can follow to allow your Microsoft Credential Manager:
Click on the search option and type services.
Open the Services and scroll down to find Credential Manager.
Double-click on the Credential Manager. If it is running already, click on Stop.
Wait for some 5-10 seconds and click Start. And if you find it not running, click Start in the first place.
Close the program and restart your computer. Relaunch Microsoft Edge and see if the problem persists.
But before that, go through our epic guide on do Microsoft points still work.
Method 5: Repair Microsoft Edge
If there is an internal problem your Microsoft Edge is facing, you might encounter your Microsoft Edge stopped prompting to save website passwords. So, you need to repair your browser.
Here is an approach you may take to repair your Edge browser: 
Press the Windows key+X and choose Settings.
Enter Apps and click Apps & features from the left bar.
Scroll down until you find Microsoft Edge and when you find it, click on it.
Select Modify and click Yes if a command prompt asks for your confirmation.
Click Repair and wait for some time to download and install the repair version.
Restart the Microsoft Edge and see if the Microsoft Edge stopped prompting to save website passwords issue is resolved.
Method 6: Disable Extensions
There is a chance you might face this issue because of a troubling extension. So, you need to track it down and remove it permanently from your browser.
Here's a technique you can follow to disable the extension:
Launch Microsoft Edge and click on the menu.
Select Extensions and click Manage Extensions.
Click Remove on every extension your browser got.
Add one extension at a time and use your browser for some time to see if the problem stays.
Keep doing until you find the exact extension that kept creating the issue.
See if the issue resolves by performing this procedure.
Method 7: Reinstall Microsoft Edge
Over time, it has been seen that if you face a constant issue, reinstalling the browser might solve your problem. So, if none of the mentioned above methods can solve the Edge not remembering password issue, try reinstalling Microsoft Edge again.
Here's a path you can take to reinstall your Microsoft Edge browser:
Click on the search option and type apps & features.
Open Apps & features and scroll down to find Microsoft Edge.
Click on Microsoft Edge and see if the option is blurred. If it is, then you need to follow a different path. But if it's not blurred, click on Uninstall.
Press the Windows button and type cmd.
Click Run as administrator when the Command Prompt
Confirm your decision by selecting Yes when a prompt appears.
Copy this code cd %PROGRAMFILES(X86)%\Microsoft\Edge\Application\addressxyz\Installer and paste it into the Command Prompt.
Minimize the Window and open Microsoft Edge.
Navigate to Menu > Help and feedback > About Microsoft Edge.
Copy the Microsoft Edge version number and replace it with addressxyz in the Command Prompt.
Press Enter. Then copy and paste this command exe –uninstall –system-level –verbose-logging –force-uninstall.
Hit Enter, and you'll find Microsoft Edge uninstalled finally.
Click Edge to download and install Microsoft Edge again.
This is a proven process of fixing Microsoft Edge when it can't save passwords. Follow this one to see if the problem is resolved.
Conclusion
Microsoft Edge is one of the well-known and excellent browsers out there. But if you face your Edge not remembering the passwords, it does feel pathetic.
The article is fitted out to resolve your issue regarding Microsoft Edge does not remember passwords. So, apply the methods to solve your problem and comment below if you have additional questions.