Suppose you came across a bunch of Microsoft point gift cards in your stash, bought a long time ago. The first question to pop into your mind will be, do they still work?
Am I right?
I can put myself in your shoes because a while back, I was in the same situation. I came across a bunch of Microsoft points gift cards in my closet and thought to use them on my Xbox One.
As I bought them a long time ago, I was a little skeptical about their validity in today's world. So, I did some research myself to find out if they still work.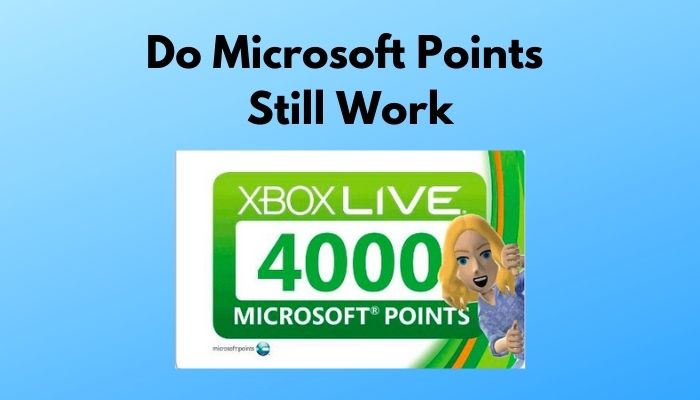 Do Microsoft points still work?
Microsoft points don't work now as of 2021. Microsoft points were discontinued in 2013 after launching in 2004. Microsoft converted it's users' existing points to an equal or higher amount of their local currency, valid to use in Microsoft stores till 2015. After that, Microsoft points are obsolete.
In this post, I'll show you how to redeem your existing Microsoft points, and later, I'll give you information about all new Microsoft Reward points and how to earn them easily.
So, stick with me through the whole post to learn if Microsoft Points still work.
Also, check out our separate post on how to merge Microsoft accounts.
Are Microsoft Points Really Obsolete?
Microsoft converted users' existing points with their local currencies, valid till 2015. But, users could redeem Microsoft points gift cards on their Xbox 360 until 2020, before Microsoft cut ties with Xbox 360's marketplace with it's official store, making users unable to redeem them anymore.
Microsoft users from 2004 to 2013 can easily remember the glorious days of Microsoft points. We all had mixed feelings about this.
The madness of buying the Microsoft points gift card on the holiday season for a cheaper rate and using it on Zune and Microsoft's online store brings back nostalgia.
Although Microsoft Points were not 100% user-friendly with their 400 total packages starting from 400 points for $5 to 2000 points for $20, it helped people avoid the transaction charges while purchasing products in those marketplaces with their credit card.
Instead of buying a song for $.79, you could buy them with 99 points and save the credit card transactions charges. In that case, you had to buy 400 points for $5 to spend only 99 points. The rest of the points would sometimes be useless.
At that time, all other gaming platforms like Sony's Playstation used currency-based online stores where you could buy products directly with your credit card.
Here's a complete guide on how to fix Microsoft error code 6009.
Eventually, Microsoft announced to abandon the Points in 2013 and offered to convert users' points with a higher amount of their local currencies. These currencies were valid to use till 2015. Microsoft offered as much as €0.012 for 1 Microsoft point.
Users could redeem these points to their local currencies and use them to purchase items in Microsoft's online store. It was valid until 2015, according to Microsoft.
After five years of the official deadline, some Reddit users claimed to redeem their Microsoft points in 2020. But, in 2021, though many people attempted to redeem Microsoft points, none succeeded in doing so.
Now, sadly we can say that Microsoft Points' glorious days have come to an end. They are the thing of the past.
Follow our guide to take a Poll in Microsoft Teams.
Can you Still Redeem Microsoft Points?
Officially Microsoft abandoned redeeming Microsoft Points since 2015. But users could redeem them until 2020. Recently, Microsoft separated the Xbox marketplace from it's unified online store, making users unable to redeem Points gift cards from there. But, you can redeem them as promotional credit.
I already explained to you that Microsoft points are not redeemable through the Xbox 360 marketplace.
But I'll share another trick with you, which will open some possibilities if you have the proper tools.
Suppose you have the proper purchasing document or invoices of the Microsoft Points gift cards, and you can submit them to Microsoft Xbox's tech service team filing a complaint. In that case, you can get a refund of those points in promotional credit with one-year validity.
Check out the easiest way to enable equation editor in Microsoft Word.
Don't worry if it seems too complex. I've prepared a step-by-step guide to finish this procedure efficiently.
Gather your Microsoft Points gift cards and their purchasing invoices and follow the steps below to redeem Microsoft points to a promotional credit by contacting Xbox help service:
Open a browser.
Go to the Xbox Support website.
Scroll down and click Subscription and billing under Pick a section.
Click on Redeem codes and gifting on the next page.
Click on Contact Us on the right side of the screen.
Select Subscription and billing on the first field, and I can't redeem a code in the issue field.
Click on Next.
Select Request a call, and when a helping agent picks up, describe your issue and request promotional credit against the gift cards.
By following this method, you can get some promotional credits to spend in the Microsoft store rather than wasting the gift cards and eventually dumping them.
Have some time to spare? Quickly check out our epic guide on can you use a PS5 controller on Xbox.
What is Microsoft Reward Point?
Microsoft awards it's users with points for completing various tasks. For example, users get 5 Reward points for using the Bing search engine. Users can collect these points and use them later to buy premium Microsoft services instead of using money.
You can consider Microsoft Reward points as the successor of the real OG, Microsoft points. However, you don't have to buy these new Reward points like the Actual Microsoft points.
Instead, you have to earn them by completing various tasks within your account and the games offered by Microsoft.
Microsoft introduced the Reward points program to attract people using their service and keep them in Microsoft's ecosystem.
This way, people will get Reward points by using Microsoft's services and can spend those points buying Microsoft's premium services.
People can also upgrade their account level by completing more tasks and earning more points. Eventually, they can reduce their Microsoft service expenses by only spending the Reward points when they're on higher levels.
Here's a complete guide on how to hard reset Xbox Series X/S.
How to Enroll for Microsoft Reward Points
Enrolling in the Microsoft Reward service is a child's play. It's straightforward if you have a Microsoft account already. I've created a guideline for you to access Microsoft Reward Points.
Follow the steps below to access Microsoft Rewards:
Open your browser.
Go to the Microsoft Rewards website.
Sign in with your Microsoft account details.
Click on the Earn option on the horizontal menu.
Complete the daily tasks you're offered.
Microsoft will offer you daily and weekly tasks, and you can earn reward points by completing them. You can see your daily tasks and keep track of your Reward Points by logging in to the Microsoft Reward website or using the Xbox Mobile app.
You can earn points by purchasing items from the Xbox store, using the Bing search engine, and unlocking achievements inside various Xbox games.
What Can You Do with Microsoft Reward Points?
You can use the Microsoft reward points to buy premium services and subscriptions offered by Microsoft. Also, if you collect enough points, you can order products like the newly released Xbox and Game pass ultimate. You can earn them for free by completing daily tasks, saving them for future usage.
Microsoft reward points are not a paid product offered by Microsoft. Unlike Microsoft points, you can earn the Reward points free by completing various tasks and unlocking in-game achievements.
You can also earn points whenever you buy something from the official Microsoft store. Once these points are stored in a hefty amount, you can use them for various purposes.
For example, Xbox Game Pass Ultimate service, gift cards, Xbox games, and subscriptions.
You can also gift these Reward points to your family members connected with your Microsoft account. They can spend the Reward points themselves by buying products or services from the store.
How to Earn Microsoft Reward Points Easily
Microsoft introduced reward Points to attract more people to their ecosystem and reward them for sticking with their services. You can use your earned points to purchase or lower the price of items from Microsoft's market places.
You can easily earn these points daily and weekly by performing different tasks offered on the Reward page of Microsoft. Don't worry; I'm showing you the whole process.
Here are the steps to Earn Microsoft Reward Points:
Open a browser on your device.
Visite the Microsoft Rewards
Log in with your Microsoft account details.
Go to the Earn
Finish the daily tasks mentioned there.
Click on the Redeem option beside Earn to redeem your points.
Inside the Microsoft Reward app's daily challenges, you'll see various tasks, from searching a keyword in the Bing search engine to taking a one-minute survey or just watching a short video. You'll earn 5 to 50 points in a single task based on their complicacy.
Completing the Game Pass Quest service on your Xbox by unlocking achievements in games will also earn you Reward Points. It'll grant you 10-50 Reward Points based on their toughness.
Buying various services and products from the Xbox game store will reward you points. As a level-1 user, you'll get 10 points for spending $1, and when you reach level-2, you'll get 20 points for 1$.
You can earn as much as 50 points daily when you're in level-1. Once you've earned 500 points and been promoted to level-2, you can earn up to 250 points daily by completing your daily tasks.
FAQ
Question: What happened to Microsoft points?
Answer: Microsoft Points continued until Microsoft decided to replace the point-based purchase system with a local currency-based purchasing method in 2013. They converted users' existing Points with equally valued currency, valid till 2015. Later, Microsoft introduced Rewards as it's successor.
Question: Why are my Microsoft rewards not working?
Answer: If your Microsoft reward is not working on your Xbox, sign out and log in again to your Microsoft account. Then click on your profile picture and then go to rewards. After following this method, your Microsoft Reward malfunction should be fixed.
Conclusion
I hope you don't have any further confusion about the validity of Microsoft points.
In a nutshell, Microsoft discontinued the paid Microsoft Points service and introduced a free service called Microsoft Reward points.
If you want to collect Microsoft Reward points quickly, then approach ahead and collect free Microsoft Reward Points by following my guideline.
If you've any further queries, feel free to comment below. Our experts will try to answer any of your queries right away.