Facing your iOS video has no sound can be troublesome, whether you're watching Netflix, recorded videos, or a live performance.
The problem appears when you turn on the silent switch or DND mode, use external devices, or have a faulty mic and upgrade error.
iOS is very consistent with the quality of sound and video. But sometimes, facing this issue is extremely disappointing. However, you can fix this problem within a short time without losing any of your priceless moments.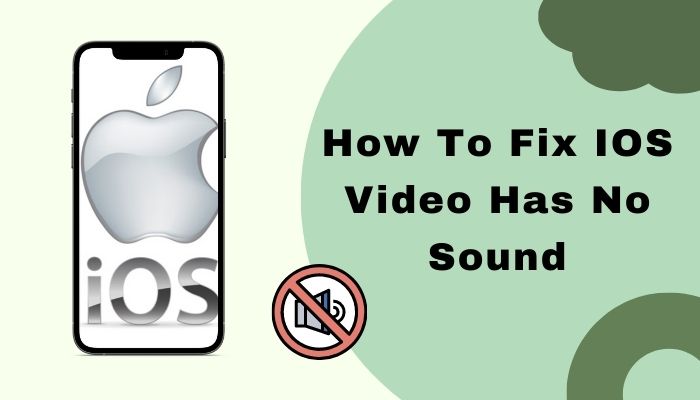 Stay with me to the end to know about the trick to fix this issue very quickly. Let's hop in!
Follow our guide on Fix iOS iTunes Store Icon Missing
Why Does My iOS Video Have No Sound?
Your iOS has no sound coming from the speaker due to silent switch, the volume being low, or DND mode is on, old iOS version, Bluetooth connections with other devices. External audio devices or blocked speaker ports can be the reason behind no sound in the iOS video.
In addition, a couple of other causes affect the sound system. Finding the reason behind no video sound isn't tricky. Read the reasons below to know more about no sound in iPad videos.
Here is the reason behind no sound in the iOS videos:
Silent switch
iPhone and iPad have a dedicated silent/ring switch. Turning the switch into silent mode won't play any sound from a video. You may have turned on the silent mode and forgotten about it.
Check out our separate post on how to Force Open YouTube Desktop Mode on iOS
The sound volume is low
You won't hear anything in a video if your sound volume is low. You have likely turned down your device's sound volume.
DND mode is on
DND or do not disturb mode mutes any sound from the device. If you enable DND mode, you won't listen to sound in a video. You are probably playing a video in DND mode.
Bluetooth device is connected
Nowadays, people love to use wireless devices. The device works with Bluetooth connectivity. Bluetooth may connect your iPhone or iPad with a wireless speaker or headphones. If it's connected with a wireless device, you won't hear video sound in the speaker.
Device connected via jack
Not everyone uses wireless devices. Someone uses external devices using a jack. If your iOS is connected with a jack port, likely, you won't listen to the video sound from the built-in speaker.
Also, check out our separate post on the file iTunes Library.itl cannot be read.
Blocked speaker port
The speaker in your iOS is situated at the bottom of your phone. Using any cover or protector that blocks the speaker port can lead to not hearing any sound.
Dust in the audio port and speaker
Dust can damage the audio port in your device. If you are using an external device using an audio jack, there's a chance your jack isn't connected correctly. As a result, you won't hear any sound on the external audio devices.
If there's dust in the audio speaker, it can block the sound and damage the speaker for which you do not hear any video sound.
Old iOS version
Unsuccessful iOS updates can create problems with the sound. Faulty updates can contain bugs that can lead to not hearing sound in the video.
Check out the easiest way to download iTunes previous purchases.
How to Fix iOS Video Has No Sound
It's frustrating when you sit to watch a video, but there's no sound on iPad videos. You can fix it by checking the silent switch and sound settings, disabling Bluetooth, unplugging any external devices, doing a soft reset, and taking some additional procedures.
The fixes are straightforward and need significantly less time to adjust the changes. You can solve this problem in a short time by following the procedure given below.
Here are the fixes for iOS videos has no sound:
1. Turn off the silent switch
All iPhones and some iPad have a silent switch on the left side of the device. Turning the silent switch on will make the device entirely silent. You need to change it to ring mode to hear the sound again.
To change the switch to ring mode, move the switch towards the screen until the orange colour at the bottom is gone. This will make your device back from the silent mode.
Also, check out our separate post on iTunes how to switch back to US app store.
2. Check sound settings
There's a possibility your device volume is low. To change the volume setting, follow the below steps.
Here are the steps to change sound settings:
Go to Settings.
Find and press on Sounds & Haptics.
Change the volume slider in Ringer & Alerts.
If you hear a sound, your speaker is working correctly; if not, a further fix is required.
3. Disable DND mode
DND or do not disturb mode mutes all the sound from a video or application. Disable the DND mode to hear the sound in the video.
Here is the process to disable DND mode:
Go to Settings.

Find

Focus.
Find the Do not DIsturb option.
Disable the Do Not Disturb option.
Disabling DND mode will allow you to listen to video sounds from different applications.
Here's a complete guide on iTunes can't change song name, artist, or album on get info screen.
4. Disable Bluetooth
Bluetooth connects wireless speakers, headphones, and other devices to the iOS. Connected devices won't allow you to play sound on the speaker. Disable Bluetooth to disconnect the wireless device.
Here are the steps to disable Bluetooth:
Open Settings.
Click on Bluetooth.
Toggle off Bluetooth.
Now check your video sound to see if you hear the sound correctly.
5. Unplug audio devices
If there's any audio device connected with the audio jack, you won't hear video sound from the device speaker. Unplug the jack if anything is connected with your iOS.
Also check our exclusive tutorial on how to fix iTunes home sharing doesn't work.
6. Check speaker port blockings
iPhone speakers are placed at the bottom of the device. You may use a phone cover or protector that blocks the audio speaker. Remove the phone case or protector to give the audio speaker some space.
7. Soft restart
Restarting your device works like a charm with most of the fixes. If you have any temporary issues, doing a soft restart will fix the problem.
Here is the procedure to do a soft restart on iPhone 8 and later models:
Press and release the volume up, then the volume down button.
Tap and hold the power button for 10 seconds.
Here are the steps to do a soft restart on iPhone 7 & 7 Plus:
Press and hold power and volume down buttons at the same time.
Wait until you see the Apple logo.
Here is the process to do a soft restart on iPhone 6 & lower models:
Press and hold the power and home buttons together.
Release when you see the Apple logo on the screen.
Doing a soft restart will clear minor malfunctions, and it won't delete any of your data.
Check out the easiest way to disable iTunes automatic backup process.
8. Update iOS
There can be a bug with your current iOS version. Unsuccessful or faulty iOS updates can create issues with your sound system. Using an old iOS version can be incompatible with some video applications.
iOS always releases updates to fix bugs or improve its sound system. Update to the latest update to correct the problem.
Here are the steps to update iOS manually:
Go to Settings.
Tap on General.
Press on Software Update.
Click on Download and install.
9. Clean out the audio port and speaker
With time there can be dust in your audio port or speaker. Dust can hamper the sound system. Clean your device's audio port and speaker if you see a good amount of dust.
Have some time to spare? Quickly check out our epic guide on how to restore iTunes missing icon.
10. Reset all settings
You may have changed a lot of device settings and failed to find the location again. You can reset all the settings and make it default.
Here are the steps to reset all settings:
Go to Settings.
Press on General.

Swipe down and tap on

Transfer or Reset iPhone.
Click on Reset All Settings.
It will make all settings default, but all your data and media will remain the same. If you have any issues in the settings, it should fix all the issues.
11. Contact Apple support
If none of those fixes are working for you, contact Apple support. They will guide you and provide the best service for your iOS device if you need one.
Check out the easiest way to iTunes copy music files between computers with home sharing.
Why Does iPhone Recorded Video Have No Sound?
Recorded video with your iPhone may not have audio because some wireless device is interfering with your mic or a camera glitch that can prevent your device from capturing audio, update problems, and faulty mic can be a reason without any sound in your recorded video.
You recorded a fantastic moment with your iPhone camera, but when you played the video, there was no sound. There are some reasons behind this upsetting situation.
Here are the reasons behind iPhone video have no sound:
Wireless devices
If any wireless device is connected, such as a wireless mic, your video may not record the sound, which can lead to no sound in the recorded video.
Camera glitch
There could be a glitch that prevents your camera from making any sound. This issue can happen only with the built-in camera or all the camera applications.
Update error
iOS updates are generally stable. But an error while updating can create issues with the mic and the sound system.
Mic issues
Some iPhone and iPad have two mics, the primary one at the bottom and the secondary at the rear. If you use a casing or protection blocking the microphone, it may not take recorded video sound properly.
If your mic is jammed or faulty, it won't be able to record video sound appropriately.
How to Fix No Sound In iPhone Recorded Video
Video without a sound is boring, and it feels frustrating if you can't record a video with a sound. But you can quickly solve the mic issue by disconnecting wireless devices, testing the mic, doing a simple restart, updating your iOS, and following some extra steps.
Here are the fixes for no sound in iPhone recorded video:
1. Disconnect the wireless device
Wireless devices can hamper your video from recording sound. A wireless mic can be far from the video area, which might not record any sound. Disable the Bluetooth connectivity to disconnect the wireless devices.
Here are the ways to disable wireless device:
Go to Settings.
Tap on Bluetooth.
Turn off Bluetooth.
It will disable all the wireless devices connected with Bluetooth to the iOS or iPad devices.
2. Test mic
You need to check your microphone first if you have no sound in the video. A troublesome mic can't record the voice properly.
Here is the process of checking the mic:
Open Voice Memos application.
Press on Record to record the voice.
Finish the voice record when you are done.
Your mic is working fine if you hear a voice from the voice recording. Then you need to follow the procedure given below.
3. Restart your device
Restart your iPhone if you face any bugs with it. Restarting the iOS device works as a fix for most of the bugs.
Here is the process to restart iOS:
Press and hold the power button until the slider comes.
Drag the slider to turn off your device.
Hold the power button again to restart the device.
4. Remove casing or protection
There are two microphones in the iPhone and iPad. Primary mic at the bottom and secondary at the back. Remove the casing or protection that is blocking the mic. So that your mic gets the sound properly while recording a video.
5. Update iOS
Your current iOS device may have some bugs with the mic. Update to the latest update to avoid any issue with the mic.
Here are the steps to update iOS:
Plug your device to power.
Open Settings.
Go to General.
Tap on Software Update.
Press on Download and install.
6. Clean microphone
Phone often gets dirty and dusty. Dust can cause damage to your phone and can block the microphone.
Clean the microphone regularly to avoid any large amount of dust in the microphone.
7. Go to the service center
If none of the above fixes work for you, you may have a faulty mic that needs to be repaired. Visit the service center to get additional help and to fix mic issues.
FAQs
How to fix iPhone video sound grayed out?
Soft resetting your iPhone will fix the issue with the video sound button being grayed out.
Why do my iPhone videos have no sound?
Switch to ring mode, disable DND and go to Setting > Sounds & Haptic > Increase the volume slider for further settings.
Why do videos start muted?
According to the new autoplay specification, iOS videos need to start muted when auto-playing.
Conclusion
A video without sound is like a meal without salt. Sound in the video you are watching or recording makes it interactive.
But you can face issues of no sound in iPhone and iPad video. The problem can be troublesome at a crucial moment.
But, I've provided valid reasons and solutions to your problem. I firmly believe you can now solve this issue quickly after reading the whole article.
See you!