While browsing through the Internet Explorer, suddenly, your browser crashes or gets stuck. After closing the browser, you opened it again, but the same problem occurred. Is this problem giving you enough headaches while surfing on social media or watching movies online using IE?
After trying a few methods, this crashing problem is still happening with you. All you want is an effective solution to your problem. But you have no idea where to seek it.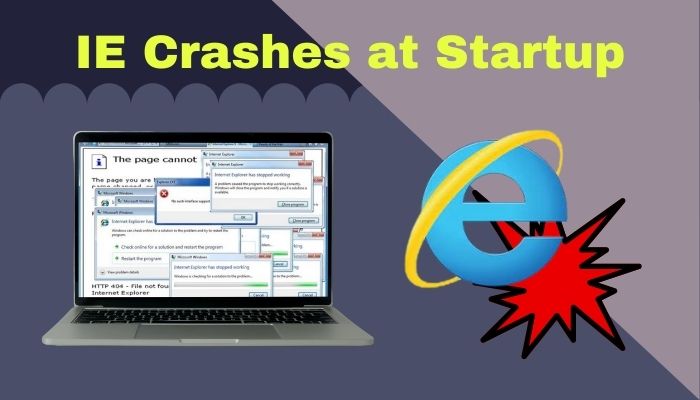 Don't worry anymore.
After investing a lot of time, I have found some working fixes. These fixes will solve your Internet Explorer crashing problem in no time. After applying these proven fixes, you won't see your Internet Explorer crashing problem again.
You need to read the entire article to understand how all these fixes work. Try not to skip any lines because I have given all the fixes step by step.
Follow our guide on How to Export Chat History in Microsoft Teams
Why Does IE Keep Crashing at Startup?
Malware infection or faulty browser settings can crash the browser. Other reasons like not updating the OS, Using GPU rendering instead of software rendering, and using faulty add-ons can be the main reason behind this issue. While browsing or surfing the web, your browser can freeze.
There can be many reasons behind this crashing issue. You will see no cursor movement, a page not loading issue, and IE behaving abnormally when your IE got crashed.
Sometimes due to browser settings, this issue can occur. Browser settings can improve or damage your browsing experience. Faulty Add-ons can also be the reason behind this. Add-ons that are not compatible with the IE can crush your browser. Sometimes enabling GPU rendering can crash the browser.
As you know, Internet Explorer is a product of Microsoft, and this software will be installed into your system by default when you are running Windows OS. So, it can get crushed if you don't update your OS from time to time. Updating OS provides the latest bug fixes for your system, which includes the IE crash issues.
Meanwhile, malware can damage your system by attacking multiple app system files. Malware is prone to attack the system files, so if your IE browser's system file or .dll file got infected by any malware virus, then there is a high chance your IE can be crashed, or it can behave abnormally.
Not to worry anymore regarding this issue. I have dug out some working fixes that will fix your crashing Internet Explorer problem.
Check out our latest fix for Microsoft Teams Error 80090030
How to Fix IE Crashing Problem at Startup?
Internet Explorer, which is also abbreviated as IE, has been a product of the Microsoft Windows lineup since 1995. It is a graphical-based web browser developed by the Microsoft team. It uses a Zone-based security framework. IE has faced a lot of security vulnerabilities. Spyware, Adware, viruses, and malware attacks can crash IE easily.
IE uses ActiveX-based add-ons. This ActiveX-based architecture is a weak architecture that gives the Add-ons the same privilege as the browser. For this reason, if the add-on gets faulty, it affects the browser immediately. This add-on problem can crash the browser within a fraction of a time.
But not to worry, it can be solved. Internet Explorer startup crashing problem can be solved by applying various methods. I will pave the easiest way for you to solve this issue. Let's dive deep into those solutions, shall we?
Have some time to spare? Quickly check out our epic guide on Can't I Create a Team in Microsoft Teams
Here are the Steps to Fix IE Crashing Problem at Startup:
1. Disable IE Add-Ons
Add-ons offer great features to the browser. It enhances your browsing experience, but sometimes it will also cause problems. While using Internet Explorer 11, you may face countless crashes of this browser. So, disabling the faulty or incompatible add-ons will solve this issue if corrupted add-ons are the main culprit.
Go to the Start →Search and type "Internet Options," Select it. (If IE is inaccessible, then try this way).
Select Programs →Manage add-ons from Internet Options windows.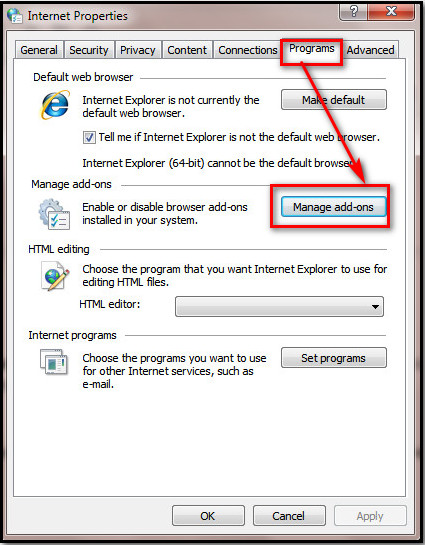 In the Manage add-ons windows, you can see your IE add-ons. Just select one or multiple faulty add-ons you want to disable and click the lower right corners Disable This will just do the job.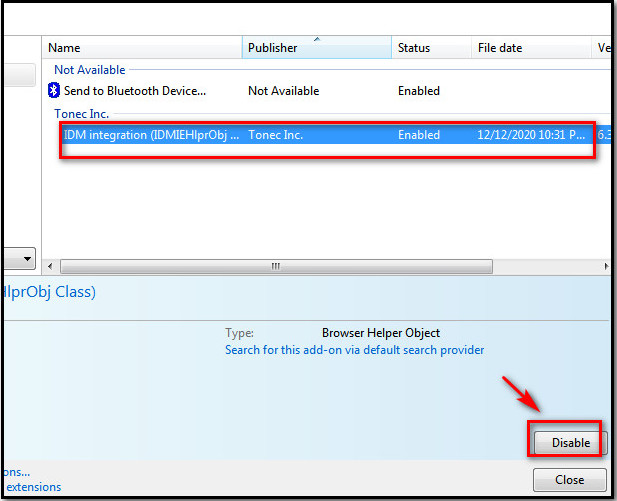 Go to IE and click the Tools or Settings icon and then select Manage add-ons. Then follow step 3. (If your IE is accessible, then try this way).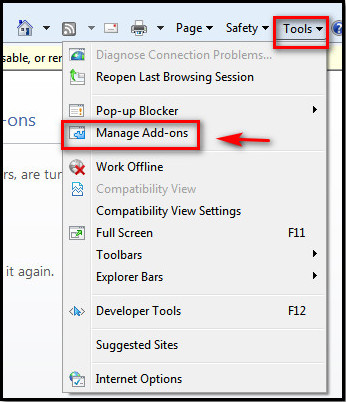 Pro Tip: Just press the Windows key + R. After opening the Run command, just type "iexplore.exe -extoff" and then hit "Enter." It will disable all the extensions in the IE and run Internet Explorer.
After that, Internet Explorer will not cause the crashing issue again. But if this problem is still occurring, then go to the next method.
But before that, do check our latest post on the Change Your Background on Microsoft Teams
2. Reset the IE to the Default Settings
It is a proven method, and it works. When an app behaves crazy or gets crashed, then resetting the app to the default settings can solve the issue. Resetting the IE can solve the crashing issue while starting up.
Go to the Tools→ Internet Options (If your IE is accessible) or follow method 1's step 1(if IE is inaccessible).
Click on the Advanced tab from the Internet Options
Select the Restore advanced settings Under the Advanced tab and click.
This restores advanced settings that can fix all your problems with IE, including the startup crashing problems.
Follow our guide to Fix Microsoft Teams Error Code CAA5004B
3. Turn on Software Rendering Mode
This software rendering mode is a feature that uses the software rendering process instead of the GPU rendering process. Rendering processes like Videos, games, etc., can also render by the Software rendering process. IE can be crashed if it is using the GPU driver. So, using the software rendering mode can solve this issue.
Go to the Internet Options as I have shown earlier. Then go to the Advanced
Find the Accelerated graphics option, then check the use of software rendering instead of GPU rendering* Then click Apply and then Ok.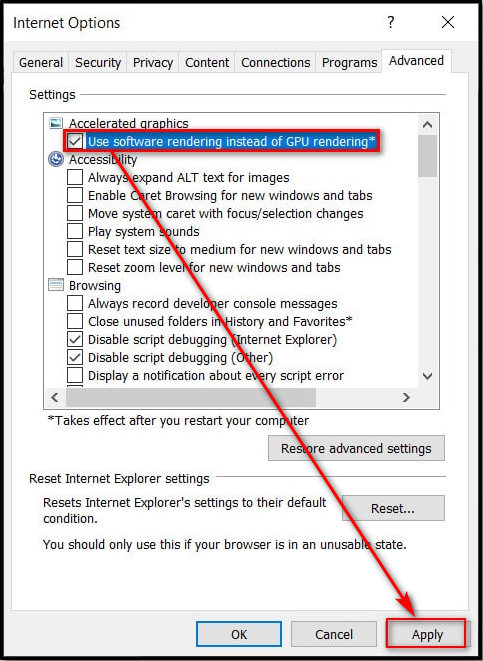 This will surely solve your problem in IE if it is creating crashing issues for the GPU rendering process.
Check out the easiest way to Green Screen with Microsoft Teams
4. Clear the IE cache
Sometimes running IE for a long time can store browser cache in a big size. It can be a reason behind crashes while starting up. Clearing all the caches can solve this problem.
Go to the IE, then select the settings From the expanded menu, select the Security option.
From the security, select the Delete Browsing History
After opening, select Temporary Internet files and websites file, Cookies and website data and Then select the Delete button. It will clear all the previous browsing caches.
Clearing all the caches will fix the crashing problem with Internet Explorer.
You can also try alternative procedures to avoid this crashing problem when opening Internet Explorer.
5. Reinstall the IE
Reinstalling the IE can solve the problem with ease. When a system file or other files of an application get corrupted or crashed, it is better to reinstall the application because it will freshly install all the files.
Go to the search bar in the windows and type Turn Windows features on or off and then select it.
After opening, uncheck Internet Explorer and click Ok. It will uninstall the IE, but it needs a restart.
Restart the system and again, go to the same Windows feature on or off options and check the Internet Explorer option and restart the system. After the restart, it will automatically install the IE.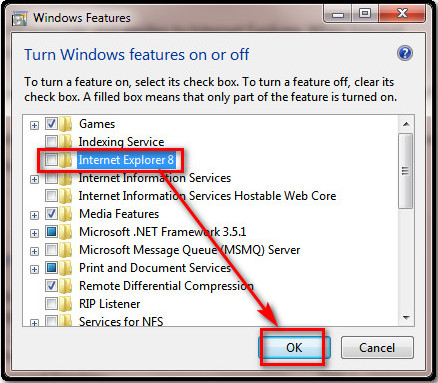 Have some time to spare? Check out our latest fix for Microsoft Teams Error Code CAA20002
6. Forcely Close the IE
If you are having a problem closing the IE, then try to force close the IE. Sometimes the process got stuck when it got crashed.
Press ctrl+shift+Esc at a time, and Windows Task Manager will open.
Select Internet Explorer and click on the End Task It will forcibly close Internet Explorer.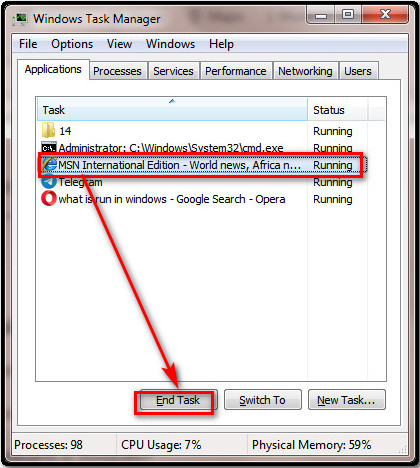 This will close the IE immediately. Then try to open it again. If forcibly closing the IE solves your issue, you won't face a crashing problem again.
You can also try other methods like scanning for malware or viruses, updating your windows OS, or Run Microsoft troubleshoot option to fix it. You can also run the System File Checker (SFC) from the CMD with administrative privilege to solve this issue. Try to look for corrupted systems files of the IE, which can bring this crashing scenario.
So, the superfetch service is using a lot of CPU? Check out how to disable SuperFetch on Windows 11.
Final Words
Your IE browser got crashes when you are in the middle of watching a movie online or in the middle of a discussion on a social media platform, and it is a very frustrating matter.
Internet Explorer can get crashed for several reasons like using faulty or incompatible add-ons, viruses, malware attacks on the system files, and browser cache files stored in a large amount from a long time of use.
But it can be solved by disabling the faulty add-ons, reinstalling the IE,  turning on software rendering, or resetting the default settings of the IE. Try to update the OS or the IE regularly. Scanning for malware or other viruses using a malware scanner can solve this problem if this issue is caused by a virus attack.
I think after reading the entire article, you have solved your problem. Please let me know in the comment section if you have faced any problems while fixing this issue.
Happy Fixing.