Are you unable to hear anything from the speakers of your computer although your speakers are working?
Then you have come to the right place.
In this post, you'll learn how to fix Failed to Play Test Tone easily in just a listed few Methods. So let's get started.
Reason behind failed to play test tone Error
| Problems | Cause | Affects |
| --- | --- | --- |
| Conexant Audio, Sound Blaster, IDT, Realtek Audio failed to play test tone | Outdated Drivers | Affects IDT or Realtek audio devices |
| USB audio failed to play test tone | using a USB sound card or USB headphone | Sound issues with USB audio devices |
| AMD HDMI audio failed to play test tone | graphics card installing audio drivers | Affects audio drivers while using HDMI cable with an AMD graphics card |
| Dell, HP audio failed to play test tone | Multiple issues | Can permanently disable Sound system |
| Laptop no sound, failed to play test tone | Problem in internal sound system | Affects both desktop and laptop |
| Sound card failed to play test tone | In-built functioning issue | Can affect any sound card both dedicated and in-built |
| Failed to play sound, sound disabled | Audio driver problem, backdated driver | Sound becomes completely disabled |
Follow our guide to Fix A Referral Returned from The Server Error Windows
​What is failed to play Test Tone Error?
The Failed to play test tone is an issue between any Windows Operating system and the sound device your computer is using.
Basically, it pops up with an error message in case you are unable to hear any sound but you try to see if your sound device is working or not.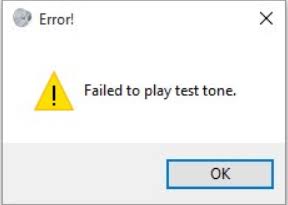 It gets even worse when I say:
This issue is commonly seen by a lot of Windows users and affects many of Microsoft's Windows OS versions of it.
It's obvious that having no sound on your computer is something that you should never experience, as it is one of the crucial performance of a computer.
Check out the easiest way to Fix Yahoo Mail App Error 0x8019019a on Windows 11/10
How to Fix Failed to play Test Tone Error on Windows
Test-Tone issue is randomly seen among the users.
But, luckily you can fix this error simply.
The only thing you have to do is to focus on the step-by-step methods carefully.
Here are the steps to fix test tone error on Windows:
1. Restart Windows Audio from services window
This solution is the fastest one to do and also is the first possible solution.
However, there are a couple of users who reported that this solution is not permanent and this error shows again after some time.
Read more on how to Fix Windows Update Error 0x80240023
To restart windows audio, you have to follow these steps:
Open the Run window by pressing the Win key and R at the same time. In the Run dialog, type the command services.msc and press Enter. Scroll in the list until you find the Windows Audio service from the opened Service Window. Press the Restart button on the top toolbar to restart it. Close the Services window box and most probably you will have your sound back.
2. Install High Definition Audio driver
Sometimes, the audio device drivers are backdated or get corrupted.
In this case, install a High Definition Audio Device Driver that is fully working.
It might resolve your issue easily.
Open the Device Manager by searching it clicking the windows search button. Expand Sound, video, and game controllers and select Update Device Software from the Action tab by searching for your current audio driver. Click on Browse my computer for driver software from the two mentioned options. Select High Definition Audio driver and click next.  In case you get a User Account Control prompt, click yes. Wait for the installation wizard to finish. Reboot your device to see if it worked.
Also read, Enter Network Credentials Error on Windows 11/10
NB: If the driver isn't available on your computer, visit the manufacturer's site to install the latest driver of your sound card.
3. Repair Ruptured Windows Files
It might also be possible that some important Windows files are corrupted on your device.
So, you have to check and repair the corrupted system files.
Follow the steps below to do so:
Open Run Dialog Box by pressing Win+R at the same time. In the run box, type cmd and click the OK button. Type sfc / scannow when the command prompt opens and press Enter. The process will be executed properly in a couple of minutes until 100% complete.
Follow our guide on how to Fix Windows 10/11 Update Error 0x80d02002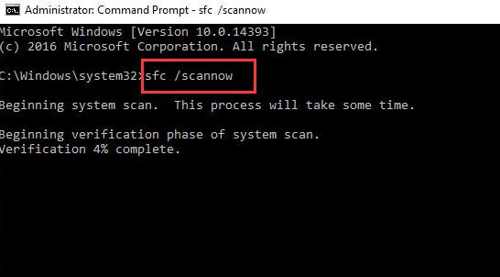 ProTip: If you are Unable to hear anything on discord then check out our separate post on it.
4. Change Sample Rate
Users reported that changing sample rates can fix the test tone problem.
Follow the steps below to do so:
Right-click on the sound icon that you see on the bottom right corner of your screen and select Playback devices. In the "Playback devices" tab, head towards your sound card and check Properties. Click on the Advanced tab option. You will see that the sample rate is set to 16 bit, 44100 Hz by default. Change it to 16 bit, 48000 Hz. Click Apply to save changes.
NB: If the sample rate is not set to default, click on Restore Defaults to check if the test tone issue is solved or not.
You may check out to Fix Windows Error Reporting High CPU and Disk Usage
5. Disable Audio Enhancements
Audio enhancements can cause test tone issues and thus it should be disabled.
Select Playback devices by Right-clicking on the sound icon in the bottom right corner of the desktop. Select Speakers and click the Properties and enhancements tab. Disable all enhancements then click Apply button to save changes.
6. Add the Local Service in the Local Users and Groups
This solution might seem completely irrelevant but, it helped a great number of users to fix test tone issues.
Select Manage from the dropdown menu by Right-clicking This PC or My Computer. Double click Local Users and Groups from the System Tools section in the right, and select Groups under it. Select Add to group by Right-clicking Administrators in the list in the middle of the window. Click Add > Advanced >Find Now. Double click Local Service and you should see NT AuthorityLocal Service in the list click OK. Reboot your device to apply changes.
7. Delete KB974571 Update ( for Windows 7 only)
It was reported by a lot of Windows 7 users that the KB974571 update was the one that caused a test tone problem for them.
For this, you have to delete it.
Open Control Panel > Programs and Features and open it. Click on the View installed updates link on the top left side in the programs and features window. Find the KB974571 update and uninstall it. It will reboot your PC a couple of times so make sure to save your work progress.
Also follow our epic guide to Fix A Referral Returned from The Server Error Windows
Final Thoughts
The test tone Error message is mysterious as this causes Audio device Errors while your hardware is perfectly fine.
The steps I provided will definitely fix this issue for sure.
My suggestion would be, to check your hardware first before performing any steps if you are unknown to this issue.