SONY doesn't let AirPods connect easily with the PS5. You have to use a 3rd party Bluetooth device to connect AirPods to PS5.
Alternatively, you need a Bluetooth-enabled TV or redirect your connection through your phone if you want to enjoy AirPods sound in PS5.
However, people like us will go above and beyond to make our game more enjoyable. So we won't mind the hassle of connecting AirPods with PS5.
But it's so frustrating when I do everything right and still can't connect my AirPods with the PS5.
The same thing bothering you, isn't it?
As both a PS5 and AirPods user, I will share the working solution for AirPods Not Working with PS5 that I've found through research and experimentation. Read this article to solve your problem in minutes.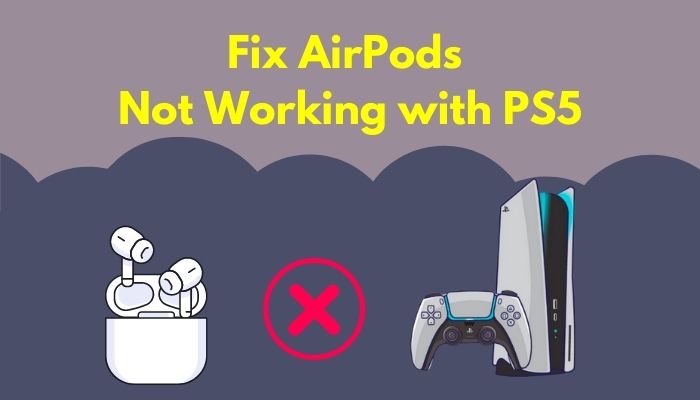 Also, check out our separate post on AirPods not showing on Homescreen.
Why isn't my AirPods working with PS5?
You can't connect your AirPods directly with the PS5. So AirPods working problem with PS5 most likely is caused by the 3rd party device you are using. Also, the Bluetooth wave isn't powerful enough to penetrate thick clothes, walls, or some wooden board.
Here are some crucial reasons for AirPods not working with PS5:
Blocked Bluetooth signal
One common method to connect AirPods with PS5 is using a 3rd party Bluetooth connector. But the Bluetooth signals can be blocked easily. Covering your PS5 with a thick cloth or keeping it under your bed or in a box can block Bluetooth signals to your AirPods.
Problem with your TV
If you connect your AirPods through your smart TV, any problem can bump your AirPods audio. When smart TV executes several tasks simultaneously, you may face Bluetooth connectivity issues with your AirPods.
Here's a complete guide on how to fix AirPods not working on one side.
Damaged lighting adapter
Another method to use AirPods in PS5 is to use a 3.5 lightning adapter. Apple's official 3.5 lightning adapter is compatible with PS5. But using cheaper replicas can obstruct your AirPods from getting audio.
Also, bending your cables can cause unseen damage to your adapter, and the damaged line won't perform well.
Different audio Output
If a different device is selected as an output device, you won't get audio in your AirPods. You need to choose AirPods as audio output from PS5 settings to enjoy AirPods audio.
PS remote play app problem
Sony's Remote play application streamed the PS5 menu on your mobile. Through that, you can connect your AirPods. But When your app is corrupted or has a vast cache file, you may face audio issues in your AirPods.
Quickly check out our epic guide on how to fix Airpods not working on Messenger Calls.
How to Fix AirPods not working PS5
You may face AirPods not working with PS5 problems because Sony doesn't let you directly connect AirPods with your PS5. Not all 3rd party devices work correctly with PS5 and AirPods. When you face an AirPods not working problem, follow the steps below.
Here are the fixes for AirPods not working PS5:
1. Restart all the devices
When you face an AirPods connectivity issue with the PS5, you first need to restart all your devices related to your PS5.
Here are the devices you need to restart:
Your PS5
All the controllers
Your TV or monitor used as an output device for PS5
Your AirPods
Your Phone, if you use PS Remote
The 3rd party Bluetooth connector
Also, check our exclusive tutorial on how to fix AirPods not working with Logic Pro.
2. Replug the connector
After restarting, unplug the Bluetooth connector from the USB port, wait for some time, and replug it.
If you use a 3.5 lightning adapter to connect your airpods, do the same as discussed above.
3. Reset your AirPods
If the previous methods don't solve your problem, try resetting your AirPods. Resetting your AirPods will reverse your device to the factory settings. Resetting will solve any software-related issues.
Here are the steps to reset your AirPods:
Plant both of your headsets into the charging case and open the lid.
Look for the Setup button on the back of your charging case.
Long tap the Setup button for 30 seconds. The status light will start flashing.
Close down the case lid.
Follow our guide to know can you use AirPods for PS5.
4. Reinstall PS Remote play
PS play lets you use the PS5 on your mobile phone. It streams the PS5 feed on your mobile phone screen. You can play games and tweak settings as you see fit using it. But corrupted cache files or heavy apps can hamper productivity.
Here are the steps to reinstall PS remote play:
Long press PS Remote Play application.
Tap Uninstall from the popup menu.
Select Ok.
Restart your device.
Go to the play store.
Type PS Remote play.
Select Install.
Check our exclusive tutorial on the fastest DNS servers for PlayStation5.
5. Change your lighting adapter
Apple's official lightning adapter works with PS5. But for some people, it's costly. So they use cheaper alternatives. But those may or may not work with your PS5.
So when you face issues with AirPods in a similar scenario, Change your lighting adapter to enjoy uninterrupted AirPods sound.
Check out our experts tested and reviewed the best keyboard and mouse adapter for PS5.
6. Change audio output
If you select a different audio output device, you won't hear your game sound in AirPods. You need to choose AirPods manually as an audio output device.
Here are the steps to select AirPods as an audio output device for PS5 :
Click on settings from the console's home screen.
Tap sound.
Choose Audio Output on the popup menu.
Select Output Device on the menu that appears.
Choose your Bluetooth device from the output device screen.
Also check out our top picks for the best ps5 RPG games.
7. Change the location of PS5
Bluetooth waves are weaker than most radio waves. It won't be able to penetrate walls, woods, or thick cloth.
When your device is located under your bed or in some wooden case, your Bluetooth signals can be hampered. Also, in some cases, thick cloth blocks the Bluetooth wave.
So change your PS5 location if you face this kind of problem.
Here's a complete guide on how to fix PS5 not downloading games. Also, fix PS5 won't download in rest mode.
Conclusion
In the end, you can face connectivity issues with AirPods for the 3rd party device you use. Also, blocked Bluetooth signals, damaged cables, or corrupted apps are some crucial facts regarding Airpods connectivity with PS5. You can quickly solve this problem by restarting all the devices, changing your lighting adapter, or selecting Airpods as Audio Output.
That's it for now. After finishing the article, I'm sure you can now solve AirPods not working with PS5 by yourself. Feel free to comment for any other inquiries.