It feels bothersome when in rush hour to reach someone, and then the Discord website isn't starting. Wouldn't you crave a quick solution in that situation?
Either the website is into issues, or your browser is acting up. Thus, Discord has built a dedicated website to let users know if their service is ok. If it's not their issue, you would need a solution.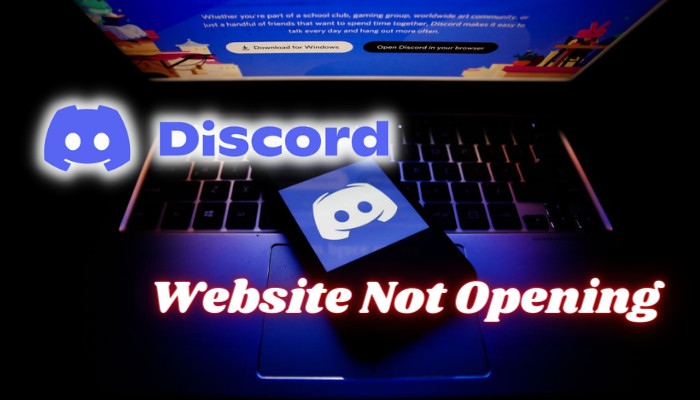 Since I had a similar experience and had to run through the solutions, I'll share the methods I ran through in this article.
What Are The Reasons You Can't Access Discord Websites?
The reasons for not opening the Discord website aren't visible in most circumstances. For instance, if the discord server refuses to respond, or the entire server system gets under maintenance, it's not your problem alone.
You have no option but to wait until the server gets fixed. But if your phone's Discord is working, but your browser isn't, then it's definitely the browser causing trouble because of hardware acceleration or corrupted cache files.
Then again, if none of the browsers of your system is unable to access the Discord website. Then your network system is responsible for the consequence. Either the ISP has some issues or it's your network devices. Check if other service holders having similar problems before reporting issues to ISP.
For ISP inconvenience, you can only report your providers and let them solve the matter.
The remaining possibility is the VPN. Your VPN service can cause troubles in some selected locations, or the VPN service is buggy and isn't allowing you to connect to Discord domain servers.
However, sometimes VPN helps the user to connect to the discord website. Where the user can't access Discord without a VPN.
Excluding these problems, there could be more undetected problems causing this trouble. Now, follow the next section to find almost all possible solutions.
All Possible Fixes for Discord Website Not Working
Once you have identified the exact problem retaining your browser from accessing the Discord website, you can directly apply either one of these fixes applicable. But if you aren't sure about the reason for such an event, you can try these solutions chronologically and test which one works for you.
In my case, I couldn't figure out what cost me this issue. So I followed the below processes in sequence, and clearing browsing data solved my problem. Some fixes require precautions or warnings. Do not miss out on those warnings to prevent any data loss.
1. Check The Discord Server Status
First, check server availability before assuming you can't access the Discord website alone. Several websites can tell you whether a website is offline currently. It can even show the exact server downtime span.
The discord shows their server availability status on the official discordstatus website. Detailed availability status & information about API, Voice, Media proxy, etc. are shown on this website with update time percentage. You can trust this site's information, as it is an official site from Discord.
Moreover, the website called downdetector also servers the same purpose, but it's not only dedicated to Discord. It shows several other website statuses. The best part of this website is 一 it can show any domain's server outage map where the site is up or down with a heatmap.
2. Disable or Remove VPN
Although VPN is a very convenient service for netizens, it can break the connection between specific websites like Discord. Whether you use your VPN as an application or browser extension, turn off the service to check if the VPN is causing the issue.
In the worst case, you may have to disable the extension or stop the VPN app from running in the background.
3. Change DNS Server
The Domain Name Service is a crucial gateway when facing any blockage from a website. Although Google DNS is a default in most cases, you can try 1.1.1.1 DNS since it's considered the fastest DNS over the internet.
Here is the process to set up DNS server on your system:
Open Run with Windows + R key combo.
Paste "ncpa.cpl" in Run and hit OK.

Right-click on the current network adapter and select properties.
Choose Internet Protocol Version 4 (TCP/IPv4) and click the Properties button.
Toggle the option to Use the following DNS server address.
Set the Preferred DNS server as 1.1.1.1 and the Alternate DNS server as 1.0.0.1.
Finish setup with the OK button.
It will change the entire system's DNS connectivity and may solve more problems in your system alongside.
4. Restart Your Browser & System
Restarting the browser can solve several issues automatically. It is the simplest way to solve this issue. Try it before you run into any solution, as it doesn't require any complicated steps.
Once I got rid of the issue of no audio in the Discord shared screen by simply restarting the browser.
On the other hand, if your system runs into a problem for no reason, then restarting the system can fix things automatically. I had such experiences several times, where I found my system and the browser working fine after a simple restart.
5. Clear Browsing Data
Web browsers store data as cache and temporary files to make users' browsing smoother. Thus, the browser gets heavy over time. Or worse, files conflict and create obscure errors like blocking a specific site and even entirely obsolete the browser software.
Clearing cache or browser data usually provides a worthwhile result. In my case, where the browser wasn't letting me access the Discord website, clearing my browser data settled the issue instantly.
Whichever browser you use, the fix with key combo can rule them all. I tried this on Chrome, Firefox, Brave, Edge, and more.
The Key Combo is Ctrl + Shift + Delete. Or Ctrl + Shift + Del.
A new tab will open automatically, showing a window with Clear browsing data. It will keep things simple and remain in the Basic tab.
Switch to the Advanced tab and select the time range as All Time.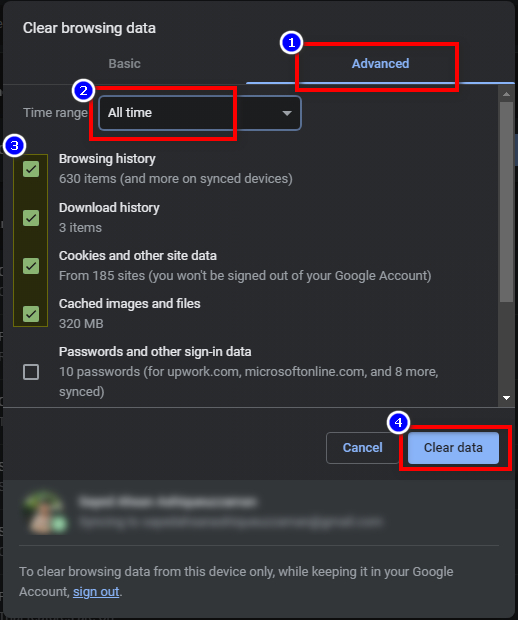 Tick the following boxes only:
Browsing History.
Download History.
Cookies and other site data.
Cached images and files.
Site settings.
Warning: Do not tick all boxes in the list because deleting other belongings from the browser might erase your saved passwords and important synced settings.
Finish with the Clear data button and restart the browser to take effect.
6. Turn off Hardware Acceleration
The hardware acceleration in a browser is an efficient feature to share workloads between CPU & GPU, rather than imposing the entire load on the CPU. But sometimes, this feature can cause errors and block websites like Discord.
To turn off the Hardware acceleration in Chrome browser and Chromium-based browsers like Brave, Edge, or Vivaldi, follow these steps below.
Click on the three dots in the top right corner of the browser and select Settings.
Choose System from the left pane.
Toggle off the option "use hardware acceleration when available".
Close your browser and re-open it to apply the changes you've made. Then try to open the Discord website.
Firefox browser users must follow a different approach to turn off hardware acceleration. Here is how:
Click on the hamburger menu in the top right corner of the browser & select Settings.
Choose General from the left pane.
Scroll down to the Performance section and remove the tick from "use recommended performance settings".
Withdraw the tick from "use hardware acceleration settings when available".
Restart your browser.
Although the Hardware acceleration function is essential for adjusting video quality in Discord via the browser, you can turn it back on after solving the issue.
7. Reinstall Your Browser
If none of the above fixes can't solve your issue of not opening the Discord browser, you may have to reinstall your browser. My discord wasn't opening and got stuck in the loading screen once, and no usual fix could solve the issue.
Another incident was not opening images in Discord, which was solved after I had reinstalled my browser.
Remember that only usual uninstalling may not help you with the preferred result. You must clear the leftover & temporary files and especially the registry keys.
8. Clear Discord App Cache with CMD
You can possibly use multiple Discord accounts in your system by logging in to the desktop app and the browser at a time. Then, if your browser starts acting up while the desktop app is running well or both aren't working, you should log out from the app temporarily and clear the app cache.
Multiple accounts running on a single device can mess up things. So you must clear the cache data from the Discord app with the browser if the Discord website is inaccessible through your browser.
First, you must terminate all the processes before clearing app data. To terminate all the foreground and background processes, launch RUN with Windows + R key combo.
Type "cmd" in Run and hit OK. Then paste the script below into the cmd console.
taskkill /f /im discord.exe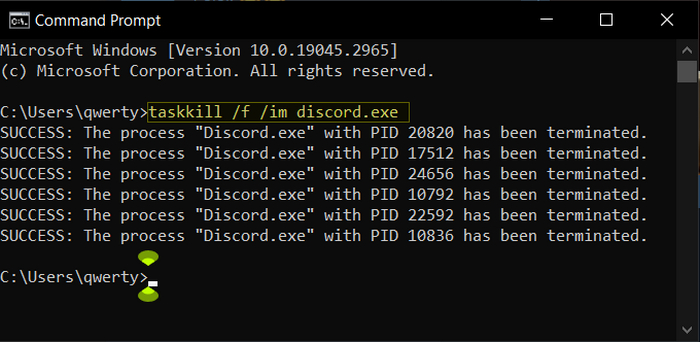 Alternatively, you can just exit Discord from the hidden icon tray in the taskbar.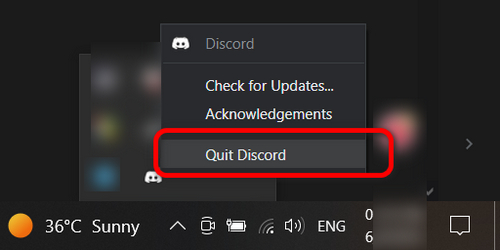 Next, paste "%appdata%" in the Run and find the Discord folder to delete.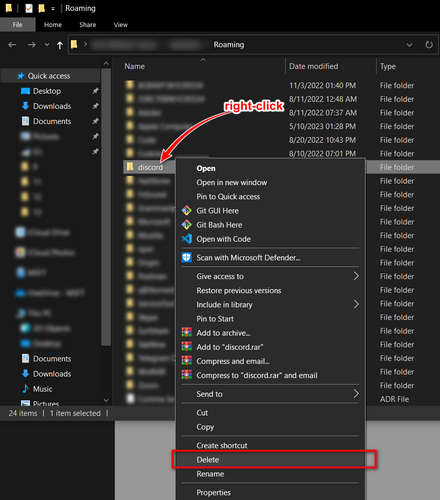 It will delete all the app cache and temporary data. But you're required to log in again to use your Discord app.
FAQs
Can Discord block its own domain for a device?
Discord may have access to block a user account but won't block its domain for a device.
Can I use multiple Discord accounts in a system?
You can use multiple Discord accounts in different browsers or Chrome profiles but excess use might ban your IP address.
How do I make Discord Web faster?
You must clear your browser cache to experience a better and faster Discord web service.
Conclusion
Although a browser rarely blocks a specific web domain like Discord automatically, you can fix such issues by following simple steps or methods. But sometimes, your ISP might block access accidentally, and you can access any website via a VPN.
Please, leave a comment below with your feedback regarding this topic to inspire us to contribute more.