Discord is a great platform to share ideas and gather ideas. It's not used only for messaging or communicating but also for sharing your system's screen. You can share your screen with others while playing a game or using any software.
While sharing the screen through Discord, I faced the Screen Flickering Issue that you came here for. It's not only disturbing but also not acceptable at the same time.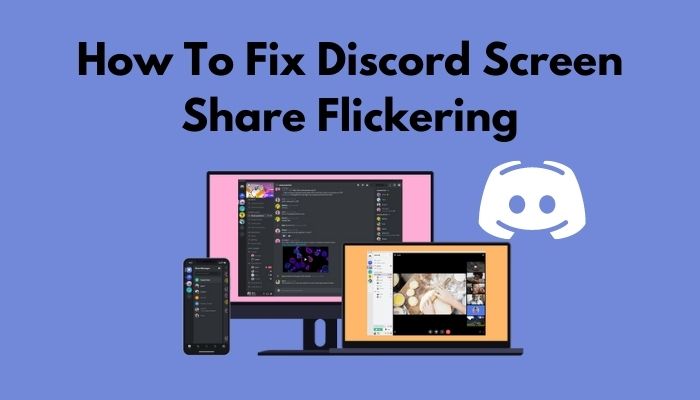 Why does my screen flicker when I screen share on Discord?
Screen Flickering occurs due to outdated graphics drivers or any program running in the background. If you don't run the Discord app and the streaming app the same way, the Discord app will flicker.
Keep reading the post as I got the solutions for you in the simplest forms possible.
Check out our separate post on Discord screen share.
Screen flickering can arise because of faulty hardware or for low voltage. But typically, it happens due to software issues. Interferences between programs or any running app bottom can cause screen flickering.
You may ask:
Why share screens through Discord?
Playing games, watching YouTube seems to be a bit of a lonely task. Discord's screen-sharing makes it easy to stream or share your screen with the audience.
Here are the steps to fix the Discord Screen Share Flickering Issue:
1. Run Discord App as Administrator
It often happens that you launched the Discord app on PC, usually clicking twice on the shortcut and the streaming app asked for your administrator access. Now, as they both were not launched in the same way, they won't work together seamlessly.
Scroll to the Discord app icon
Right Click on it
Click on the Run as Administrator option from the drop-down menu.
Probably this thing will solve screen flickering during streaming or screen sharing.
Here's a complete guide on how to fix screen share not working on discord.
2. Activate GPU in Discord App
Sometimes Discord can't find out which GPU is to use as your setup might have a graphics card installed. The system does have a graphics unit. Discord usually picks that low-powered less power-consuming graphics unit.
This raises a flickering screen issue in Discord streams. There's a solution to it. Simply you need to turn on Hardware Acceleration in the Discord app.
Here's how to turn on Hardware Acceleration in the Discord app:
Run the Discord app as Administrator
Go to Discord App Settings > Appearance > Advanced.
Scroll down to Hardware Acceleration and Enable it.
Most gamers do have a dedicated GPU installed into their system. So it's evident that a third-party app might not have the permission to access the dedicated GPU instantly bypassing the default graphics unit.
Enabling hardware acceleration in the Discord app allows it to use the power of your powerful dedicated GPU.
Check out our separate post on how to Fix Discord Screen Share No Audio Problems.
3. Update Discord App
Discord releases new updates to their app, fixing the bugs and issues with the Discord app itself. They keep working tirelessly, and all the bugs can't be fixed overnight or in one update alone. So you need to be on the latest version of the app consistently.
Here's how to update the Discord app:
Update While Launching Discord: Discord often pushes updates on its own. A dialogue box will open up whenever you launch the app, saying Updates Available for Discord with the version number.
Simply click on the Update button showing up there.After the latest version has been downloaded, it'll ask your permission whether you want to install it or not.
Grant the permissions. Install the app.
Check For Updates. Discord has an option to check updates. Dive into Settings > Check For Updates.
Updating the Discord app often solves the compatibility issues as the developers are working to fix all the bugs and optimize with most devices.
Check out some interesting discord commands for your server.
4. Delete Discord App Cache Files
Cache files are necessary to run the Discord app smoothly. It saves all the user-defined configurations that are personalized for everyone on their own.
But sometimes, it causes massive clutter in the system and eats up so much space, and makes the app heavy itself that it can't run as it was intended to.
Now you need to clean up all the cache files, local temp, and AppData files for a new launch of the Discord app.
Here's a complete guide on how to get Discord server Owner Crown.
Here's how to locate and clear them step-by-step:
Open Run from the Start Menu
Type %appdata%\discord and hit Enter
Delete three folders named Cache, CodeCache, and GPUCache.
Cache files can be helpful and irritating at once. Clearing this clutter can help you to solve the flickering screen issue in Discord.
If you are facing "Discord JavaScript Error", then quickly check out our epic guide.
5. Update Graphics Drivers
You have got a dedicated awesome graphics card, but you don't have the correct drivers installed for the same. How can you think that it'll work?
Drivers may get outdated from time to time as the manufacturers aren't just sitting and selling the graphics cards to you. They're working for the latest drivers and solutions to optimize the GPU more and more for your PC. Now you need to update the graphics drivers. Here's how to do that:
Search online for the correct and latest graphics drivers.
Download and Install them properly.
Restart your PC once and then launch the Discord app as administrator.
Updating graphics drivers regularly keep these kinds of problems away. However, it's a challenging task to find the correct drivers. But this method might solve your flickering screen problem while sharing the screen in the Discord app.
Spare a few minutes and know the cause of why discord overlay is not working.
6. Turn Off Latest Technology Feature
Discord has some kind of special features that creates some extra benefits for the user. These features can boost your experience or sometimes can be disturbing as it overlaps something else.
The latest Technology is that kind of a feature. Discord has it in it's settings that you can turn off. Here's how to do that:
Launch the Discord app as administrator
Go to Discord Settings > Voice and Video tab
Turn off the Latest Technology option here.
If turning off solves your screen-flickering issue, then keep it off as long as you don't need it.
Also, check out how to fix Discord not letting me Unmute.
7. Reinstall Discord
The Discord app might be having a wrong time with it's faulty configuration files. It may need a fresh reinstallation.
Here's how to reinstall the Discord app on PC:
Download the latest Discord app from the official site.
Go to Start Menu > Discord > Uninstall
After successfully uninstalling the Discord app, Open the installation file you downloaded at first.
Check out the easiest way to fix Discord Nitro Gift not working.
FAQ
Question: Why does Discord Screen Share lag?
Answer: Discord screen share lags because of the software conflict. You might be running several apps and programs at once, which you aren't supposed to do. Then the Discord app will lag while sharing the screen. Close one or two programs running the background to solve it.
Question: Why does Discord make my screen black?
Answer: Discord might not have been installed correctly by you. Try reinstalling the app after uninstalling the previous one and deleting all the traces that were left behind. Once you've done reinstalling, the black screen issue during a video call in Discord might solve.
Question: How do I share my screen on Discord?
Answer: Call someone in the Discord app on PC. Turn on video calling now. After being connected, both of you will get an icon indicating Screen Share. Get ready to share, and press it. Instantly it'll cast your screen to the other end.
Final Thoughts
The community-focused platform Discord offers an easy solution in sharing screens. Discord has a significant amount of user base that connects through servers and channels inside the app. That is why Discord is getting popular nowadays.
Along with the screen-sharing feature, Discord offers a variety of valuable tools and features that increase productivity and generate user interest. But some minor misconfiguration can be a big headache sometimes. While you're sharing something interesting, whether it could be gameplay or an ordinary YouTube video, if your audience couldn't just watch it because of the screen-flickering issue, you may find this article helpful.