Isn't it really satisfying and, at the same time, ingenious to share your Netflix screen with your close ones? Until the sudden pitch-black screen appears in the streaming window. Not only is the movie night, but your flexibility with the technology is also ruined.
Chin up! Since this issue shattered your techie fame, it can't go unsettled.
After facing this frustrating Netflix streaming problem on Discord, I thoroughly researched the topic and sorted out some mesmerizing working solutions.
Aren't you excited to figure out the solution? And stream Netflix on your Discord without the black screen?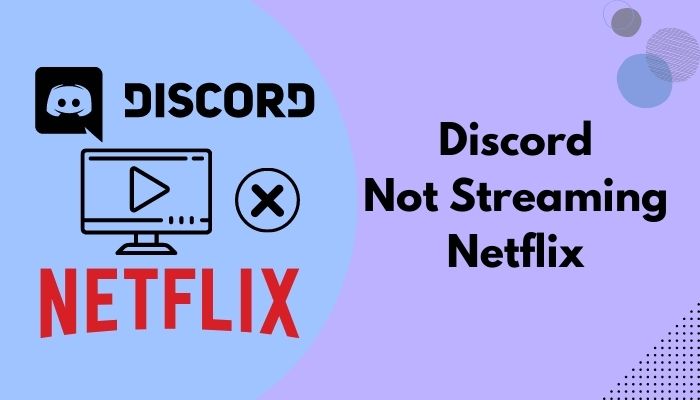 Therefore, keep scrolling down the words I will share next.
Why Won't Discord Let Me Stream Netflix?
The leading cause of Discord's unable to steam Netflix is hardware acceleration. When this option is active, users face difficulties in streaming. Additionally, an enormous cache, an outdated Discord version, and power-hungry background programs can create the problem.
Take a moment to figure out which one is occurring the issue. There are some other variables that you should know of. Once you clear the reasons, we can proceed to the solution part. Works for you? Cool.
Here are the reasons why you can't stream Netflix on Discord:
One of the most viable reasons is hardware acceleration. Enabling that feature when you don't have a GPU to handle the stream can lead directly to the black screen.
If you try to stream in Full-screen mode sometimes, it could go wrong. Streaming in Windowed mode/ Borderless mode is ideal for screen sharing.
Another reason why you fail to stream Netflix on Discord is that Those extensions can interrupt the stream and cause a black screen.
That's pretty much it. These are the grounds for your failed attempts to host a movie night in Discord. Keep reading till the end. This article will be armor during the process.
Plus, when you experience the volume slider not working or the stream not loading on Discord, solve those issues immediately to get a smooth ride on the app.
How to Fix Discord Not Streaming on Netflix
You need to disable hardware acceleration to bypass the Netflix Discord Streaming block. Moreover, you can modify Discord settings, clear app data, update the app and remove all background applications to solve the Netflix streaming problem on Discord.
Sometimes, you can't stream Netflix on Discord via mobile because of DRM (Digital Rights Management) restrictions. Then you will not be able to screen share. But for now, let's move into the solutions with which you can fix the streaming issue.
Here are the methods to fix Discord's unable to stream Netflix issue:
Fix 1: Disable Hardware Acceleration
Hardware acceleration helps you to channel your workload to the GPU. You might encounter a black screen issue if you don't have a graphics card yet enabled the hardware acceleration feature. So, disable the feature, and for 81% of users, only this workaround cured their problem.
Here are the steps to disable hardware acceleration on Discord:
Launch Discord from your desktop.
Click on the Gear icon right next to your profile.
Select the Advanced section from the left navigation bar.
Toggle off the Hardware Acceleration option.

Click Okay when the app requires confirmation.
Your Discord application will restart in a jiffy and work perfectly. Now, it's time to disable the settings from your web browser.
Here are the steps to disable hardware acceleration on a web browser:
On Google Chrome
Launch Chrome and click on the three dots from the top right corner.
Select Settings from there.
Move to Advanced > System from the left pane.
Toggle off the Use hardware acceleration when available.

On Mozilla Firefox
Open Firefox browser.
Click on Settings (Gear icon).
Select Manage more settings.
Move to the General section.
Scroll down and uncheck Use recommended performance settings and Use hardware acceleration when available checkboxes from the Performance tab.
On Microsoft Edge
Launch Microsoft Edge.
Click on the Three dots from the top right corner.
Scroll down and choose Settings.
Select the System and performance section from the left navigation panel.
Turn off the toggle Use hardware acceleration when available.
Okay, that's one step done. Don't just start to stream yet. There are a few other settings you need to work on. Read the forthcoming solutions.
Furthermore, irritating issues like the red dot not going away or the authenticator not working can bother you on Discord. In those dark moments eliminating those problems can bring joy to your Discord maneuver.
Fix 2: Tweak Discord Video Settings
Video settings of your Discord application play a massive role in this gray shade issue. Read the subsequent steps. It will only take a minute or two to change the settings.
So, it's worth the effort if you plan to stream without any interruption.
Here are the steps to change video settings to full functionality:
Launch Discord from your desktop.
Click on the Settings icon nearby your profile.
Select Voice & Video from the left menu.
Scroll down to the Video Codec option and switch the buttons from green to grey.
Go through a bit lower to the Screen Share.
Enable Use our latest technology to capture your screen.
Note: You need to turn off OpenH264 and H.264 hardware acceleration.
Now you should be able to host a watch party, excluding interruptions. But wait to lose heart; if you still can't see Netflix while streaming on discord, just go through the following workaround, and your problem will be fixed.
Using the Nitro version of Discord can enhance your experience, and numerous problems, such as streaming issues, will not bother you then. So buy Discord Nitro, but when it says that you already purchased the app, but you don't get any unique feature, solve the problem instantly.
Fix 3: Clear Discord App Data
Free up Discord cache to avoid various issues- including streaming black scree.
Here are the steps to clear Discord app data:
Press Windows + E to launch File Explorer.
Type %appdata% in the address box and hit Enter.
Locate the Discord folder and right-click on it.
Delete the folder.
Note: Your saved data will be wiped out once you perform this step. But, the issues might be resolved. Back up your data if there's something important.
The app data of Discord is clear; from now on, you can stream Netflix without a black screen, and other issues will not disrupt you anymore. But when your drag and drop and pop up not function on Discord, it will be wise to solve the problems without delay.
Fix 4: Update the Discord Application
You should know that updating applications cast off the existing bugs and glitches from the current version. Try this whenever you face inconveniences using Discord.
Usually, Discord gets updated with an active internet connection when you launch the program. But you can always force update the application manually.
Follow this for a manual update; Launch the application on your device > Press Ctrl + R to reload the UI. If an update is available, Discord will start downloading and installing it.
Fix 5: Close Background Applications
Running background programs that aren't necessary for the moment will result in a black screen while streaming Netflix on Discord.
Here are the steps to kill unwanted applications from the task background:
Search for the Task Manager in the Windows Search
Go to the Process tab and look for memory killing application.
Right-click on the unwanted application and select End task.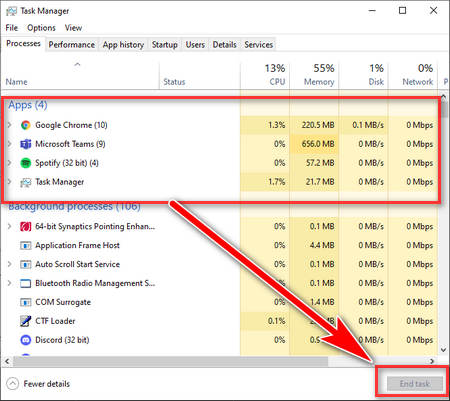 Do that repeatedly till you get a performance bonus.
You are good to go. Start streaming the show you want to enjoy with your loved ones. You shouldn't find any disruptions this time.
How to Stream Netflix With Your Friends on Discord
Once you have resolved the streaming Netflix issue on Discord, it's time to stream it with your close ones. To do that, open Netflix on a web browser, enter the Discord server, and select Settings. Then, go to Activity Status and hit Add it! Choose Netflix from the browser and press Go Live.
The entire process is displayed below with a visual representation so that you easily grasp the procedure.
Here's the simple procedure for streaming Netflix on Discord:
Launch your desktop browser and log in to your Netflix account.
Open Discord from your device and connect to the server where you want to stream.
Click on the Settings icon from the bottom left.
Navigate to Streamer mode> Enable Streamer mode.
Move to the Activity Status.
Click on Add it! From the window and add your web browser from there.

Leave settings and click on the Desktop icon > Select the browser tab you want to share.
Complete the adjustments, and select Go live.
Now you can share the screen with your friends and watch the show you require to enjoy with them.
Frequently Asked Questions
Is Streaming Netflix shows on Discord even legal?
Unfortunately, no. But knowing the procedures is fine, so you can apply them to enhance your tech knowledge.
Can I Stream Netflix From my Mobile Discord App?
Sharing from mobile Discord is yet to be developed. Due to DRM limitations, you can't share from Discord mobile.
How to Watch a Netflix Stream on Discord?
Join the server where your friend is streaming his Netflix. You'll notice a Live icon when the stream starts. Click on it, then join the stream. That's enough for starters.
Final Remarks
The last thing I would like to add is that sharing Netflix content is strongly prohibited if that's not among the screen owner. I explained the process only to help you in case of emergencies, and don't abuse those findings.
However, if you have difficulties completing the procedure, feel free to connect with me through the comment box.
Share this article with your friends if you find it useful. Enjoy watching with your friends!