Despite having access, when you enter into a channel on a particular Discord server, you see a message saying, "You do not have permission to view message history @general."
No matter how many times you try, it throws you into a clueless situation.
You might find it a confusing situation for you, but don't be discouraged. Many have faced the same condition, and I was one of the victims.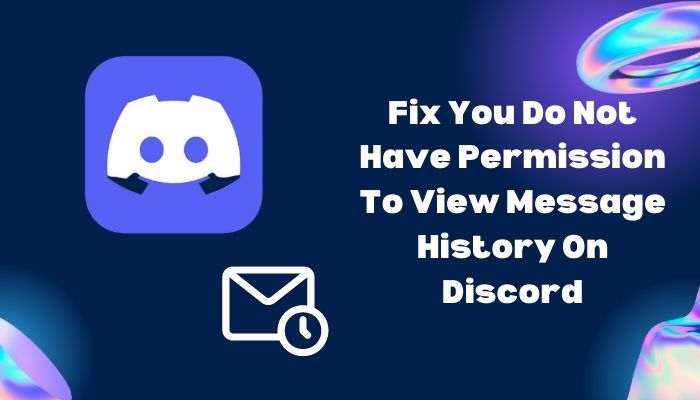 After a lot of research, I finally figured out what caused me to confront this problem and how I could solve this.
I'll share my experience with fixing this problem in this article, so you have no reason to worry. It would be better for you if you don't skip any part unless you want to fix this issue.
Check out the easiest way to Fix Discord Not Updating Messages.
Why can't you View Message History on Discord??
The moderator disallowing permission for any member from reading message history for that particular channel is the main reason for you not having permission to view message history on Discord. Additionally, not refreshing the channel for an extended period is another reason for facing this issue.
You can set permissions and roles for the server members only when you are the server owner or the server owner sets functions for any member to do so.
It is not like that; it is my server, so I will ban whomever I like here. I will block whomever I want and take away the responsibility given to someone whenever I like.
Here are the reasons for which you can't view Discord message history:
When the moderator or server owner sees you as a potential threat.
If you have the probability of creating chaos.
Using abusive language is another reason.
Sharing content that can provoke others.
Saying something that can hurt other members' religious feelings is another reason.
How to have Permission to View Message History on Discord?
I've mentioned all the possible reasons for not having permission to view message history on Discord in the above section. Now, I'll show you the ways to fix this issue.
Here are the ways to fix this issue:
1. Refresh Server Channel
Before going to more complicated steps, you can simply refresh the server channel to see if the problem still lasts or not.
You can refresh the server channel by holding Ctrl + R key, and it will automatically refresh the server channel you are using. Or you can restore the Discord application.
2. Reopen Discord
If the server channel or Discord application fails to solve your problem, you can close it. Close other applications are running in the background. Refresh your device by pressing the F5 key on your keyboard. Open Discord again and log in to your account. Enter into that channel where you were having this issue. Check if you can see messages on that server again.
Read more on how to See Deleted Messages on Discord.
3. Contact Server Owner, Moderator, or Admin
It seems that your problem isn't solved yet following the above instructions.
There are around 250 server roles for the members. The server owner has full authority to assign roles to the server members, and he can appoint admins, moderators, and others according to his preferences.
The server moderator, admin, or other members will have access to assign roles and warn or ban other members only when the server owner allows them. So, you should contact the server owner, admin, or moderator if you have this problem viewing message history.
4. Contact Discord Support
You have no other option but to contact Discord Support if you still can't view the Discord message history. You should briefly explain your problem, and the Discord Support executive will let you know the reason responsible for having this issue.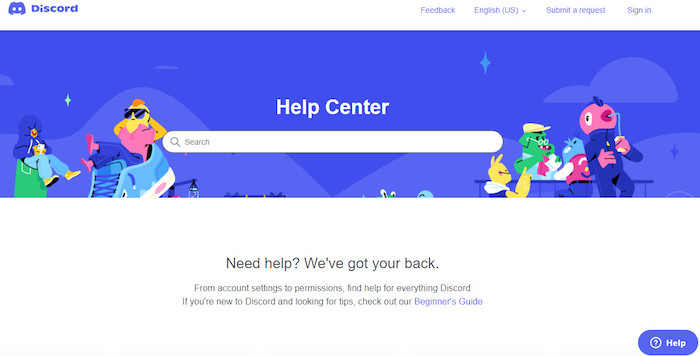 Discord Support will also show you ways to solve this issue.
Related guide: How To Send Direct Message On Discord Without Being Friends.
How to Restrict Someone from Viewing Message History on Discord?
As I mentioned above, only two types of people can restrict you from viewing message history on Discord. The server owner and the members who have access to this role could limit someone from viewing message history on Discord.
Here is the way to restrict someone from viewing message history on Discord:
Launch the Discord application and open the channel from your server.
At the upper-left pane, you will find the # general Click on it.
Navigate to the Edit Chanel.
Once the option appears, click on the Permissions.
You should find the box saying @everyone just below the Advanced permissions.
Enter that user id you want to restrict from viewing message history on Discord.
Scroll down until you find the Read Message History.
Click on the cross icon and it will turn red.
Hit the Save Changes.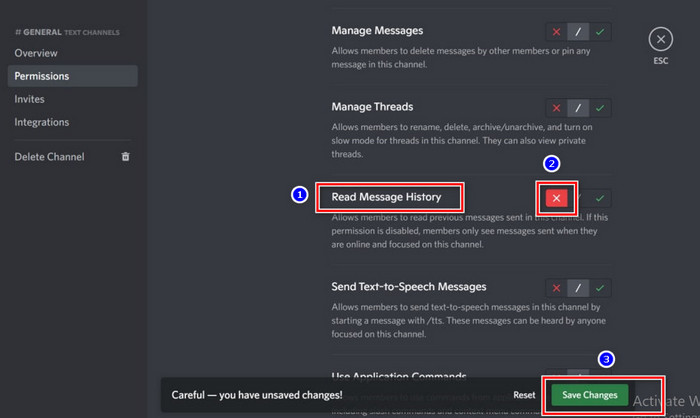 Now, that particular user won't be able to view the previous messages on the server when he disconnects or logs out from Discord.
Frequently Asked Questions
How to know who the owner of any Discord server is?
Open Discord> Log in to your account> Click on the channel you want to know the owner> Navigate to server settings> Click on the Members option> Scroll down until you find a crown shape icon next to their name.
How to know who the admin or moderator of any Discord server is?
You can check the announcement channel to see who has posted there because they have access to post here. You can also see the Members list.
What are the roles of a Discord server owner?
The server owner can change the settings, add and remove roles, upload media files, manage permission for the users, remove and ban members, change server names, and they can even delete channels.
What is the difference between a server owner and a moderator or admin?
The server owner is the person who has access to everything on the channel. On the other hand, the server owner creates a moderator or admin to carry out certain functions.
Can a moderator or admin kick the server owner?
A moderator or admin can't kick or bans a server owner.
Final Thoughts
This article will help you know the reasons and fix the issue of not having permission to view message history on the Discord server.
If refreshing the server channel and reopening discord doesn't work, contacting the owner, moderator or admin should solve your problem. When you find no other option, you should contact Discord Support.
Here is a comment section. You can ask anything regarding this issue here, and our experts will try to help you as early as possible.