AMD Crossfire is the technology that enables you to run two GPUs simultaneously. When paired correctly, you can expect twice the frame rates in games that can utilize them.
So, if you have the graphics cards ready and wanna set up AMD Crossfire, this article will provide the necessary steps to get it running.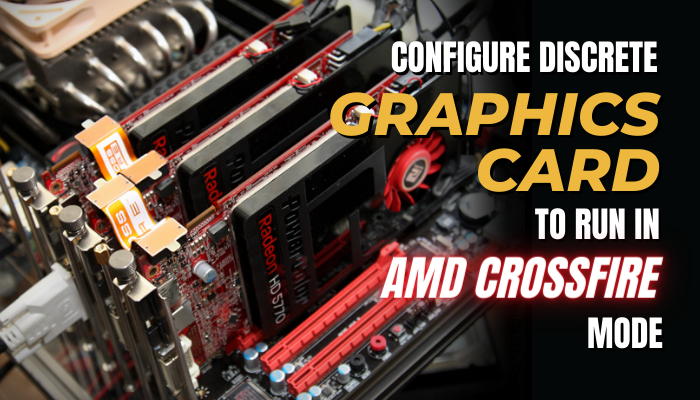 Let's take a look at how.
How to Configure Discrete Graphics Card to Run in AMD Crossfire Mode
You can configure the external graphics cards to run in crossfire using the AMD Radeon Software. To do this, first, update your GPU to have the latest version of the display driver. Then you can go and enable Crossfire from the Advanced Settings.
There are currently two variants of AMD drivers available for download. They are the Radeon Adrenaline 2019 and the updated 2020 later versions. The table below shows which GPU supports the specific version of the drivers.
Adrenaline 2019
Adrenaline 2020
Adrenaline 2021
 
 
RX 6900, RX 6800, RX 6700
 
RX 5500, RX 5600, RX 5700
 
Radeon 7
RX Vega
RX 500, RX 400
R5 300, R7 300
 
R5 200, R7 300
 
HD 8500, HD 8900
 
HD 7700, HD 7900
 
You can download the latest version of the GPU drivers from the AMD website. Just enter your graphics card model, and you will get the latest software for it. The AMD website is linked below for your ease.
The steps to enable crossfire in Adrenaline 2020 and later versions are the same. I have provided the steps for Adrenaline 2020. Theoretically, it should work if you have a newer driver.
Here are the steps to configure AMD Crossfire on Radeon Adrenaline 2020: 
Open Radeon Software. Either open it by right-clicking or using the desktop shortcut.
Now click the gear-shaped icon.
Navigate to Graphics > Advanced.
Turn on the toggle next to AMD Crossfire.
Note: You will find AMD MGPU inside the driver of the most recent cards. You need to enable that for Crossfire.
Also enable Frame Pacing.
Also, you need to check if the crossfire is enabled per game. To do this, go to Gaming > Games and see if the frame pacing toggle is on. Set the crossfire mode to the Default Mode. Here are some other options, such as AFR Friendly and Optimize 1×1. You can switch between these if you want to experiment and see if there is any performance improvement.
Now let's look at how the steps differ for older drivers.
Go through our epic guide on what to do with old Graphics Card.
Follow the steps to configure AMD Crossfire on Radeon Adrenaline 2019 and earlier:
Open Radeon Settings.
Go to the Gaming tab and open Global Settings.
Turn on the toggle next to AMD Crossfire and Frame Pacing.
Now, similar to the earlier version of AMD Adrenaline, set the individual games to use the type of Crossfire mode you want.
AMD Crossfire should work for you now. But how to know if both GPUs are used by the game?
If you monitor the in-game statistics using any overlay software such as MSI Afterburner, you should see both GPUs listed. Games that support the crossfire arrangement should use both GPUs. When this happens, you will see a jump in the overall frame rates.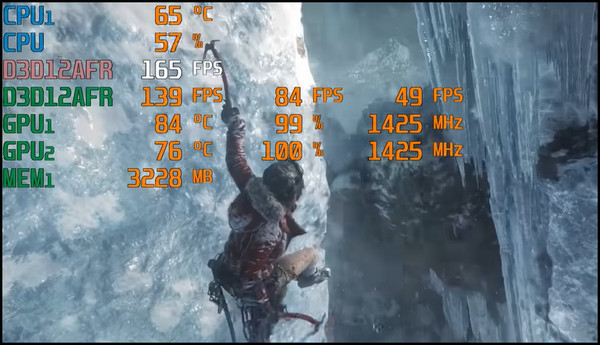 Check out the easiest way to check AMD chipset version.

What are the AMD Crossfire Supported Cards?
Almost every AMD GPU supports crossfire. Since its inception in 2005, AMD has allowed us to put two different GPUs in crossfire mode as long as they are from the same series. Back in the day, my friend used an HD 5850 and HD 5770 to implement Crossfire. And it worked well for him.
So if you have an older GPU such as HD 5000, 7000, 8000 or R5-R7-R9 200, 300 or RX 400, 500, these can be put in a crossfire configuration.
But what about Crossfire now?
Radeon RX 500 cards were the last ones that arrived with Crossfire branding in the box. After that, the Vega and RDNA GPUs did not get official support. As a result, the RX 5000, 6000, and the latest 7000 series of graphics cards have no official support.
You can configure the newer GPUs to run together if you want. It is basically a Direct-X 12 feature known as MGPU.
Wondering how AMD Crossfire holds up now? Check out our separate article that details this.
Frequently Asked Questions
Do you Need AMD Crossfire Bridge?
AMD Crossfire bridge is only required if you run the Radeon HD 7000, R9 200, and R9 300 GPUs. Newer RX 400 and 500 GPUs do not require any physical arrangement to connect them together.
How do I enable my GPU in crossfire?
To enable AMD Crossfire, open Advanced or Global Settings in Radeon Software. Now turn on the toggle next to AMD Crossfire and Frame pacing.
Can I use NVidia GPU with AMD Crossfire?
No, only AMD GPUs can be used for crossfire. If you want to use an NVIDIA GPU, then SLI is for you.
Final Words
There you go. All the details for setting up Crossfire are laid before you.
If you are still using crossfire, it is a good idea to check if the games you run support multiple GPUs. Most modern games, unfortunately, are going towards only supporting single GPUs. So, sooner or later, you have to switch to a more modern card.
That's all for today. Until next time, it's goodbye.