During the ongoing economic crisis, regular product prices like gas and food are increasing.
Since everything is going expensive all around us, it is common for tech enthusiasts to worry whether processor prices are going up.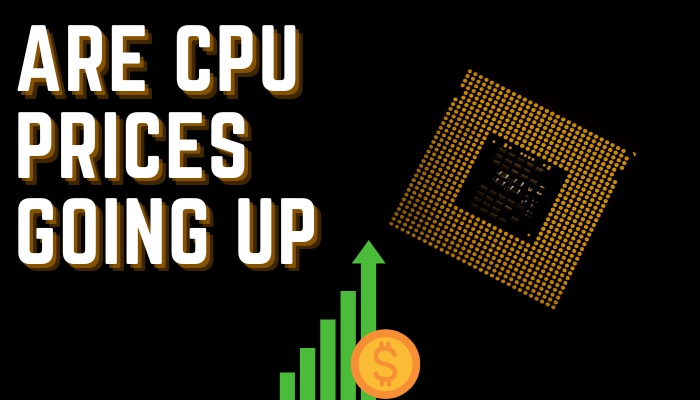 In this article, I will explain the current market situation of the processor. I will also describe what the possible price circumstances will be at the end of 2023.
So, tag along.
Are PC Processor Prices Poised to Rise?
Shortly say, yes. Intel and AMD CPU prices are going to rise. Since there is still a shortage of supplies, but the demand for processors is high in the market, the prices will keep rising. Many are saying that up until 2022, the price of the processors has increased by 20%.
Back in July 2022, Intel gave a clear indication that they would increase their last-gen Alder Lake processor's price at the end of 2022 to counterbalance the cost inflation. And they actually did.
It happened because Intel lost nearly $500 million in its second quarter of 2022. They also said that in their company's history, this was their worst quarter.
To recover the loss, Intel is increasing its CPU price. This price growth can still go on in 2023.
AMD also raised the CPU price in 2022. However, around November 2022, AMD reduced the price of their Ryzen 7000-series CPUs. They did that to compete with Intel's 13th-generation processors.
Plus, they are making space for their upcoming much-anticipated Ryzen 7000-series X3D CPUs, which may release soon in 2023.
But Alder Lake processors have shown tremendous performance since 2021. The i7 processors are equivalent to the Ryzen 7000 series, but the Intel CPUs are pretty affordable compared to AMD, and in terms of performance, they easily beat AMD's Ryzen 5000 series processors.
Besides, when it comes to gaming, single and multi-thread tasks, Intel's 13th-Gen Raptor Lake CPUs outperform almost all AMD's similar price range Ryzen chips.
That's why AMD reduce their price on some CPUs such as Ryzen 5 7600X, Ryzen 7 7700X, Ryzen 9 7950X, and Ryzen 9 7900X to give a head-to-head competition with AMD's equivalent Intel's 13th-Gen i9 Raptor Lake processors.
Nonetheless, Intel's processor lineup is at its strongest point for a long time. But due to the current unpredictable market, Intel is also experiencing inflationary cost pressure like AMD.
Go to the following section to know why CPU prices are rising.
Why Do CPU Prices Go Up?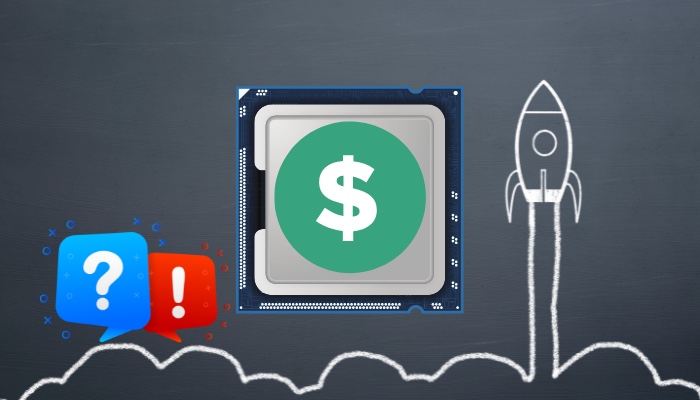 Due to chip shortage, the rise in raw material costs, low supply with high CPU demand, and high transportation & labor costs, the price of the CPUs has increased. Sometimes, because of some scalpers, you may see that the processor's price is relatively higher than its original price.
Chip shortage is going on all over the world. The COVID-19 pandemic and the ongoing war between Russia and Ukraine are responsible for the supply and CPU shortage.
However, the demand for CPUs is running high on the market. But manufacturers are not getting enough supply.
This miserable situation gives the manufacturer's a solid hit in their production. That's why you see a shortfall in CPUs and price increments in the market.
Furthermore, the component used in the CPU architecture is expensive. The cost of raw materials such as silicon and copper, labor, and shipping are steadily rising. For that reason, the manufacturer charges more to their consumer, which leads to a rise in CPU prices.
The manufacturer is also responsible for the overpriced CPU.
As you see, the world is relying more on technology. Everyone wants high-performance CPUs. Because of the increased demand, the manufacturer prioritized their supplies to higher-paying customers, such as data centers and server farms.
As a consequence, one kind of backlog of orders situation creates, and the companies raise their processor's price.
Let me give you an example that happened in 2020 during the pandemic. It will help you understand effortlessly.
In 2020, Intel Core i9-10900K was released. In the beginning, it would cost around $488. It was pretty awesome for high-end gaming. But when the pandemic hit and the CPU shortage started, the price was increased to over $600.
The AMD manufacturer did the same thing with their AMD Ryzen 9 5900X. Starting price of the processor was $449. And after that, it was around the $600 price range.
So, now you know why the value of the processors goes up.
Price Comparison Between Different Gen Processors
Over the years, when Intel and AMD release a new gen CPU, you may notice that the latest one is always a bit pricier than its predecessors.
Have you not noticed that yet? Then let's look at some Intel & AMD CPUs and compare their prices.
Here is the launch price and release date of some AMD processors:
AMD's Different Gen
Zen 2
Zen 3
Zen 4
Processor's Name, Price & Release Date

RYZEN 5 3600 MSRP: $199
Release: July 7th, 2019

RYZEN 5 5600
MSRP: $199
Release: April 4th, 2022

RYZEN 5 7600 MSRP: $229↑
Release: Jan 10th, 2023

RYZEN 5 3600X MSRP: $249
Release: July 7th, 2019

RYZEN 5 5600X MSRP: $299 ↑
Release: Nov 5th, 2020

RYZEN 5 7600X
MSRP: $299
Release: Sep 27th,2022

RYZEN 7 3700X
MSRP: $329
Release: July 7th, 2019

RYZEN 7 5700X
MSRP: $299↓
Release: April 4th, 2022

RYZEN 7 7700X MSRP: $399↑
Release: Sep 27th, 2022

RYZEN 9 3950X
MSRP: $749
Release: Nov 25th, 2019

RYZEN 9 5950X MSRP: $799↑
Release: Nov 5th, 2020

RYZEN 9 7950X MSRP: $699↓
Release: Sep 29th, 2022
Though, Ryzen 5 3600 and 5600 processors were released in different years, their launch prices were the same. But, the starting price of 7600 was more than its previous ones.
But, right now, you can get Ryzen 5 3600 for around $123 to $215, Ryzen 5 5600 for $140 to $160, and Ryzen 5 7600 for $229 to $269.
On the other hand, 5600X costs $50 more than Ryzen 5 3600X when it was released. Though the Ryzen 5 7600X came out two years after the 5600X, it was released at the same price as the 5600X.
If you keep your budget around $350, you can get one of these three processors at that price margin.
Ryzen 3700X, released in 2019 at $329 MSRP. Surprisingly, Ryzen 5700X came into the market after three years with a $299 price tag. It happened because AMD released Ryzen 7700X just after three months at $399.
The price of this Ryzen 7700X processor didn't lower that much. But you may try Amazon, Best Buy, or other online retailer services to buy this one for around $350.
As expected, the launch price of the Ryzen 9 5950X was more than the 3950X. But unexpectedly, 7970X was $100 less than 5950X. I was also shocked when I saw the news. Though, I think, they did that to attract the consumer's attention.
Now, let's see some Intel CPUs.
Here is the launch price and release date of some Intel processors: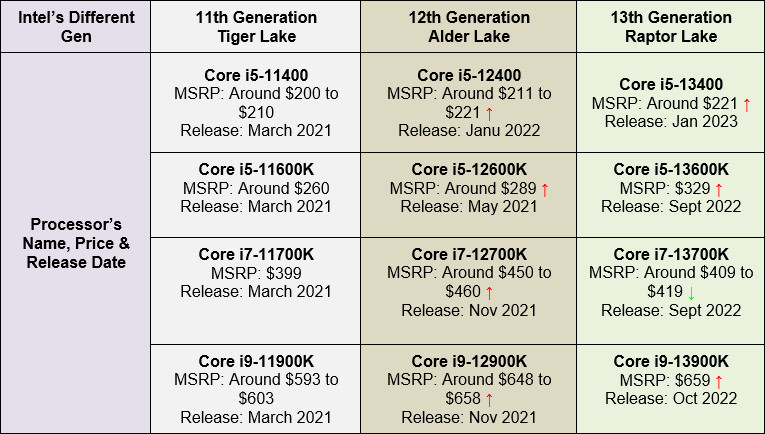 The good thing about Intel is they keep the price margin very close to their predecessor's CPUs.
Take a look at the Core i5-11400, 12400, and 13400. They were released in individual years, but they launched almost at the same price. The price difference was only $10.
However, in the current market, the value of the Core i5-13400 is more than the other two. It will cost you around $240 to $265.
The typical price growth you can see in the chart among Core i5-11600K, 12600K, and 13600K CPUs. The launch price gap between them was $30 to $40.
On the other hand, you can see on the chart that Core i7-13700K was released at a much lower price compared to the Core i7-12700K.
But that didn't happen with Core i9-11900K, 12900K, and 13900K processors.
Intel also does this kind of thing to get the attention of customers.
From the price comparison, you should now understand whenever a new GEN processor is released in the market, the price of that CPU will be higher than its predecessor's CPUs.
When will the CPU Prices Drop in 2023?
It's hard to predict the exact date or month when the prices will drop in 2023. A CPU price will go down depending on several factors, such as supply and demand, technology advancements, competition, economic conditions, etc. On Black Friday & Cyber Monday, the prices often drop.
Are the CPU prices going down, or when the price will be lower in the future? It's kind of a common question of all the tech geeks. To know that, you have to become a psychic.
If you take regular updates on tech products, you must notice that whenever a new processor launches in the market, the older models' prices start to reduce. You can say, it's one kind of trend.
Whether this trend is likely to continue, the price of the CPU will surely reduce when a new one like AMD Zen 4 Ryzen 7000X3D or Intel Meteor Lake processor arrives on the market.
Competition plays another key role in determining CPU prices. Manufacturing organizations like AMD & Intel always aim to offer the best product at a reasonable price. It's one kind of the oldest trick in the book to lure customers to their products.
If they want to attract consumers in this way, the price can go lower.
Supply & demand and the state of the economy also affect CPU prices. If you take the current situation as an example, you can see, the world is going through an economic crisis.
If you keep track of the current market, you should know how high the demand is. But the supply is short. Hence, the CPU price is huge.
Once the crisis is resolved, and supply & demand are equal, hopefully, the processor price will decrease.
However, you can keep track of events like Thanksgiving, Black Friday, Cyber Monday, etc. Those days, the cost of the processors goes down most of the time. You can get your desired CPU if you are lucky enough.
As you can see, it is uncertain when the prices will drop in 2023. All you can do is stay updated and keep an eye on it.
FAQs
What is a good price to spend on a CPU?
Probably between $500 to $800 is a good price range to spend on a CPU if money is not an issue for you.
Are CPUs in shortage?
Yes, Because of the COVID pandemic and the war between Russia and Ukraine, some high-demand products like CPUs and GPUs hit shortages.
Is the CPU shortage over?
Not yet. According to Intel Chief Executive Pat Gelsinger, the chip shortage has almost recovered. By the year 2024, the imbalance in the chip supply will completely resolve.
Final Thought
Nobody knows when the processor's price will go up or decline. It is entirely in the hands of the manufacturers. You can wait and watch if you have enough patience in yourself.
I hope I have cleared all your doubts about the price issue. Comment below if you have any queries.
Peace!